We were sooo close to The Keys that we really didn't want to miss checking them out, but we couldn't stay long. We do have a schedule and in order to keep all of our doctoring appointments we could only spend two nights in The Keys. And…those nights happened to fall on New Year's Eve.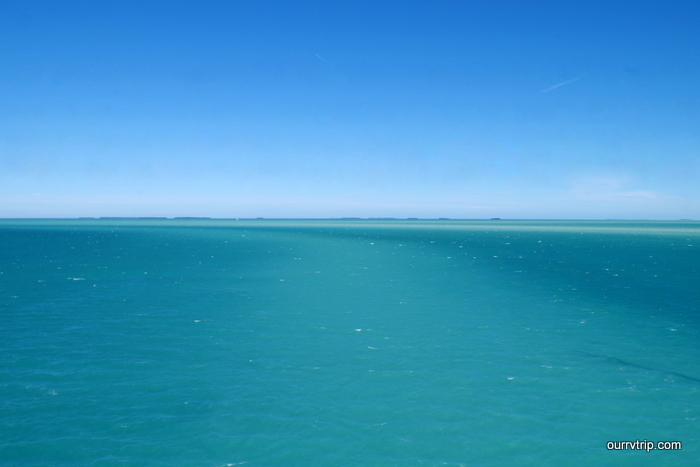 I knew we were in trouble when the water turned this amazing color of blue as we drove along the Over The Seas Highway. I knew right then that we were all going to love the area and that we weren't going to want to leave so soon.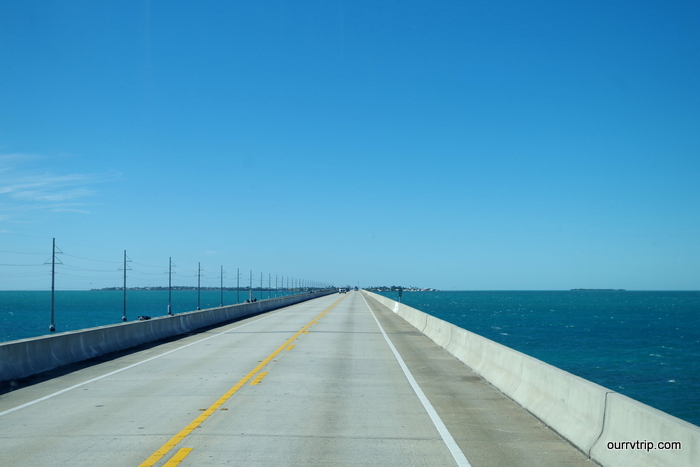 For anyone curious…it really is just a bridge connecting a bunch of little islands or "keys".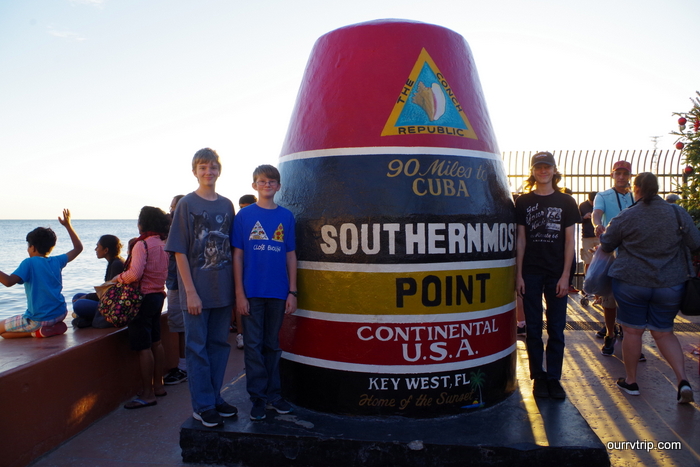 For our first day there we were supposed to get there, set up, and then spend the entire afternoon in Key West. It went really well until we hit the traffic. It ended up taking us about four hours to go maybe 60 miles. It was a little insane. We did make it to Key West, but so did roughly a million other people (I may be exaggerating that number by a couple). We stood in line for 45 min to take our pic with the Southernmost Point buoy.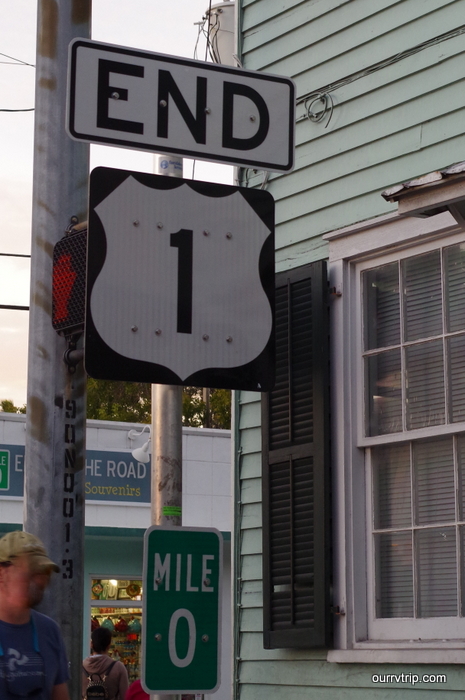 We tried to go to a fort, but it closed at 5pm and we were late so we headed over to the place I'd found for Key Lime Pie…but there wasn't a free space to park…anywhere…within several miles. So, we left. We were tired and it was getting dark and I'd been warned beforehand that Key West after dark wasn't exactly family friendly. On the way to the Key Lime Pie place we passed by the end of Highway One! We've been on this highway on and off all year so it was kind of neat to see mile 0!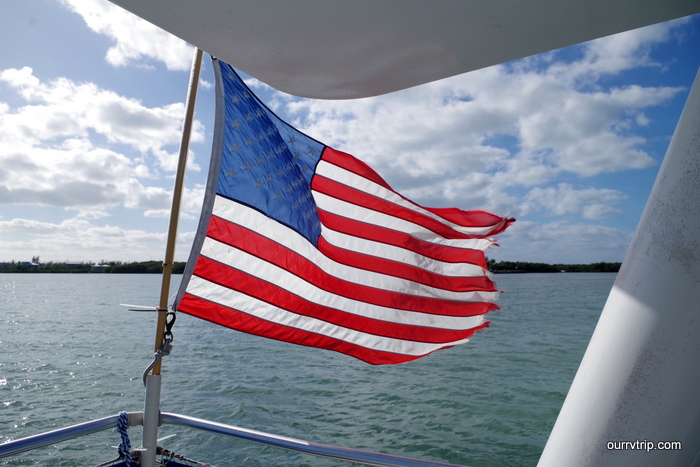 The next day we had reservations for a snorkeling excursion! We woke up to a very cold, but pretty morning.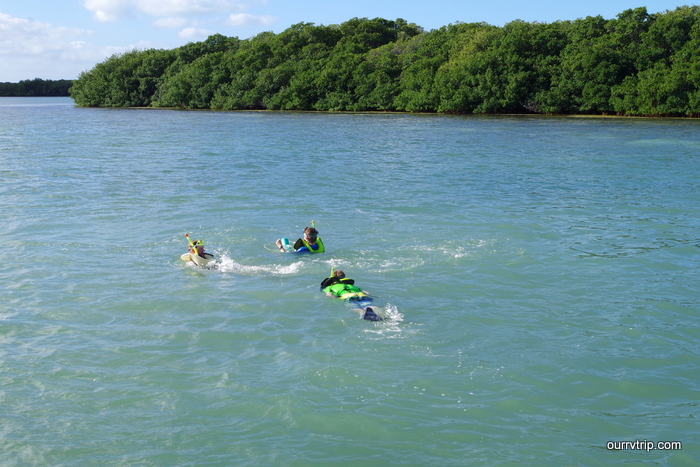 The water was so cloudy from the choppy water that we couldn't see a thing. And…the water was pretty cool. Not cold, but cool enough that no one (there were 15 people on our boat) stayed in the water long. We were kind of bummed about that, but it's hard to be in a bad mood when you're surrounded by the beauty of The Keys.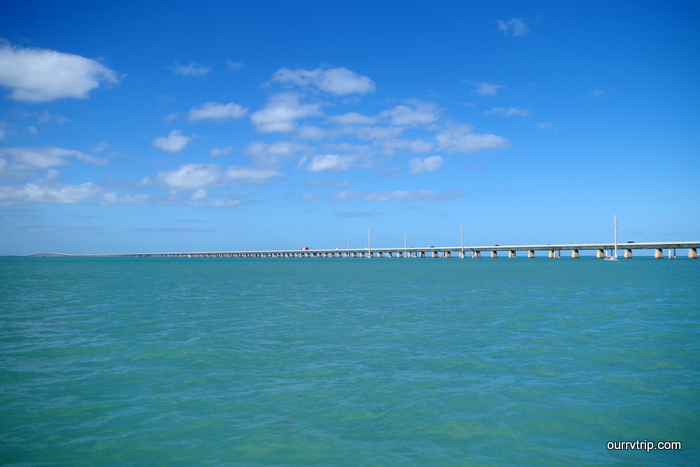 The Captain of our boat felt really bad about the conditions, but there wasn't anything he could do about the weather. He ended up taking us on a little sight seeing tour to make up for the snorkeling! You can see Seven Mile Bridge in the picture above.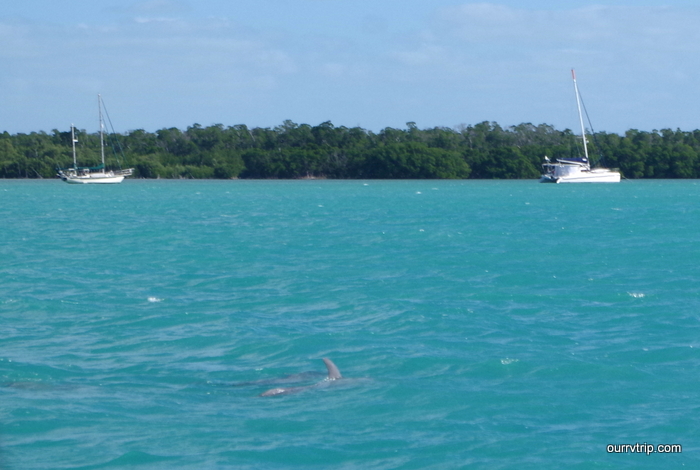 We got to see a pod of dolphins playing around! I didn't get the best pics of them…they didn't jump out of the water or anything, but they would surface and play. You can see two of them near the bottom center of the picture above.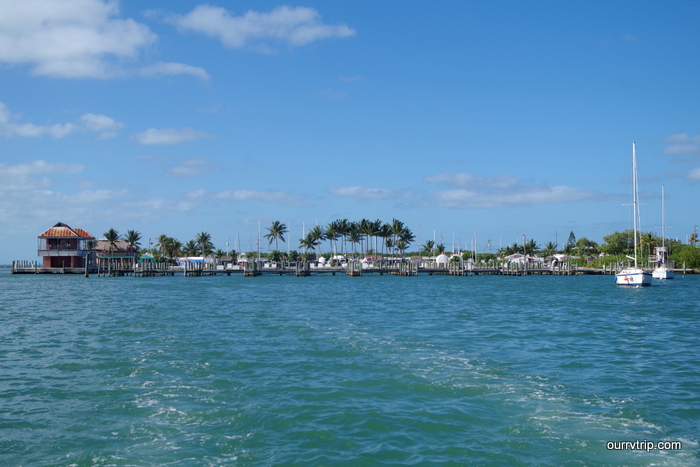 By this time in the tour it was starting to warm up to a balmy 70 and we'd all stopped shivering.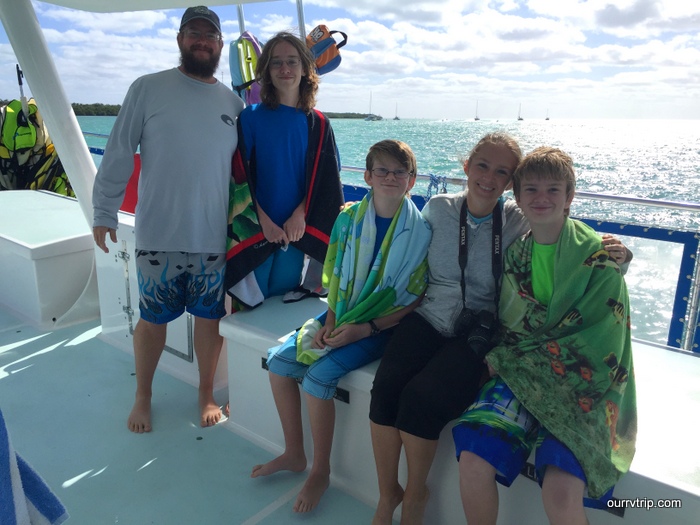 Our snorkeling/boat tour was a great way to spend our only full day in The Keys. We were done by noon and were able to relax the rest of the day.
I did get a little video of the boat ride. What do y'all think? Do you like the videos or not? It's all done right on my phone…I'm not a professional at all…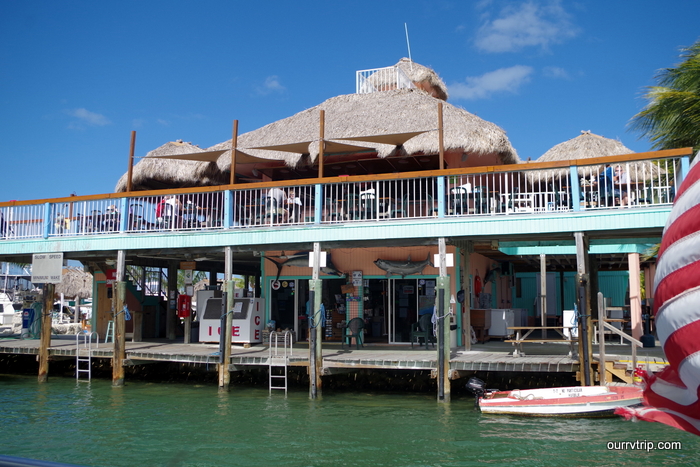 Our Captain took us by this place. It's a dockside restaurant called Burdines. We ended up going there for lunch!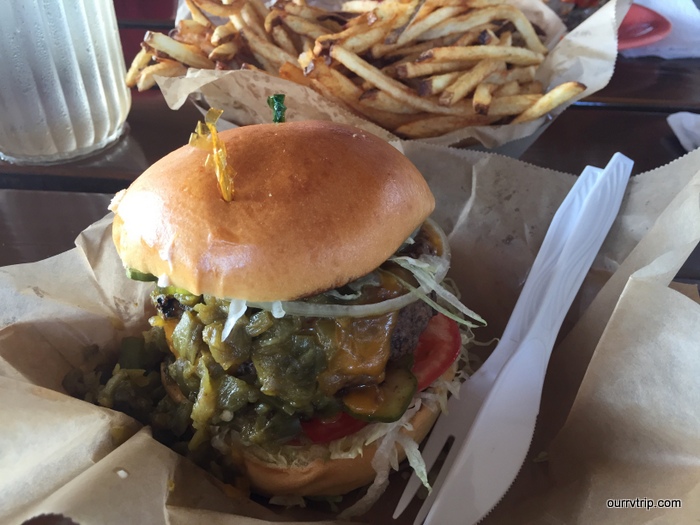 Everything was fresh and we had some of the best burgers we'd had in a long time!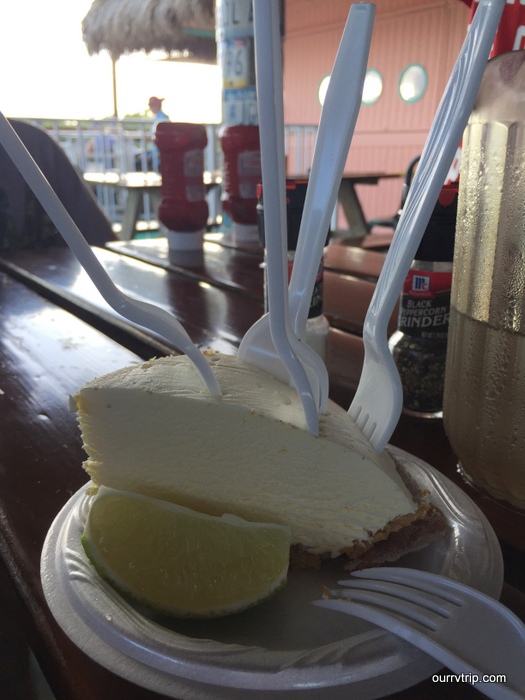 We were able to get some Key Lime Pie…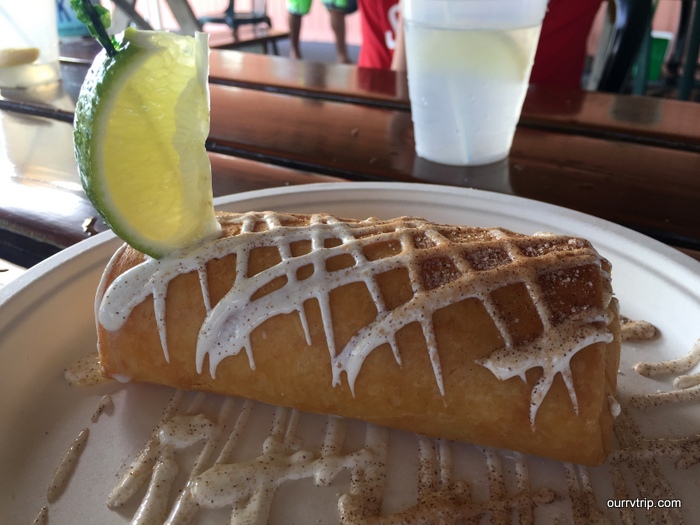 two different ways. Regular and fried! It was soooo good! We experienced the laid back Keys vibe at Burdines while we were waiting for our food. It's not the fastest place, but it does warn you right at the top of the menu. Everything is made fresh…it's not fast food. You didn't go to McD's. Everything we had was top notch and our server was genuinely nice.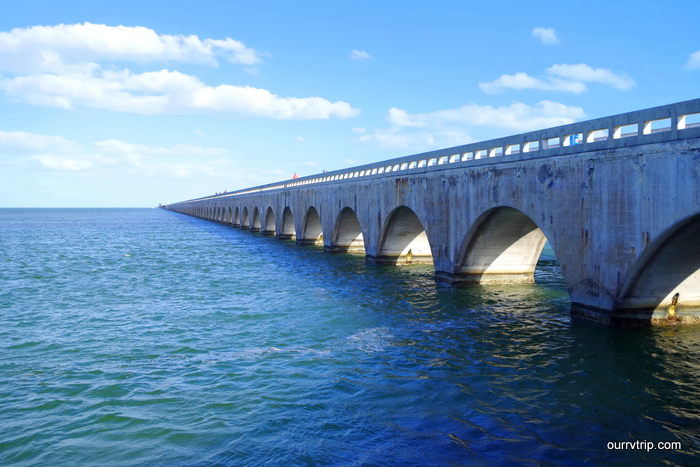 After we got our fill of food, we moseyed over to Bahia Honda State Park and stopped by this bridge view on the way there. This is the same Seven Mile Bridge you saw in a pic earlier. You can see it better here.

We'd heard that there's camping at Bahia Honda State Park that's suitable for RVs and we wanted to check it out. Unfortunately, only registered campers could get to the the campground. But…we did get to stroll around the beach and do a short hike to the view above!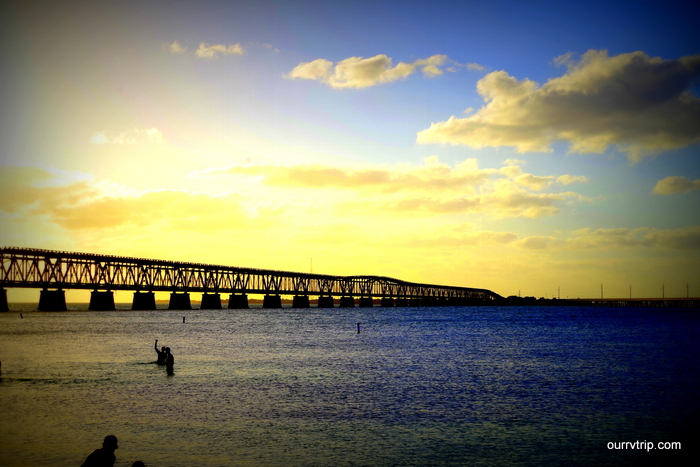 We hung out at the SP long enough to see the beginning of a spectacular sunset.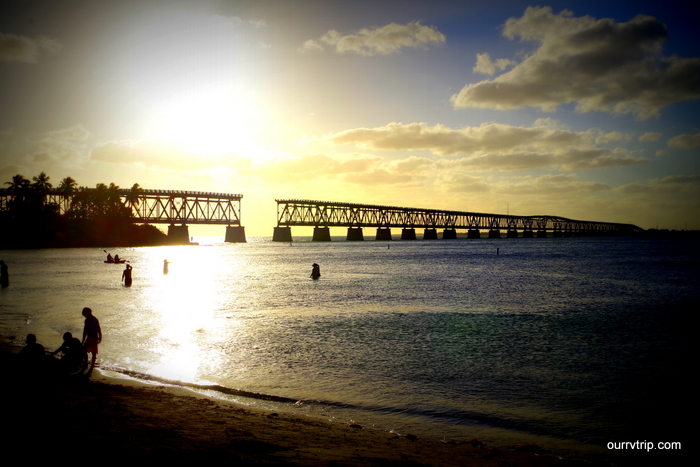 It was so pretty, I'm going to give you another shot of it.
We got back to our RV park just as the sun was sinking and we headed back to our little home on wheels and had a very nice, very quiet New Year's Eve celebration. Our tradition is to have a Back To The Future marathon and some sparkling cider at midnight.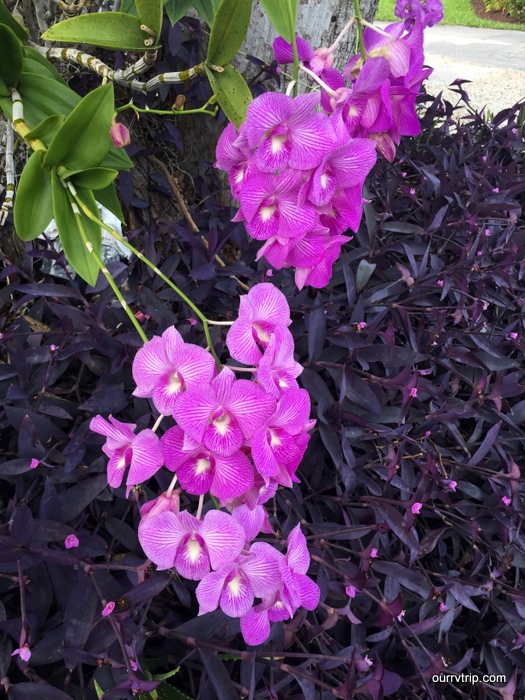 There were pretties everywhere, but I somehow only got a shot of these. They were at the park we stayed at.
We hated to leave The Keys. The small amount of time just made us hungry for more of the island life and we were already making plans for round two before we even pulled out of the RV Park.
See y'all down the road!
#easternloop2016