We spent two weeks in the South Miami Florida area. This post is going to be a big one, guys!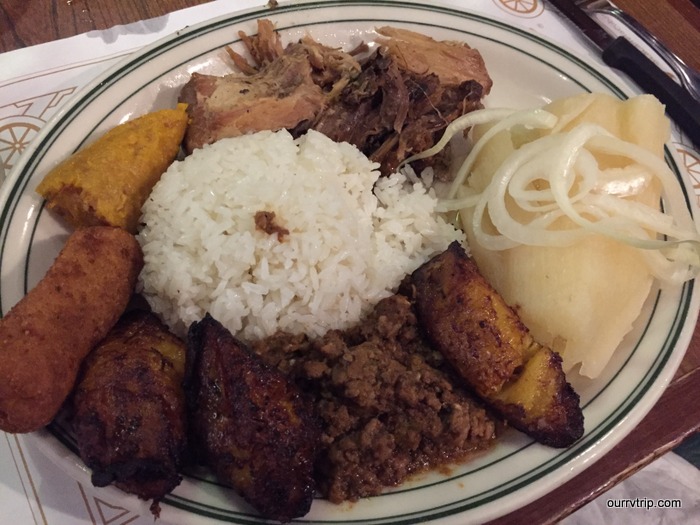 Our very first night in the area we decided we should try some Cuban food. Y'all know we love to try the local flavors. We found a spot called La Carreta. I kind of wish we hadn't. Cuban food is kind of…awesome. We spent the whole two weeks there wanting more Cuban food.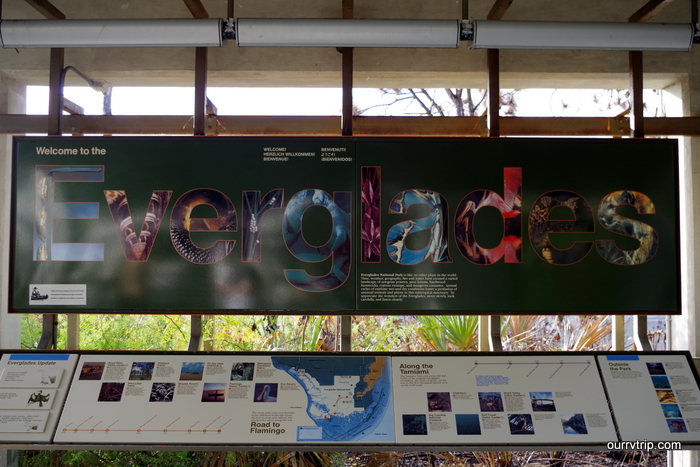 Our main focus in the area was the Everglades National Park. It took us three very full days to see what we wanted and we still didn't see it all.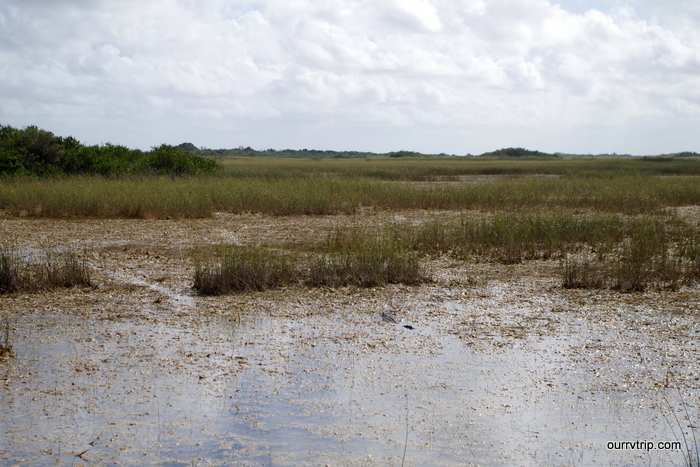 We started our Everglade exploration in Shark Valley where the main thing to do is take a tram tour. I was skeptical. The tram tour is extra. But, it was the only way to really see this part of the park unless you want to walk the 15 mile loop…with all of the gators…and the heat. Um, no thanks. Can you spot the gator in the photo above?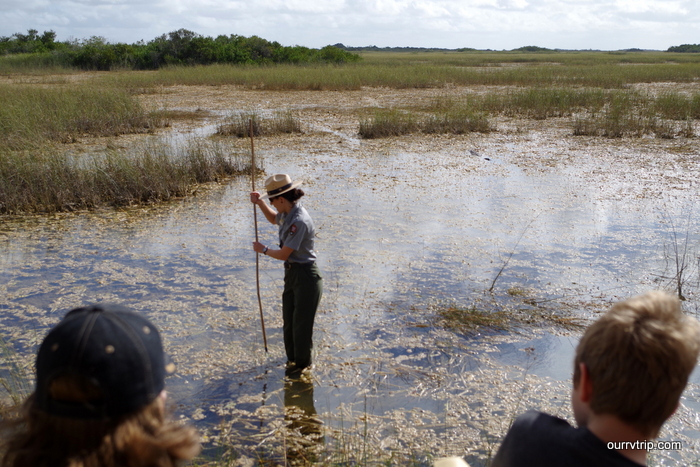 The tram tour is guided by one of the National Park Rangers. Our ranger braved the muck and the gators to teach us about the sawgrass prairie. She went out there bare foot. With the gators.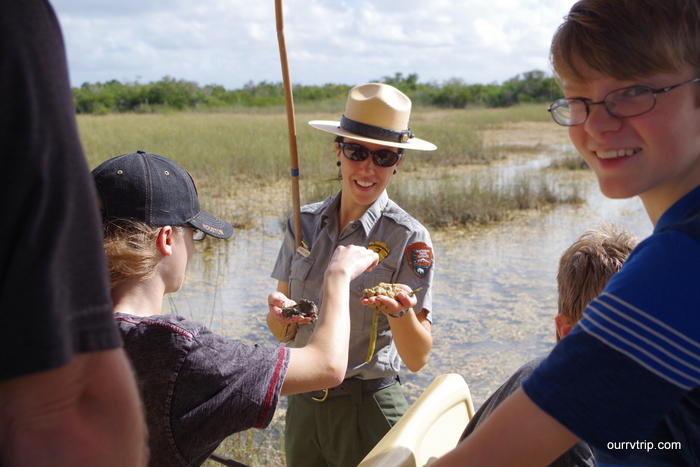 She brought hand fulls of the soil and the periphyton (the stuff that floats on the top) for everyone to feel.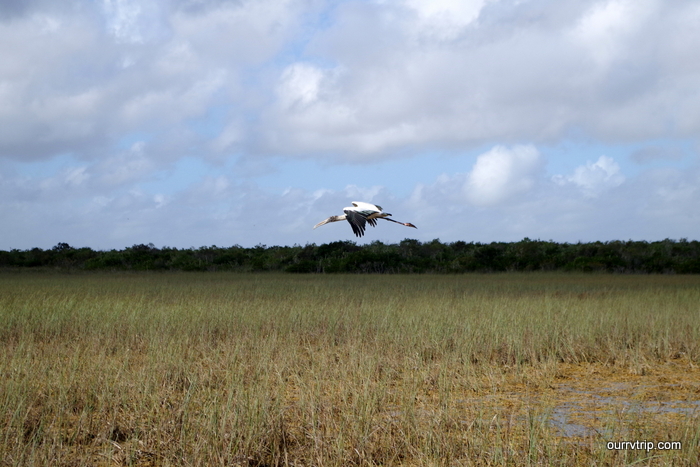 We saw tons of birds.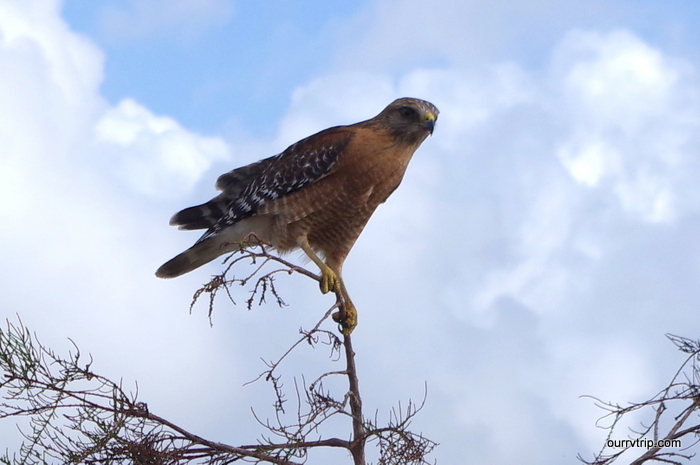 Please don't ask me to name all of the birds we saw…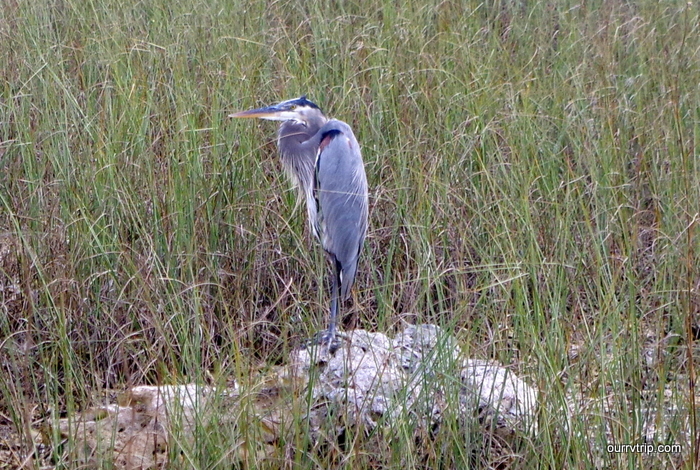 our ranger named them all…but, I've slept since then.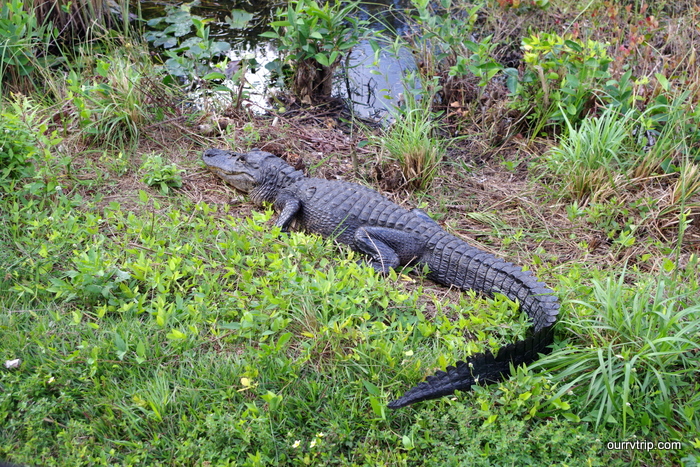 And we saw plenty of gators!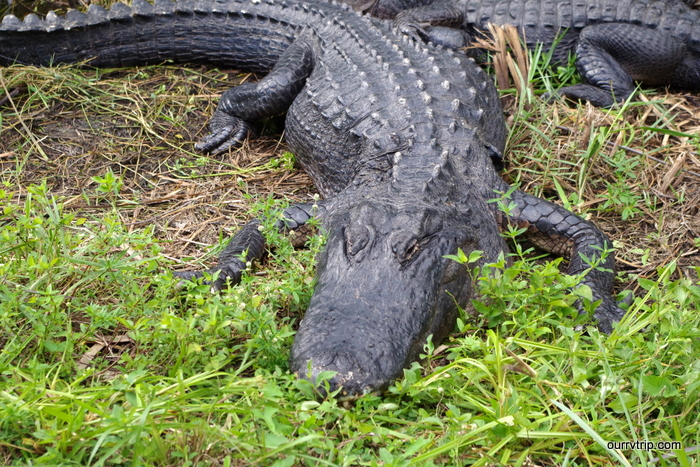 These guys were laying right by the road where the people who didn't want to do the tram tour were walking.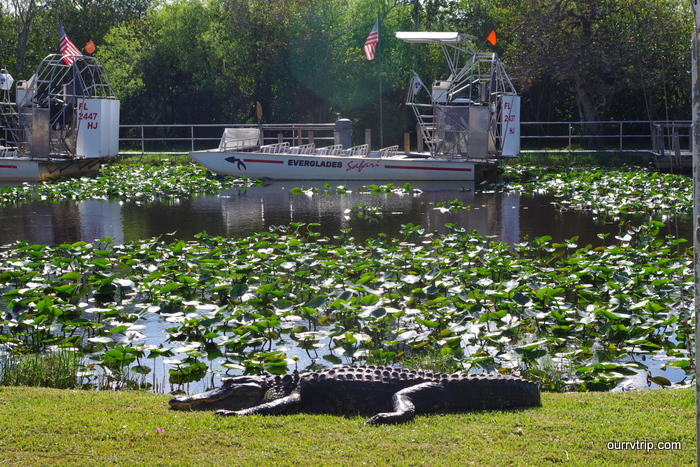 We took an airboat ride. This place is one of only four companies allowed to go right into the Everglades National Park!
I could put up tons of the pics I took while on the ride, but sometimes a video does the job better. So here's a little peek into our airboat ride through the Everglades National Park.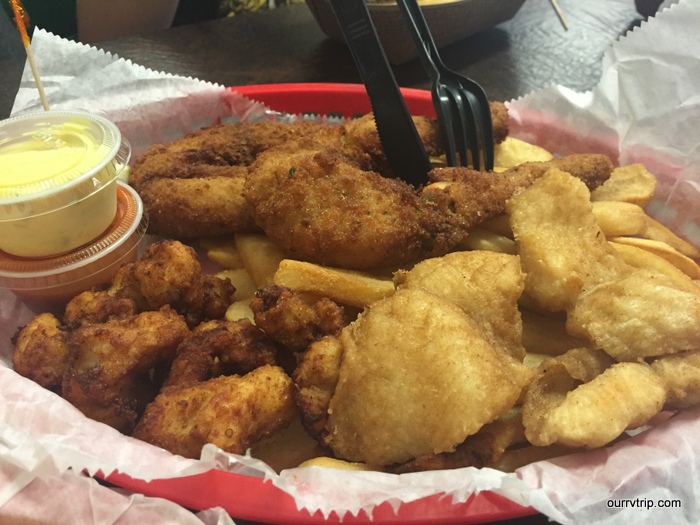 The airboat place had a restaurant that served gator and frog legs. We had to try them. I'll be honest, I wimped out trying the frog legs. I just couldn't get pass the frog part. But, the gator was excellent!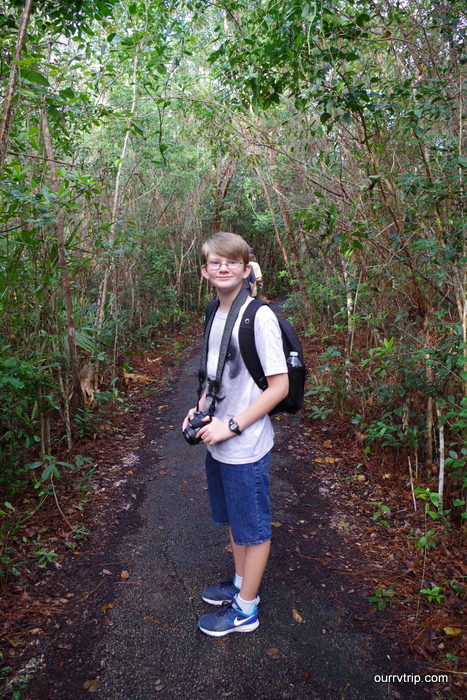 We spent an entire day making our way to the Flamingo Bay part of the Everglades NP. We stopped and did some of the hikes on the way down and some on the way back. If you go…take bug spray. They were really bad during one of our first hikes. We forgot to spray down for that  first hike, but you better believe we didn't forget on the second hike!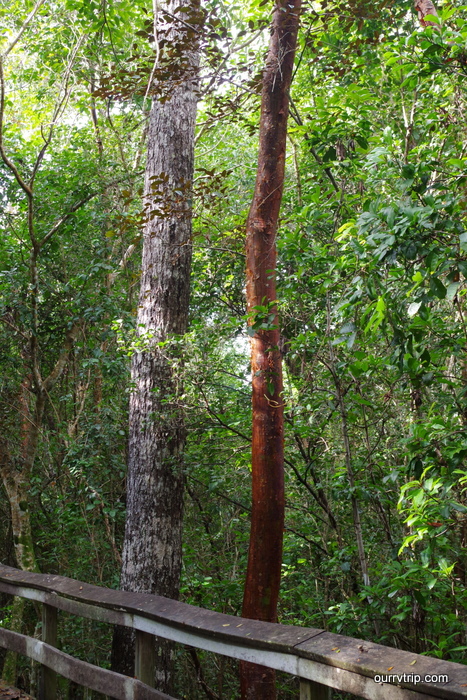 We saw several trees we hadn't seen during our travels yet. The red barked tree is a gumbo limbo tree. We also saw tons of mahogany trees.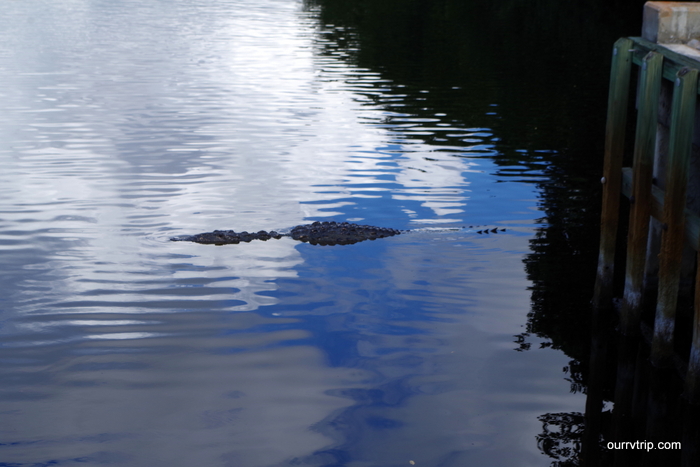 We made it all the way down to Flamingo Bay right about lunch time. We stopped by the marina there just to check it out and was rewarded with our first salt water crocodile! And he was a big one!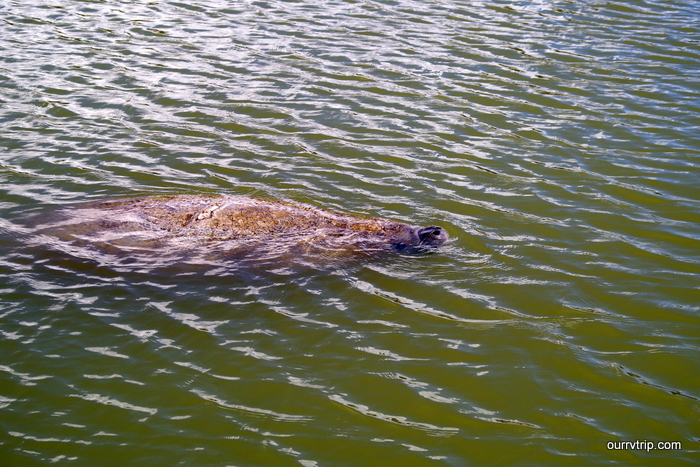 We also got our first look at a manatee! They kind of look like a huge floating potato.
I took this shot quickly as we were leaving the marina area. I didn't notice the crocodile in the bottom right corner until I was looking at the shot on my computer.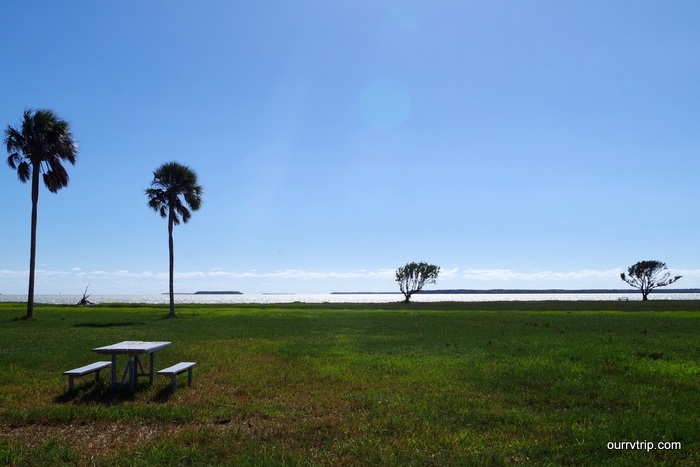 We'd heard there was a campground down at Flamingo Bay so we went to check it out and scout for future trips. We found this great place for a picnic. It was pretty deserted there.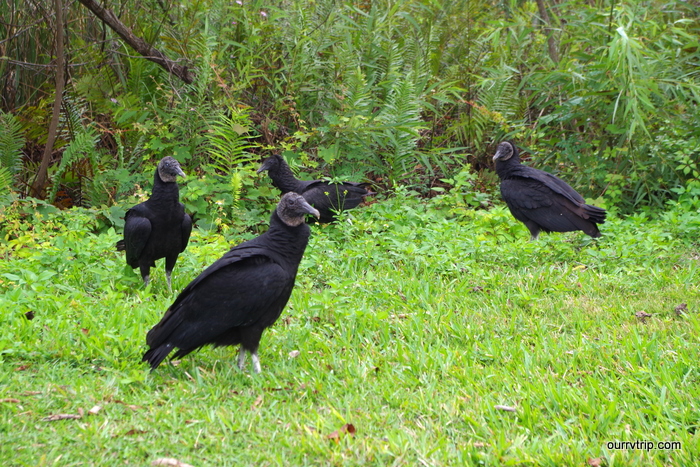 We stopped by the Royal Palm area for the last hike we wanted to do. We got there and noticed tons of these guys. Then we noticed there were tarps on most of the cars there.
Apparently, the vultures are destructive.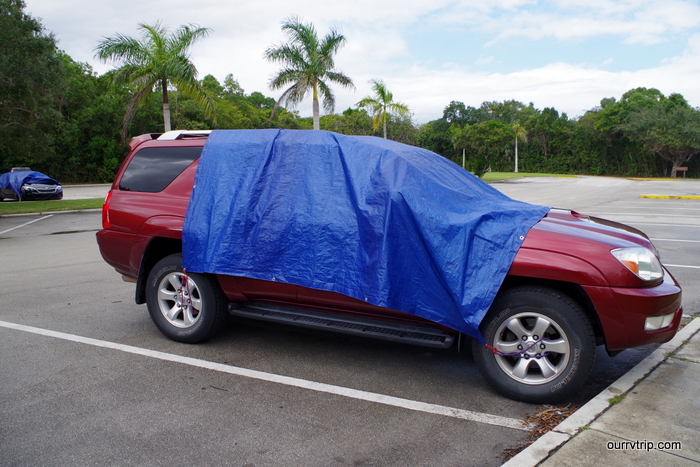 The NPS provided tarps and bungee cords for everyone to use while in the area.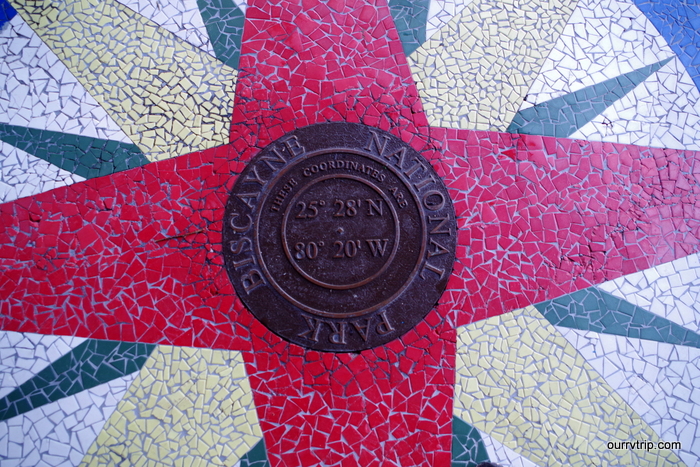 We also made it to Biscayne NP. This NP is mostly underwater. We did get to walk the one small trail at the Visitor Center.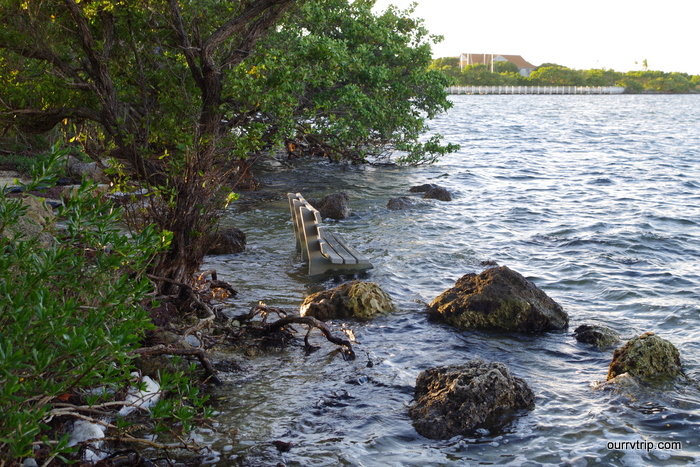 We had to be quick since the little spit of land the trail takes you out on was disappearing as the tide came in.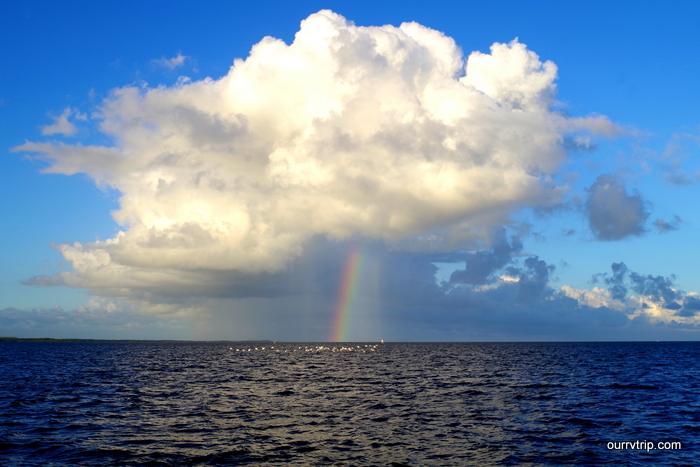 We were treated to a storm cloud and a rainbow while we were making our way off the little spit of land.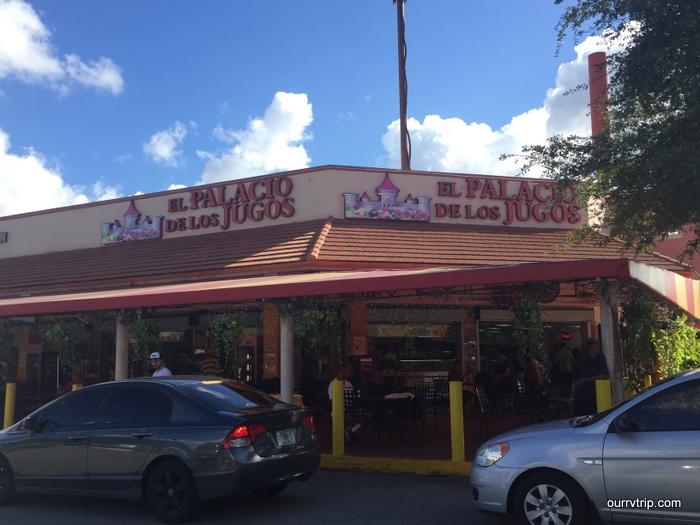 We were in the Miami area for Christmas. Our Christmas tradition is tamales. We searched high and low for Mexican tamales and came up with a big fat nothing. Nadda. But, we did find this place. El Palacio De Los Jugos. This Cuban market is awe-some!!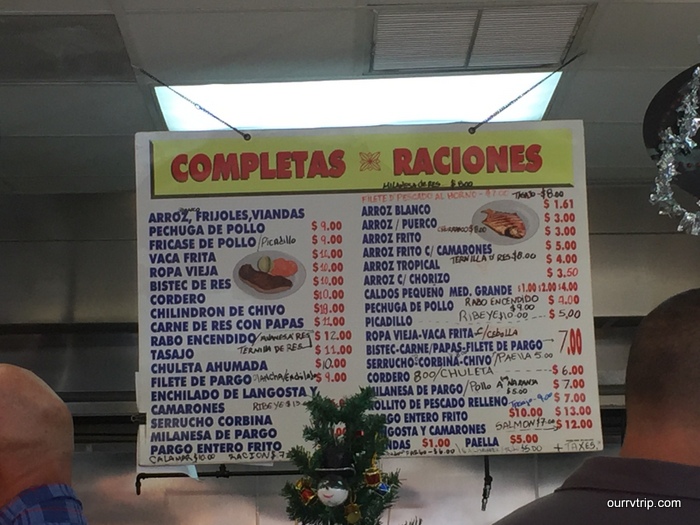 Our Spanish revolves around food items, but that didn't help us here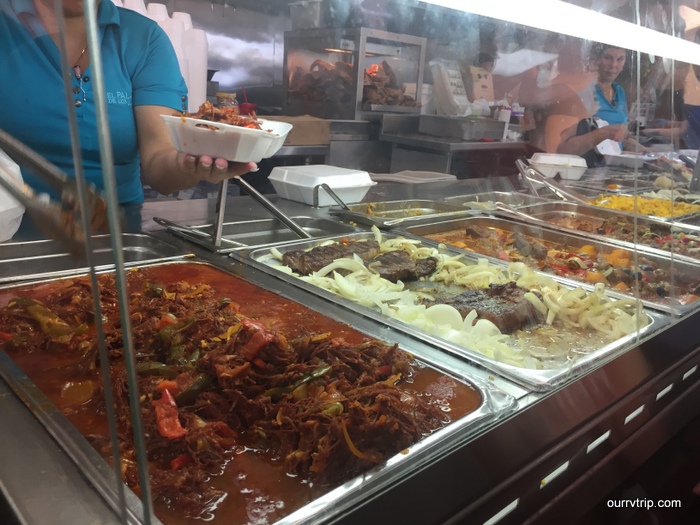 because we weren't familiar with everything here and there weren't any labels. I'm pretty sure we were the only ones there who didn't fluently speak Spanish. We got some of this and some of that. All by pointing and gesturing. We were pretty confident that we were in the right place because the line went out the door. Everything we got was excellent. We ended up with some Cuban tamales with some fixings for our Christmas dinner.
While we were looking for Mexican tamales, we asked around at the RV park we were staying in. One of the ladies in the office offered to try and find some for us and when she couldn't she offered to bring us some that her mom was making. I should mention here she's from Mexico. We were thrilled with the offer, but unsure if she would follow through. The day after Christmas she delivered with about a dozen homemade tamales. Guys, they were the best tamales we've ever had! I meant to snap a pic of them but they were devoured before I could think to stop and take a picture of them. So, you'll just have to take our word for it. They were wonderful!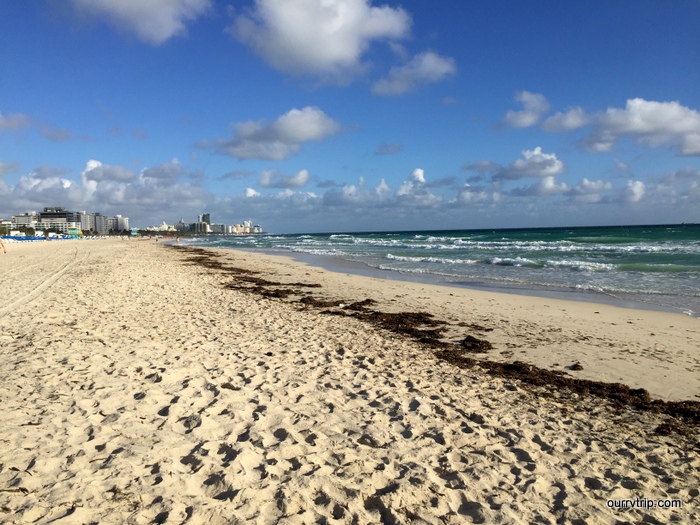 Since we're talking about Christmas, I'll mention here what we did on Christmas. We started our Christmas morning at Miami Beach.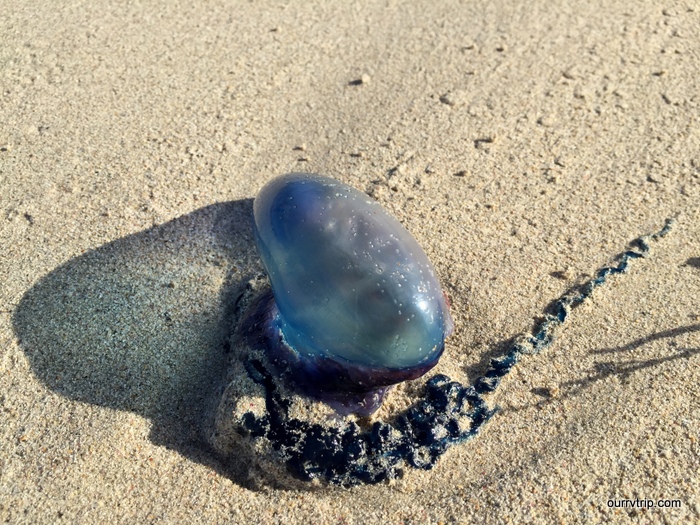 We weren't really impressed with Miami Beach. There were tons of jellyfish and more trash than I like on a beach.
We got there early and pretty much had the beach to ourselves for awhile. Right about the time we were ready to go the crowds started to come out.
We stopped by a fruit stand called "Robert Is Here" one afternoon.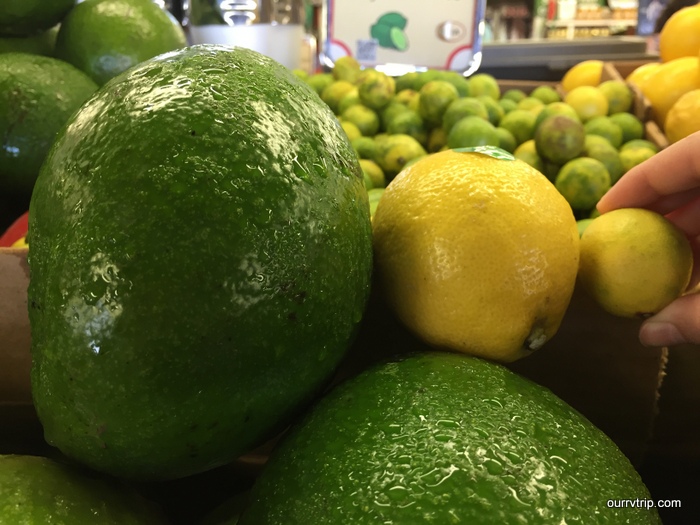 It's an avocado. I sat a lemon and a key lime next to it so you could see the size difference. We bought one. We haven't eaten it yet, so I can't tell you if it's good or not.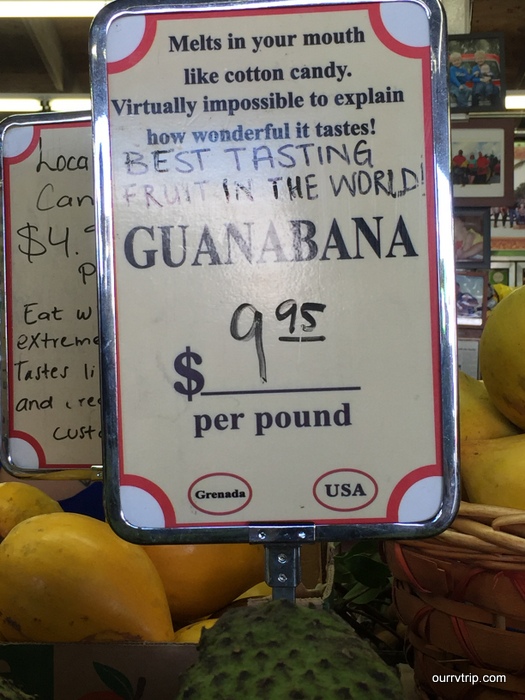 We got suckered into buying some of this fruit. I'm not sure where this guy is getting his cotton candy, but he needs to find a new place. This fruit was nothing like cotton candy. It was kind of a slimy gel texture that made me want to go brush my teeth. Mr. Man and Littlest both liked it.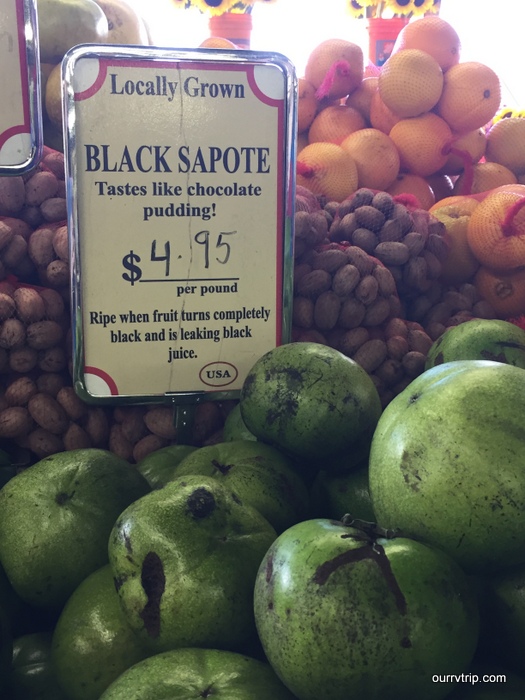 We also bought one of these. It's not ready yet, so I can't tell you if we got suckered again. I'll let you know.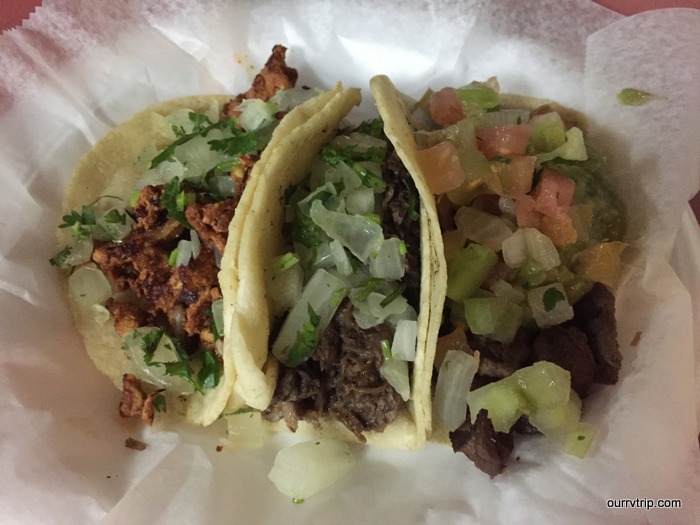 We did find some really good Mexican food.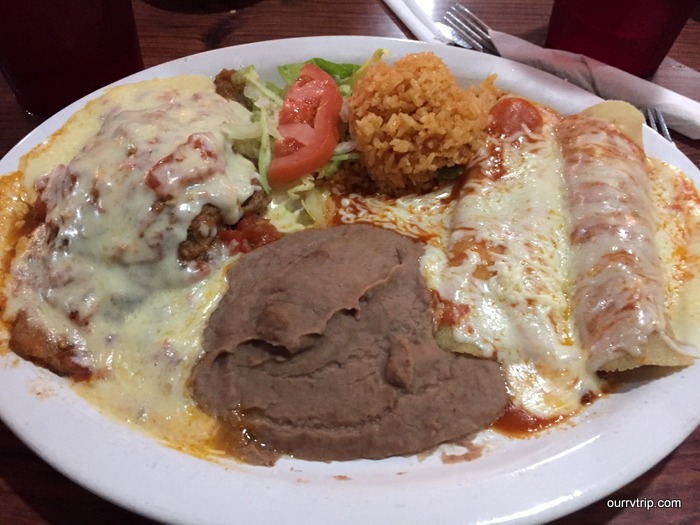 A good friend of mine met us at El Torro Taco! I got the plate above. It did not disappoint! So. Good! It was so fun spending time with another of my HP friends! *waves to friend and her fam* Her kiddos and my kiddos are all about the same age and into the same nerdy stuff. They all hit it off. My boys have already asked when we will see them again. It's been fun this year meeting up with so many of my HP friends!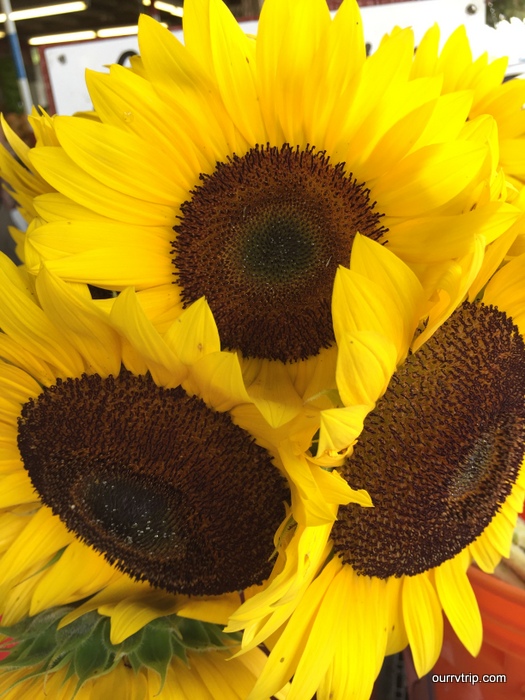 There are flower stands all over the place. People also sell them on the street corners.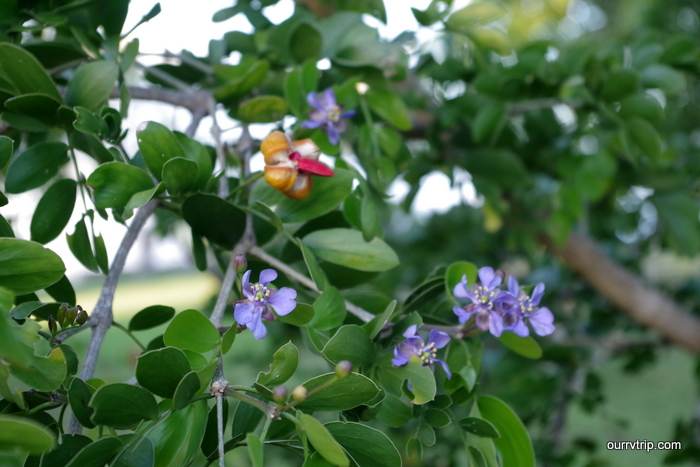 Are you ready for some pretties? The pic above isn't the best, but I wanted to share it anyway. The purple flowers and the bright orange/red seed pod are the same plant! Whhhaaattt…. mind…blown…
I took so many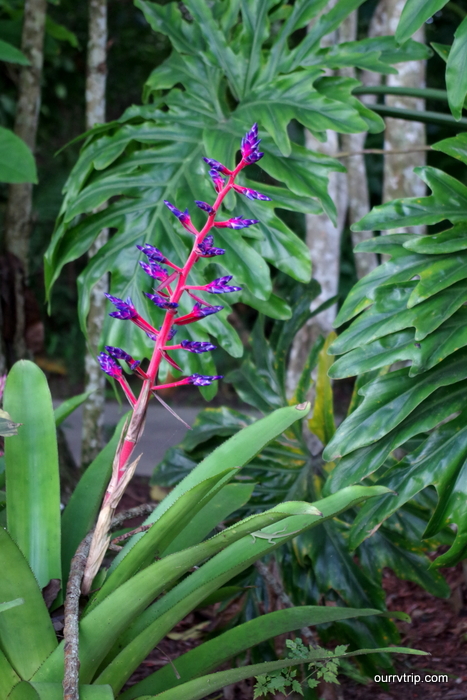 pictures of pretties here.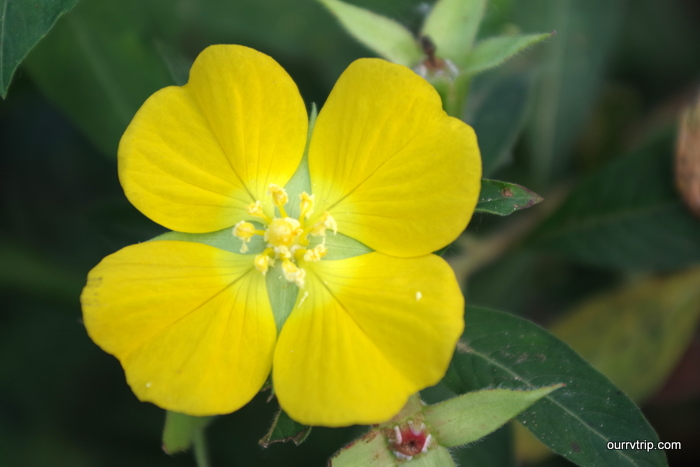 I could have done a post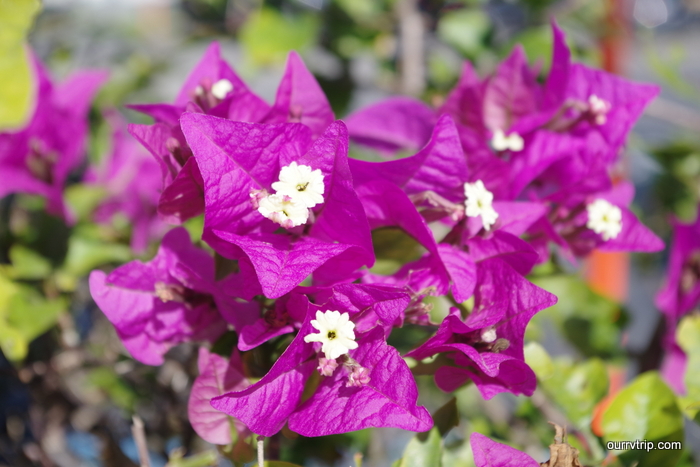 on just the pretties.
We love this area. We're already trying to figure out how soon we'll be able to come back…and spend more time.
See y'all down the road!!
#easternloop2016