Hey Guys!! From Santa Fe we headed to the Sedona, AZ area where we were supposed to spend two glorious weeks hiking, hiking, and hiking some more. It didn't quite work out that way…well, I'll explain all of that later.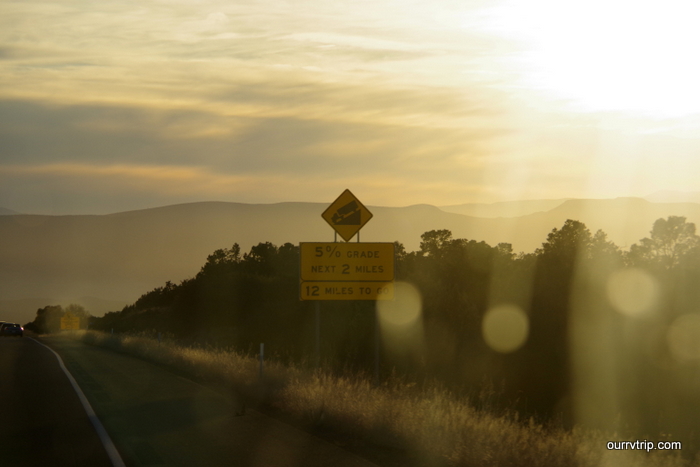 Excuse the poor quality of this picture. Between the dirty windshield and the sun right in my face…this is as good as I could get from my phone. So! When you go to Sedona from the north you have to make your way down from the Colorado Plateu that norhtern Arizona sits on. This makes for a hair raising…sometimes white knuckled, puckery trip as you make your way down 18 full miles of lots and lots of down. It's not a steep grade. I don't think it ever goes above 7%…it's just that it's 18 miles of it and you have to watch out that you don't burn up your breaks before you get down to the bottom.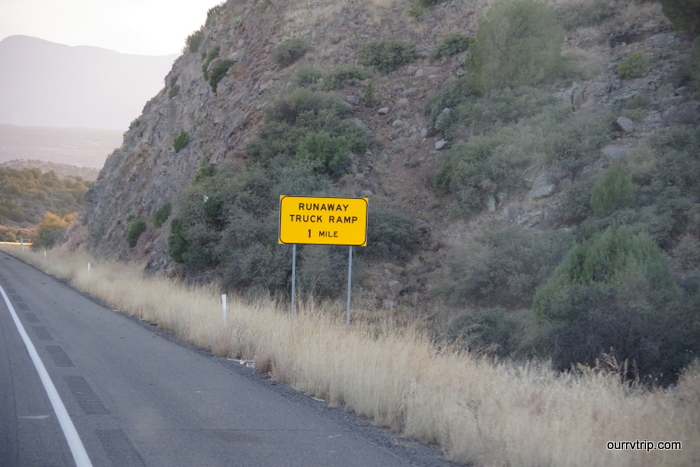 Fortunately for those whose breaks don't hold up, the builders of this road put in several runaway truck ramps along with just as many pull-offs so over heated breaks can cool off before continuing on. You have to be smart when driving a big rig down this portion of the highway and if it's your first time, I would suggest you do it during the daylight hours.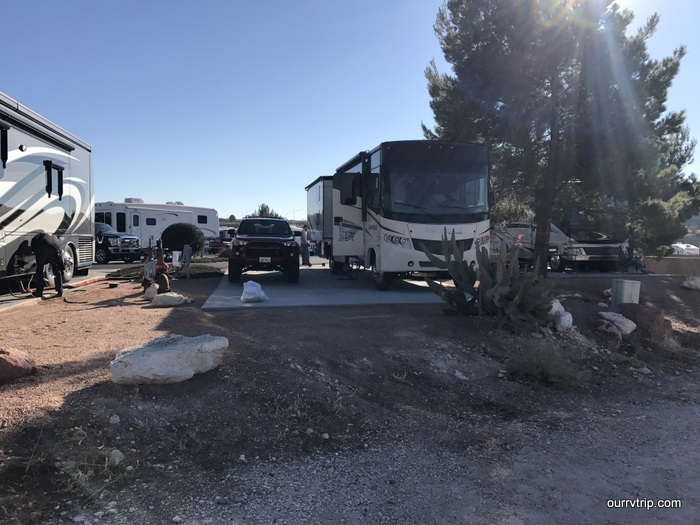 Don't worry though, we made it to our RV park and into our spot with no troubles! One of our favorite things about our life is all the people we get to meet. We met a couple from Montana (one of our neighbors) who quickly became friends.  It's always fun to meet back up with friends we make in our travels.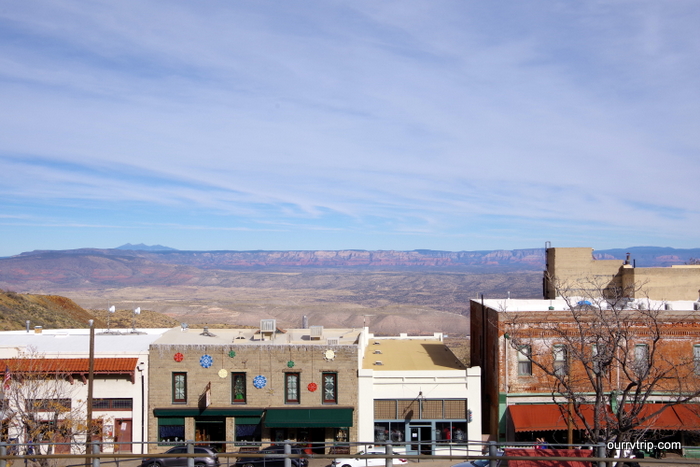 We spent most of Sunday going to Jerome. Jerome has some amazing views from it's perch on the side of Cleopatra Hill where it overlooks the Verde Valley. Originally a copper mining town, Jerome has faced some pretty big disasters and today is said to be very haunted with a local myth about lost gold in the nearby Sycamore Canyon.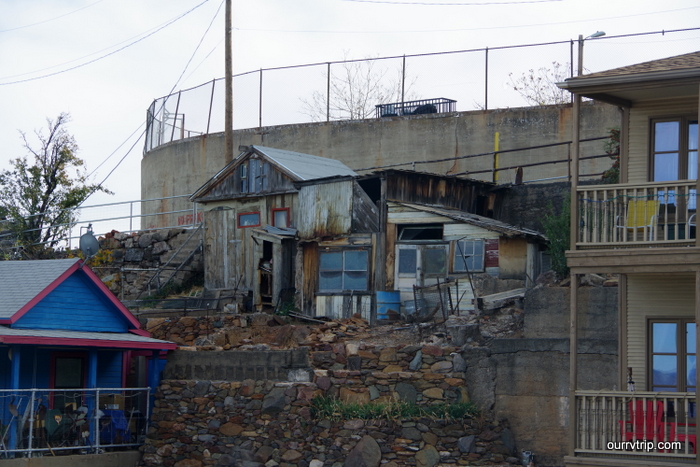 There are still remnants of Jerome's colorful past scattered throughout town. Apparently, it was a really rough and dangerous place to live at one time.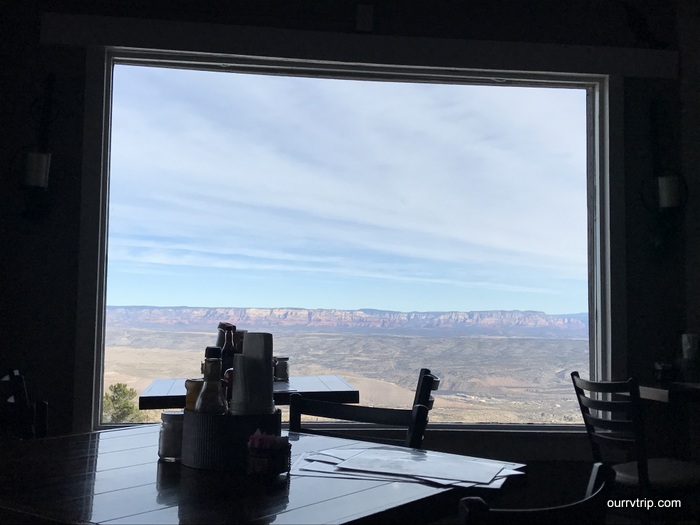 We went for the views…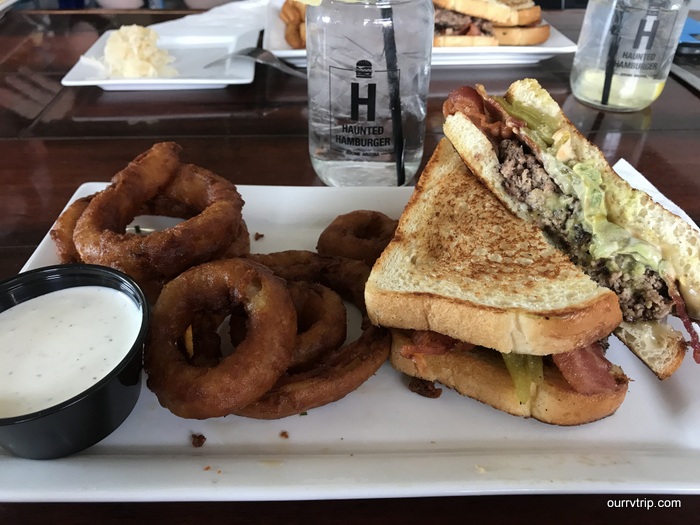 and the burgers. The first time we were in the Sedona area we drove up to Jerome in hopes of eating at The Haunted Hamburger, but we couldn't find a single to park. Anywhere! So, we turned around and headed on. This time, we got there earlier and found a spot not too far from our destination. We weren't overly impressed with the burgers here. They were just kind of ok for us and the prices…we don't mind paying for a good meal, but if I'm paying $15 for a burger…it had better be one of the best burgers I've ever had in my life! The view from our table was awesome! And…according to their story, the place really is haunted!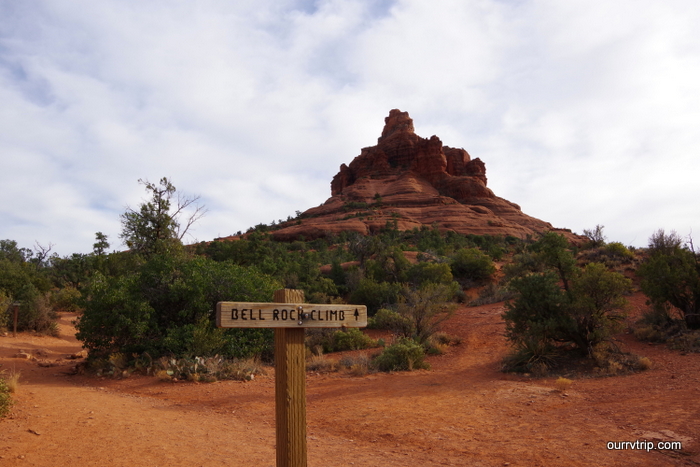 The boys have been talking about Bell Rock since we were there back in 2015. It's a fun place to do some rock scrambling and see how far up you can make it.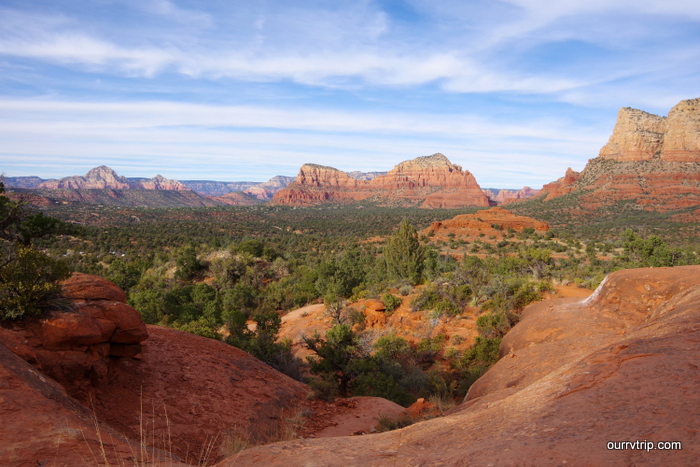 Personally, I like to go up part way then find a spot to sit and just take in the view.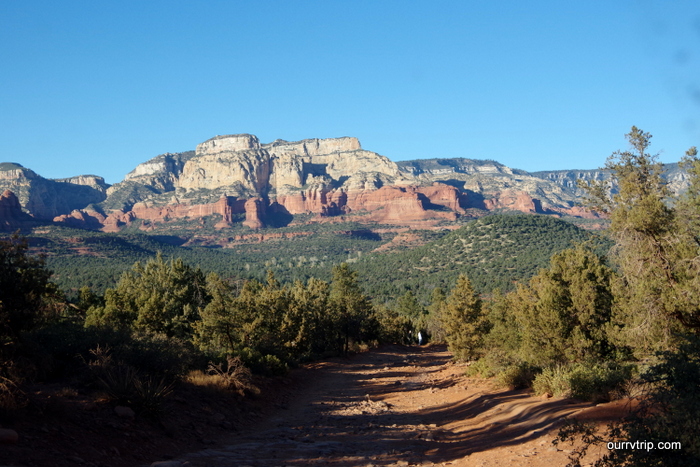 One of the reasons we have the two vehicle we have is so we can venture down roads like the one in the picture above. We really loved the Devil's Bridge hike the first time we were in the area and decided to tackle it again. The hardest part about this hike is getting to the official trail head. For those that don't have the right kind of vehicle, there's a parking lot you can park in and add about 2 miles to your hike.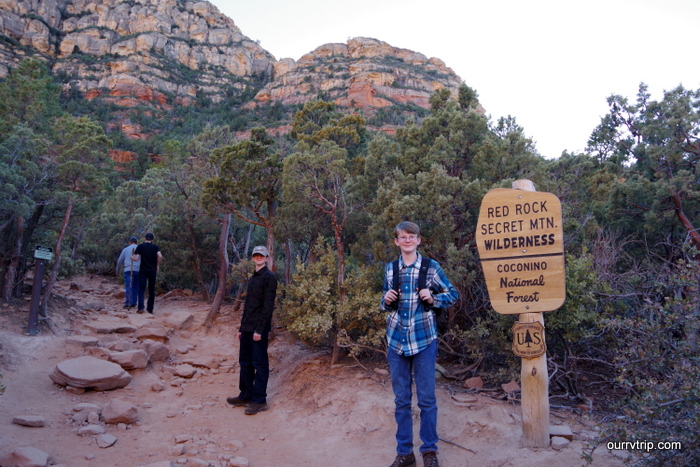 The trail isn't one of those smooth, flat, well maintained trails…it's very much a wilderness type of trail where you have to watch where you're walking.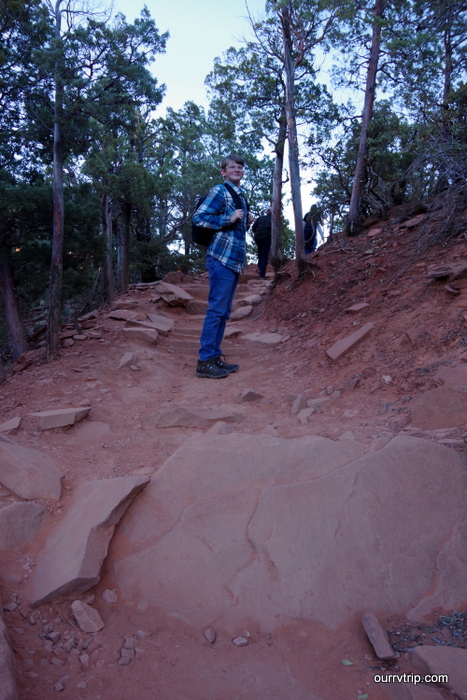 There's quite a bit of up with this trail, but none of it is terribly hard. There are a few places that can be a challenge for people with short legs.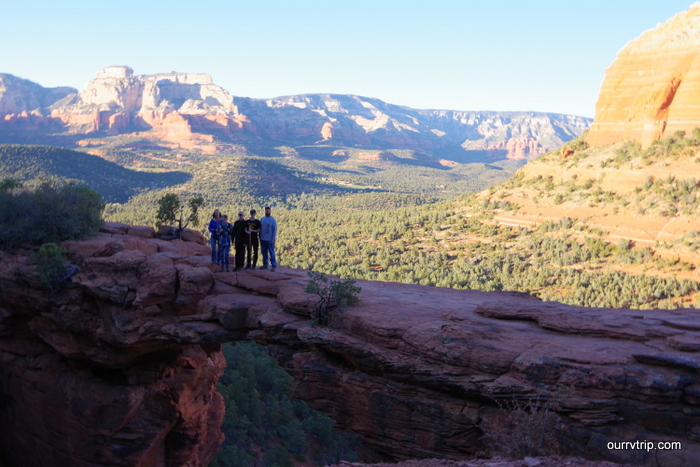 Devil's Bridge is a great TAB (there and back) trail that ends up being around a mile and a half if you can drive to the official trail head. It's a popular trail so be prepared to share the trail and take turns at the bridge for pictures.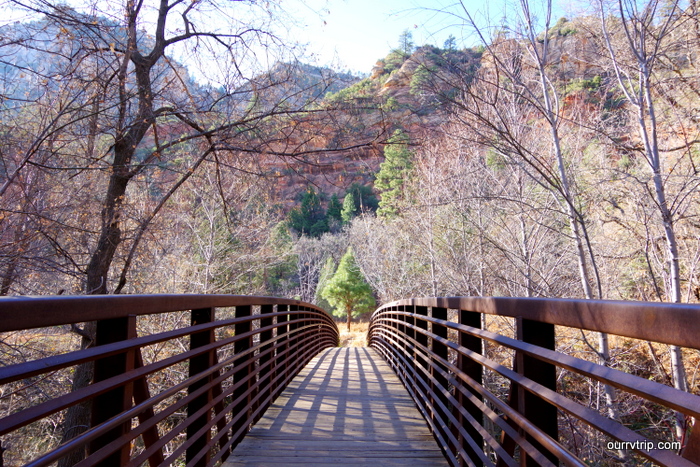 The only other trail we had time for was the West Fork Oak Creek Trail. This is another TAB trail and runs about 4 miles one way. Oh, and you cross Oak Creek 13 times…one way…so that makes 26 chances to fall into the creek.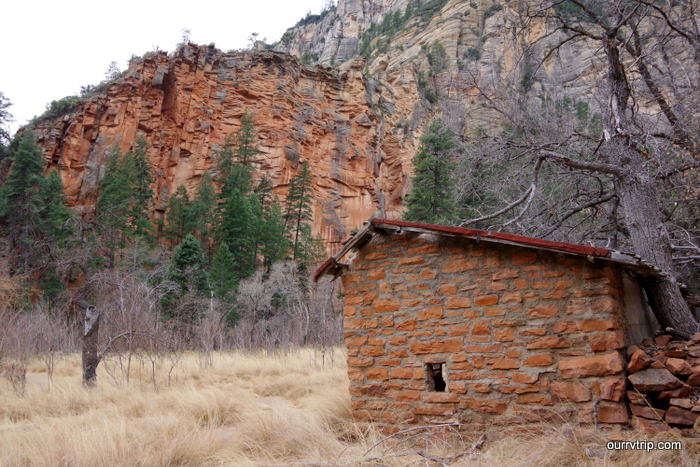 At the beginning of the trail you can explore a few old structures left over from a days gone by when there was a small log cabin back int the 1860s which later became Mayhew Lodge in the 1920s.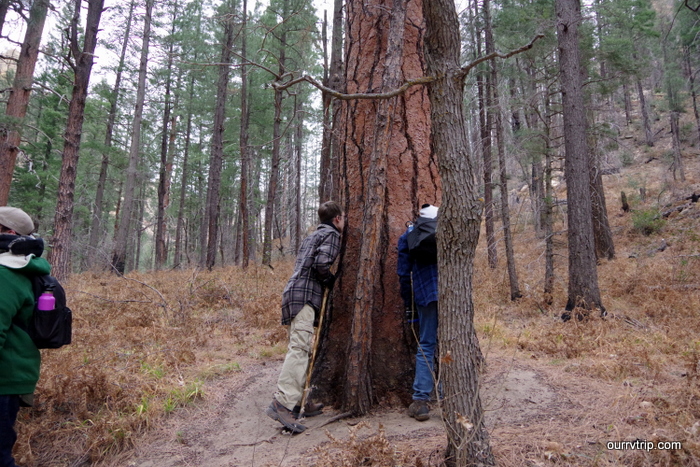 All four of the boys had to smell the ponderosa trees. A ponderosa is a type of pine tree and if you've never stopped to smell one…well, you're missing out. We've smell vanilla, butterscotch, toasted marshmallow…it mainly depends on the age of the tree. Try it next time you see one!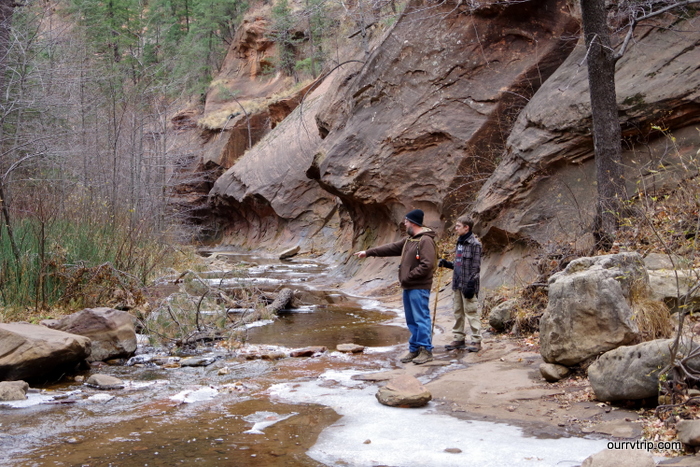 The morning we hiked the West Fork trail it was a chilly 30° and the creek was mostly frozen over so we had to plan out our creek crossings.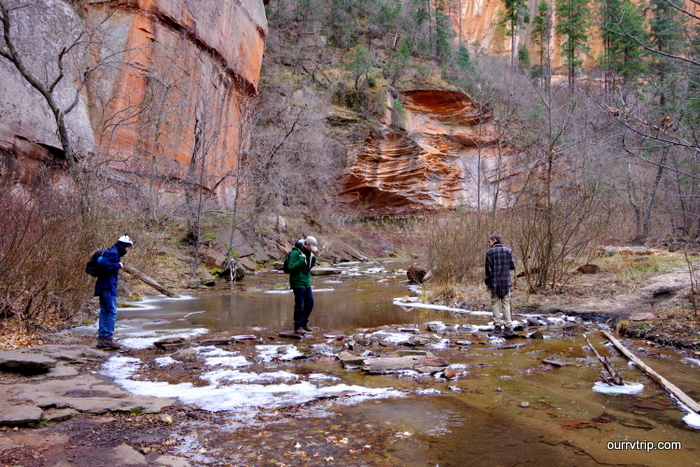 The ice made the rocks especially treacherous and we took our time at each crossing.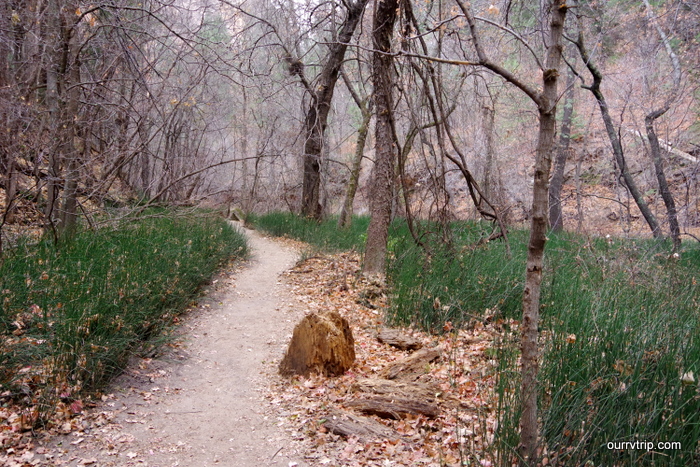 For the most part, this trail was super easy! The only challenge to this trail were the creek crossings…and I'll be honest, even those weren't bad.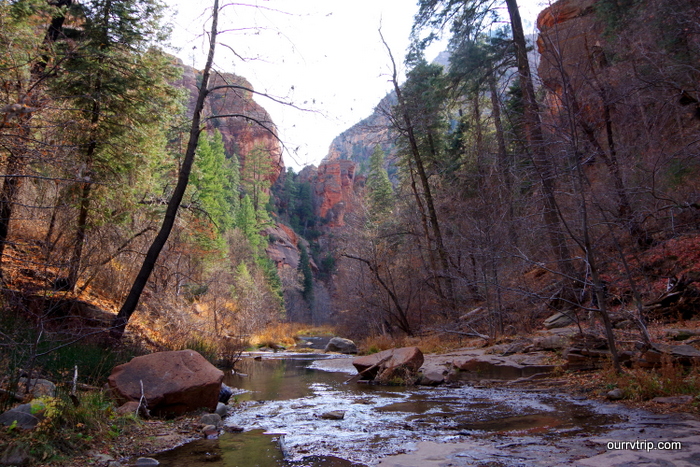 West Fork Oak Creek Trail ended up being one of our favorite trails in the area. We've already talked about going back during warmer weather to hike it again. And if you're wondering, only a couple of us fell in a few times…you're going to have to guess who it was though. I'm not telling.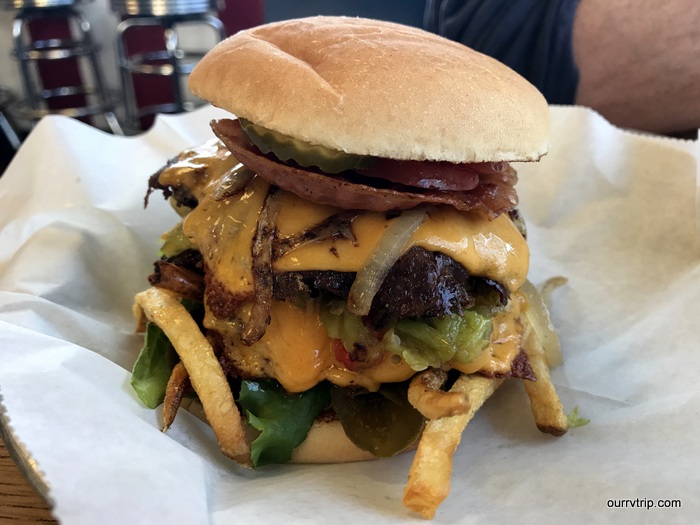 Let's talk foodies! We found Hog Wild BBQ during our 2015 trip to the area. Places like this is why it's so hard to pay the high price for an ok burger. This was an awesome burger for half the price.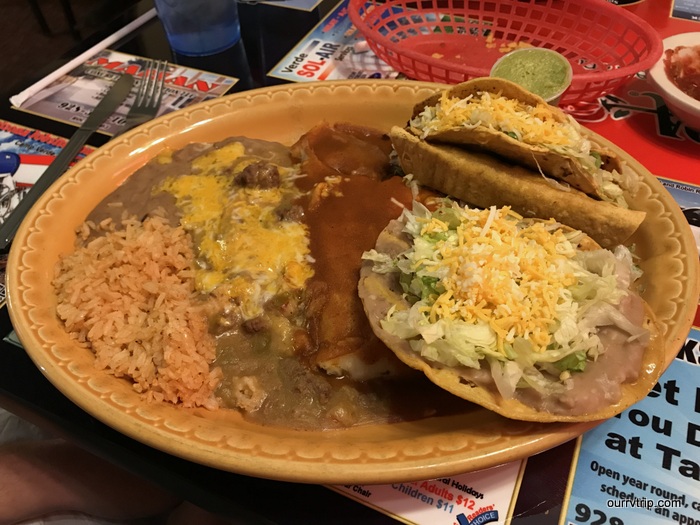 Juanita's Taqueria was a recommendation from someone who worked in the RV park. This place has the best shredded beef tacos we've ever had. We had plans to eat there again before we left the area, but a monkey wrench was thrown into our plans.
We started having engine troubles when we left Amarillo. We'd had our home-on-wheels to two different Ford dealerships and none of the techs could tell us really what was wrong, only that they weren't big enough to work on an RV and to check with a different dealership. While we were in Sedona we ended up at a dealership in Cottonwood which led us to contacting a dealership in Phoenix. The dealership in Phoenix told us they were pretty busy and that it would be a week before we could get in…which was cool because we had about a week left in the Sedona area before heading to the Phoenix area for our next stop.
Ready for the monkey wrench? The Phoenix dealership ended up calling us on Tuesday telling us if we could get our RV there that day they could get us in. Now, I should mention here that we'd been hearing horror stories of how long it can take to get stuff done at these dealerships so we jumped at the chance to get our process going. We left the Sedona area (without a refund for the week we'd already paid for at the RV park) and headed to Phoenix. Guys, when we got there…the techs spent 20 minutes (maybe) guessing and then told us they couldn't get us in until after the first of the year. That would be two weeks from then. So…we were stuck in southern Arizona during the winter snowbird rush without reservations.
I hate to leave you with a cliffhanger, but you'll have to wait until the next post to see what happens since we're into the Phoenix area post now.
I'll leave you with this video of our Sedona adventures!
See y'all down the road!
#grandwesternloop