Big Bend National Park is harsh and unforgiving and isn't apologetic about it at all. If you want someplace soft, lush, or easy, this is not the park for you. But, if you're into adventure, you want some fantastic views that you have to work to get to, and you love a park that's diverse…this is definitely your park.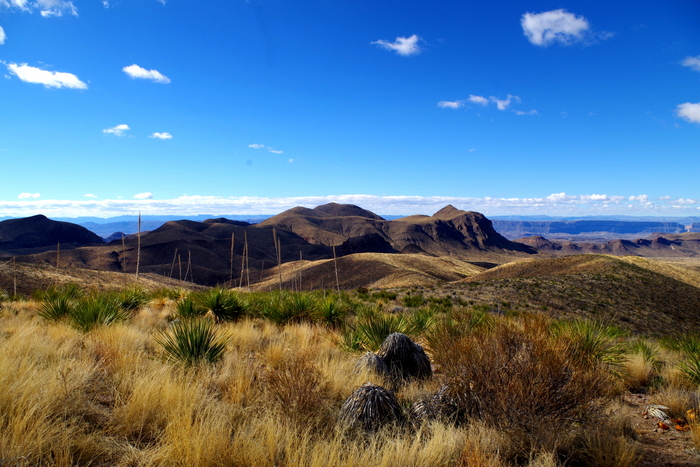 This park stretches out over 800,000 acres, includes massive canyons, vast desert expanses, forested mountains, and part of the Rio Grande Wild & Scenic River!
We spent a day driving the Ross Maxwell Scenic Drive.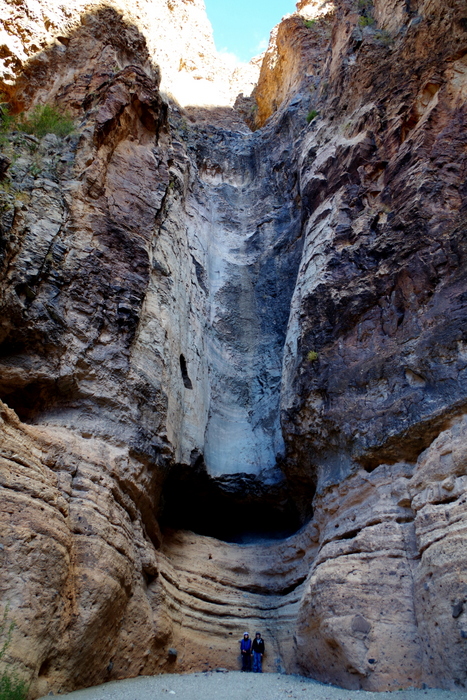 The drive is only 30 miles, but we stopped several times to get in some hiking. We did the Burro Mesa Pouroff Trail and found this really cool area that has a dry waterfall until one of the flash-floods comes through.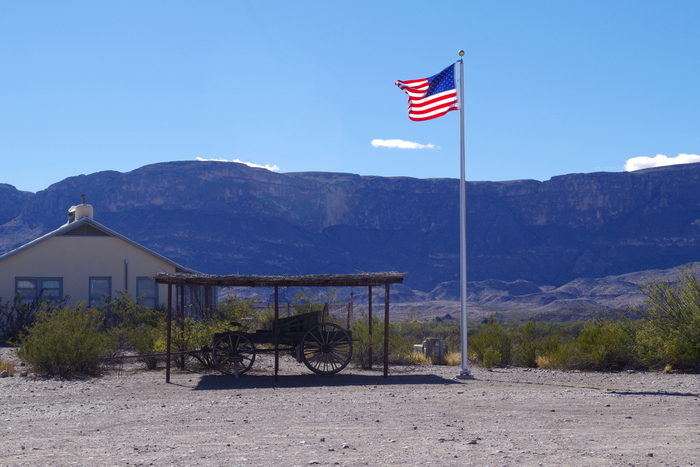 We stopped by the Castolon Visitor Center to have a picnic lunch and gaze at the cliffs of the Santa Elena Canyon we were heading to. Castolon used to be a Military Outpost and you can see some of the old equipment that was used during that time.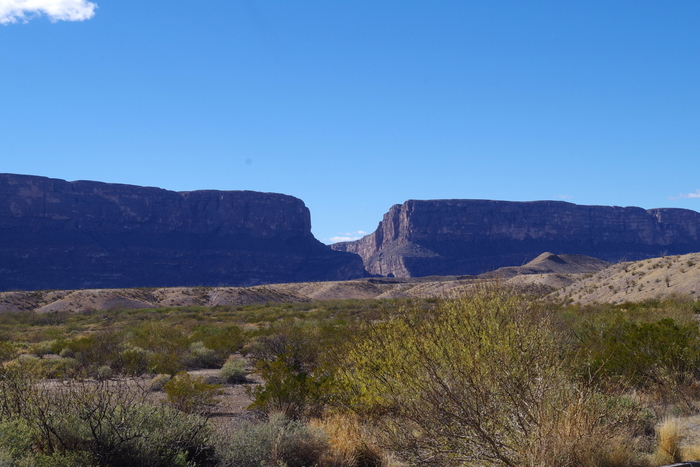 In Big Bend National Park, the roads end at the river. The Ross Maxwell Scenic Drive takes you down to the Santa Elena Canyon where you can get out and hike through the U.S half of the canyon.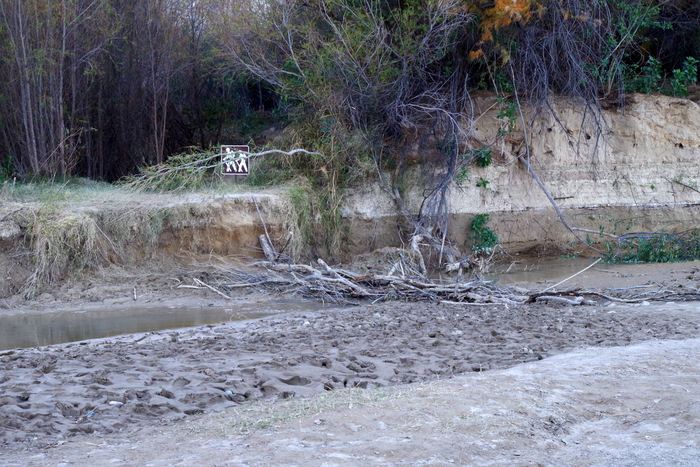 Everything I found about the Santa Elena hike said you cross a small creek. I really thought there would be a bridge. And…I was right…kind of. See those sticks? Yep, those are the "bridge" and no, they're not held down by anything. One wrong step and splash!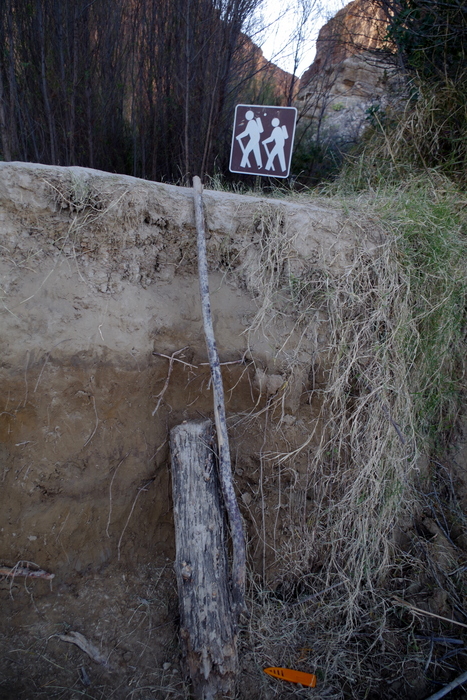 Now let me show you the high tech set of stairs we used to get up the side of the creek. Now, can we stop and appreciate the fact that I am only 5′? I got up! It wasn't graceful, but by golly, I made it!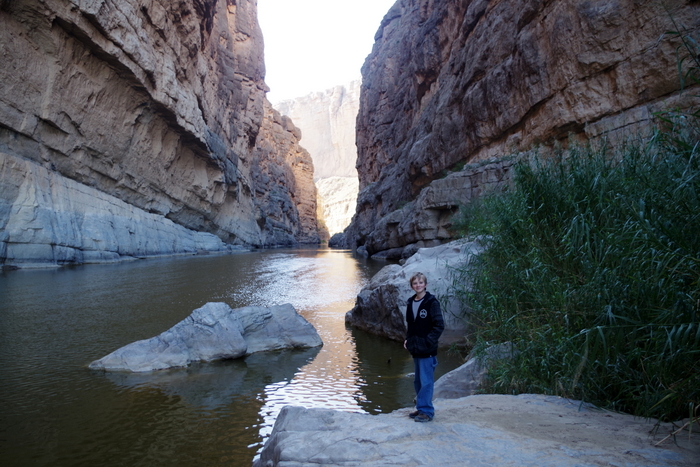 And Holy Jumpin' was it worth it! Santa Elena Canyon is only 8 miles long, but is 1,500 feet deep and in some places only 30 feet wide.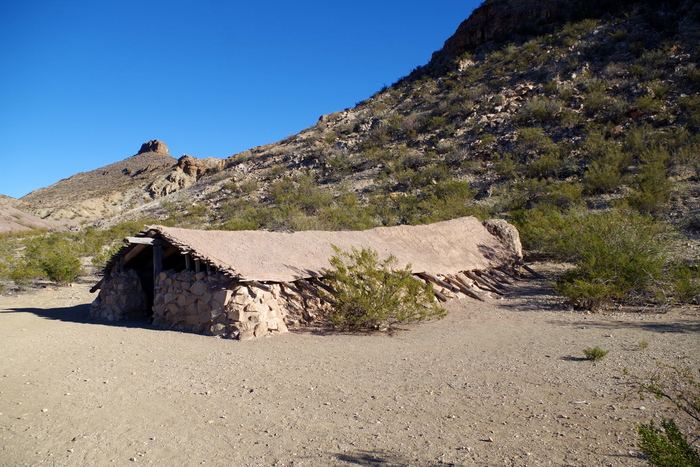 The canyon was the end of the line for the scenic drive so we back tracked a couple of miles to this dirt road (we seem to always find ourselves on dirt roads) that would allow us to make a loop of the drive instead of having to go back the 30 we'd already seen. We found this old farm house. The Big Bend land is dotted with old farms and ranches.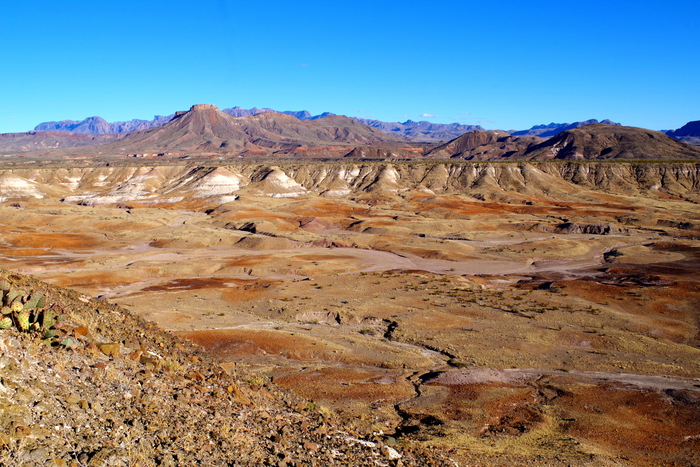 We also found this section of badlands and climbed up over a small hill for the view above. There wasn't a trail, we just caught a glimpse and got out to explore.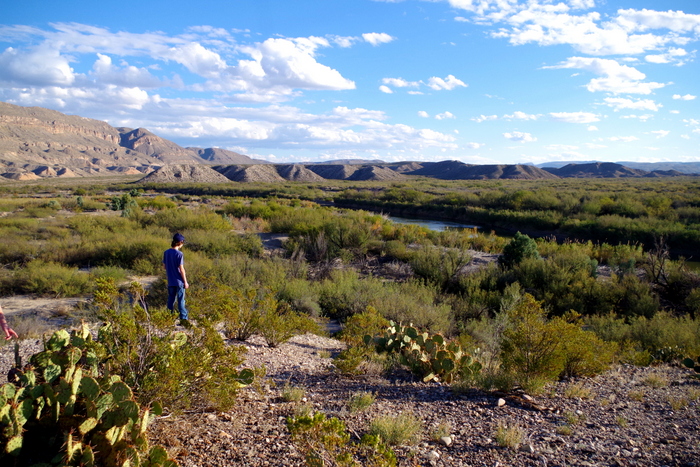 We took a drive down to do the Boquillas Canyon hike one afternoon. That's the Rio Grande River and the border you're looking at in the picture above.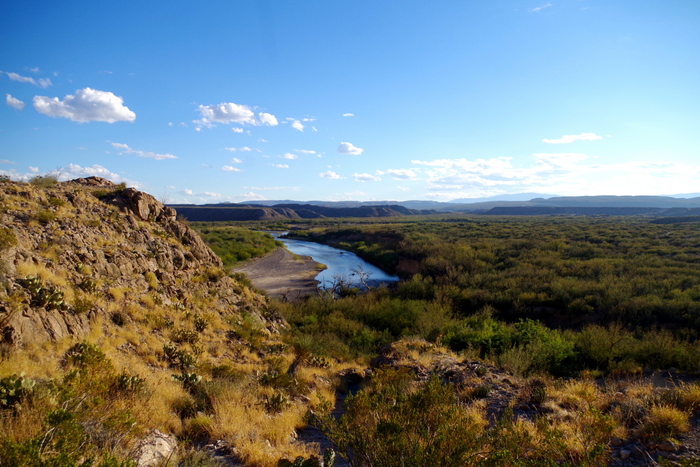 The Rio Grande River winds south and makes the Texas/Mexico border. It makes a big horseshoe shape and it's within that horseshoe shape that Big Bend sits. On one side of the river is the US and on the other sits Mexico.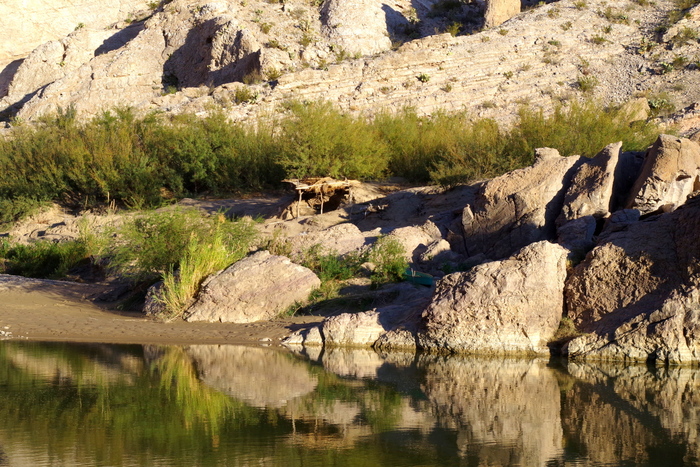 We had been warned that some of the Mexican citizens liked to cross the river (border) illegally and put out "tip jars" and "souvenirs". We were also told by Rangers that they considered any of these things contraband and would seize them if found. On our Boquillas Canyon hike we found both "souvenirs" and "tip jars for the singing Mexican". I dunno…seems kind of harmless to me. We didn't purchase any souvenirs or leave a tip, but I really don't see the harm in it. In the photo above you can see the home of one of the Mexican citizens that was hoping for a "tip".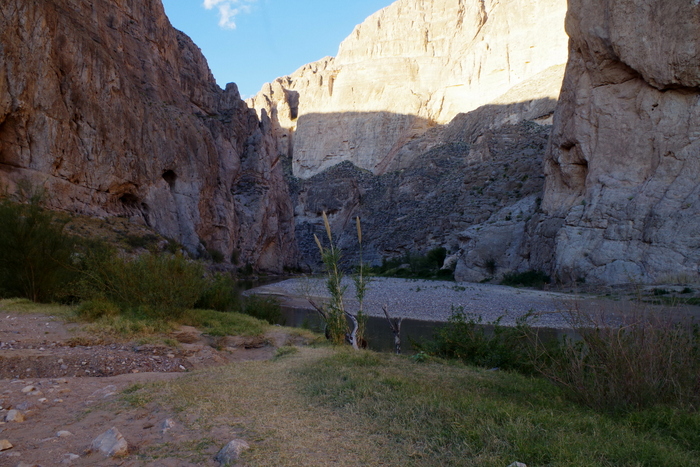 Boquillas Canyon isn't as well known as Santa Elena Canyon, but it's still a neat hike and is quite something to see the river disappear into the canyon itself.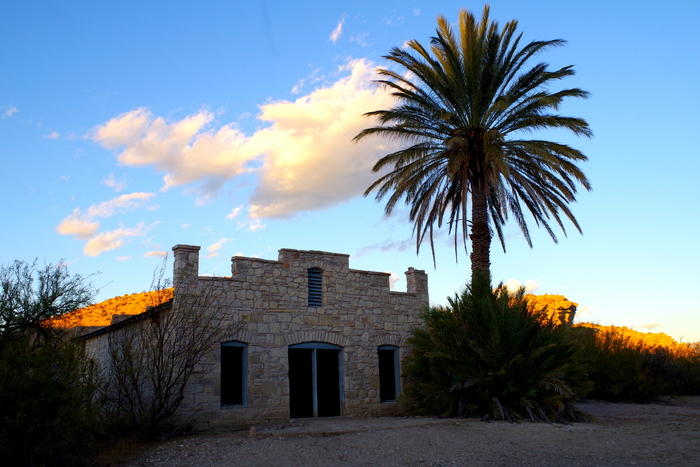 One of my favorite spots in the park is the Hot Springs area. We got there right as the sun was trying to sink, but we had just enough light to get a quick look before we headed on down the road. In the early 1900s J.O. Langford heard about the hot springs and set out to own it under the Homestead Act. Eventually, he opened it up to the public where they could soak in the 105°  water for 10¢ a day.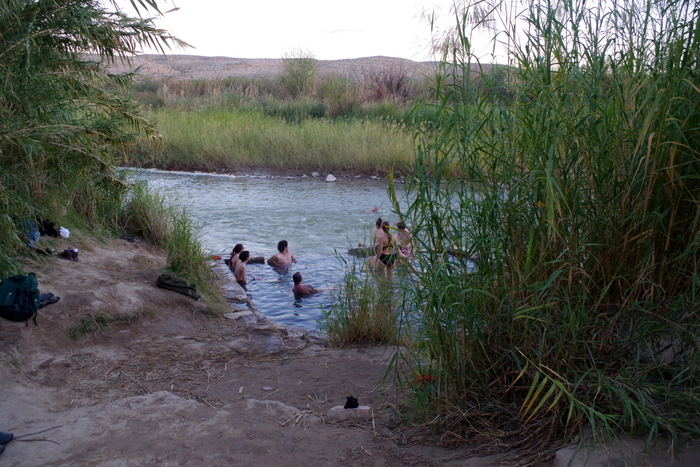 We found the hot springs surprisingly full considering the time of day. We didn't get in, we just wanted to see them.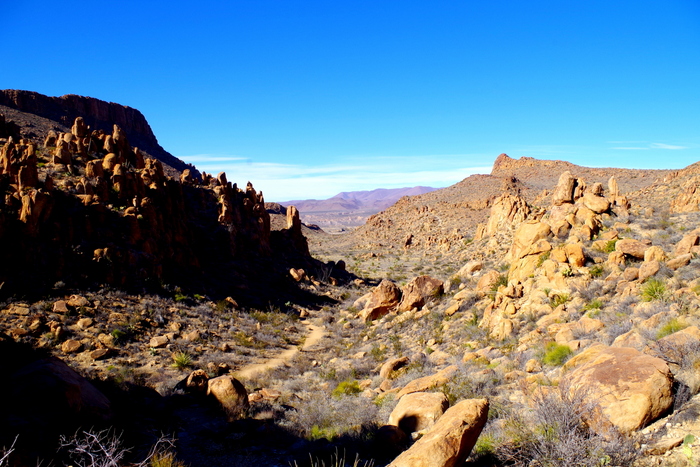 The rocks of Big Bend are…complex. If a rock can be complex. Two seas, one right after the other, flowed in the Big Bend region hundreds of millions of years ago. They left thick deposits of limestone and shale in their wake. The Chisos Mountains rose about the same time as the Rockies and at the same time a wide strip of land sank along a fault line and in the center of it all was volcanic activity. Complex.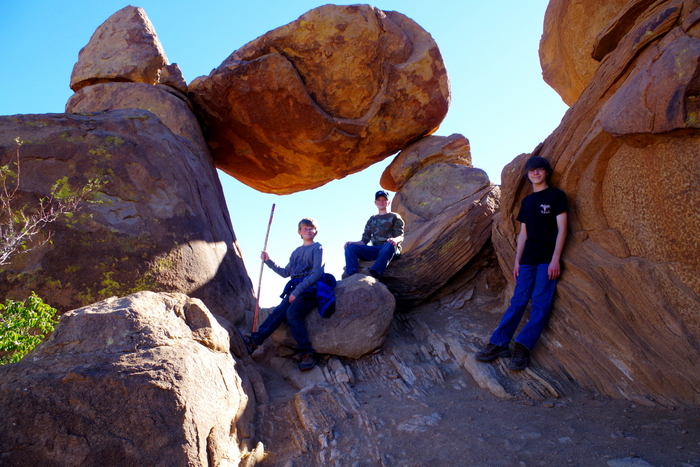 One of the best hikes in the park is the Grapevine Hills hike that takes you to the balanced rock you see above. It's not a long hike, but the last quarter mile has some truly Harding Icefield Hike worthy parts. Funny, those parts are turning into our favorite parts.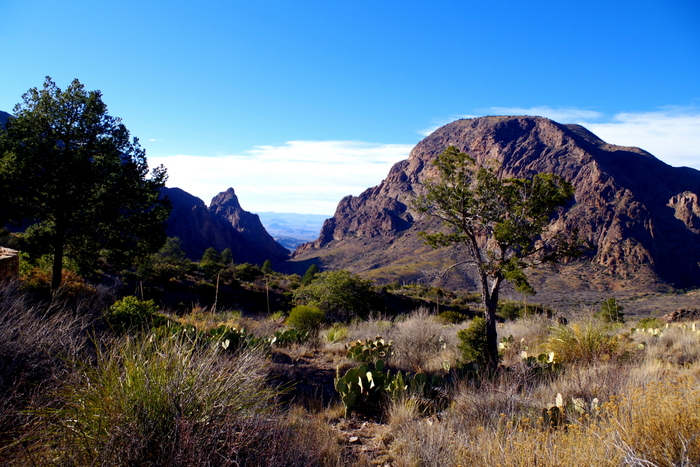 If you want to see a mountain lion or a black bear you'll need to head to the Chisos Mountain section of the park. We went into the visitor center there and they have a board with all of the wildlife sightings. There were more than I thought there would be. We didn't get to see any, but we didn't get to spend much time in this section of the park. Two weeks isn't long enough to really see this park.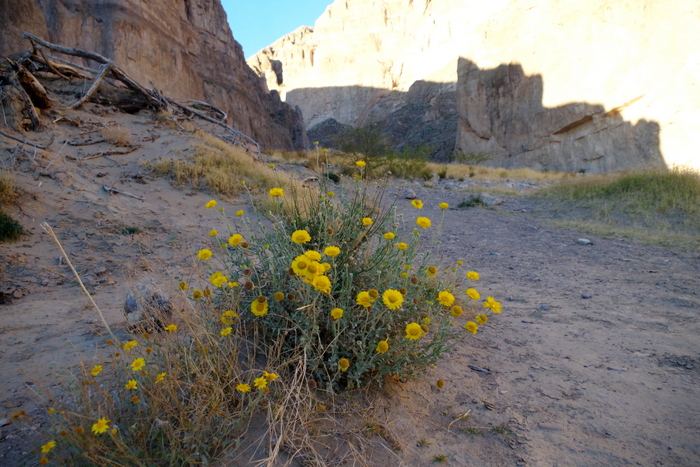 I couldn't leave out the flowers. I didn't see many…it is winter.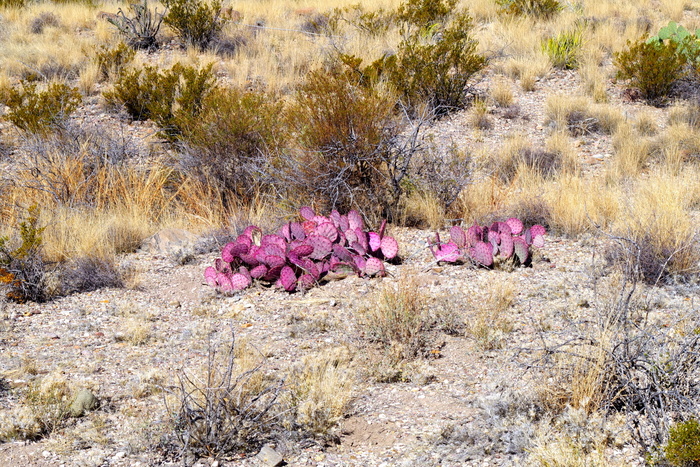 I know, I know…these aren't flowers, but they're pretty enough to be! I saw just as many pink and purple prickly pears as I did regular green ones. I like the pink the best.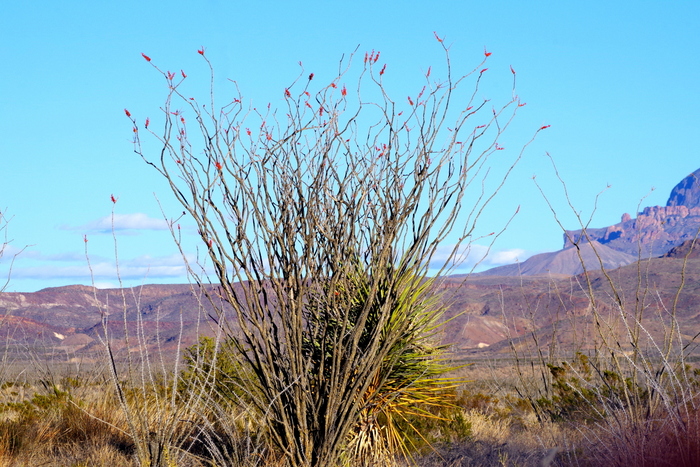 I was surprised by how many ocotillos we found at this park. Several had pretty red buds at the tops.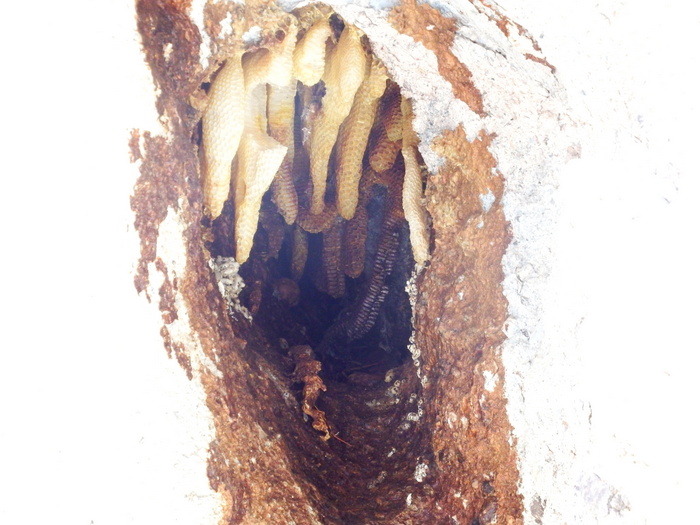 Since The Dude is pretty busy with school right now, I'll go ahead and throw in the wildlife we saw too. We found this huge bee hive in Tuff Canyon. It was extremely active.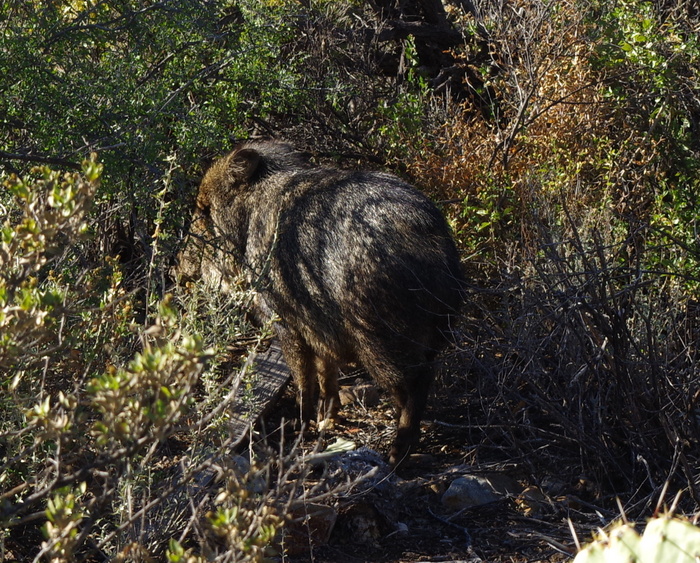 We also finally got to see a javelina up close! This little guy wouldn't turn around for me to get a better shot so you're stuck with a picture of his tushy. We didn't push it since these guys are rumored to run in packs of 15-25. We didn't want a stampede on our hands. We also saw roadrunners, bobcats, and coyotes!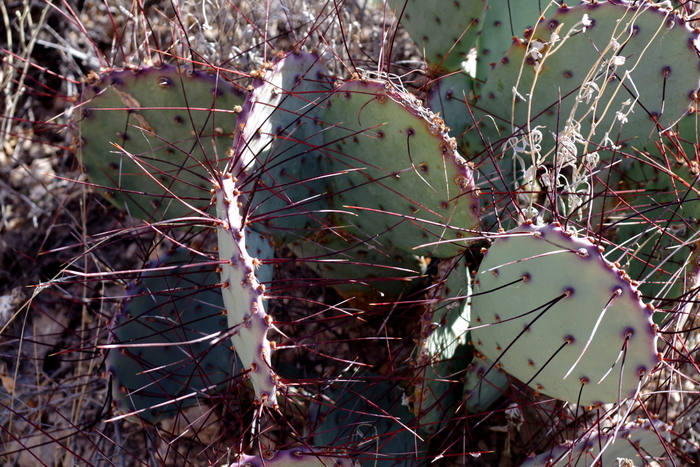 There are those that will simply drive the paved roads of this park and call it good. They'll miss most of the striking rock formations, the craggy ravines, spectacular vistas, and amazing river canyons. Maybe they're intimidated by the stigma a desert carries of being a barren wasteland or perhaps it's that all of the plants and animals aren't soft and inviting. Big Bend National Park isn't really visited by the usual national park goer and that's a shame because you can look at all the pretty, glossy photos of place you want…but you'll never truly understand the sheer size of the canyon walls or the wide open expanses unless you're there. We will definitely go back to Big Bend. We feel like we found a diamond in the rough.
See y'all down the road!
#goseedoexplore