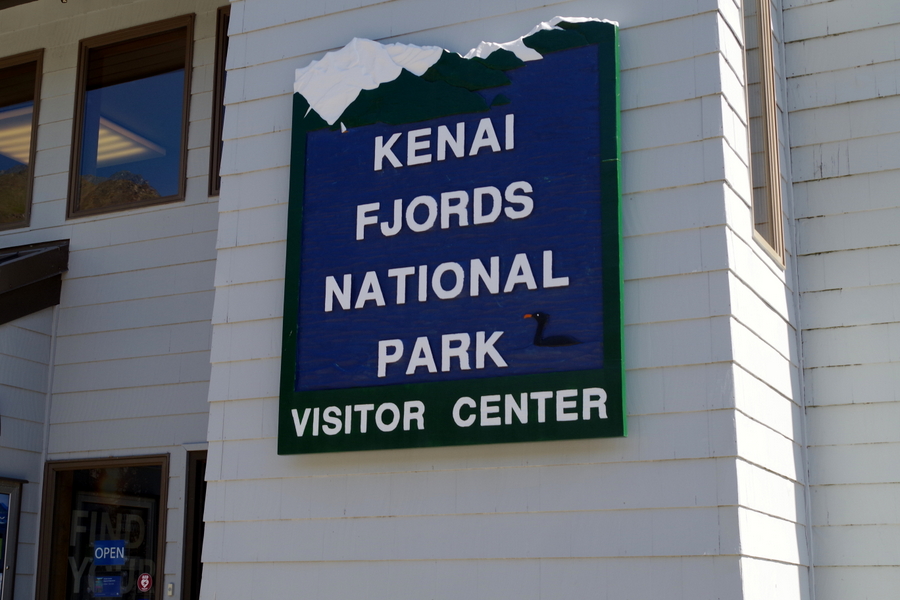 Kenai Fjords National park is 607,805 acres of unspoiled wilderness on the southeast coast of Alaska's Kenai Peninsula. There are three ways you can visit the park in Seward: 1. Take a cruise, 2. Go to the visitor center in downtown Seward and do a Ranger Walk (the Ranger Walk isn't technically in the NP), and 3. Go to the Exit Glacier portion of the park (this is the only part of the park you can drive to). We did all three of these things! I posted about the cruise in a separate post because it would have made this post too long.
We did our Ranger Walk on a beautiful Sunday afternoon.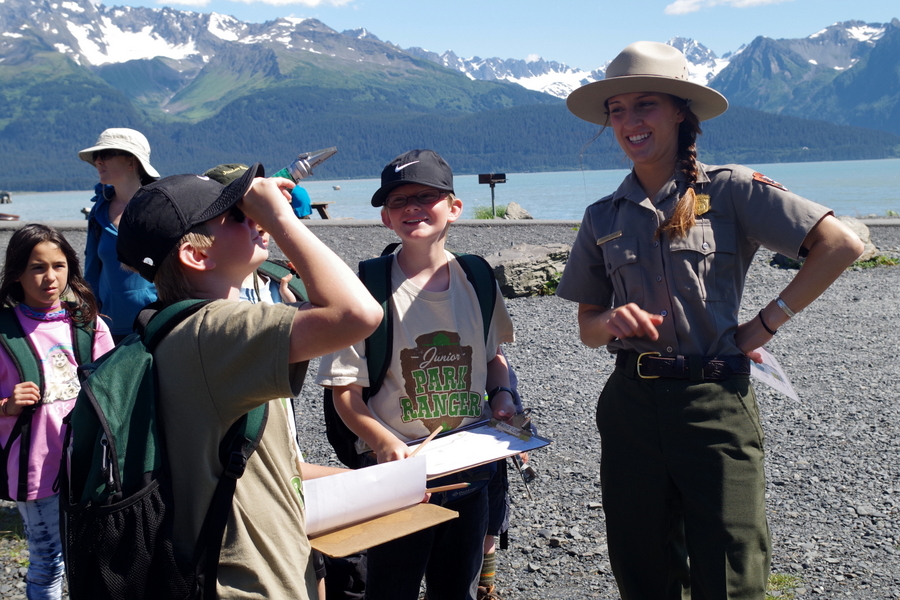 The Ranger Walk is only offered on Sunday afternoon and is geared toward kids. Our ranger was a college student working on her Master's degree in Zoology. It was at this point our 15 year old decided maybe rangers weren't all that bad.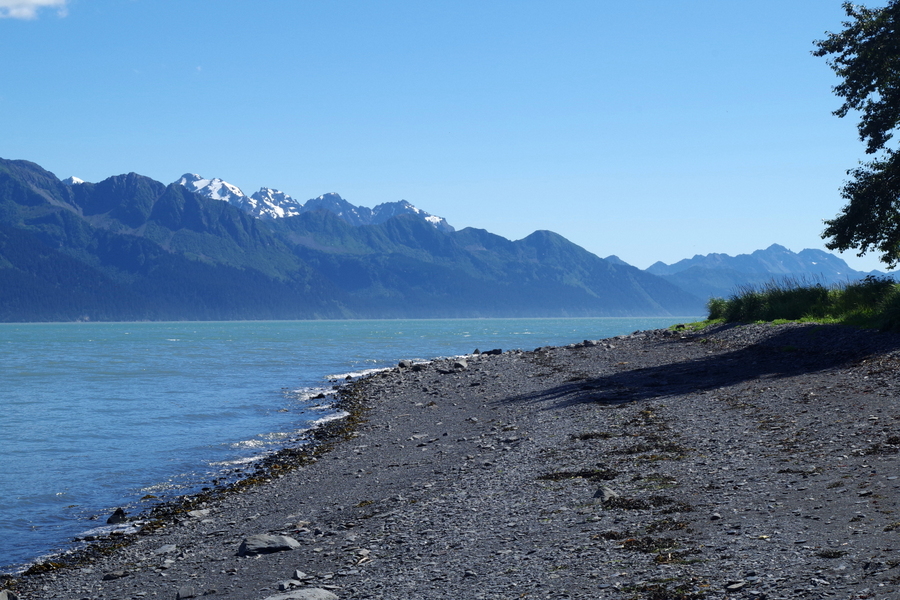 The boys had a great time walking along the shore line learning about glaciers and fjords and what kinds of things rangers do. They also earned their Fjords Ranger Patch!
We went to the Exit Glacier portion of the park twice.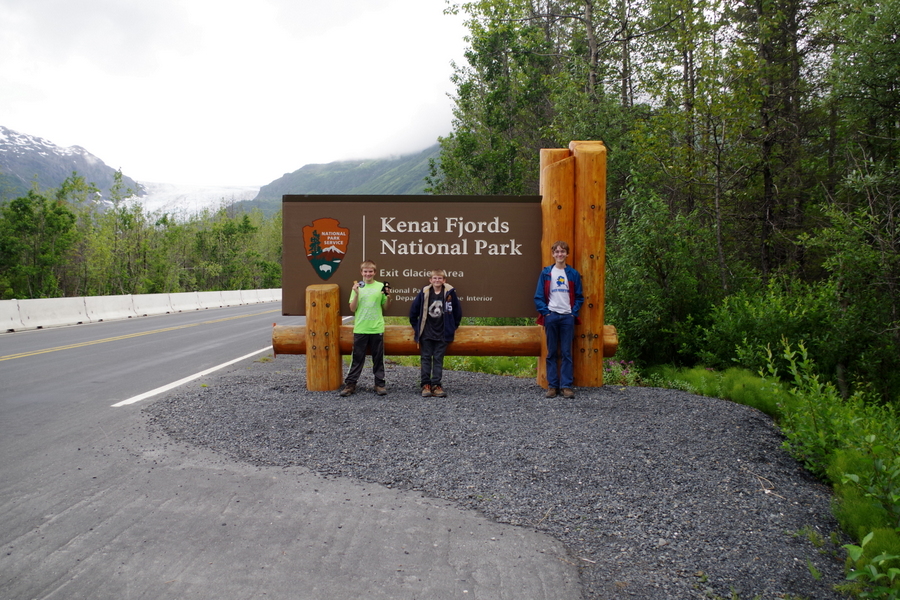 The first time we went we did the easy one mile hike to the Exit Glacier viewing area.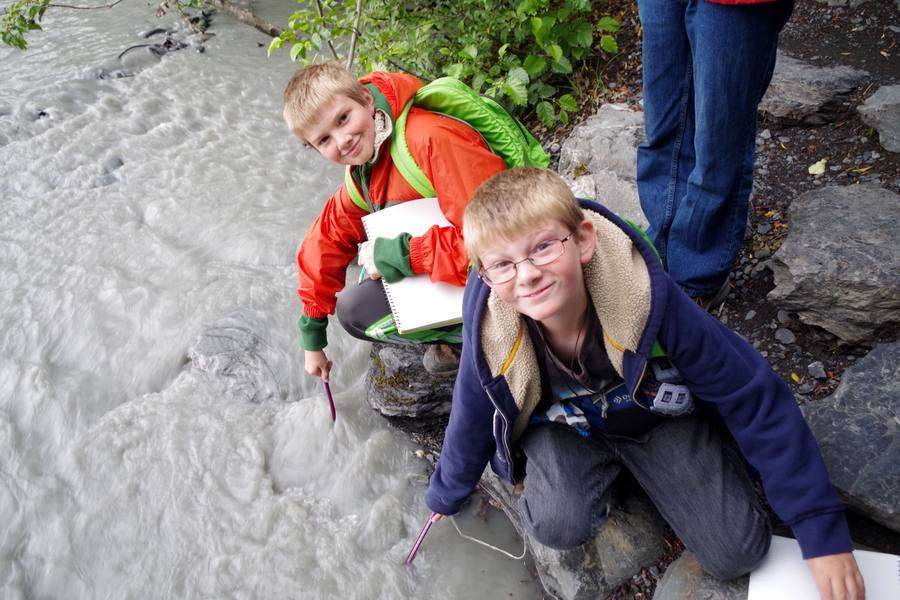 The boys did the Explorer Packs on this visit. The NP lets you check out a backpack that has all kinds of activities you can choose from. Alex kept track of water temperature in different places during the hike and Nicholas identified several plants and trees. This got them the Glacier Patch!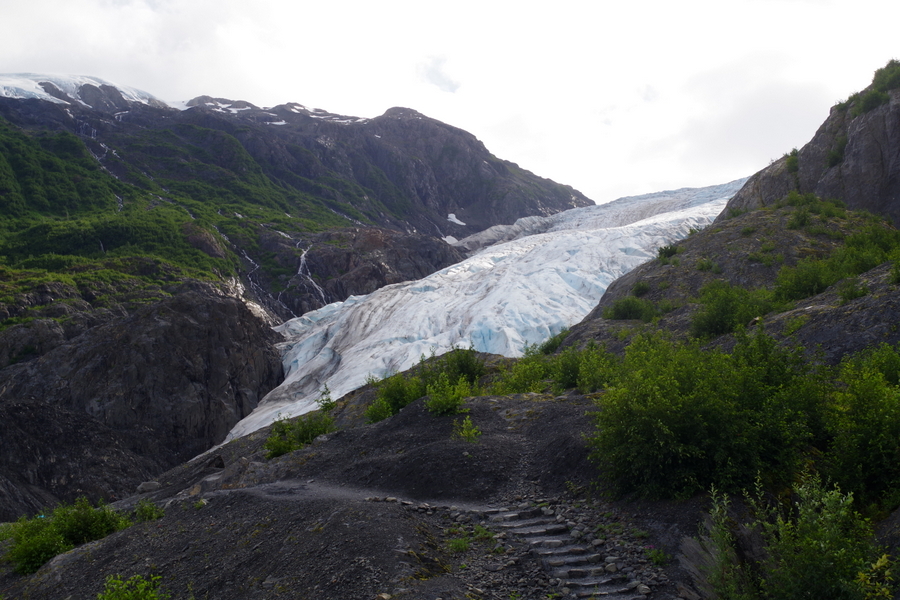 The trail was a great path with stairs. This was our first glimpse of the glacier while on the hike.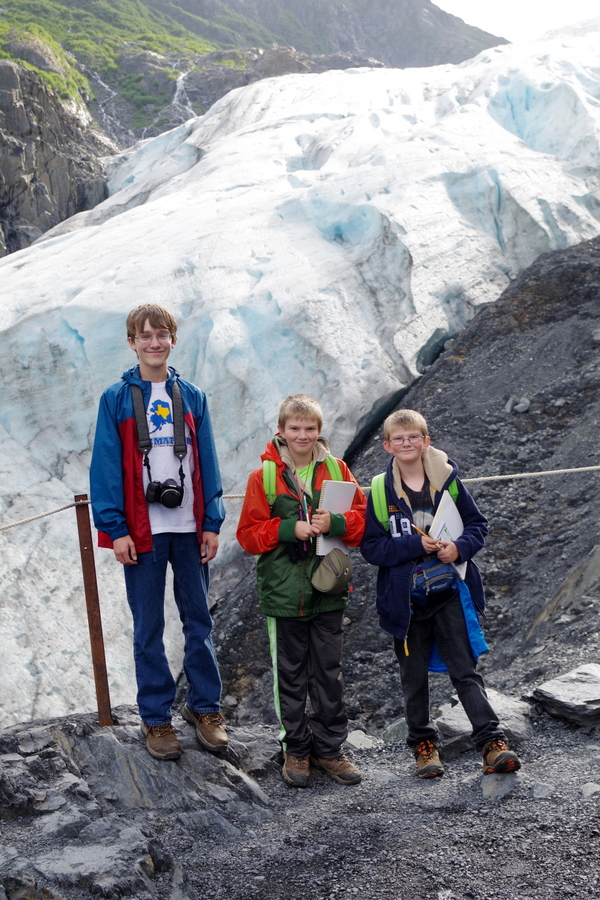 This is as close to Exit Glacier that you can get. They've got it all roped off.
We saw this little guy on the way back down. He's a red backed vole. He was amazingly not afraid of us. I walked right by him on the path.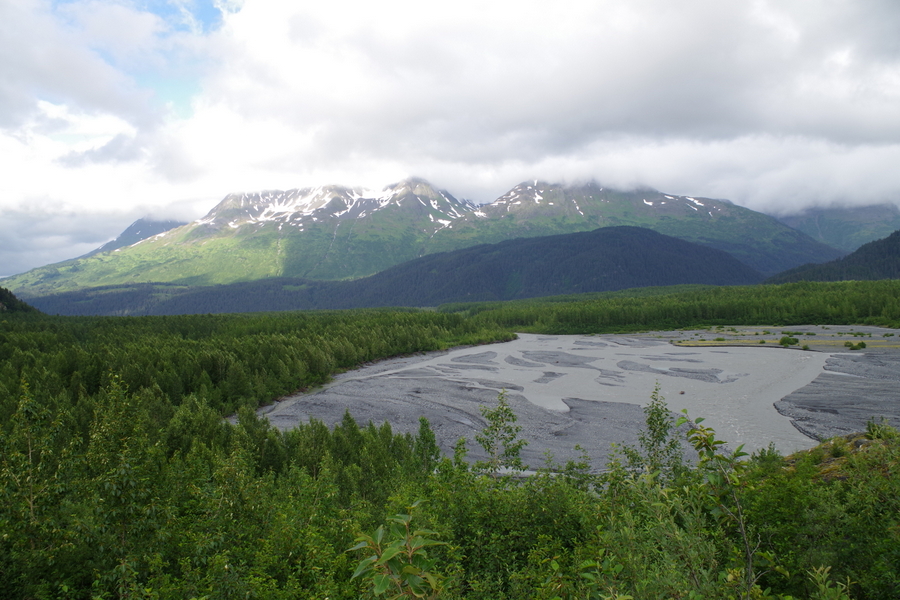 Here's a picture of the glacier washout. All of the water running off the glacier runs through there. People camp out there too. I wouldn't. It's all rocky and prone to high water. That just doesn't sound like a good time to me.
Now, I like to keep it real for you so I'm going to tell you about the hardest hike we've made on this trip so far. And boy is it a doozy.
The second time we went to the Exit Glacier area we decided to do the Harding Icefield Trail. We planned ahead and brought our hike packs with water and snacks…we even brought a couple of jackets because on prior hikes we'd run into rain and cold on top of the mountain. Remember Whistler Mountain in the Oh Canada post? This hike is an eight and a half mile (round trip) hike. It gains 1,000 feet per mile on the way up.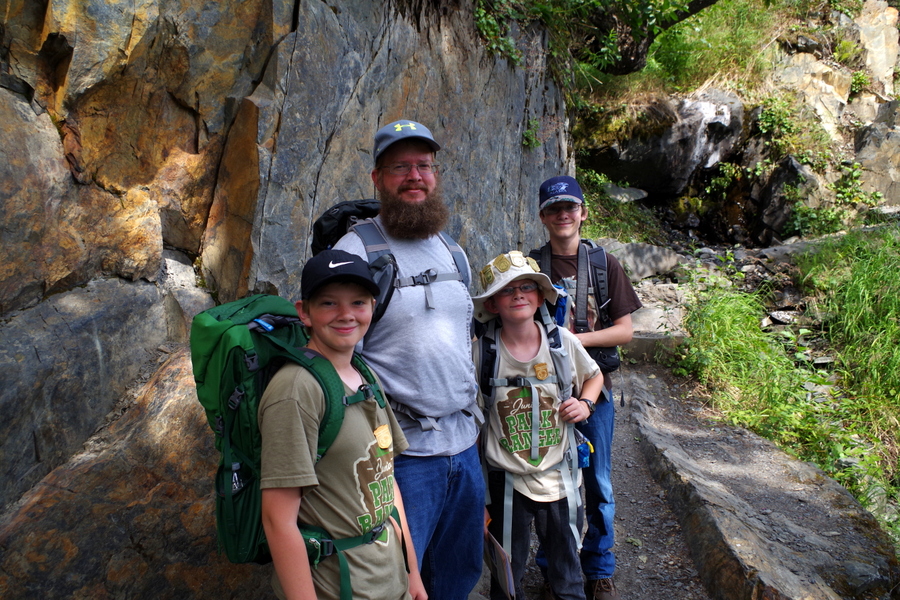 It started off great!! A gentle upward hike through the forest to the trail board where you're supposed to check in and out so the park can keep track of everyone. The up started right after the trail board. It was still pretty gentle. We've decided the NP was trying to lull us into a false sense of security.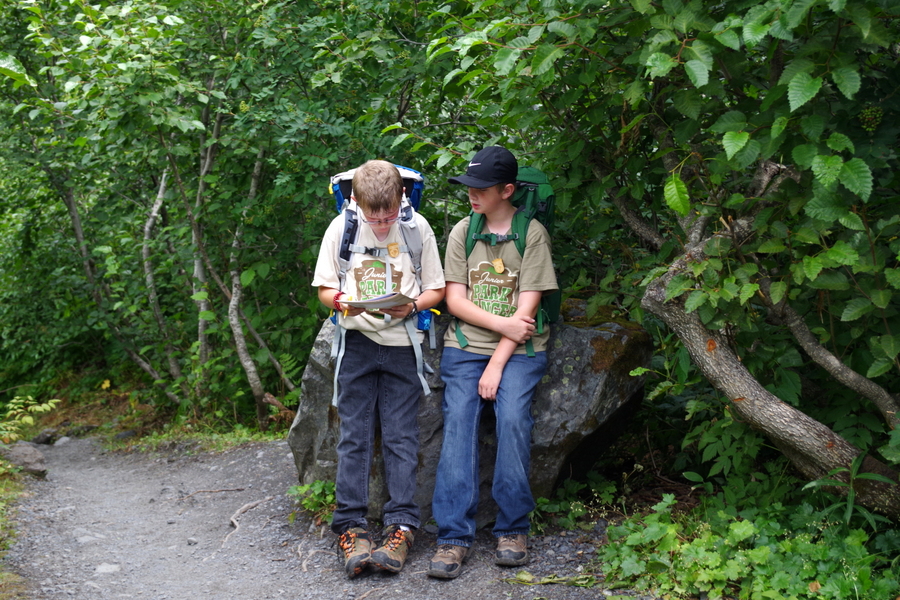 We would hike a while then stop and rest a few minutes. The little boys decided to do the Explorers workbook (which is meant for 13+ years) this time so they could get all four of the available badges offered at this NP. They would work on it during our breaks.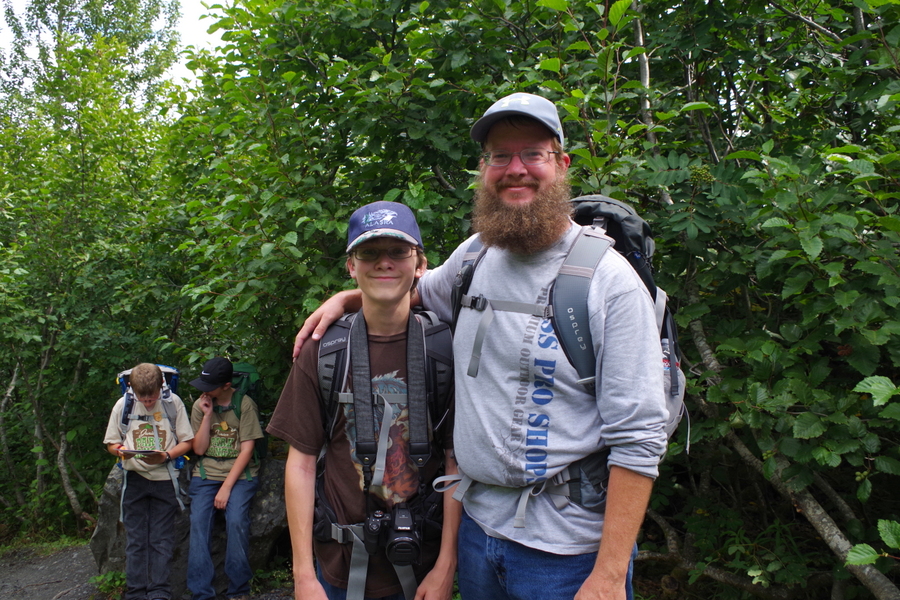 Everyone was still feeling pretty good about the hike here. We'd gone maybe a mile…but we thought we'd gone farther than that.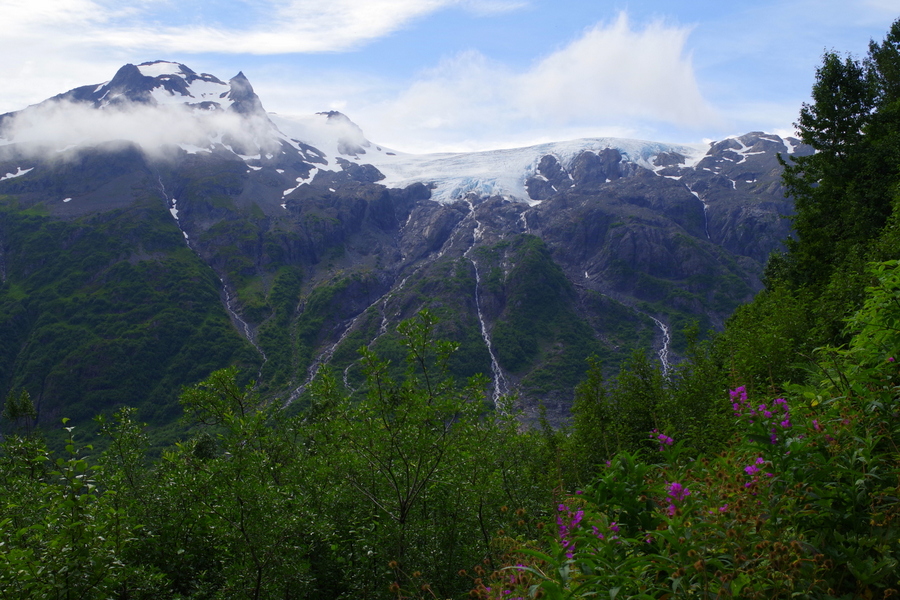 The views were amazing. We would huff and puff up to a flat-ish place and look up and see things like what's in the photo above. When they said the trail gains 1,000 feet every mile, they weren't joking. Right around here we got to a place in the hike that had a trail marker that told us we still had over two miles left in the hike. We were really feeling it. We were hot, our legs were wobbly, and the trail was more advanced than what we had ever hiked before.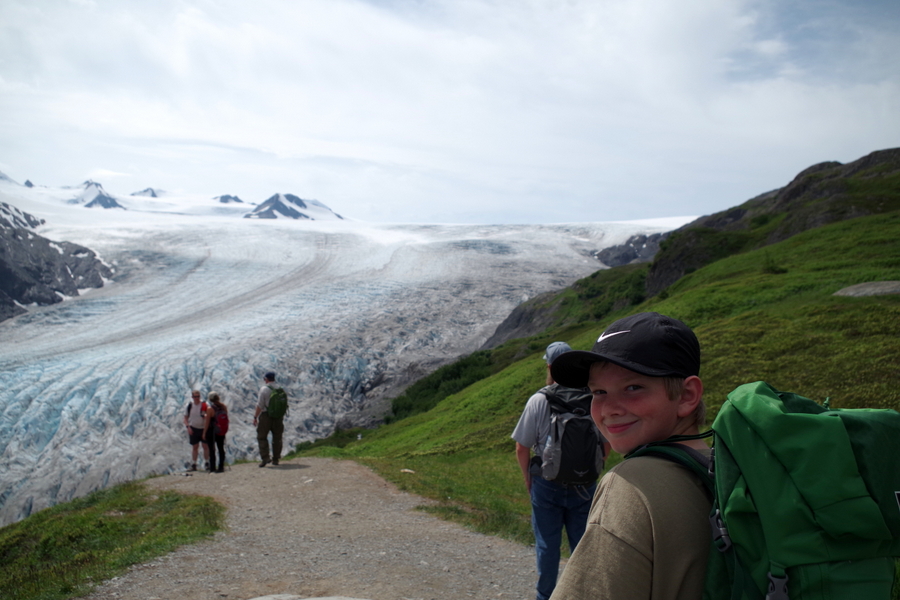 We talked to some people coming down the trail and they assured us that the hard part was almost over. If we just make it up the switchbacks, we'd be home free…the trail would flatten out. So, we pushed on after taking in the great view.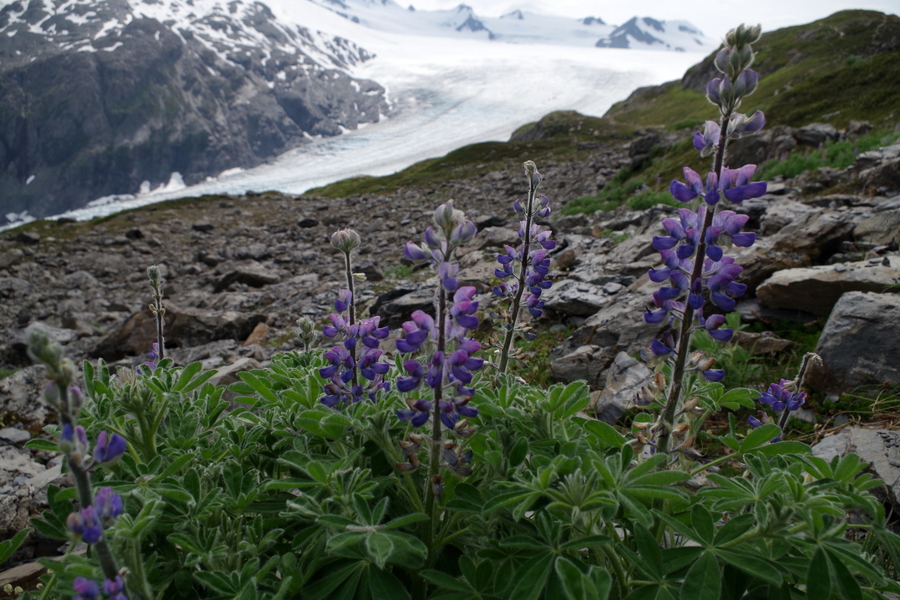 The views during this entire hike were breathtaking. It's hard to be in a bad mood when you're surrounded by the wild beauty of Alaska. It was during the switchbacks that Jerl's legs started cramping up and we all started to really feel the burn. If you work out, think about a leg day that you pushed yourself way too hard…that's where we were and we still had about 2 more miles of up to go. Any normal family would have called it quits and gone back down while they could still move. Not us though. Oh, no…we kept getting told how we were soooo close and how if we made it up to this certain point it all flattens out. We didn't' want to wimp out so close to the finish.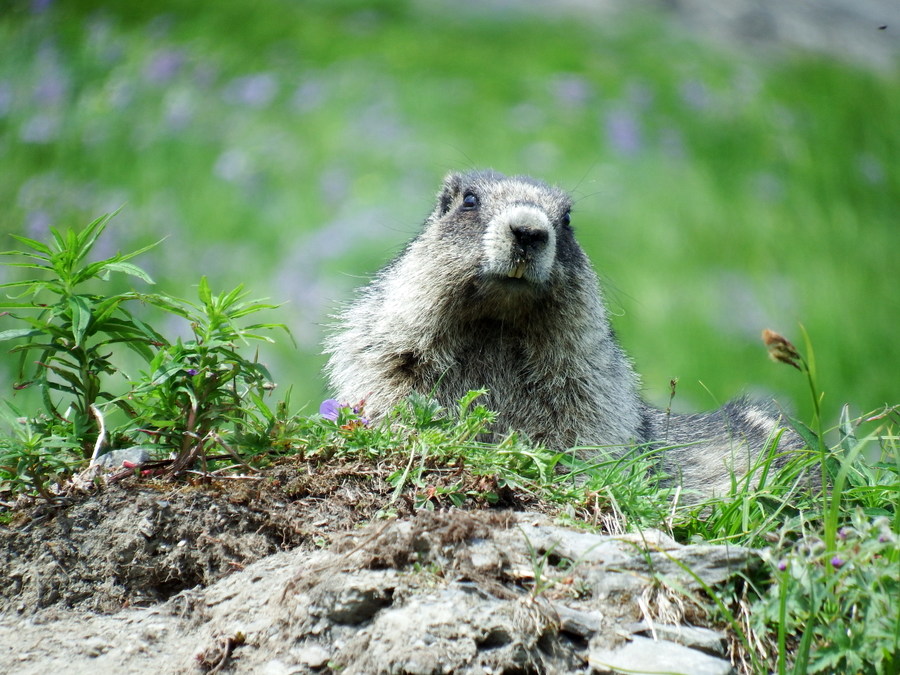 We met up with this marmot. He chirped and chattered at us the whole time we shuffled by him. He was super cute!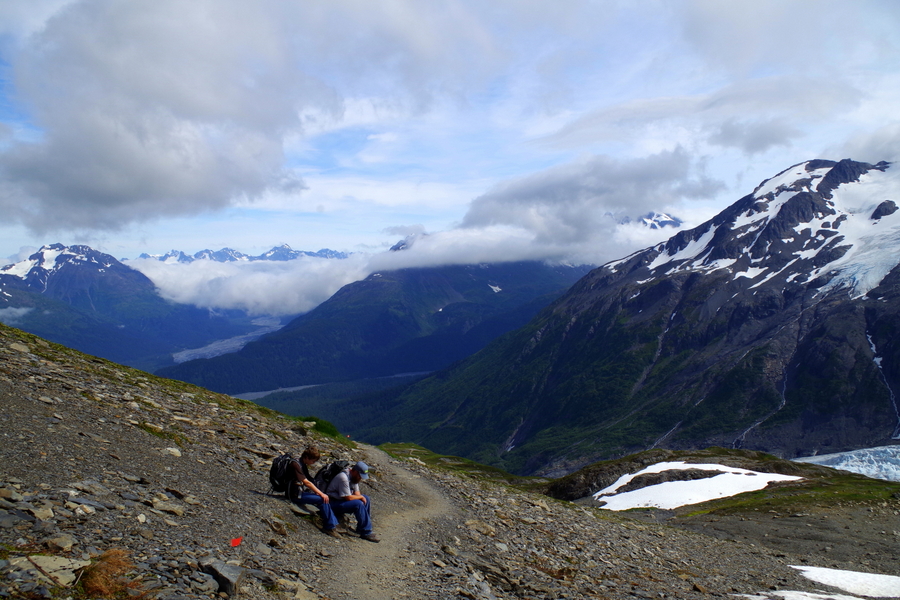 We finally made it past the switchbacks and all of the huge rocks you have to get up and over. They put them cleverly on the path to act as steps…I'm sure giants have no trouble with them. By this point I was really ready to just head down. The boys were miserable, I was beyond done, and Jerl was having issues with his legs. But…we thought maybe we'd finally reached the promised "flattened out" area. We couldn't stop now! Right?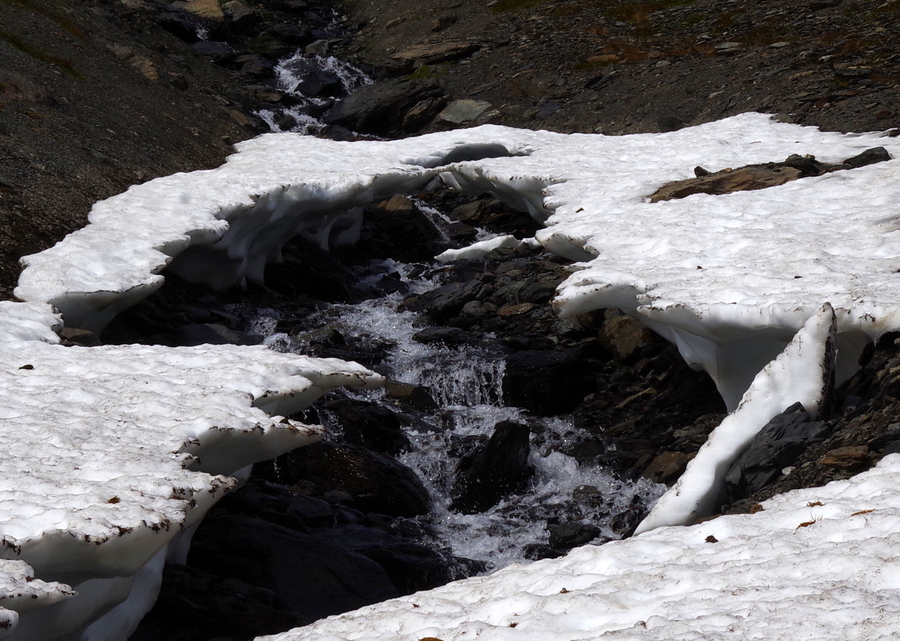 This is also where the landscape changed. We'd hiked up past all of the trees and shrubbery to where it's just rock and snow. I love the way the melting snow made the waterfalls. It was so nice to be able to reach into a stream of cold water and wipe off your face. The boys loved seeing all of the snow.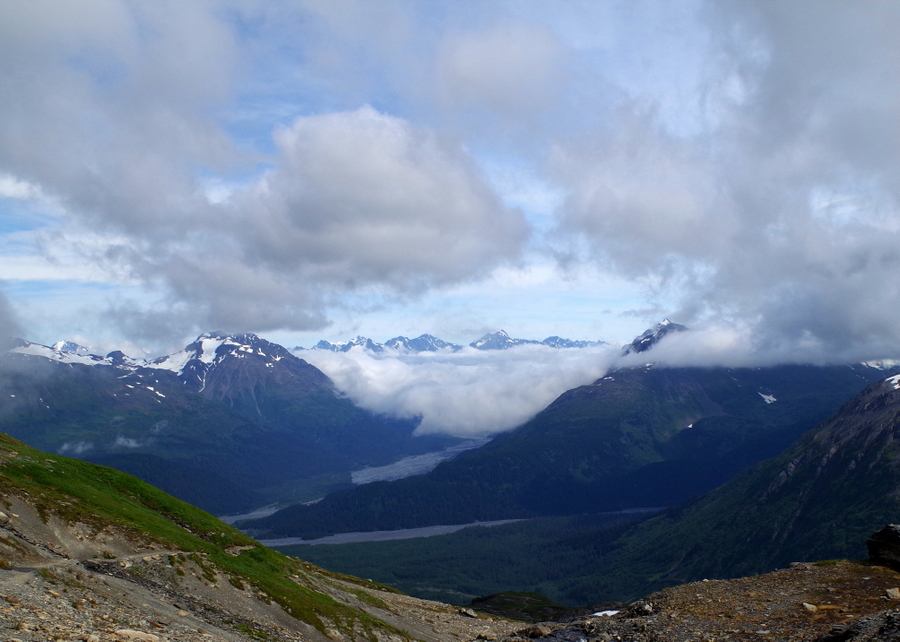 The change in the trail gave us a second wind. It never flattened out…I don't know why those crackpots told us the trail flattened out, but it never did. Not even a little! I think they felt bad for us and were trying to encourage us to go on. Anyway, we got a second wind and the trail wasn't quite as hard as it had been and the views…well…look at the photo above. That was the view. Jerl had to sit for awhile here and told us to go on. We really were so very close to the prize.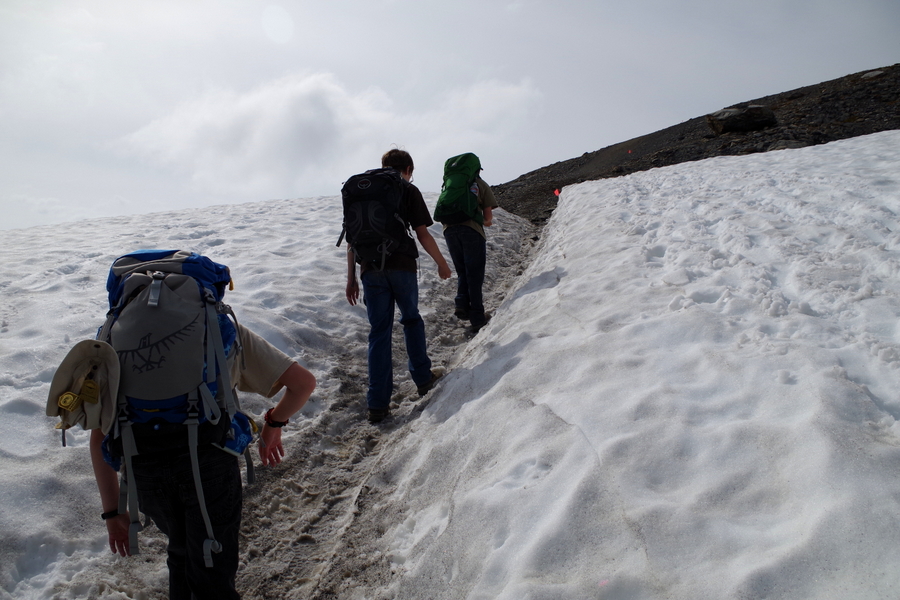 The boys and I went on. We all had fun slipping and sliding over the snow. The boys were amazed with all the snow and kept saying, "There's snow in the summer!"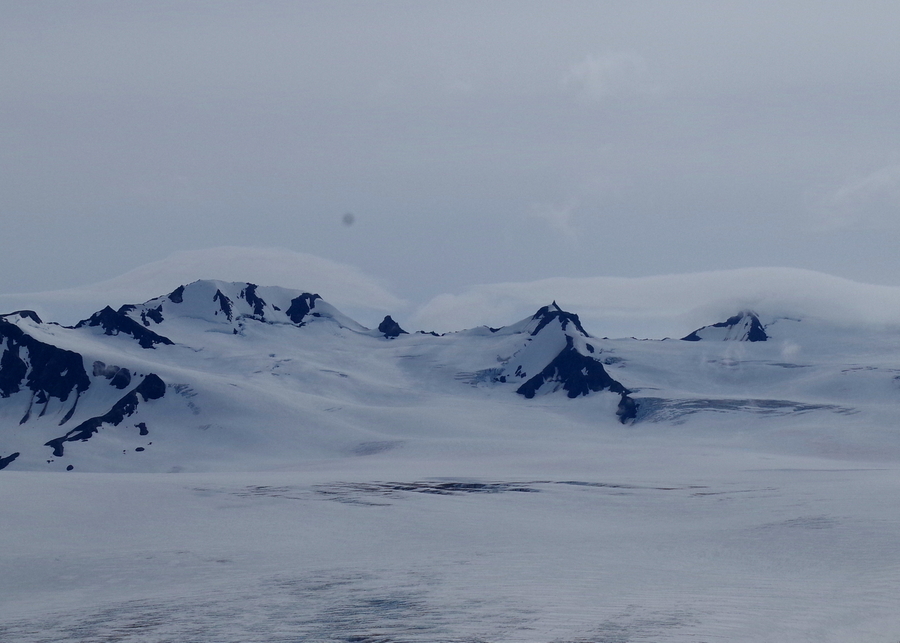 We hiked up and turned a corner and came face to face with this. We were eye level with a mountain top! We marveled and guessed at just how high we really were as we hiked on.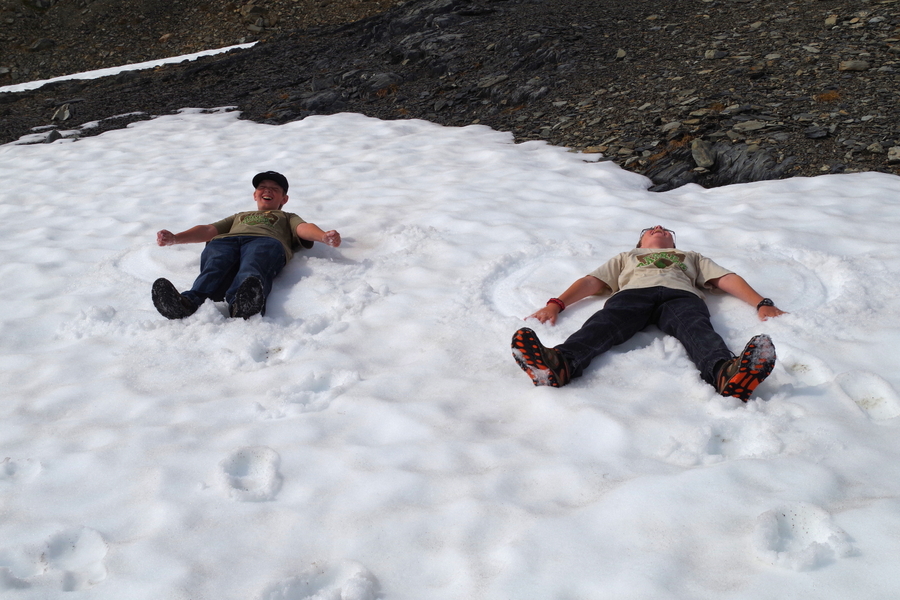 As soon as we started seeing snow, the boys wanted to make snow angels. They asked every time we came to a snowy patch, but it wasn't until this patch that I felt like it would be safe enough. They took off their packs and had a good time playing for a few minutes.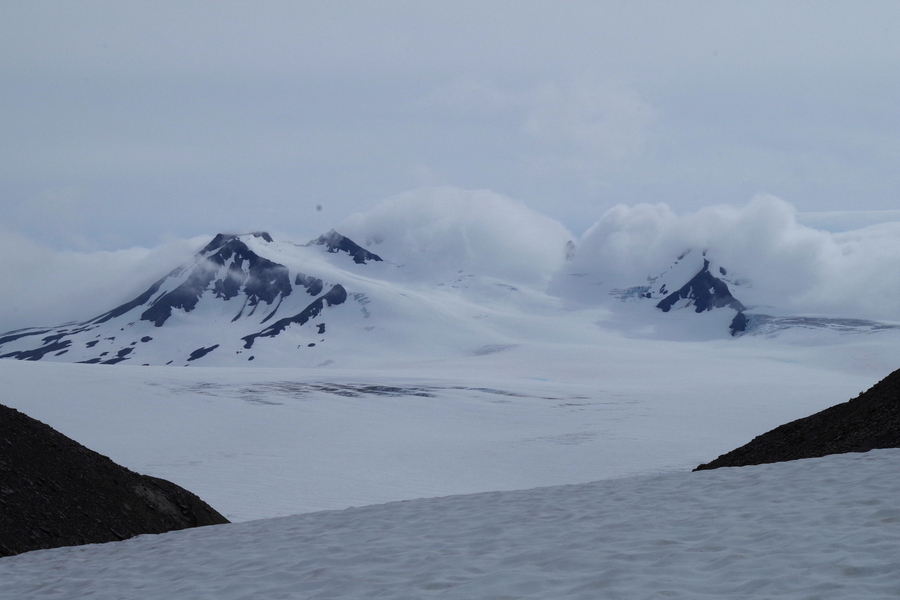 We rounded another corner and saw this. We really were surrounded by beauty! It felt kind of like we'd been zapped to another world.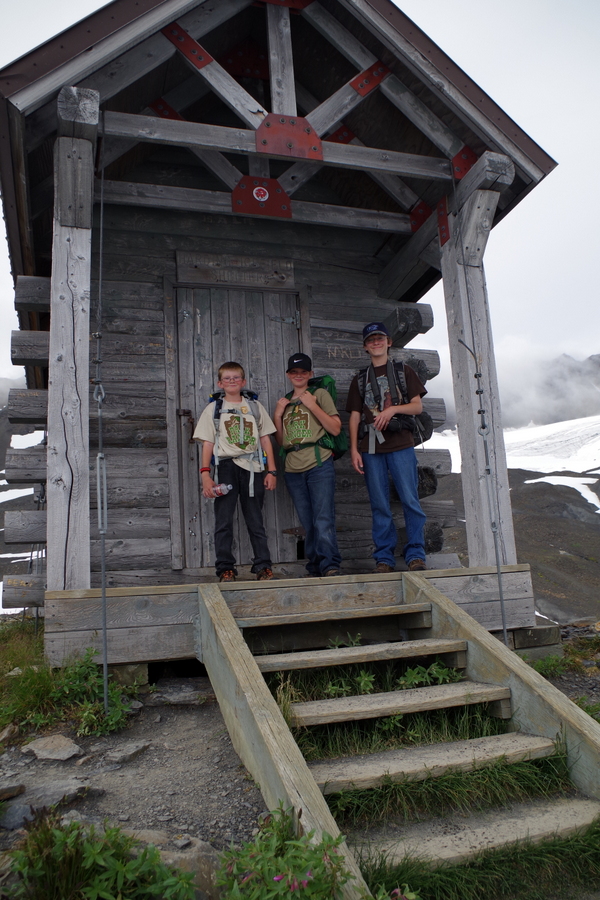 There's a storm shelter near the top. We had maybe half a mile left at this point. We took a small breather and pushed on.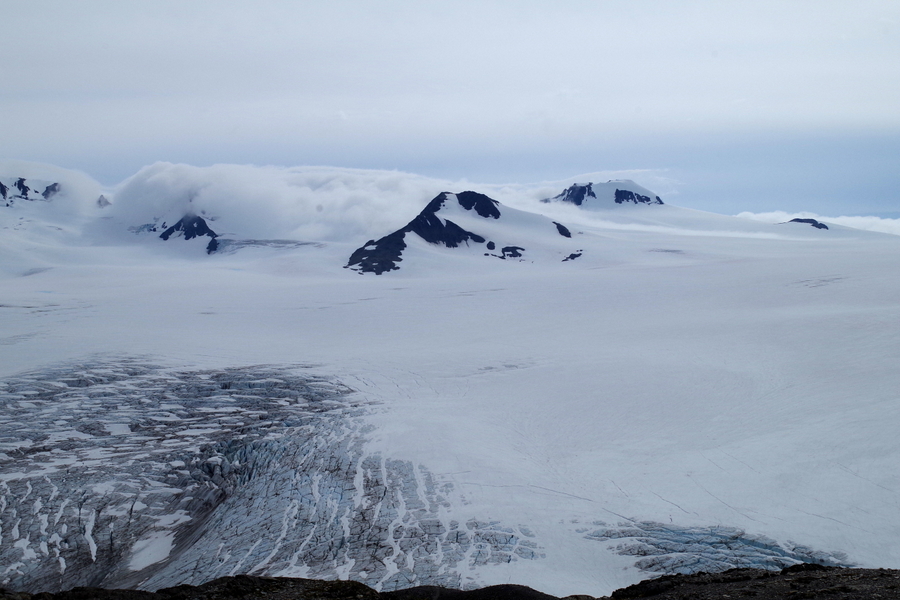 And this…this is the reason we hiked all the way up there. This is the Harding Icefield! This icefield spawns off more than forty glaciers! It stretched on so far we couldn't' tell where it ended and the clouds started. It really looked like it just went on forever.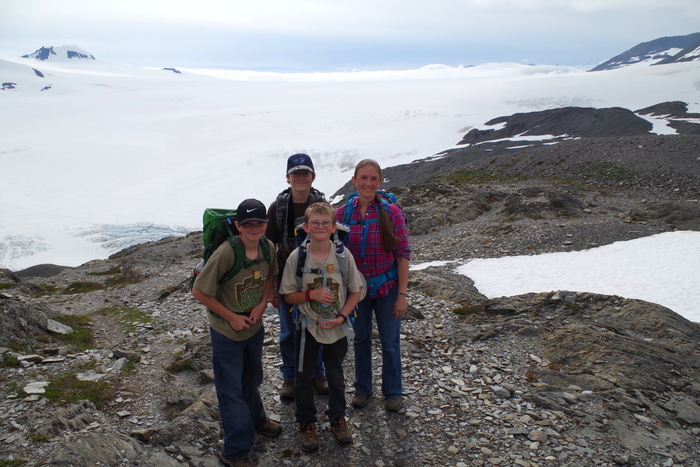 Another family at the top offered to take a picture of us. We had made it!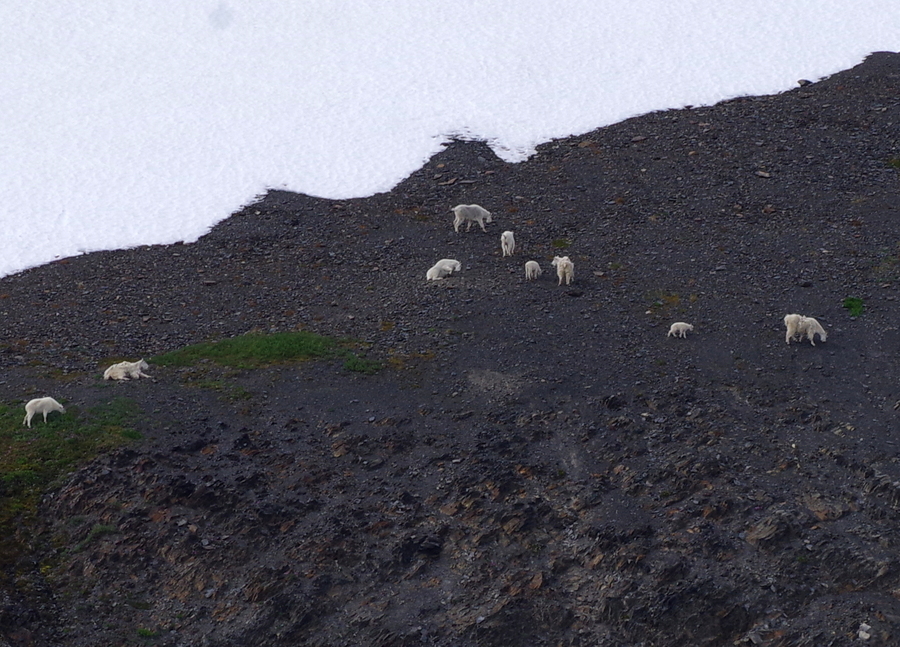 We turned around to head back down and to find Jerl when we noticed the mountain goats! There were two different herds of them just hanging out on the slopes.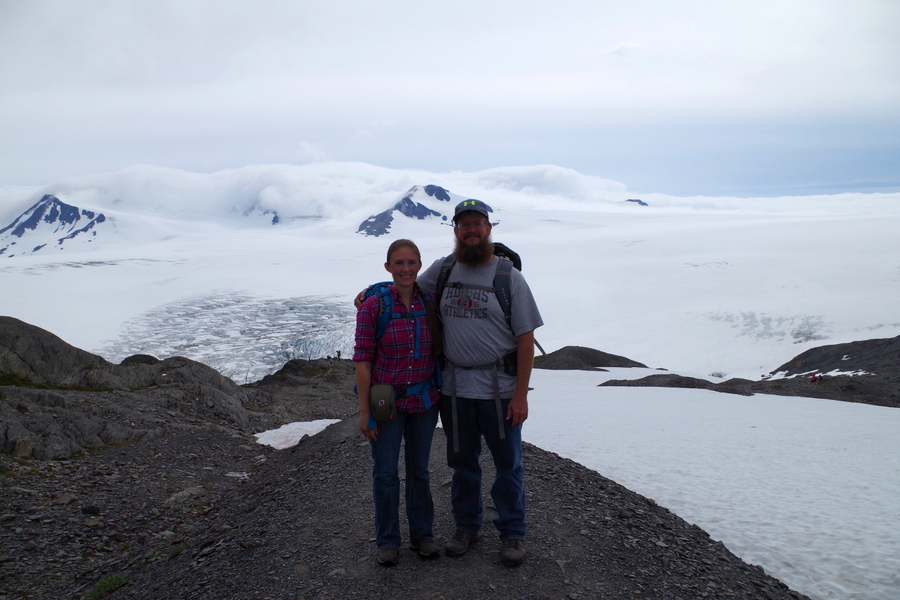 We started back and found Jerl had made his way up to almost the top! He'd stopped again just before the last climb. When he found out just how close he was he made it up to the top too! I'm so glad we all got to see the Icefield! We didn't stick around long. It had taken us five hours to get up to the top. Yup, you read that right…Five. Hours. Five hours for just over four miles and now we had to trek back down those same four-ish miles to get to the bottom. Thank goodness it doesn't really get dark here.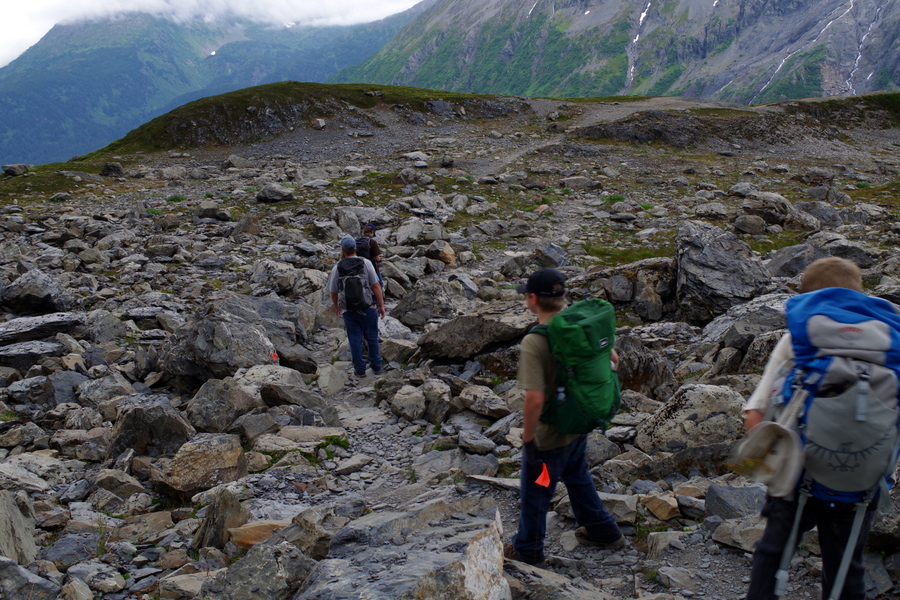 We made better time going down. Gravity was in our favor.
The trail changes abruptly form rocks to this. It looks lovely, but if you brush against most of those plants they'll try to eat you. There was a ton of the wild celery which you want to avoid at all costs. There were also a ton of wild raspberry and rumors of a bear in the area. We never saw the bear.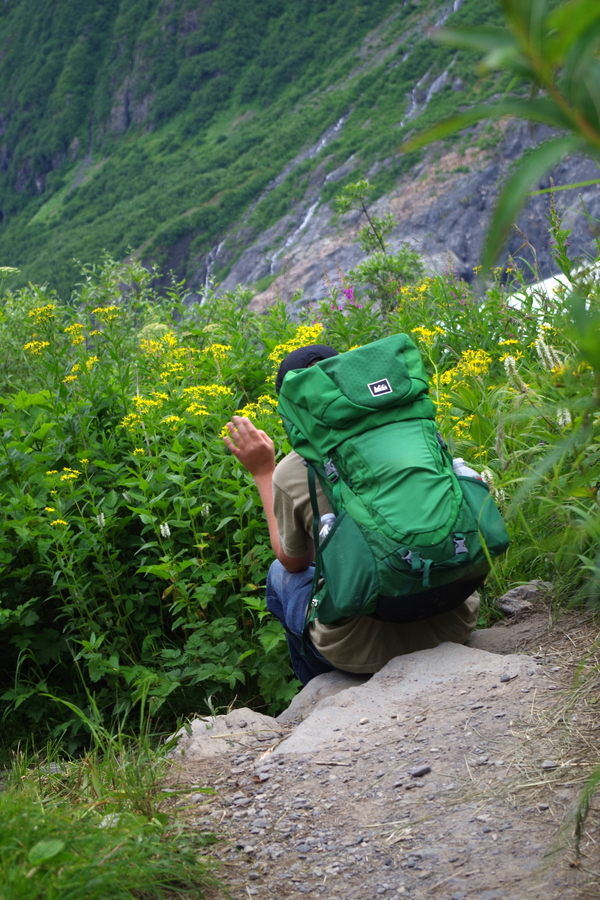 This was on our last rest when we still had two and a half miles to go. We didn't stop after this until we got to the car. I don't think Jerl and I could have gotten up and going again if we'd sat down. We made it to the car just before 9PM. It took us nine hours, but we did it! The boys were troopers. They were just as miserable as we were, but they didn't whine or complain. We're so incredibly proud of how they handled the whole hike.
So there you have it…the hardest thing we've done so far on this trip. We really should have turned back. I guess what they say is true, what doesn't kill you makes you stronger. Lesson learned. We now know our limit. We gave the boys the day off after our hike. We didn't do much of anything…mainly because none of us could move.
We did go back to the visitor center the next day so the boys could turn in the workbook they'd completed.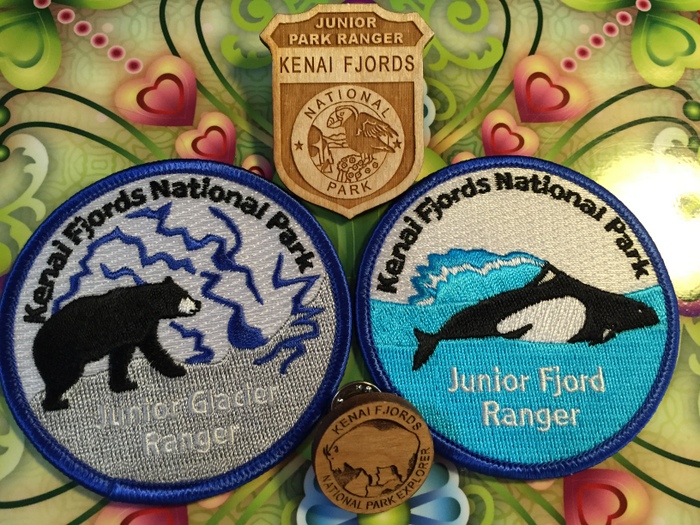 The boys earned all four patches/badges available at the Kenai Fjords National Park!
See y'all on the road!
#alaskabound #keepingitreal