Hey Guys!! We spent one day exploring New Orleans.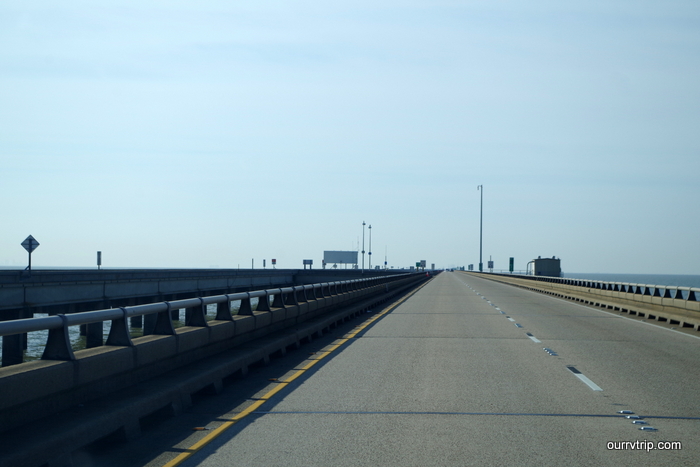 We stayed about an hour north of NOLA so we got to drive across Lake Pontchartrain on the longest (continuous) bridge over water in the world to get to New Orleans.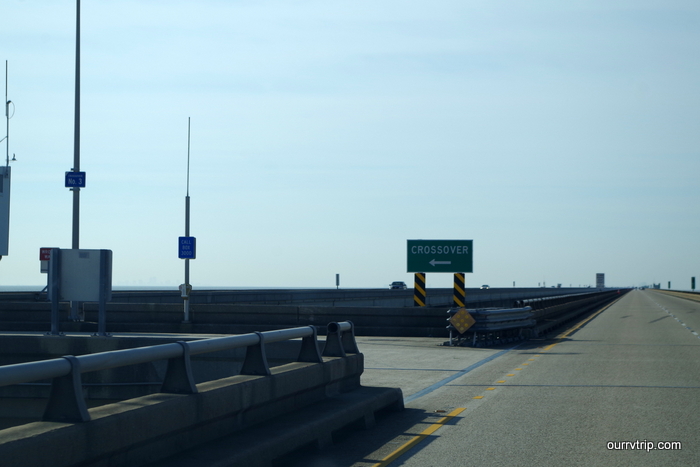 This bridge is about 23 miles long with several crossovers on it. Can you imagine getting on it by mistake and having to go the full length og the bridge before being able to turn around? Yikes!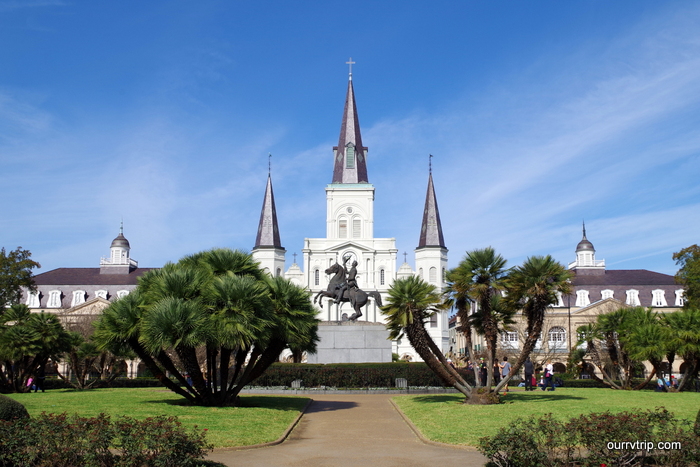 We went on a Sunday morning hoping to avoid some of the crowds. Too bad we didn't know about the 5k run that was taking place. There were cars everywhere, no parking spots, and streets blocked off! We made it to a parking garage where we choked on the cost of parking. We learned later that traffic is always bad and parking is always pricey in NOLA.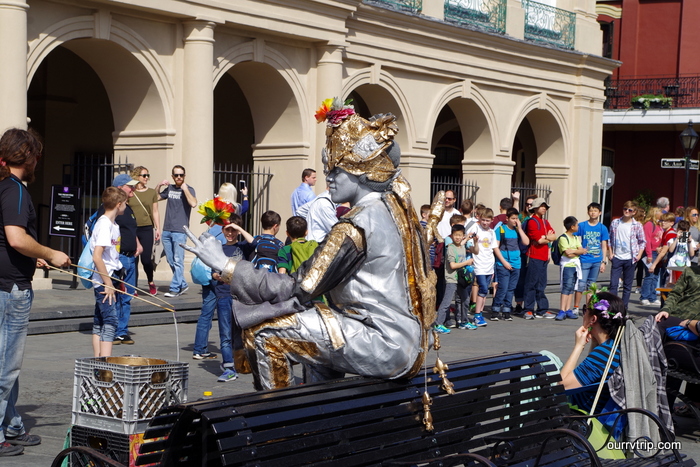 We'd been told that NOLA isn't really family friendly. We were hoping by going on a Sunday morning there would be more families out and there were! We had a good time strolling around looking at all of the street performers. You can see how many kids were around in the pic above.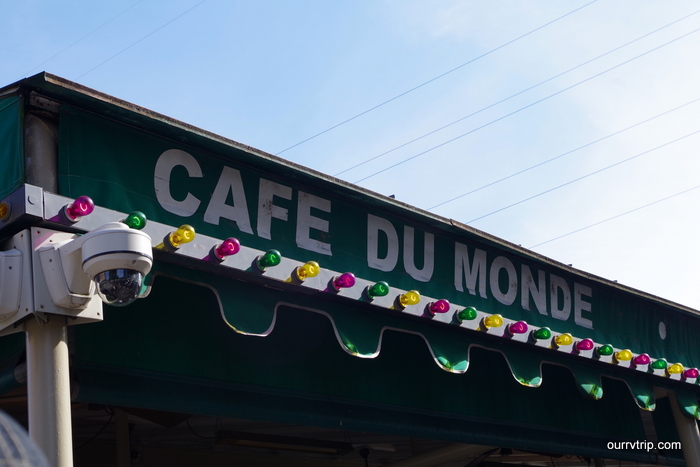 We headed right to Cafe du Monde! The line was long, but moved fast.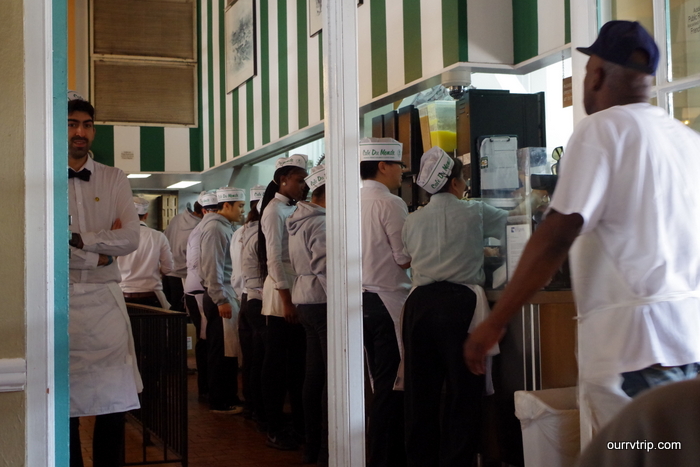 Make sure you take cash if you go to Cafe du Monde. Things run a little differently there. You order with the waiter and then they go stand in the line you see in the photo above to get your order. The waiter pays with their money before they bring you your order so you then owe your waiter for your order. We'd never seen a process quite like that before. I wonder what happens if the costumer didn't bring enough cash?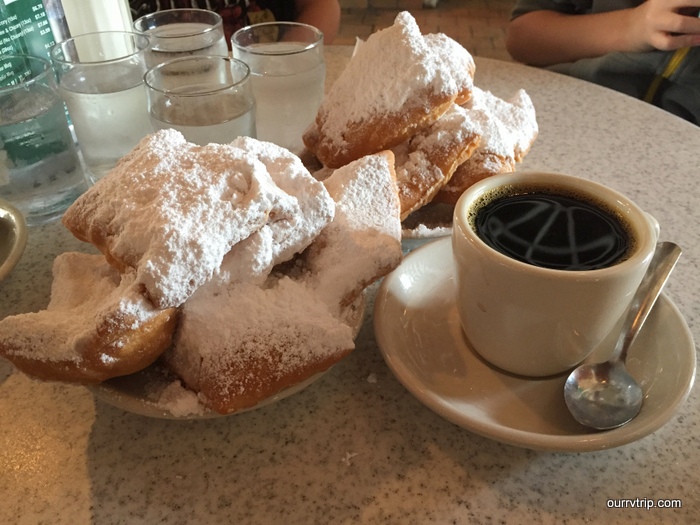 Our fluffy pillows of fried dough (otherwise known as beignets) and chickory coffee came in record time. They're pretty good, but I think it's mainly the novelty of eating at Cafe du Monde that brings people in masses to this cafe.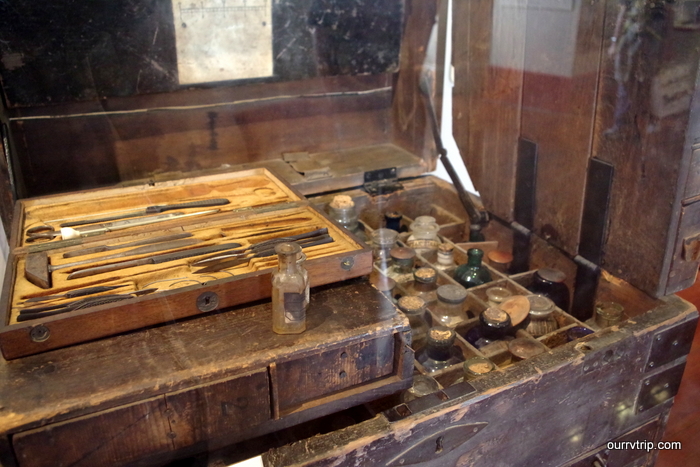 We took some time to look through The Cabildo where we learned about life in Louisiana starting in the colonial times.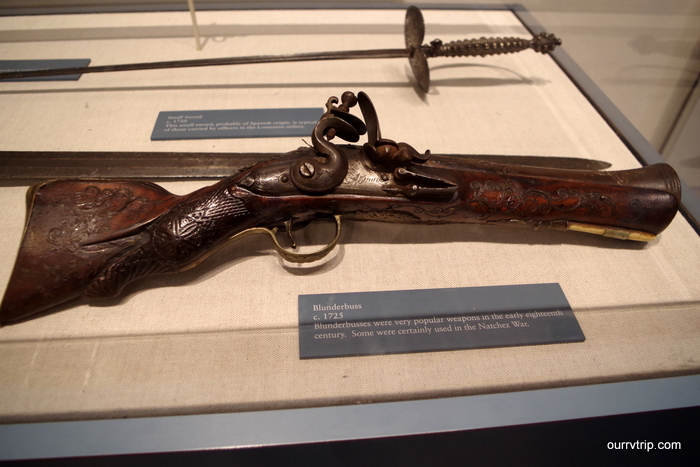 Check out this blunderbuss! It's so ornate! We also got to stroll through the room where the Louisiana Purchase transfer happened in 1803.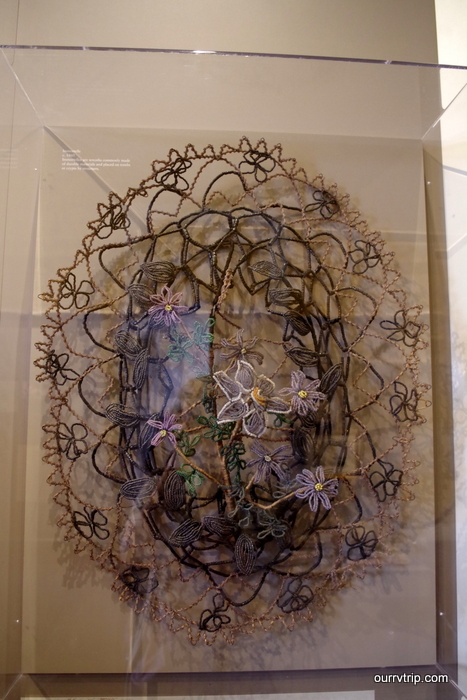 This is called an Immortelle. An immortelle is a wreath made of durable material (the one above is made from wire and beads) to be placed on crypts and tombs.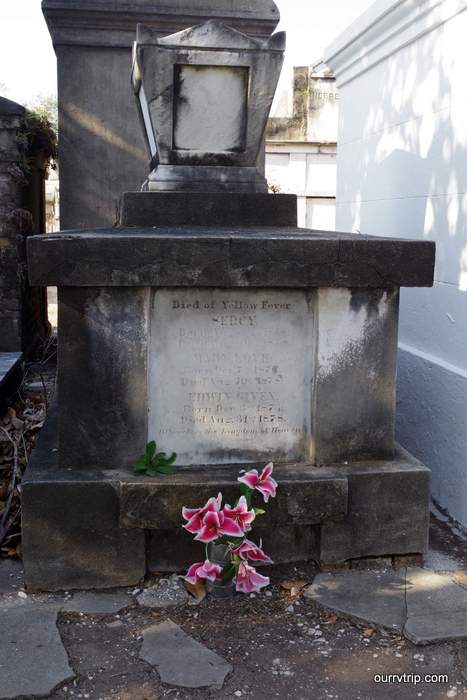 Throughout the late 18th century, most of south Louisiana suffered from epidemics of yellow fever, malaria, cholera, and smallpox.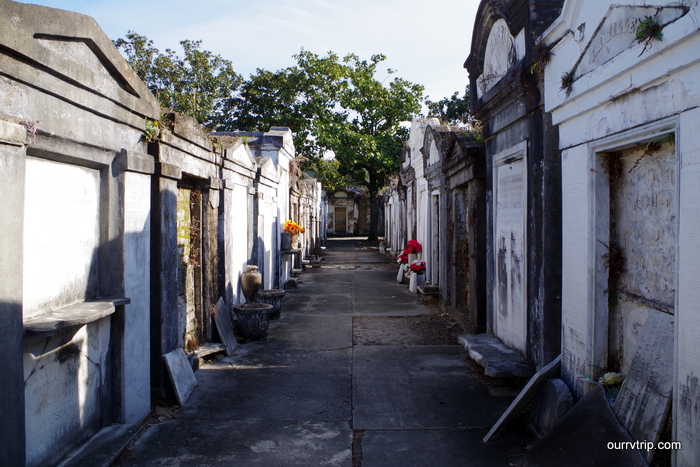 We stopped by St. Louis Cemetery No. 1 to see what the famed "cities of the dead" look like. We made it to the Lafayette Cemetery No. 1 for a quick walk through. I wanted to go to the St. Louis Cemetery No. 1, but you now have to have a guided tour just to get in the gates. Pretty much all of the graves are above ground in crypts.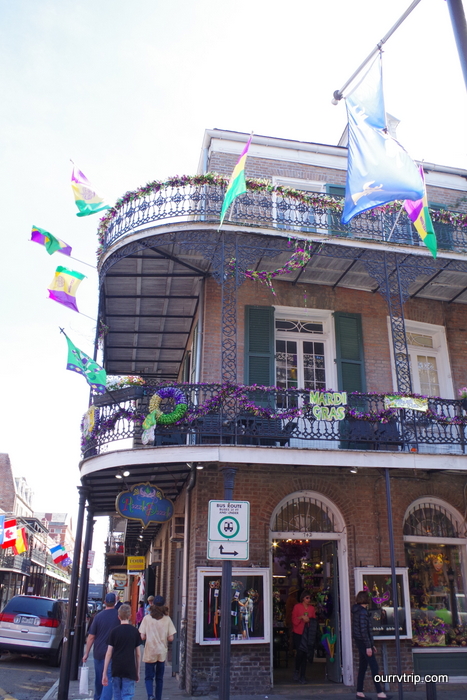 We went the week before Mardi Gras and everything was decorated for the party.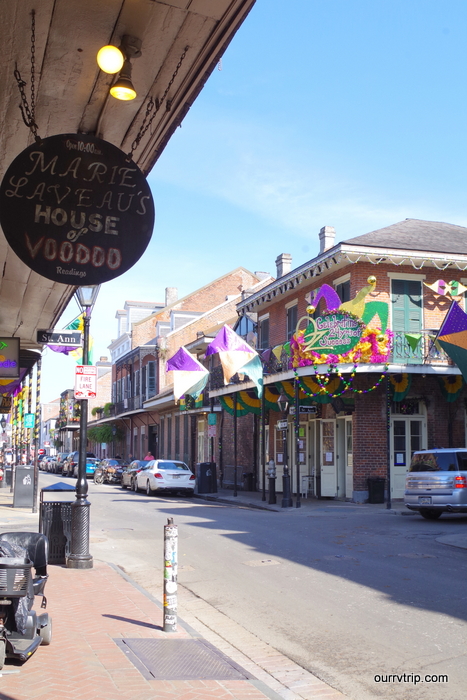 We took a quick peek at Bourbon Street, but didn't actually walk down it. We'd been warned it wasn't really family friendly.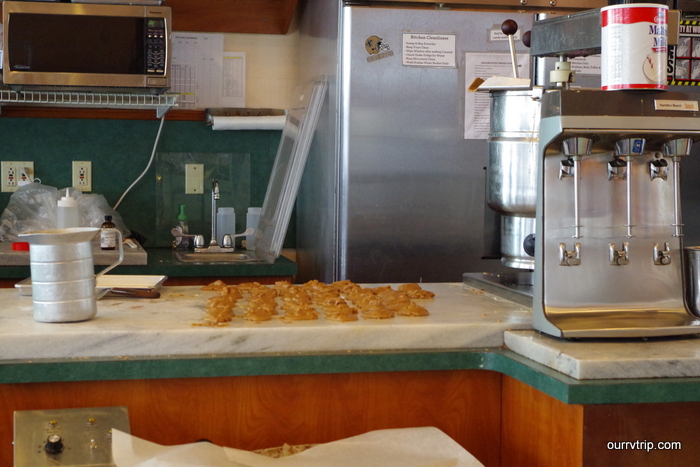 Since pralines (pronounced Praw-leens) is the Louisiana state candy…we had to grab some. Plus, we wanted to compare them to the ones we got in Charleston. You might be surprised by how different they were. The ones from Charleston used heavy cream in theirs and there wasn't any milk in the ones from NOLA. The ones from Charleston only came in two flavors (original and chocolate) while the ones in NOLA came in five flavors (original, peanut butter, coconut, rum, and chocolate). We all enjoyed the ones from NOLA more.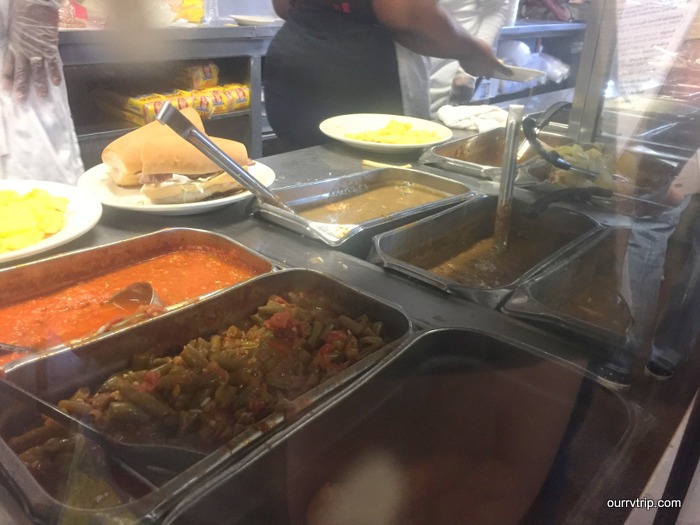 We couldn't leave NOLA without sampling some of the dishes they're known for. We found a place called Mother's. We found it on one of those tv food apps. Mother's has been on quite a few shows.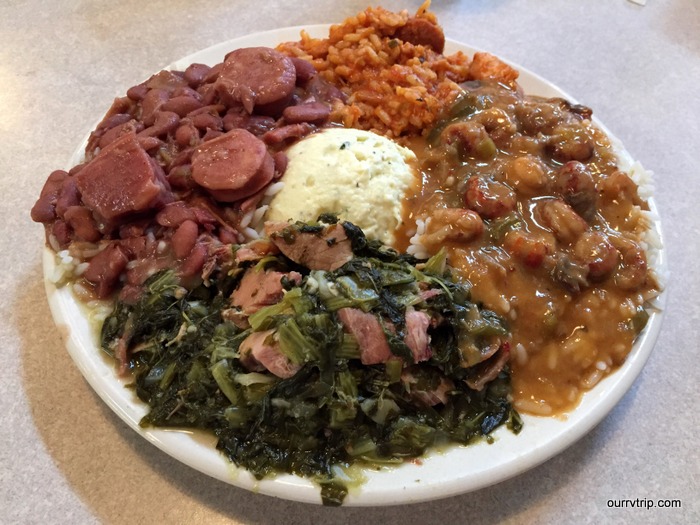 I wanted to make sure and get a little of everything so I ended up with a sampler plate. I got to try the crawfish etouffee, the jambalaya, the red beans & rice, and the turnip greens. It was all really good!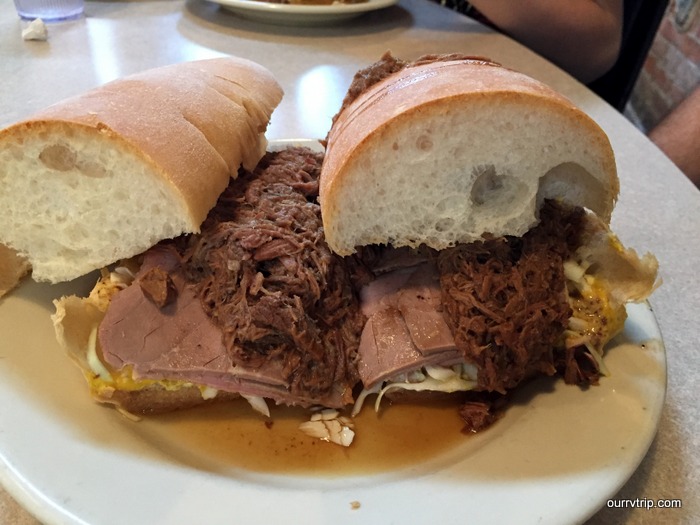 The thing Mother's is really known for though are the Poboys. Jerl got the Famous Ferdi Special which has ham, roast beef, debris, and gravy on it. Debris? What the heck is debris? It's magic. Mother's cooks their roast for hours and all of the juice and shavings that fall off the roast is then ladled onto the top of a poboy. It's basically a NOLA version of a french dip. Like I said…magic.
So! We survived NOLA! We got to see most of what we wanted to see and got out of their before it got dark.
See y'all down the road!!