Hey Guys!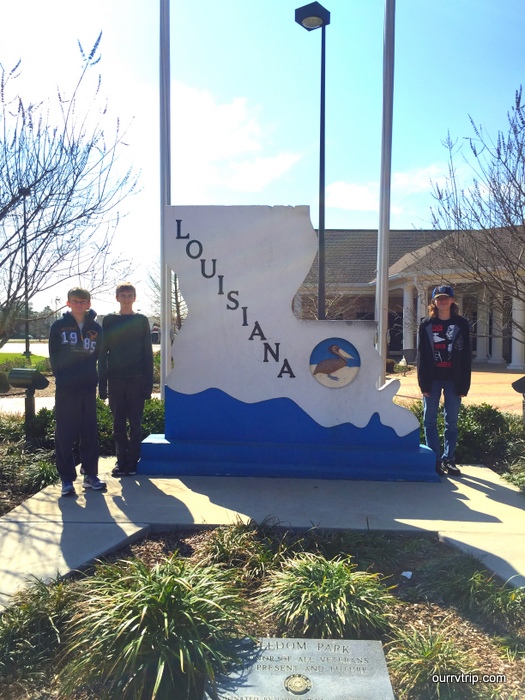 We spent one week in Louisiana!
Maybe I should say…we spent one week in Louisiana…eating. ;-P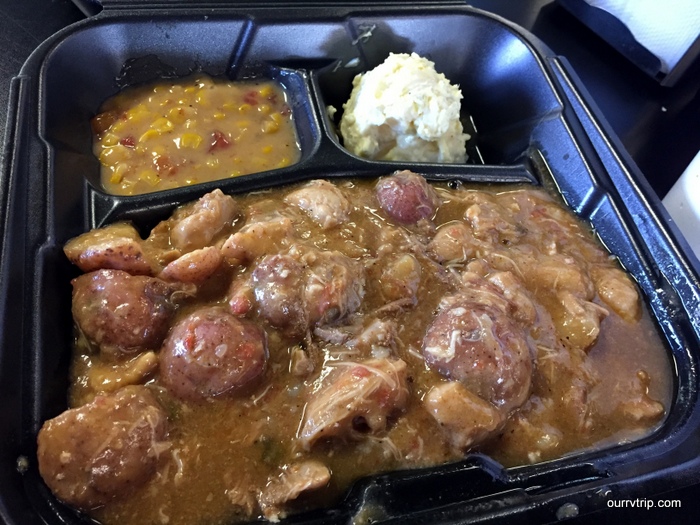 I knew it was bad when we found this place called Ronnie's only five minutes away from where we stayed. We went there for dinner our very first day in LA and it did not disappoint!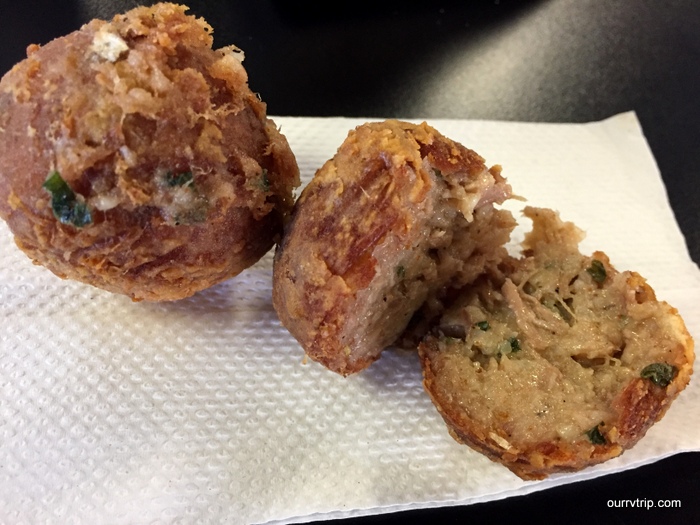 I know, I know…it doesn't look like much, but let me tell you….woo-WEE…it is amazing! What you're looking at are boudin balls. They're made of rice and smoked pork then deep fried. The ones we got were stuffed with pepper jack cheese. If you're ever in Louisiana make sure to get yourself some and make sure you pronounce it like a local… boodan. Ours was served with a spicy remoulade sauce that just really pushed it all over the top! We went back to Ronnie's just for these. Y'all, I think we gained twenty pounds here, but you know what…I'd totally do it again!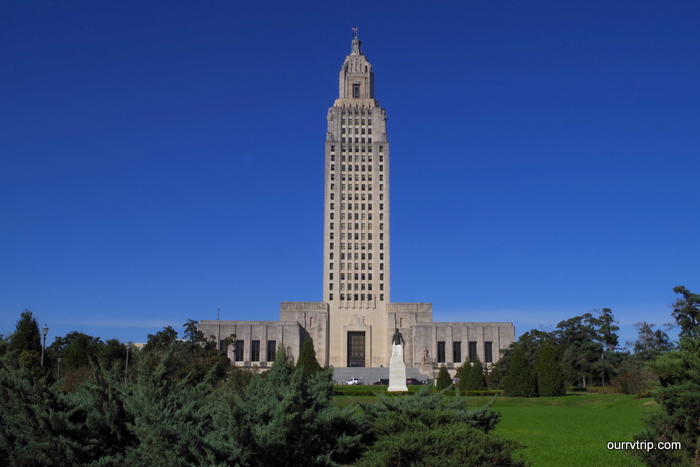 We did actually get out and see some of the state. We didn't just eat. I promise. We made it to the SCB in Baton Rouge.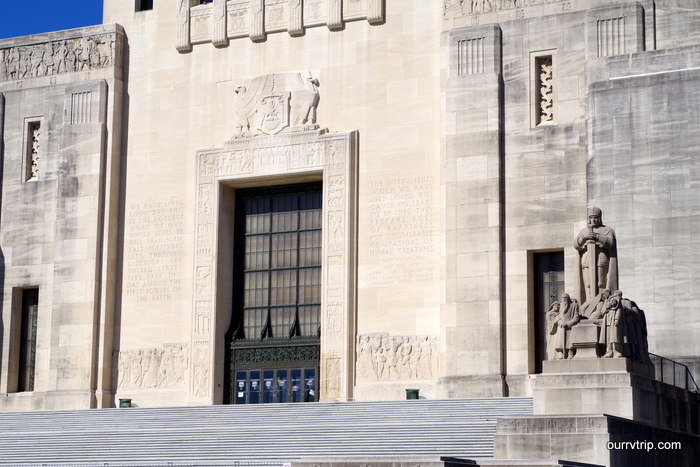 Check out that front door! We were completely surprised by the Louisiana State Capitol Building.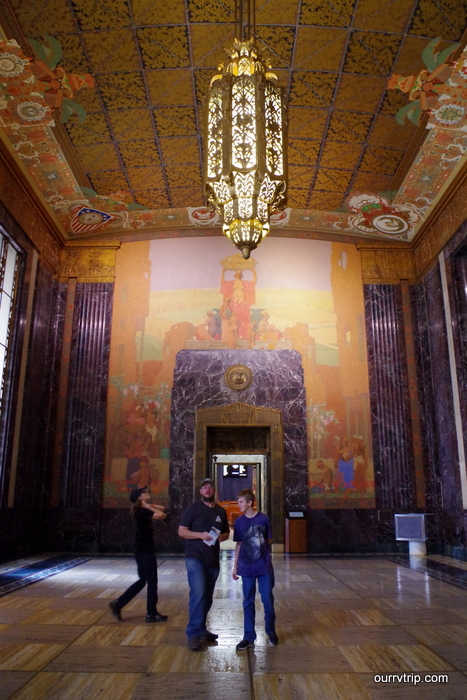 This is the front hall of the SCB. We haven't seen too many great halls like this. Out of 35 states…maybe three (including LA).
I mean…look at the ceiling. Look at our ornate and detailed it is! We spent several minutes with our heads craned back trying to take it all in.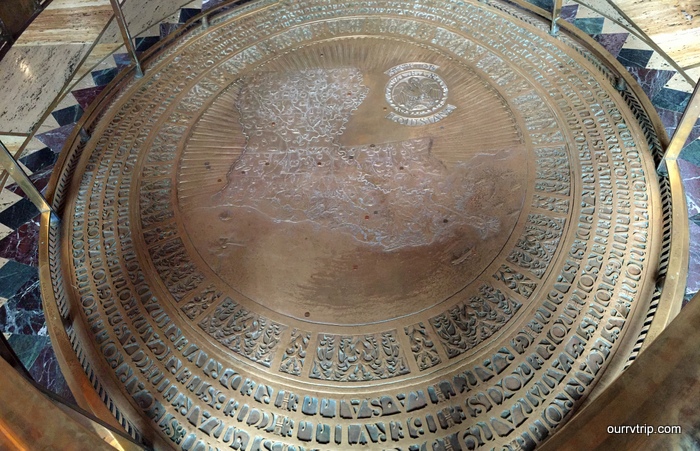 One of the things I always look for at a SCB is the State Seal. In LA they've got a huge one right in the middle of the great hall!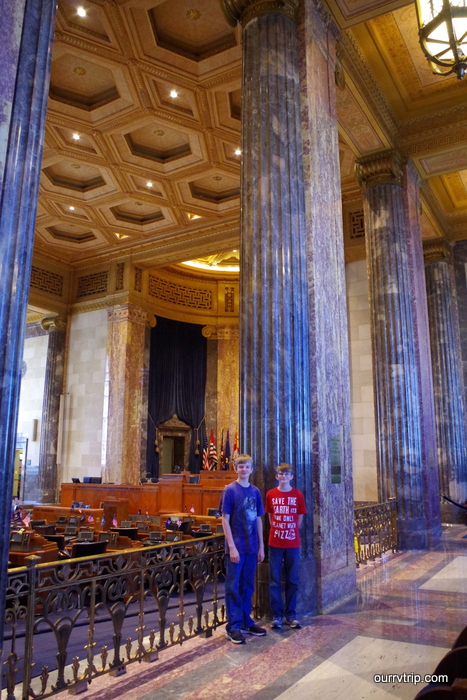 This is the Senate Chamber. Check out those columns. We really walked around totally stunned at the opulence of the LA SCB.

Now, there's not a dome at the SCB, but there's a fantastic view on the 27th floor! And…you can actually go outside on the walk! That was a first for us. Usually, if there's some kind of walk up that high it's locked. It's usually off limits. You can look out the windows, but you can't get outside. It was so nice being able to go outside and checkout that view!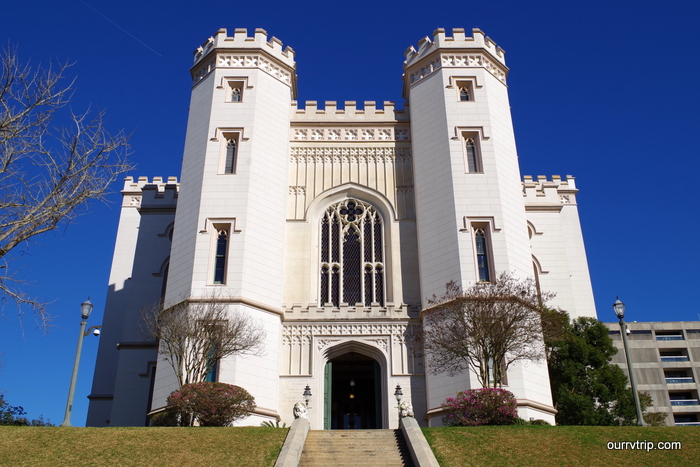 We also stopped by the old SCB. It looks like a castle! It was very cool!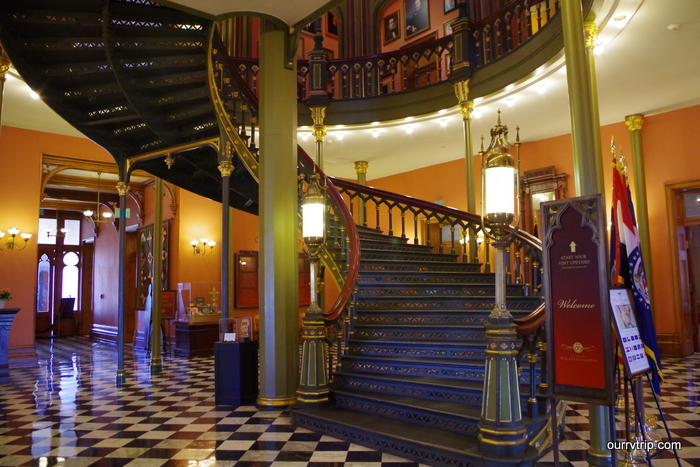 When you walk into the old SCB you immediately see this amazing staircase!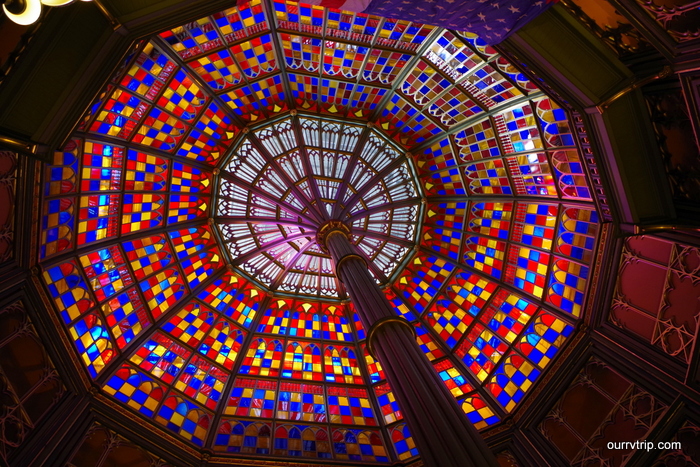 And Guys…look at the dome!!! I took sooo many pictures of this dome! But, look at it! Gorgeous!!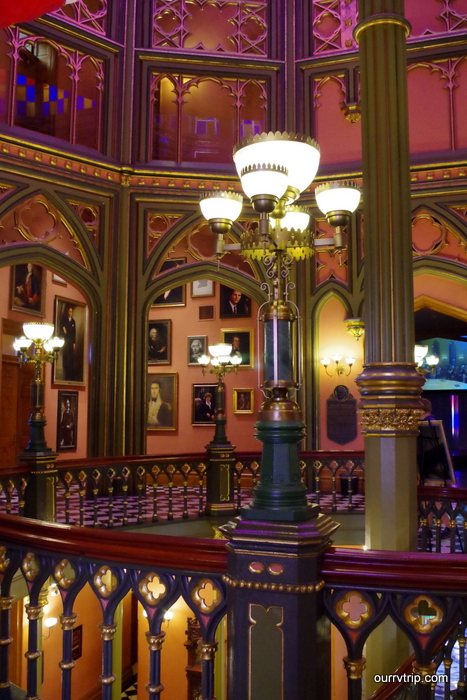 The old SCB has been turned into a small museum. We didn't really look through it all due to time.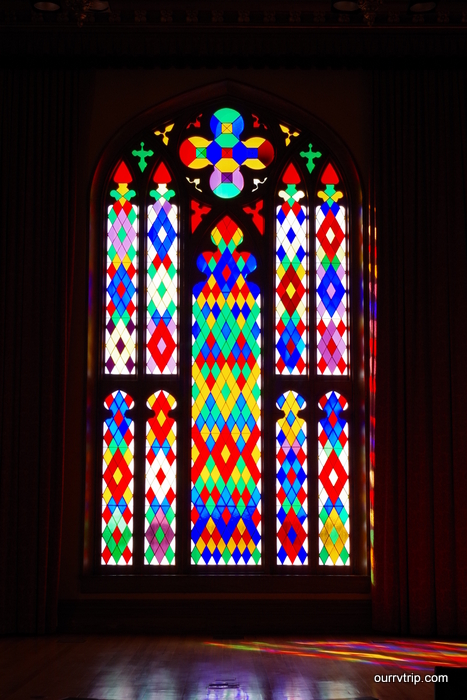 The stained glass wasn't just on the dome. There were several of these wonderful windows too!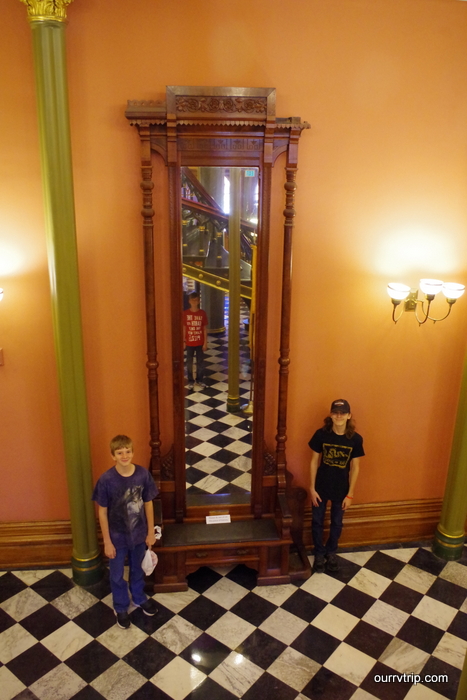 Check out this mirror! I had the boys stand next to it so you could really see how huge it is!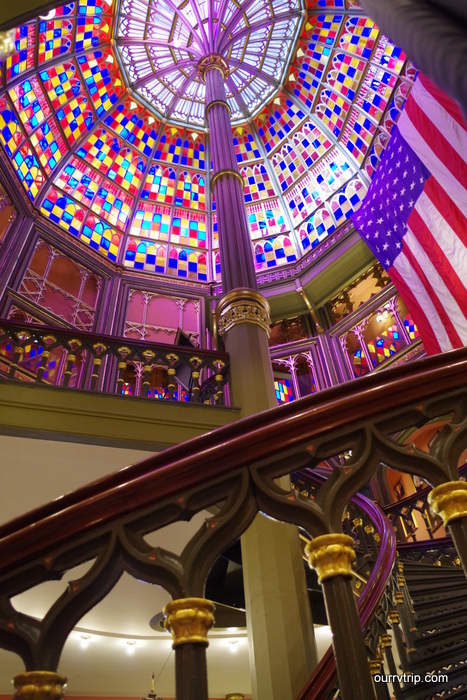 Here's another view of that ah-mazing dome…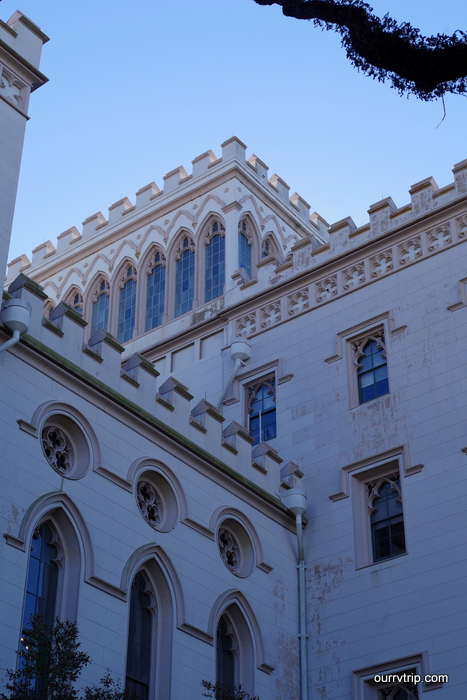 and one more shot of the outside. Because, castles are cool.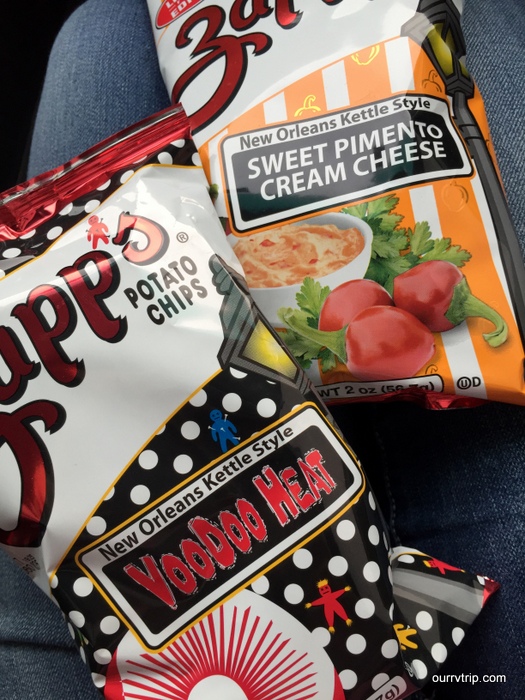 Zapps chips are offered in tons of states, but they're a huge thing in LA so we grabbed a couple of bags. We weren't too impressed with the VooDoo flavor. It was both very sweet and very sour all at the same time.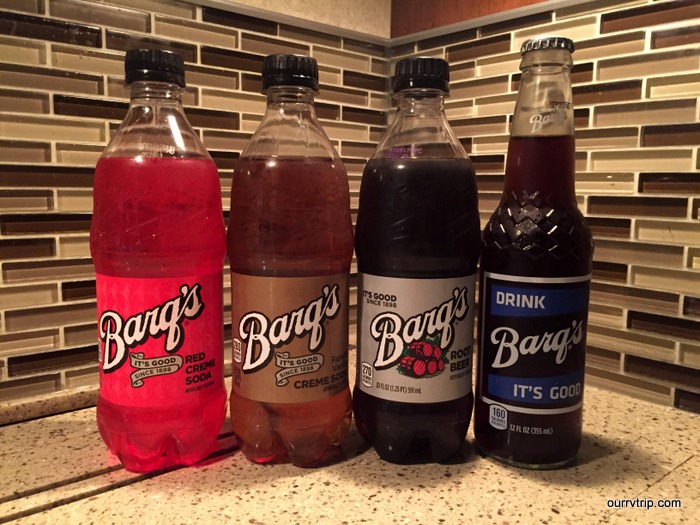 I've struggled this entire EasternLoop2016 to find decent root beer. Y'all…it's been so hard! And then we get to LA and there's four different Barq's!!! What?!?! I had to get some of each.
Guys, we had a great week in Louisiana!
See y'all down the road!
#easternloop2016