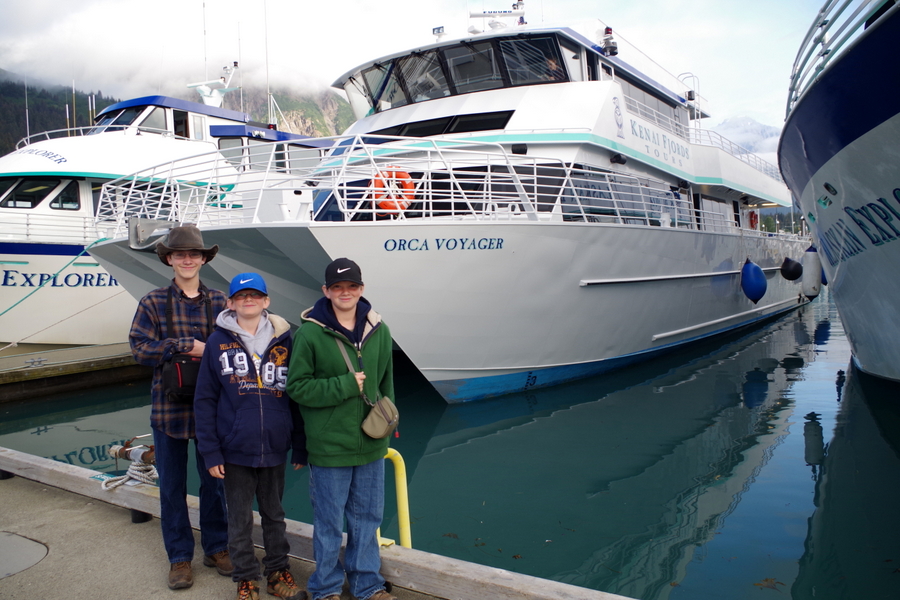 The Orca Voyager and her crew took us out on an eight and a half hour cruise around the Kenai Fjords Peninsula. We'd been looking forward to this cruise for a long time and it did not disappoint! I'll be honest, I'm not sure how much commentary you'll get on this post…the pictures kind of speak for themselves, but I'll do my best to point out what I can.
The majority of this cruise was actually in the Kenai Fjords National Park which is about the only way you can actually visit this NP. In this post I'm going to concentrate on the cruise, but I'll do another post specifically about Kenai Fjords National Park.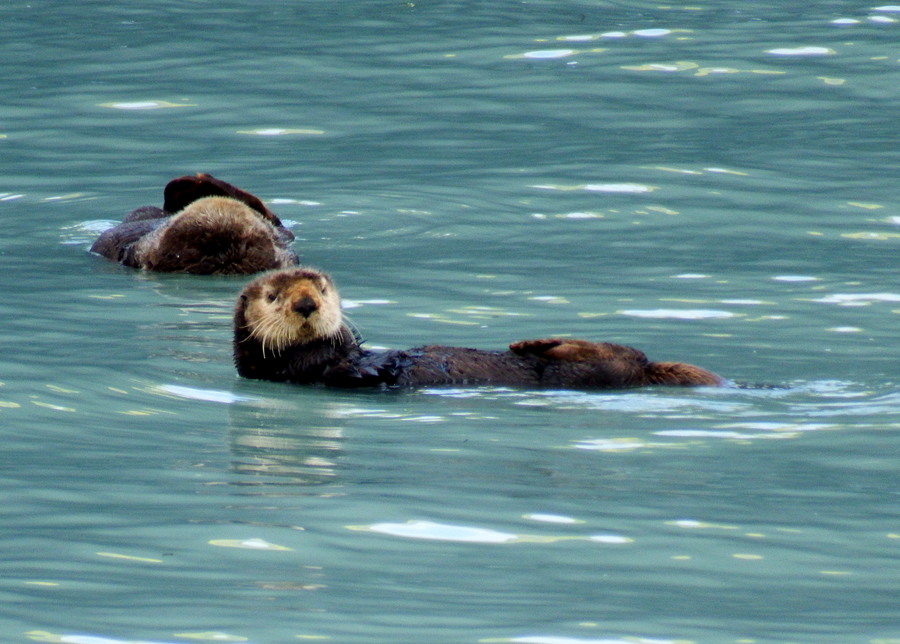 Before we even got out of the bay, we had our first wildlife encounter. Sea Otters! They spent most of their time diving down to get food then floating on their backs to eat it.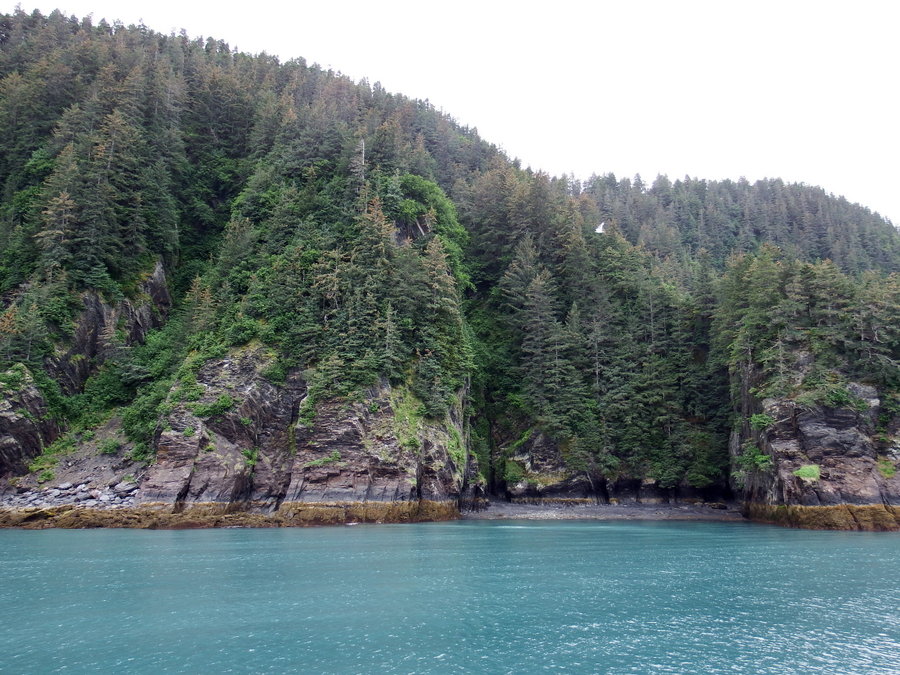 The landscape along the waterline was really impressive. In this little cove we found a bunch of Seals.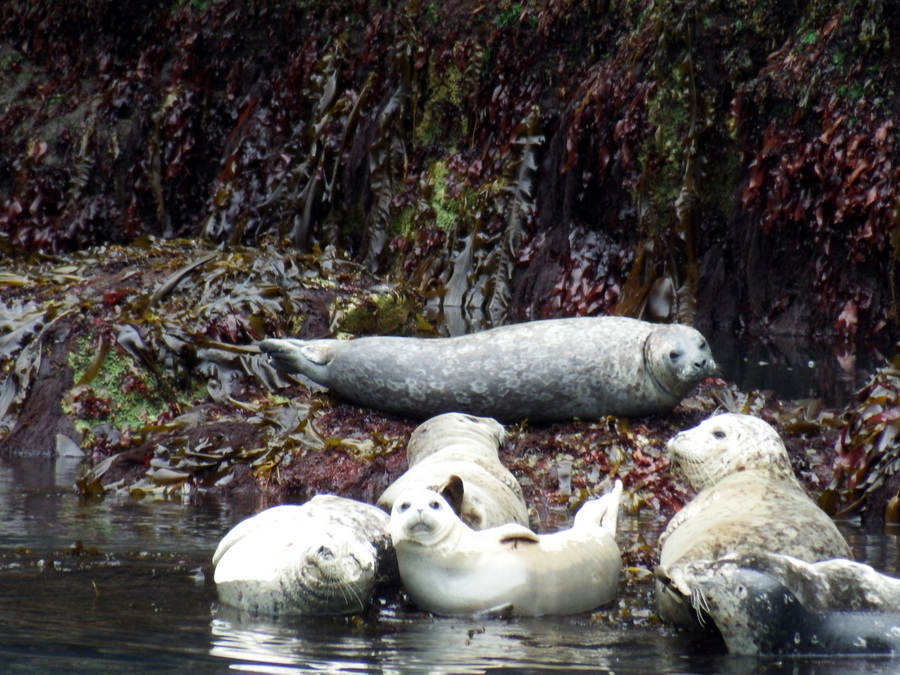 Our boat Captain was an expert at getting us up close to the wildlife. The seals lifted their heads to check us out then went back to snoozing in the sun.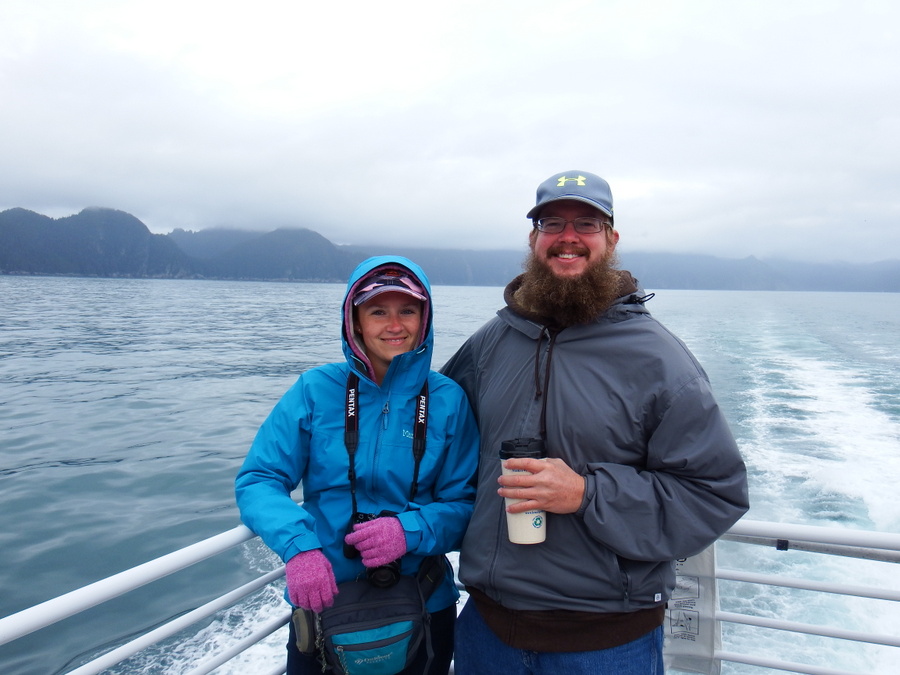 Something you should know about these day cruises… There are plenty of seats for everyone inside, but only a few seats outside. Now, if I'm going to invest in one of these cruises, I want to be outside where I can get a really good view of everything. We made sure to get to the boat early then claimed a row of seats (there were only four) outside near this back corner of the boat.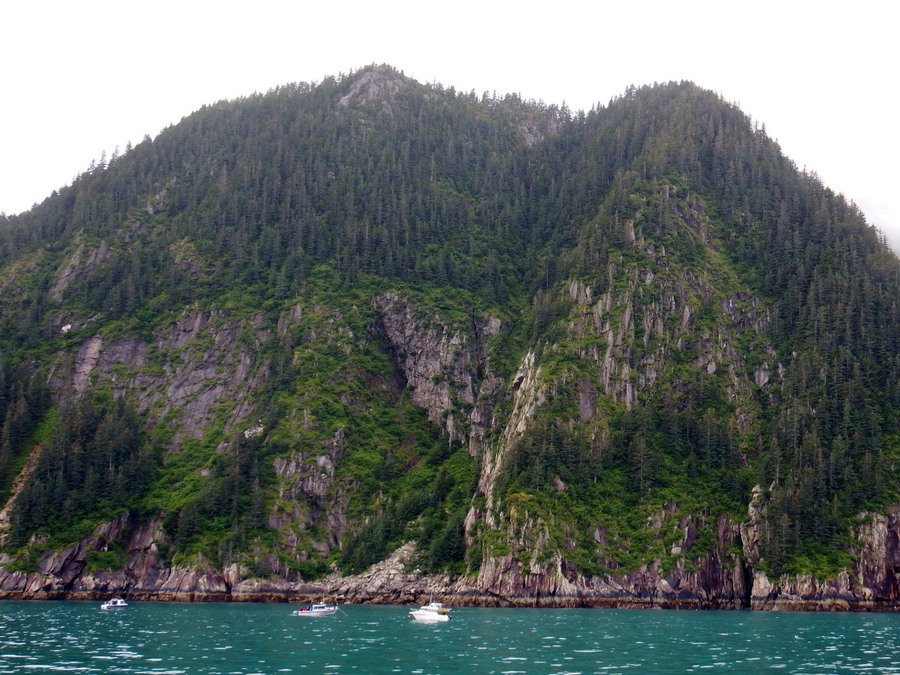 I couldn't get over the color of the water and how the shoreline felt so dramatic. In most of the coves we went into closer to Seward there were small fishing boats. I thought the picture above would help give you a sense of just how massive some of these islands in the coves really were. I call them small fishing boats…but they were the size of an RV.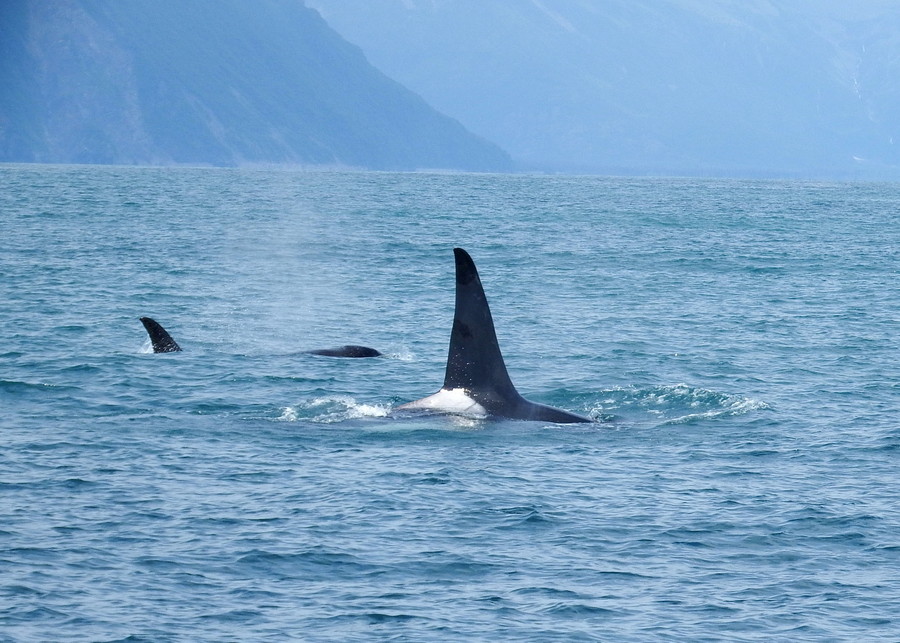 Now, because I'm going to keep it real for y'all, I'll admit to you…when the pod of orcas showed themselves…I was stuck in the bathroom. I could hear the Captain telling everyone where to look and talking about them, but I couldn't for the life of me get out the door. So, I missed most of it. I was super bummed about that.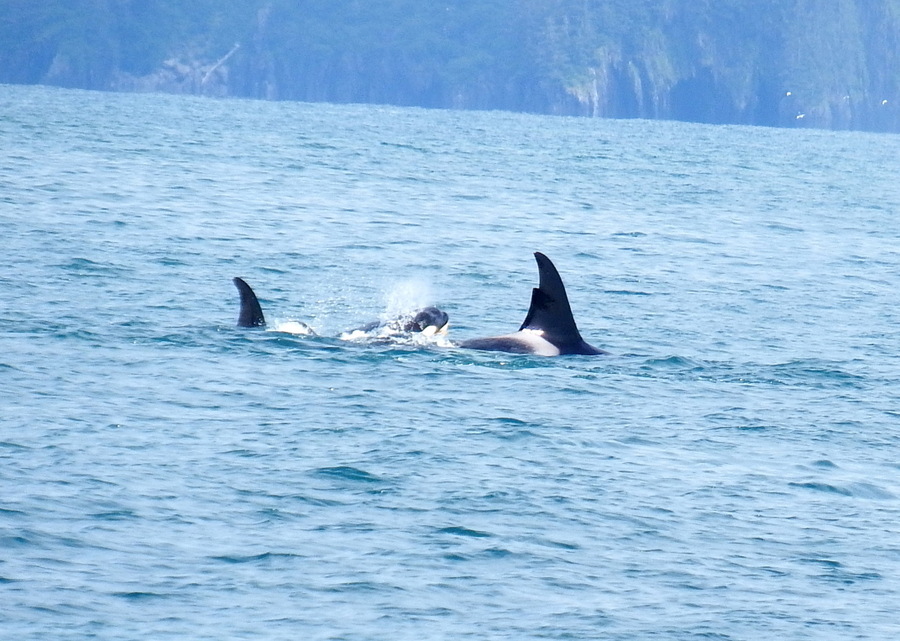 Luckily, Charles was there with his brand new camera and snapped several great shots! Both of the shots I'm posting are ones he took.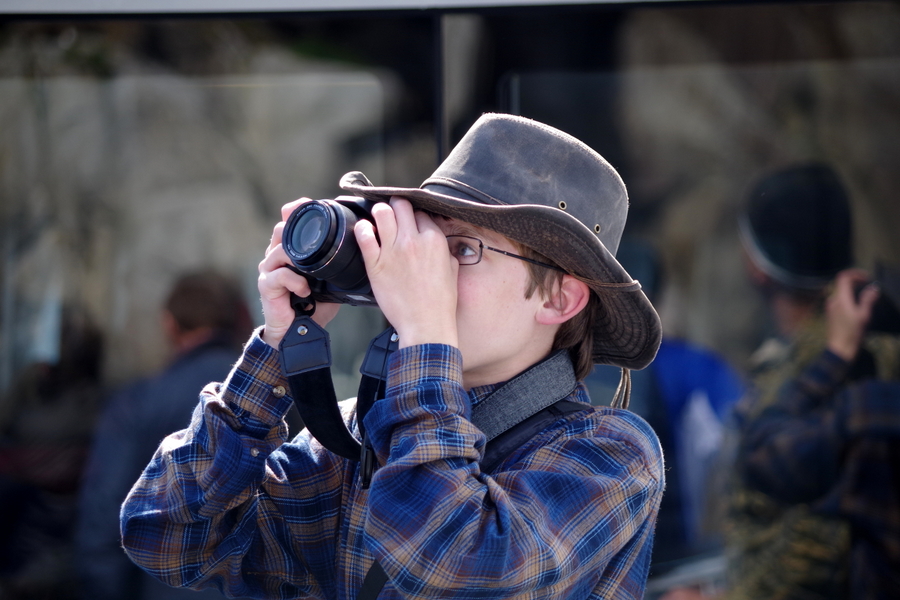 This is what Mr. Man looked like most of the day. I think at the end of the day he had somewhere around 200 to 300 pictures. He likes to combine them and make new landscapes for stories he's working on.
I lost count of all the glaciers we saw. This one was pretty spectacular the way it just went on forever.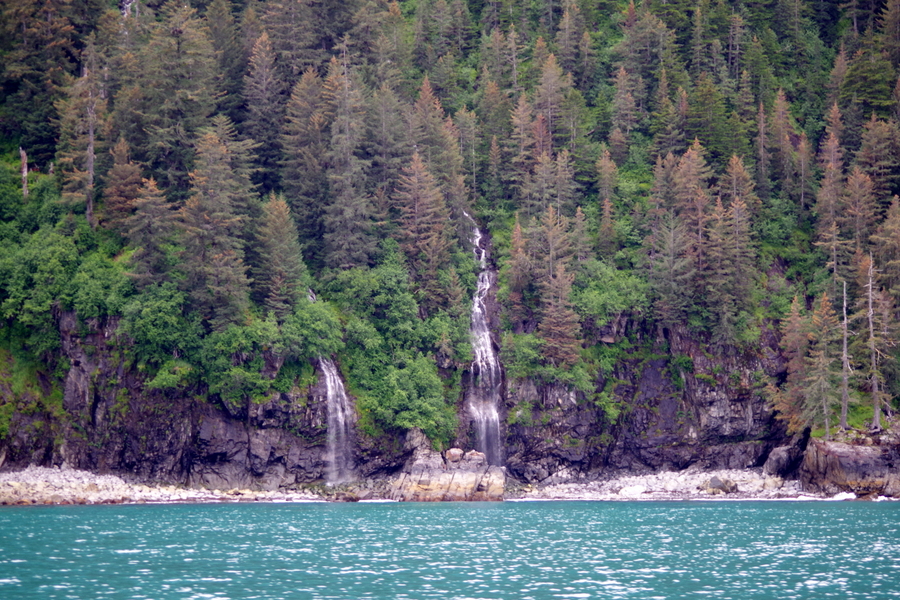 And then there are the waterfalls! I've never seen so many waterfalls. They're in every nook and cranny.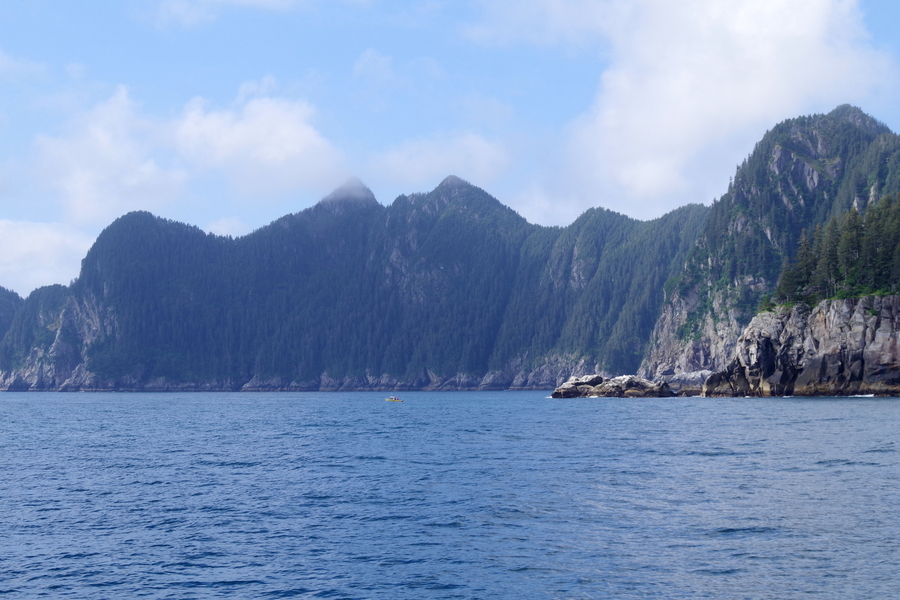 The day started off overcast, but the farther out to sea it became more of a cloud dappled sky. We would get these moments of brilliant sunlight that would make us say "oh wow!" I'm not sure how many times we found ourselves saying that. It seemed to be the theme of the day.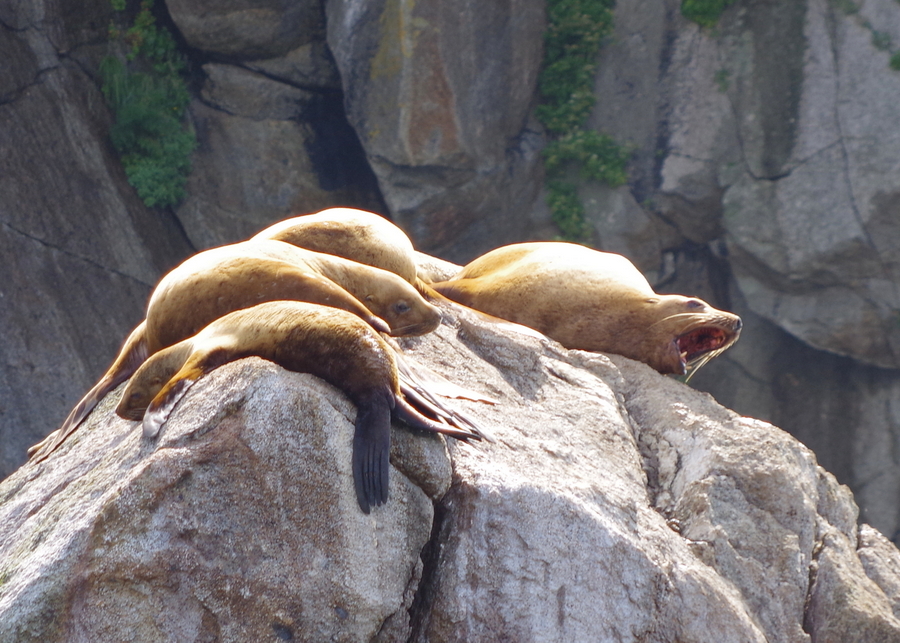 This group of sea lions started calling out to us as we passed by. It was like they were telling us to go away so they could enjoy their sunny rock in peace. Apparently, sea lions are very territorial and some actually jumped into the water to try and chase us off.
It was right around noon-ish in the trip and the crew passed around a light lunch. It was nothing spectacular, but it was very appreciated and tasted really good. The lunch consisted of a chicken Cesar wrap, a bag of sun chips and a granola bar.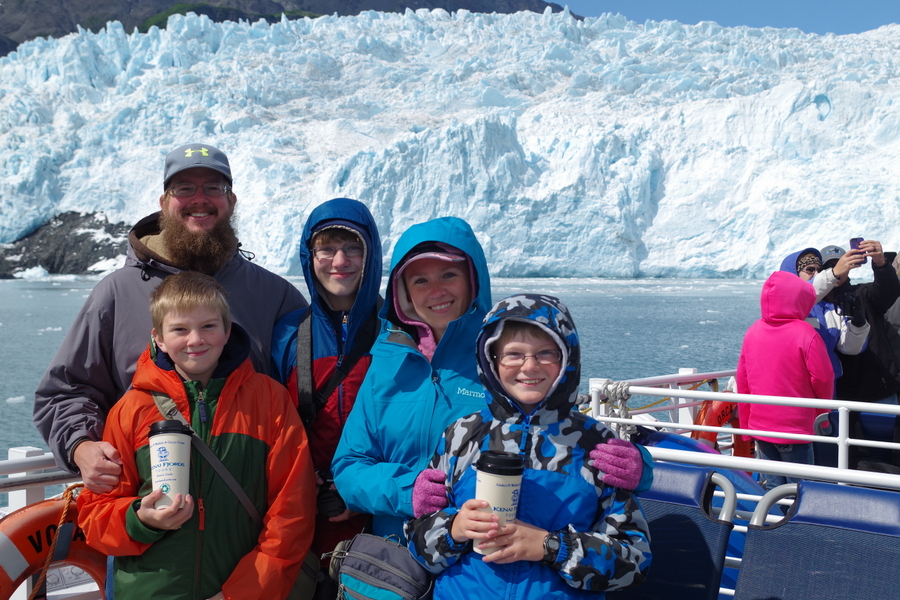 This was probably the highlight of our day. We got to sit close to this glacier for a while. We heard it moan and groan and then crack.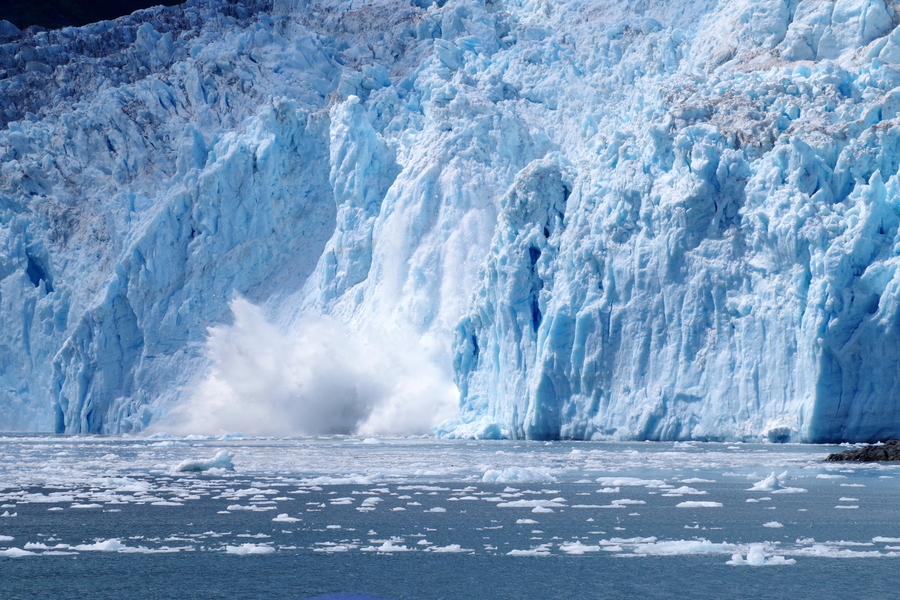 We got to see it calve several times! It was really amazing!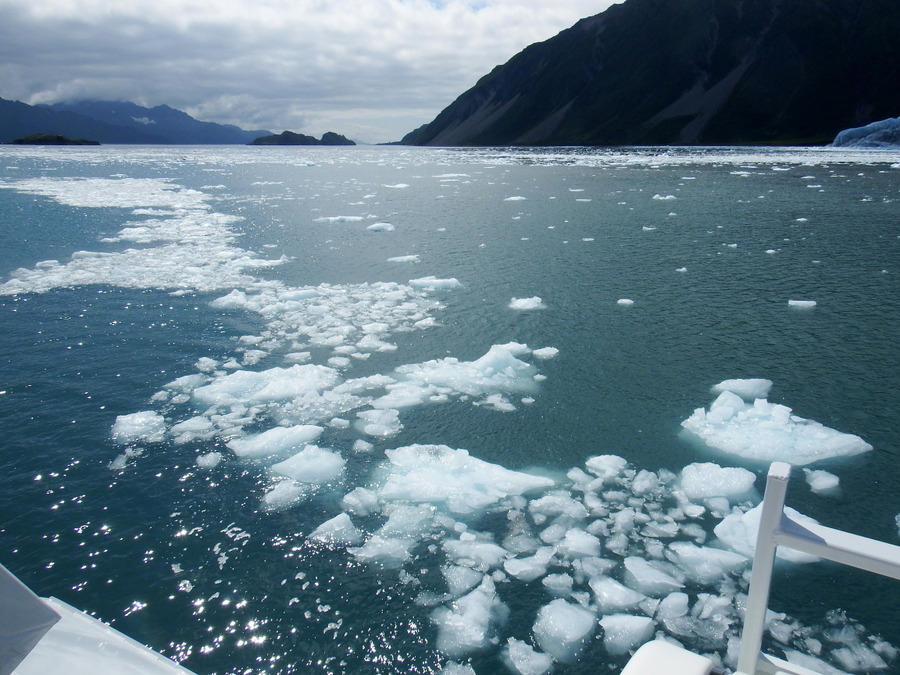 There was ice floating in the water. The crew scooped some out for everyone to touch and feel.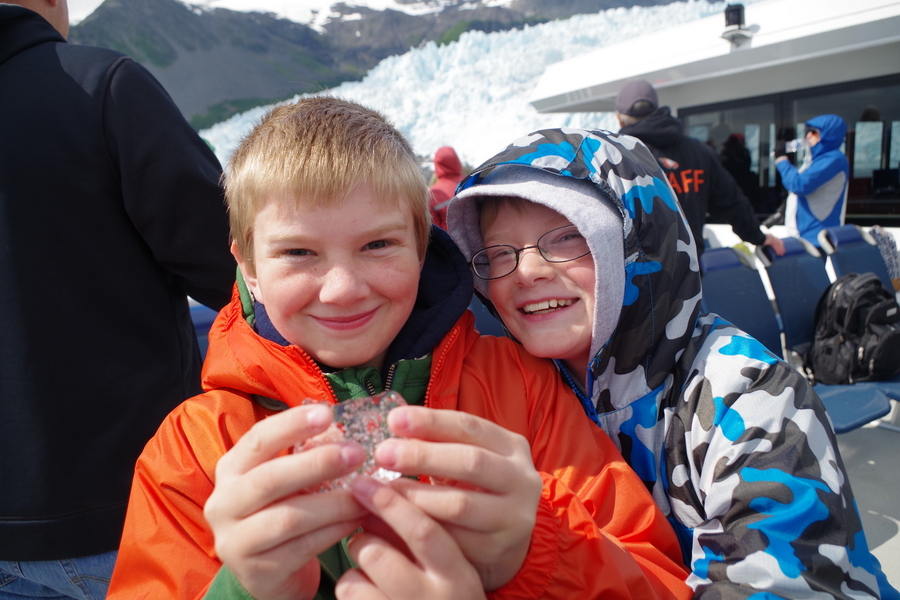 I was informed that glacier ice out of the sea is cooler than regular ice. These two monkeys grabbed a chunk of ice that had fallen off the big one the crew brought around. The glacier ice had tons of air bubbles in it.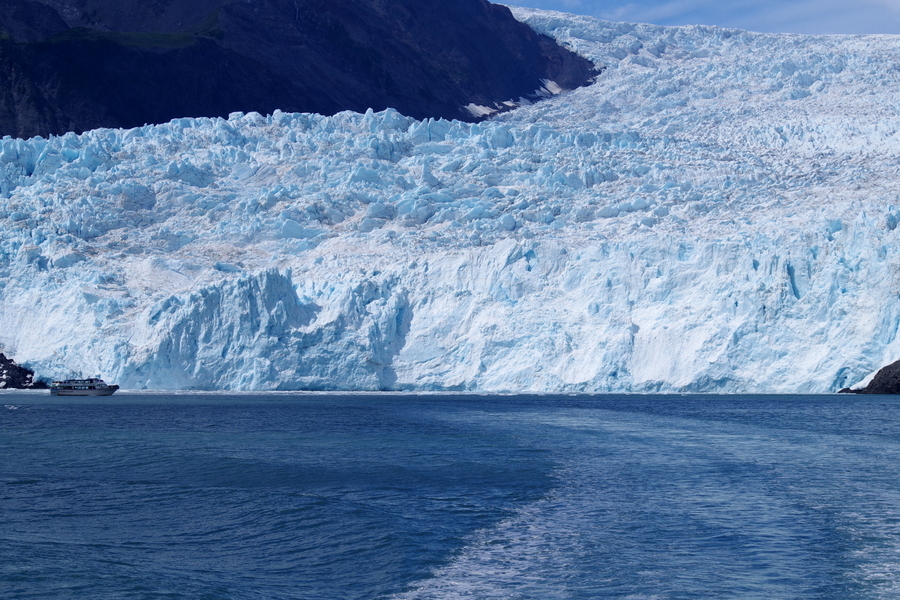 If you look to the left of the picture above, you'll see a boat that was about the same size as the boat we were on. This picture really gives you a feel for how massive this glacier is.
This glacier was the farthest out our cruise would go so after we left here we started back toward Seward.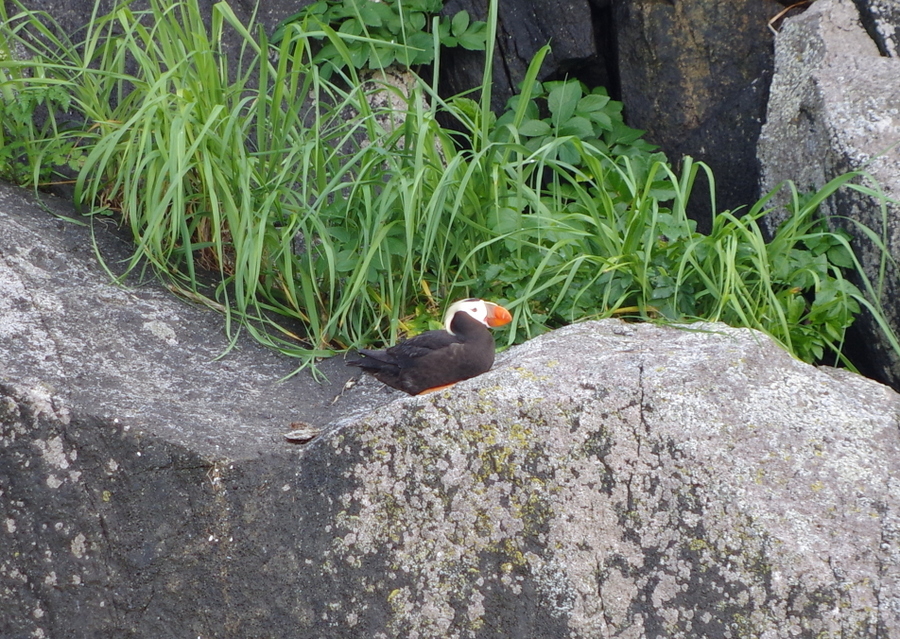 We stopped by an island covered in puffins. Two different kinds of puffins! The one in the picture above is the horned puffin (I think). The other one is called a tufted puffin. These little guys are probably some of my favorites. Puffins can actually dive 300 feet into the water to catch fish. Their bones are denser than most bird bones so they're heavier and can travel farther down into the water at a faster rate.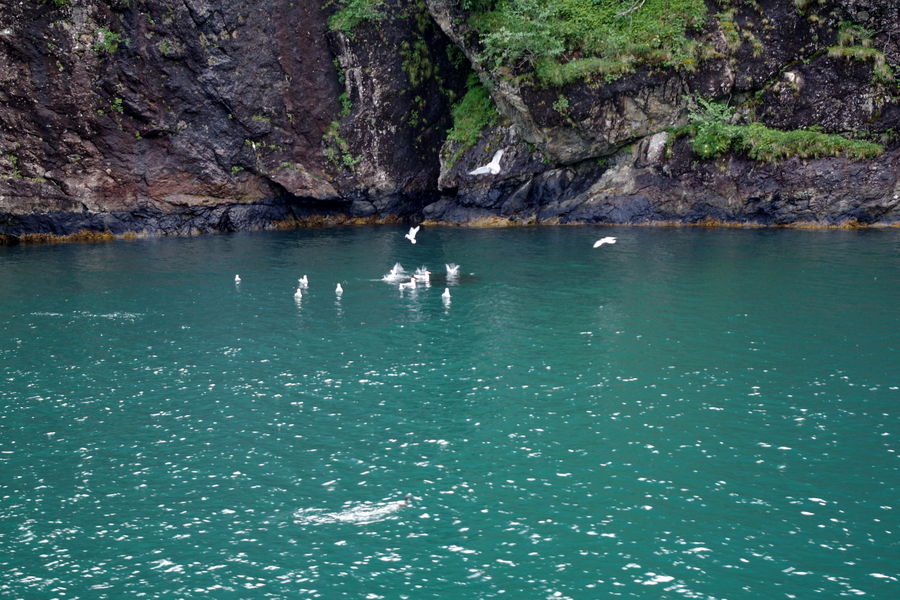 See the group of birds in the picture above? Now look right in the middle of them at the dark blob in the water. That blob is called a bait ball. Groups of different kinds of birds will work together to gather fish into a tight ball to eat. Puffins will dive down and scare the fish upward while other birds will start bringing them in from a more shallow depths around the sides and then the birds feast. We saw several of these and they are kind of amazing to see!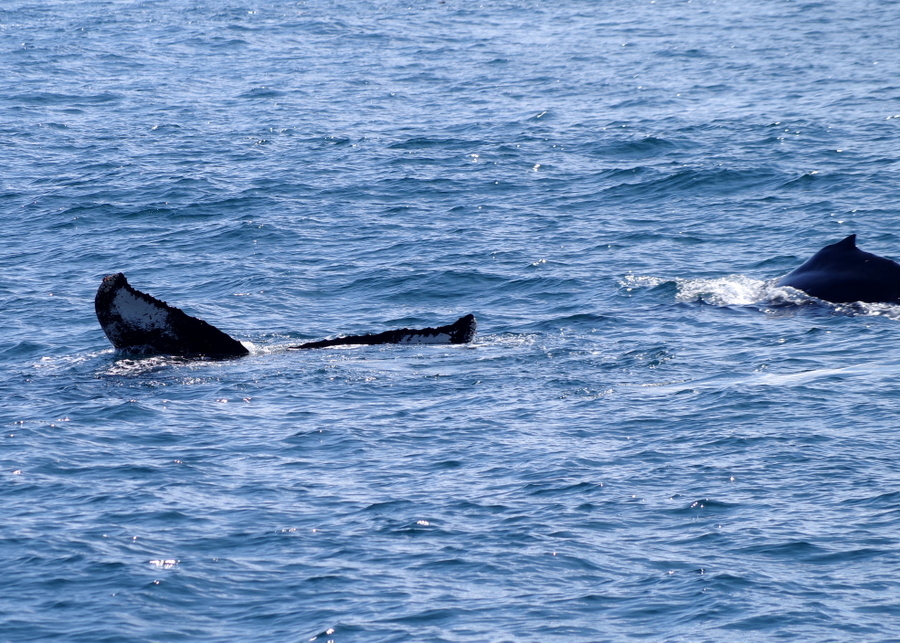 We saw a few humpback whales. They never came all the way up out of the water…just up for a breath then back down. I did catch the tail of a momma and the hump of the calf. We stopped in this area for several minutes hoping to see more of them, but the Captain had a schedule to keep and was trying to get us to Fox Island for our dinner. He apologized for not being able to stay longer but he was afraid the Chef would get after him for making us late for dinner. We didn't mind. Fresh hot food sounded so good by this time! Honestly, anything hot sounded good by this point!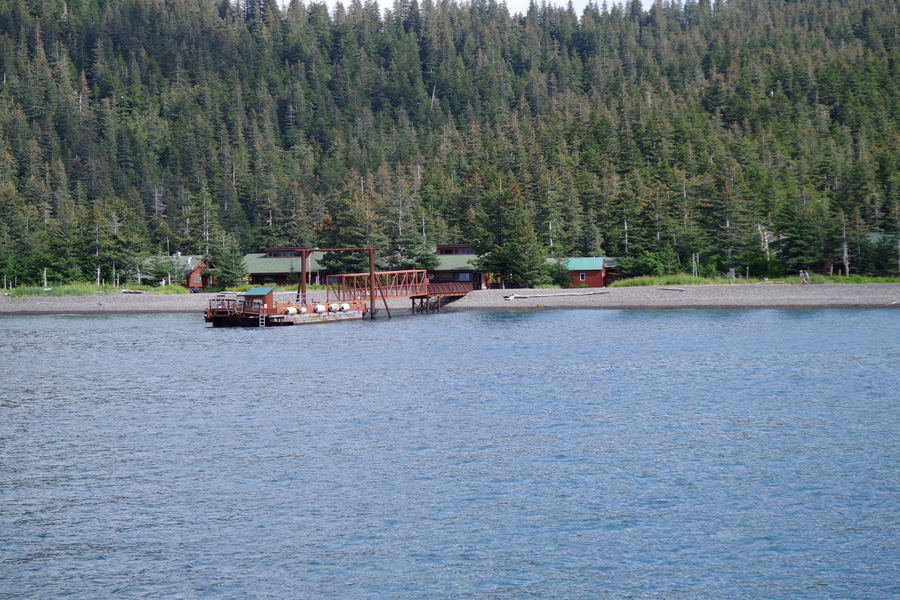 This is Fox Island. We docked here and unloaded for a steak and salmon dinner!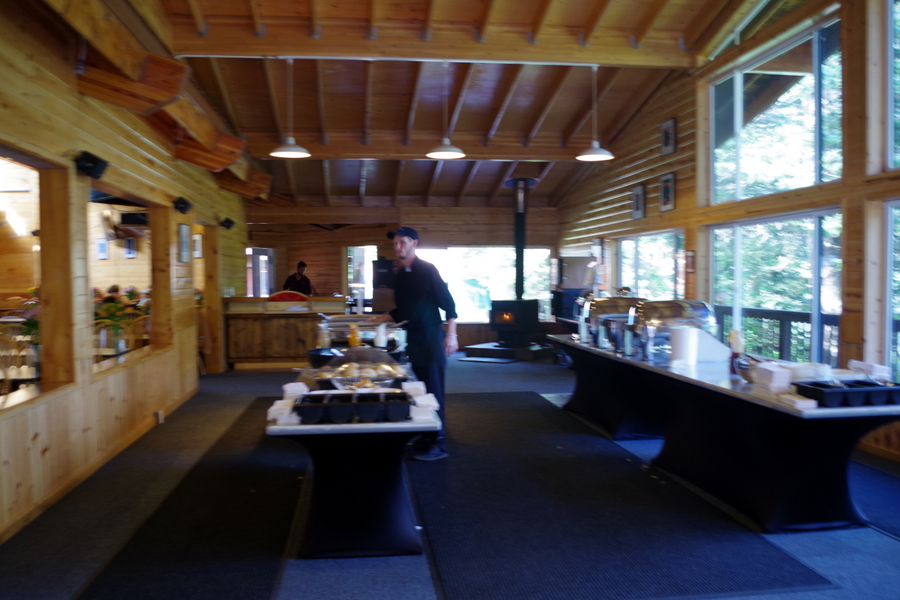 The dinner was buffet style. Sorry for the blurry picture, but…well…food. I was lucky to get this one shot off before grabbing a plate. We only had an hour to eat do any exploring we wanted to do. There were some cabins on the island that you could rent.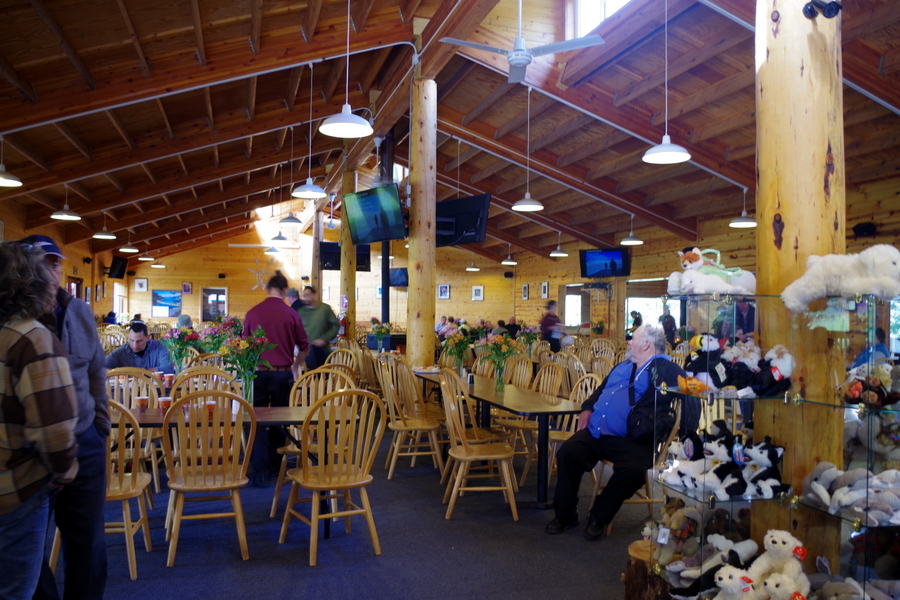 Here's a picture of the dining hall. The food was great. The service was spot on. And there was a Park Ranger there who gave a presentation about Kenai Fjords NP while we ate.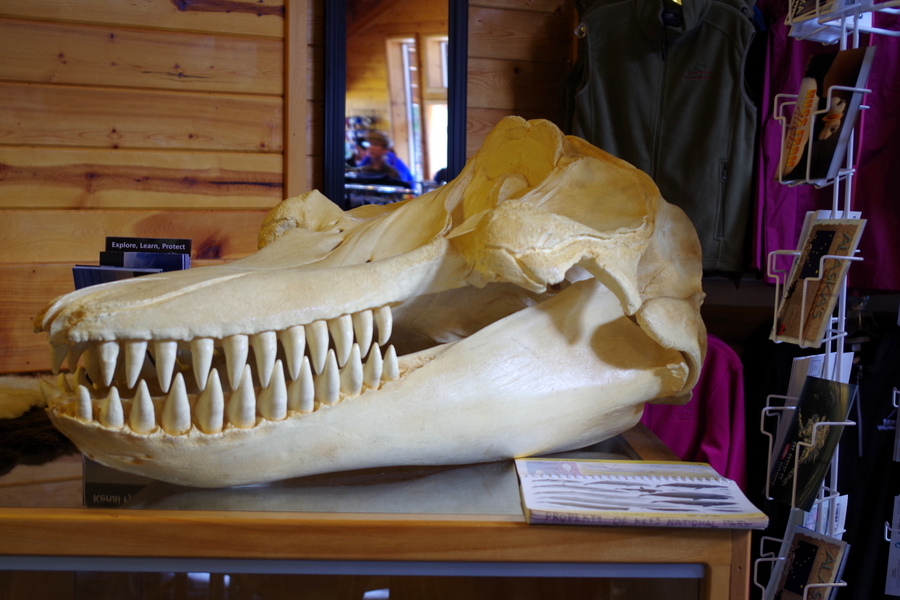 Any guesses as to what animal this skull belongs to?  It's an orca skull! Look at those teeth!
The crew passed around freshly baked chocolate chip cookies as we were leaving Fox Island. They were still warm…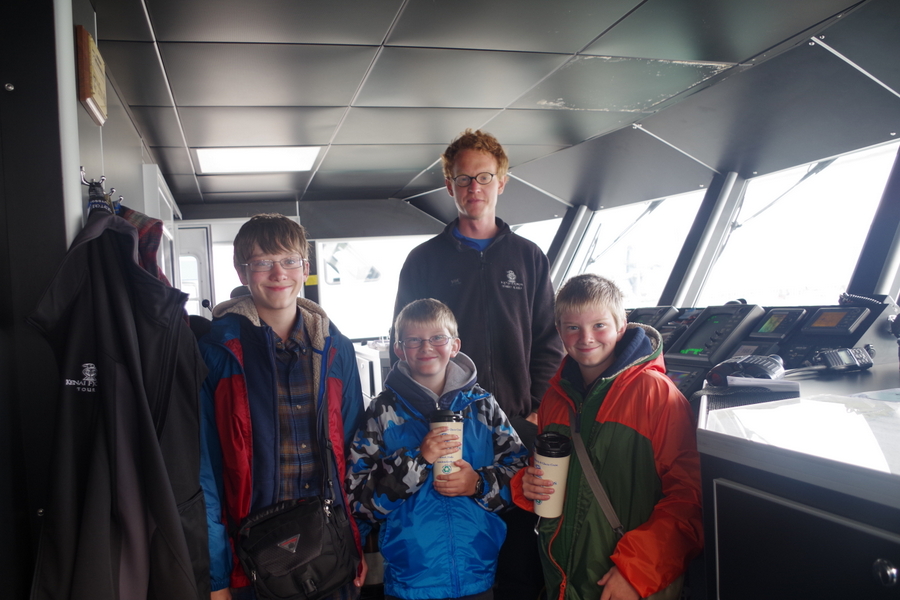 The boys wanted to get their picture taken with Captain Eric.  He was a great Captain! He really was amazing at getting us right up close into the close spaces so we could experience Kenai Fjords up close. See those cups the boys are holding? Those are $7 souvenir cups that you can buy and get free refills in all day.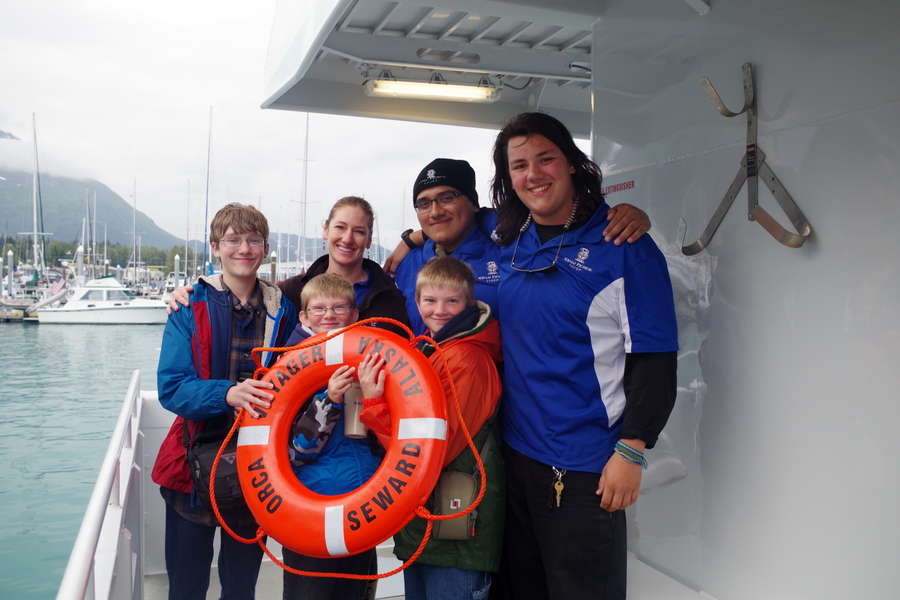 Here's a picture of the boys with the First Mate and the Crew! I really feel like we lucked out with the Captain and Crew that we got. They were stellar! They made the day fun and entertaining and made sure everyone had everything they needed. If y'all ever find yourselves in Seward make sure you go to Kenai Fjords Cruise and ask for Captain Eric! You won't regret it!
See y'all on the road!
#alaskabound