Hey Guys! We're back on the road and heading west this loop! We'll spend the next year making our way through twelve states before heading back to Missouri to visit family again. The plan is to finish up the remaining six states in the contiguous US left on our map, grab a few places we missed as we went through some of the states the first time, as well as, revisit a few of our favorite places. We'll (hopefully) hit around 40 different National Park Units as we make our way through our #grandwesternloop!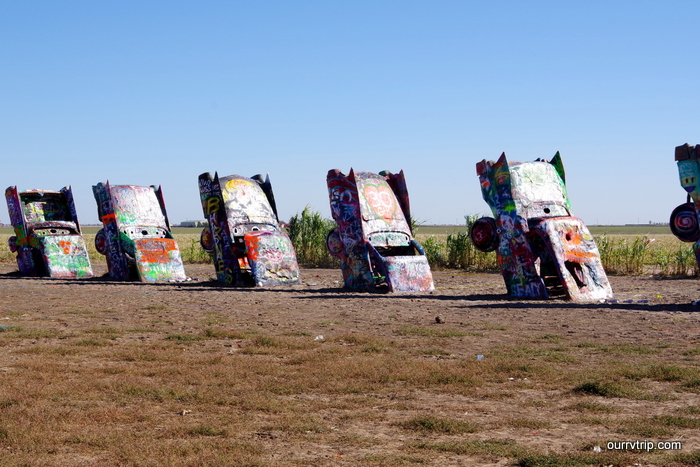 We spent two weeks in the Amarillo, TX area. We don't normally stop at "roadside attractions", but we found ourselves at two different roadside attractions while we were in Amarillo.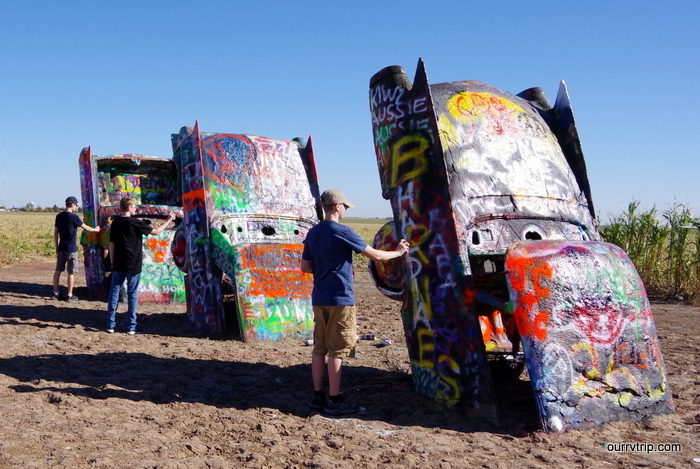 Cadillac Ranch was created in 1974 along Route 66 just west of Amarillo by Chip Lord, Doug Michels, and Hudson Marquez . For those traveling The Mother Road this roadside attraction is a must. And don't worry…it's completely legal to spray graffiti on the cars at Cadillac Ranch.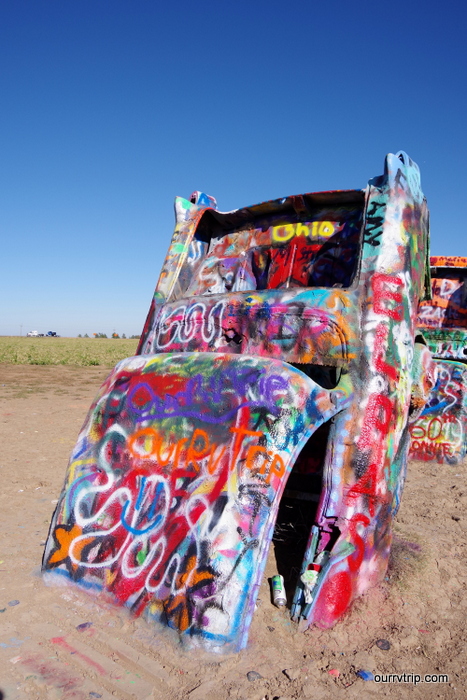 We had to leave our mark. Can you find it?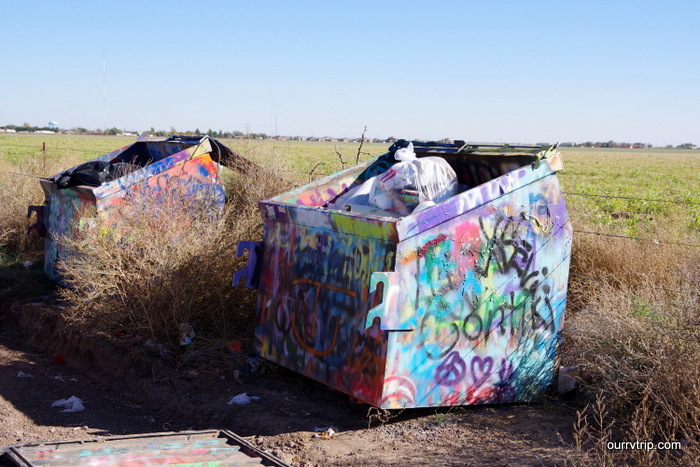 We've heard that the city is thinking about closing Cadillac Ranch down because of all of the spray paint cans being left there. We saw quite a few littering the ground near the Cadillacs. We brought our own cans and we threw them away in the handy dumpsters the city has provided when we left.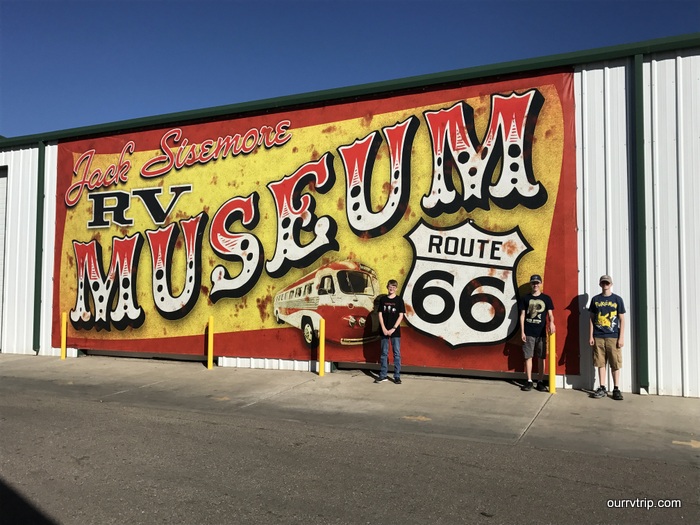 The other roadside attraction we found ourselves at was the Jack Sisemore RV Museum. We weren't really sure what to expect here, but we'd heard it was a neat stop and at a great price. Free!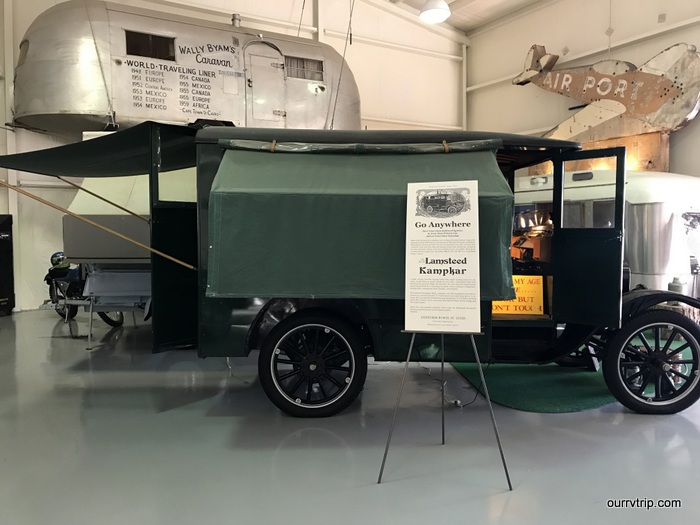 Jack Sisemore has been collecting old RVs for over 25 years. He's redone some of them and left some in the condition he found them in. He has several RVs in his collection put together to make this museum that you can walk through and see how much RVs have changed over the years. The oldest one he has is the 1921 Ford Lamsteed Kamkar you can see in the pic above. The Kamkar body was mounted onto a standard Model T Ford and came with everything you needed. It was made by Anheuser-Busch and sold for a grand total of $535.00 in St. Louis, MO.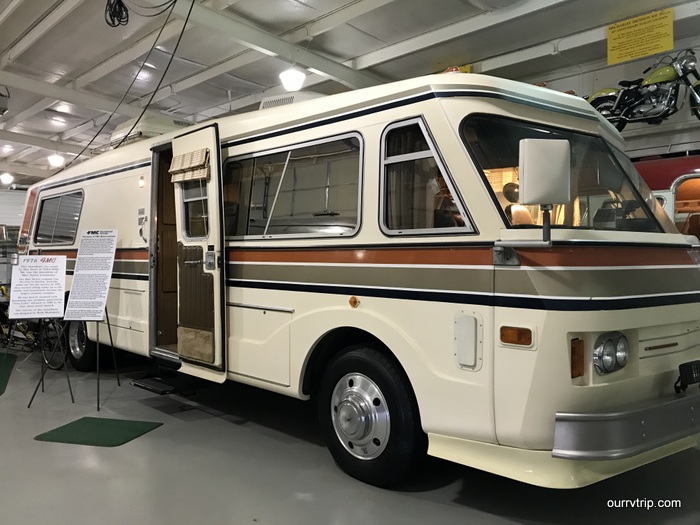 This is a 1976 FMC and was owned by Max Factor, Jr. You might know him as the president of Max Faxtor Cosmetics. We had way more fun going through these old RVs than we thought we would.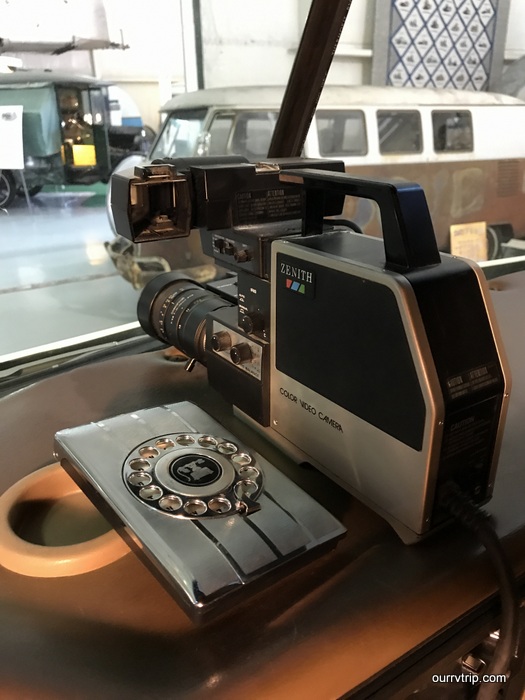 Each RV that had been restored also had been set up with items popular the year the RV was made. Check out that video camera!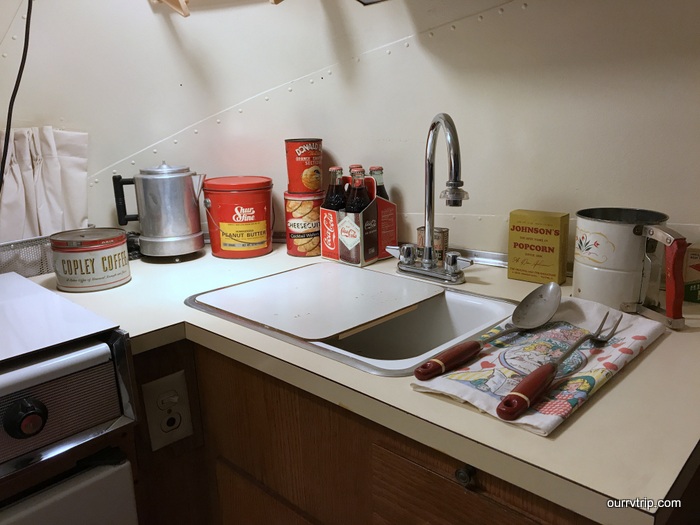 The kitchens were stocked with items from the specific year of the RV. Check out the old tins!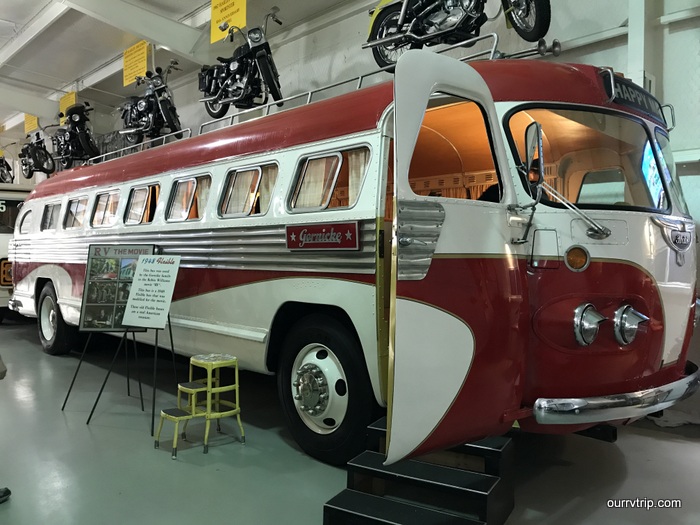 You might recognize this bus from the movie RV! It's the one they used to film the movie!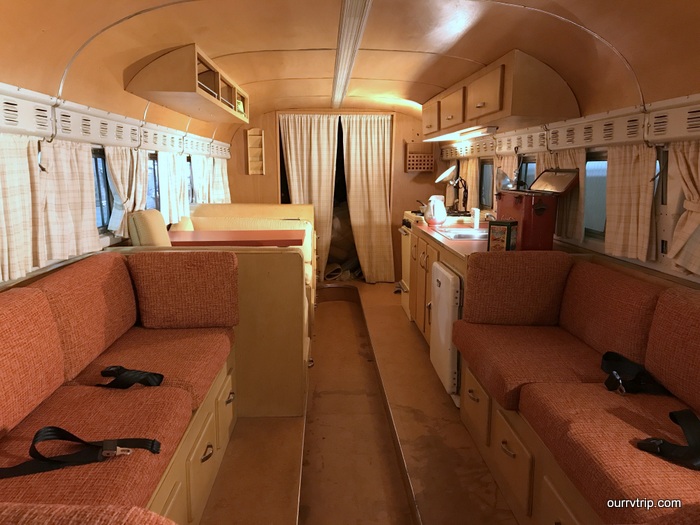 The inside of the bus was…a little lackluster. I'm going to have to rewatch that movie and pay attention to the scenes shot inside the bus.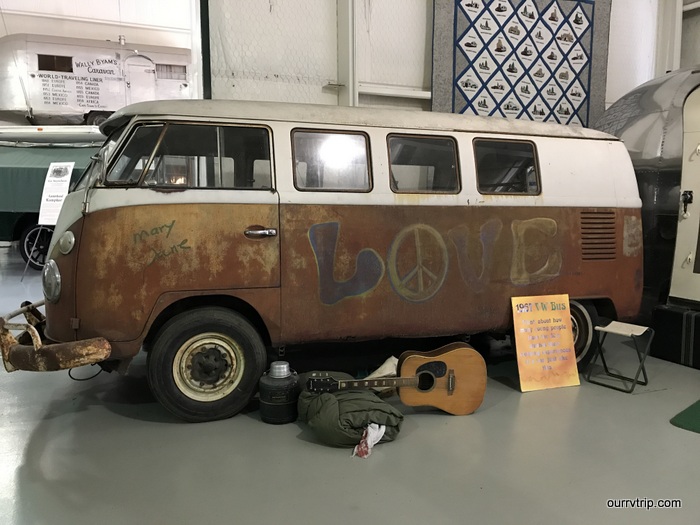 Some of the vehicles in the museum aren't strictly…RVs, but they've been used as one. I love this old VW bus!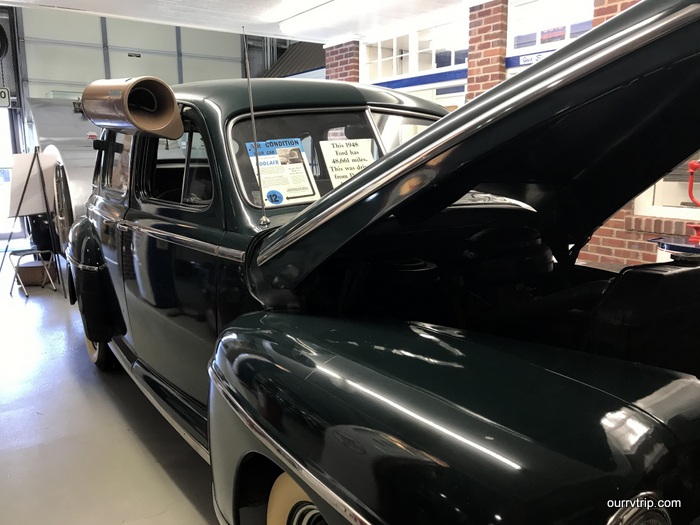 At the back of the museum they had an old gas station set up. Check out the air conditioner on this car!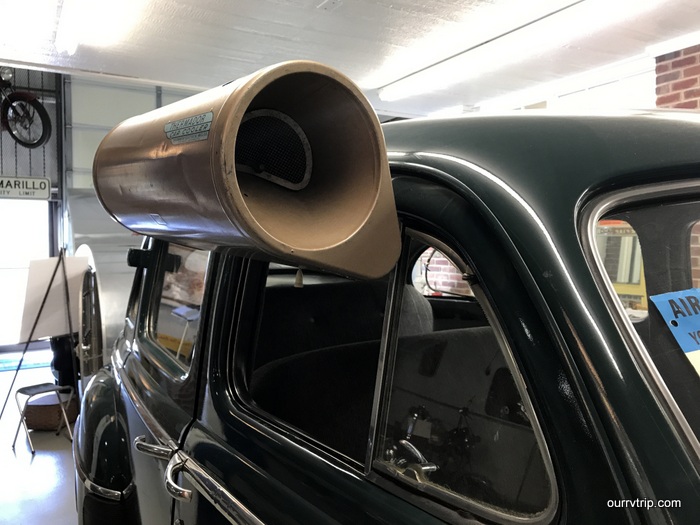 Here, let me give you a better look at this beast of an air conditioner. Can you imagine sitting right by it? My head would be frozen! It was a true feat of engineering and could be yours for the low price of only $12.85!!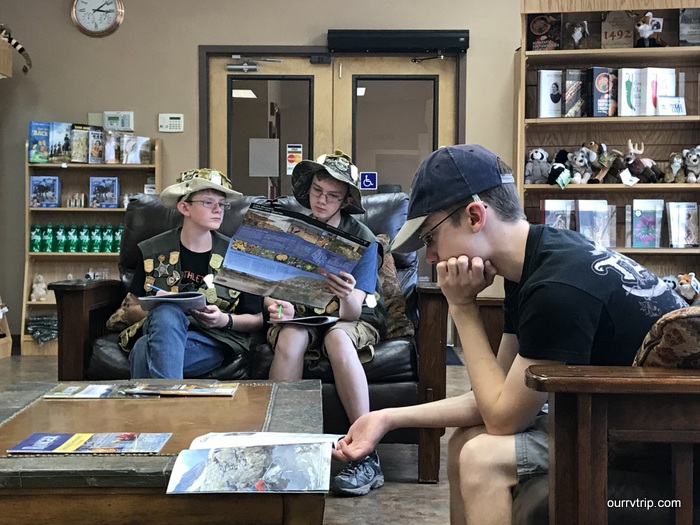 We snuck in a National Park that we hadn't planned on. The Alibates Flint Quarries National Monument was a very cool place to visit. When we got there we almost didn't make it inside due to an infestation of paper wasps. I didn't get any photos…I was more worried about being stung, but oh my word…there had to have been a couple hundred wasps flying around the visitor center. It was slightly terrifying.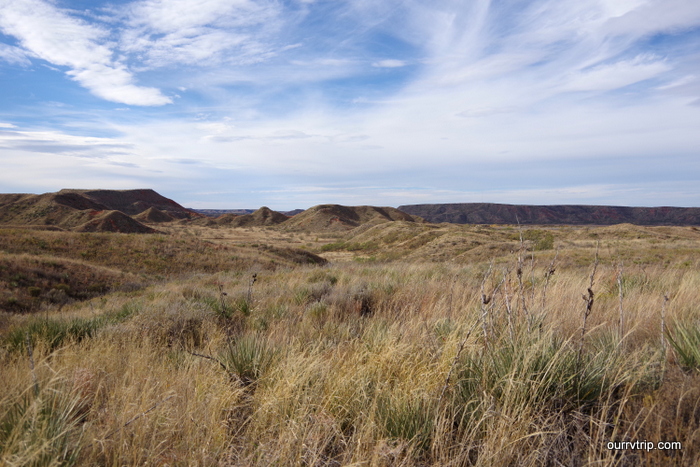 Unfortunately, we didn't get to see the actual quarry because we'd just missed the last tour. We did peruse the museum and watch a film about the area before heading out to see what we could of the park. This area was known for it's flint. The Native Americans would come here to get the flint to make their weapons and tools. We were able to see and touch some of the flint!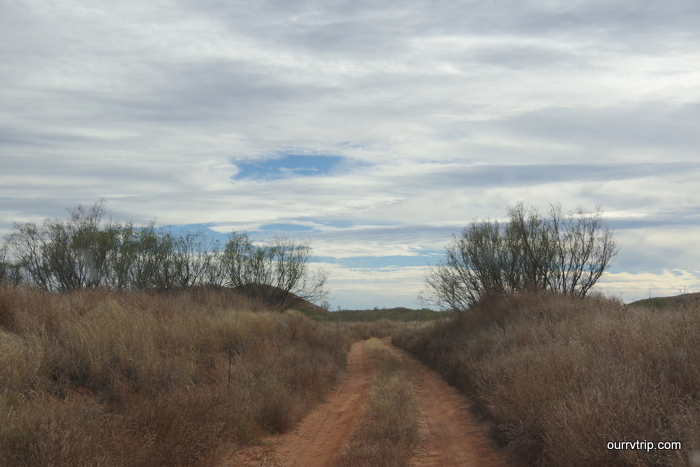 Somehow we ended up on this one lane (but not one way) dirt road. We hoped it would lead to some amazing overlook of the flint quarry, but it just kind of wound it's way around the area where Lake Meredith used to be. Our GPS was convinced we were driving through Lake Meredith.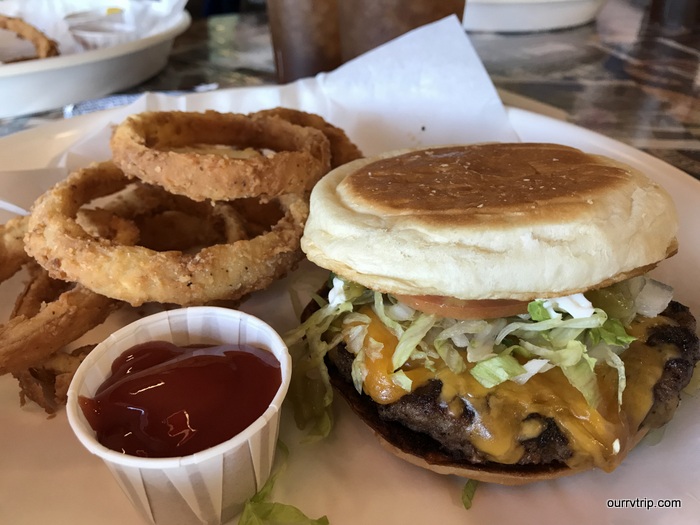 Let's talk foodies…we found an awesome burger joint called Hil's Burgers in Canyon, TX! If you go…get the onion rings.  We also found a Torchy's Taco in Amarillo…so we HAD to eat there. Once or twice…or more.
We also went to a very cool state park, which I'll tell you about in the next post because this post is getting to be way too long!!
See y'all down the road!
#grandwesternloop