Hey Guys!!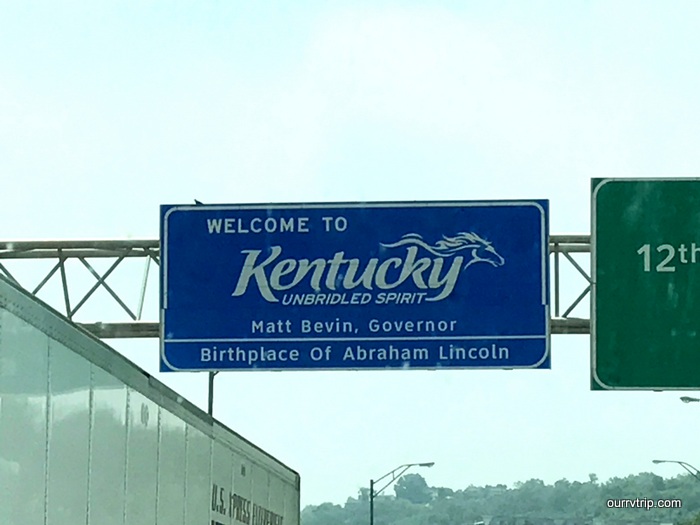 We made it to Kentucky!!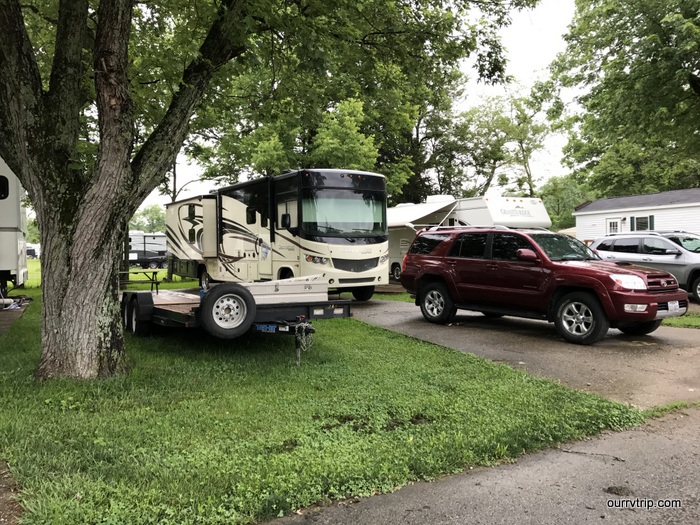 We spent a week in the Frankfort area at a cute little RV park called Elkhorn Campground. We didn't get a pull-through, but that's the only complaint I have about this campground. The owners are super nice!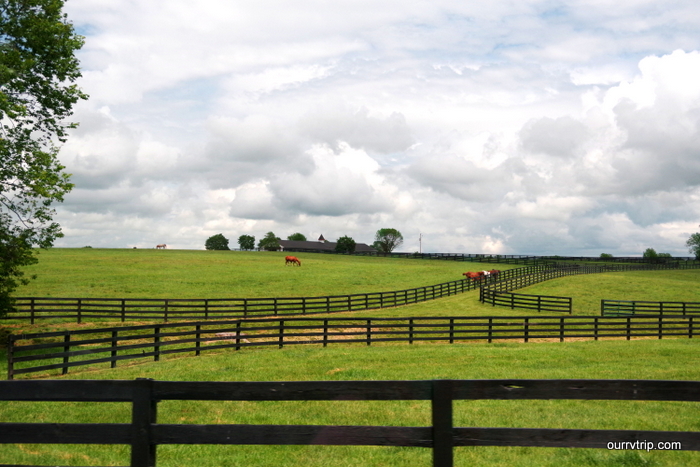 My favorite thing about this area is all of the horse farms! Love!! We didn't get to visit any this time due to lack of time…but we've already decided (for various reasons) that Kentucky will be a regularly visited state once we're done with the #50statetour!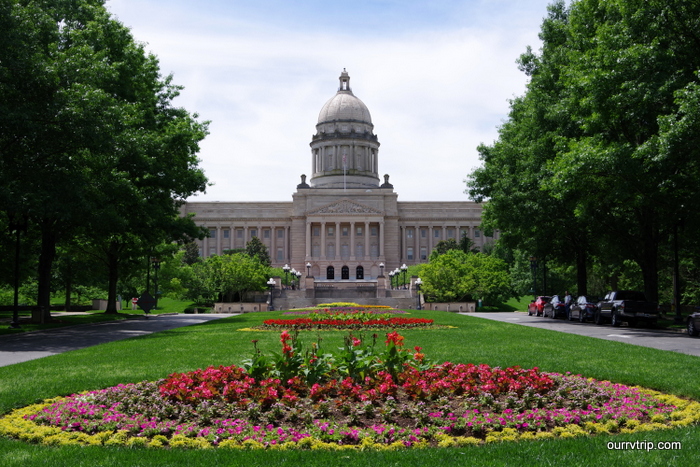 We came to the Frankfort area to visit the State Capitol Building…and some distilleries that happen to be in the area.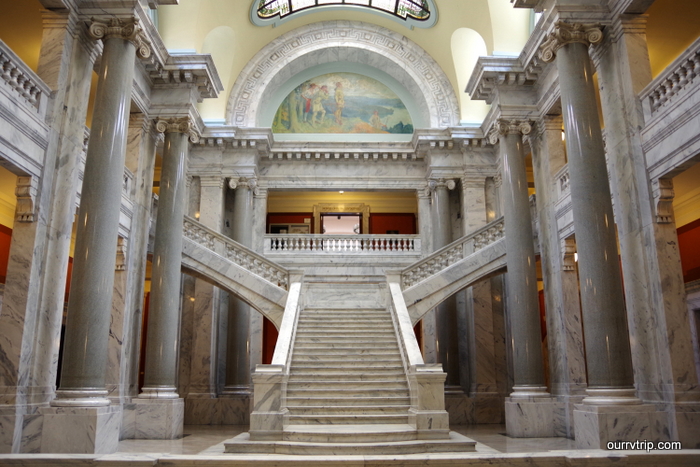 The Kentucky SCB is one of the smaller ones we've been in. I love this staircase. Long clean lines made of marble…it just works for me.
You can stand at one end of the building and see all the way to the other end. It's that small. But look how gorgeous it is!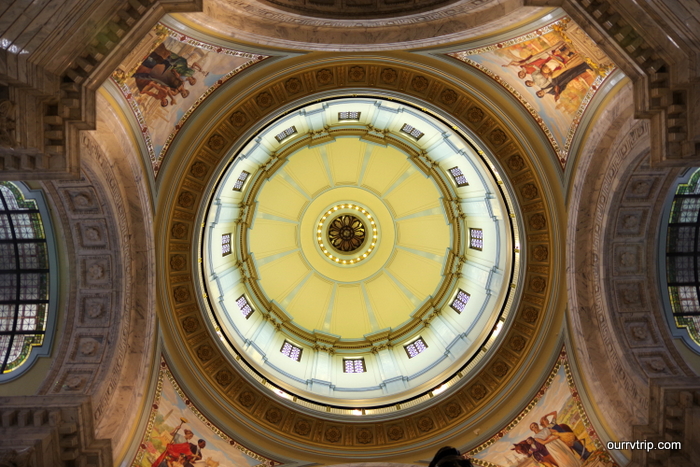 And Guys… the dome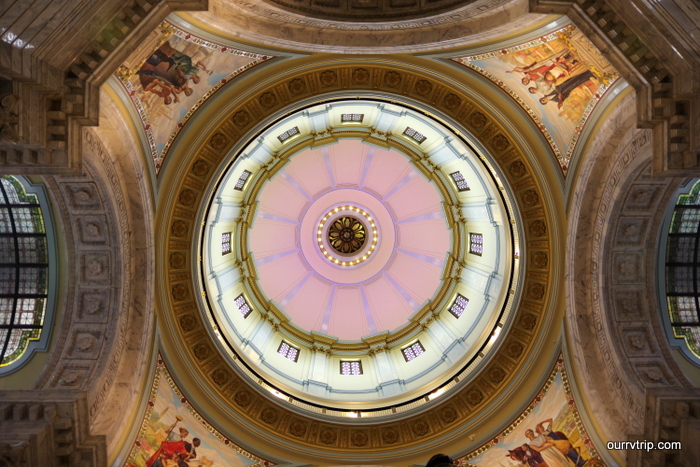 changes
colors! What?!? Be amazed!! That's a first for us. It's a beautiful dome all on its own, but when you add the color change…it's the cherry on top.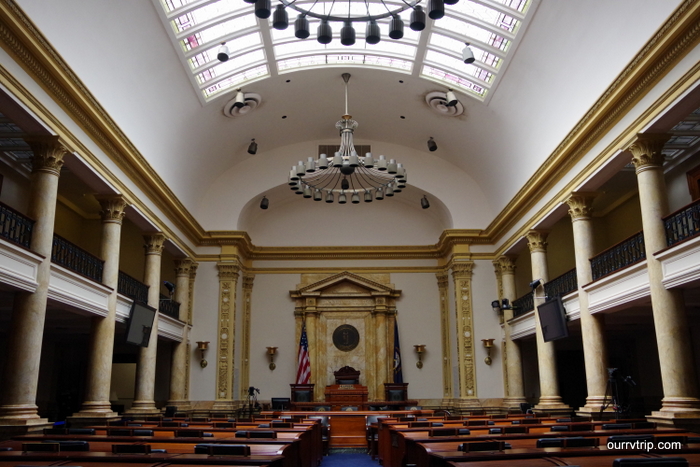 We did go into the House and Senate Chambers. They weren't anything to write home about. Simple. Does the job.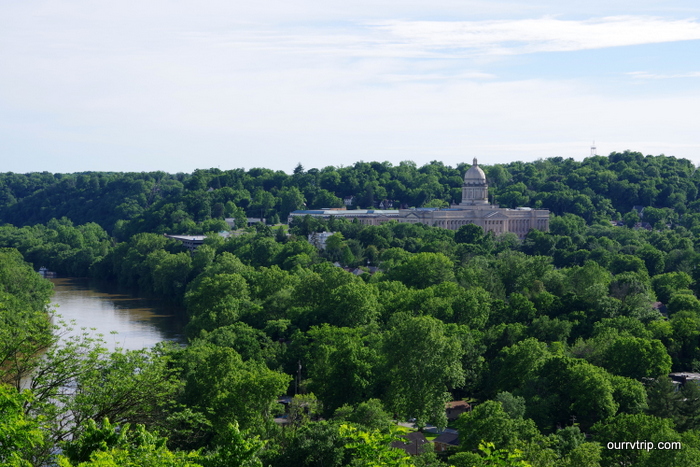 We went to find Daniel Boone's grave and stumbled upon this magnificent view of the SCB.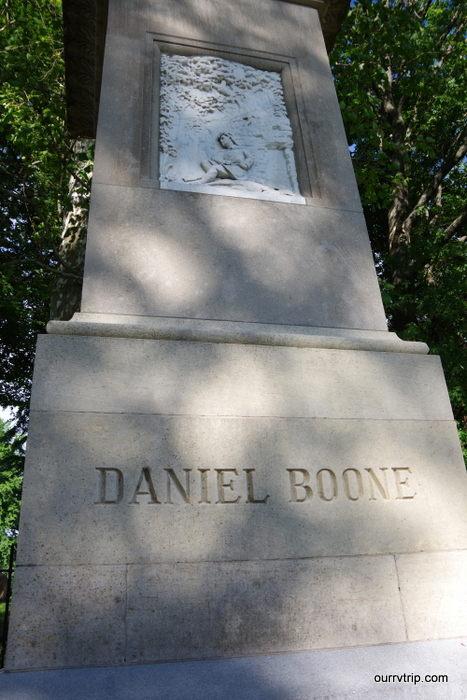 We made it to Daniel Boone's grave. It's got a great view. We've heard a lot about Boone and his life this past year as we were heading down the East Coast. We heard about him in Texas… he had a pretty big role in our history.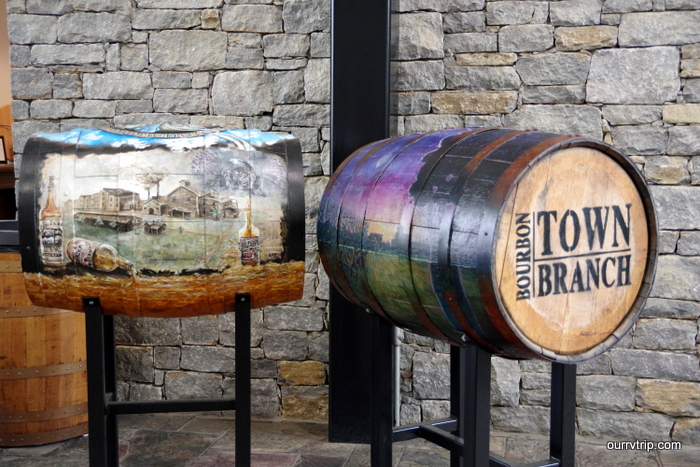 We had planned on hitting a couple of distilleries while we were in the area…because you know, it is Bourbon County. 😉 We found out right before we went to our first tour that there's an entire Kentucky Bourbon Trail!! And, if you complete the whole tour you get a free shirt! Score! Count us in!!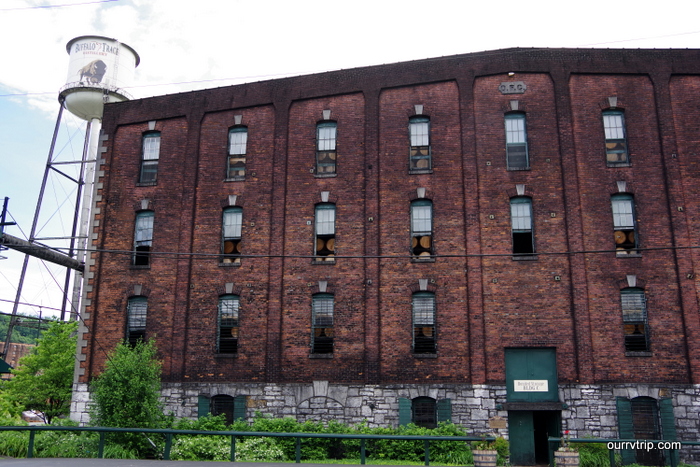 One of my favorite parts of a distillery tour is getting to go into the rick house. I love the sight of all of those barrels neatly stacked up! You can see them through the windows in the picture above.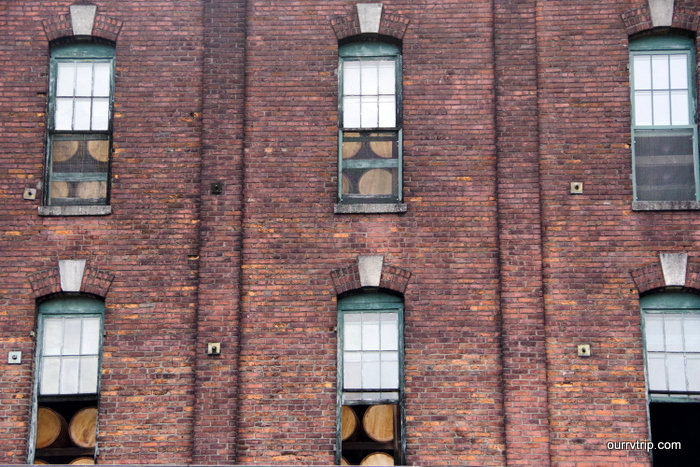 Here's a closer look for you. We didn't get to go into the rick houses on all of the tours.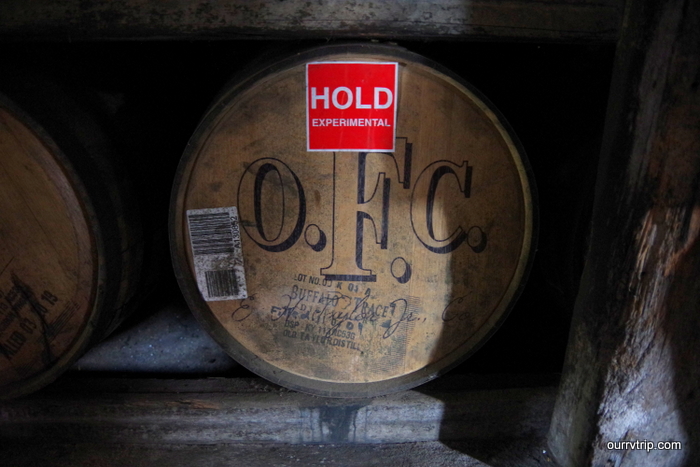 All of the distilleries conduct experiments. If you look closely, you can find a barrel or two of the experimental bourbon.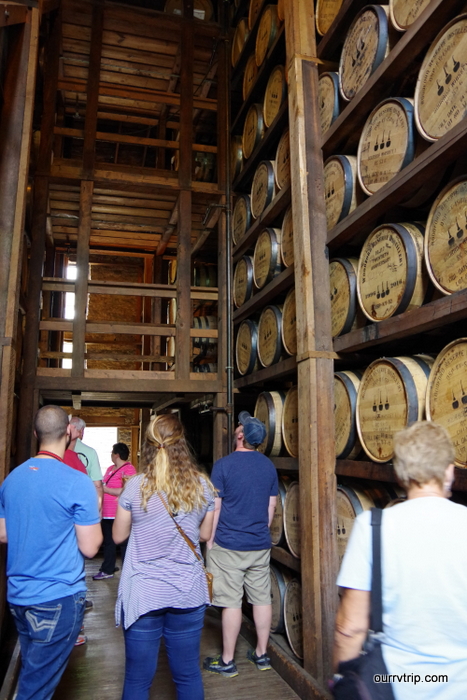 I wanted to show you how big the rick houses are.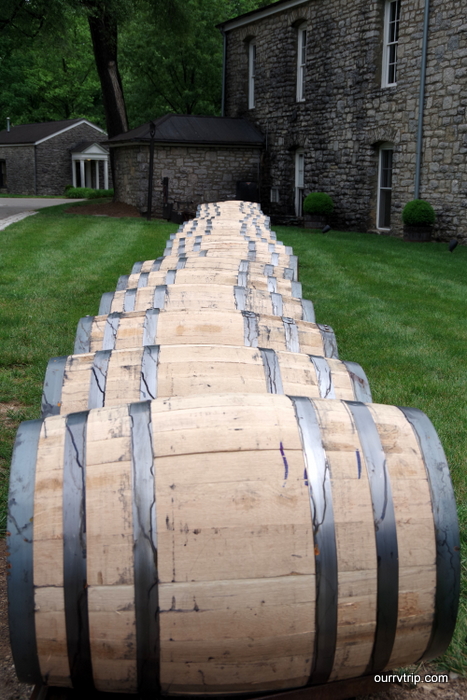 We learned something new at each distillery.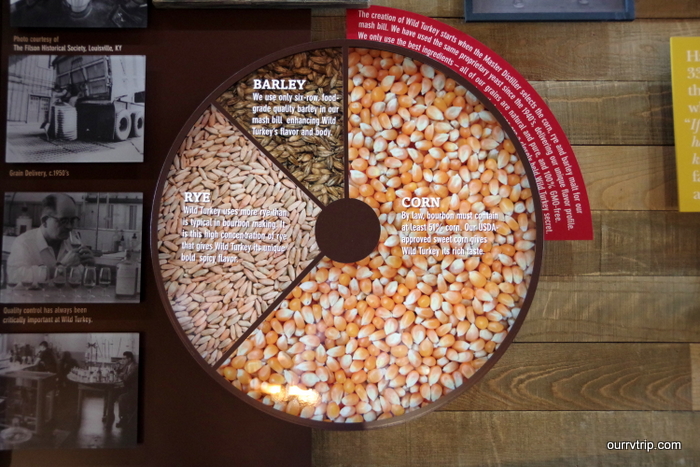 To be bourbon it has to be made of at least 51% corn. Each distillery has its own unique twist on what that other 49% is.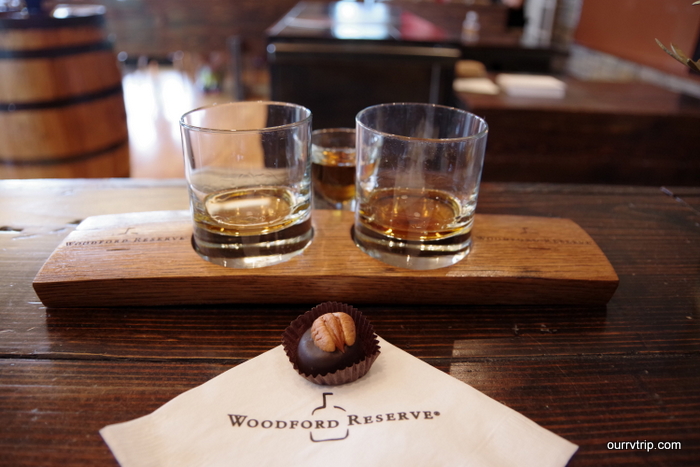 All of the tours come with a tasting. All of the distilleries have their own take on this. Woodford Reserve is our favorite distillery so far! We loved everything about it. Setting, tour, buildings we saw, and tasting!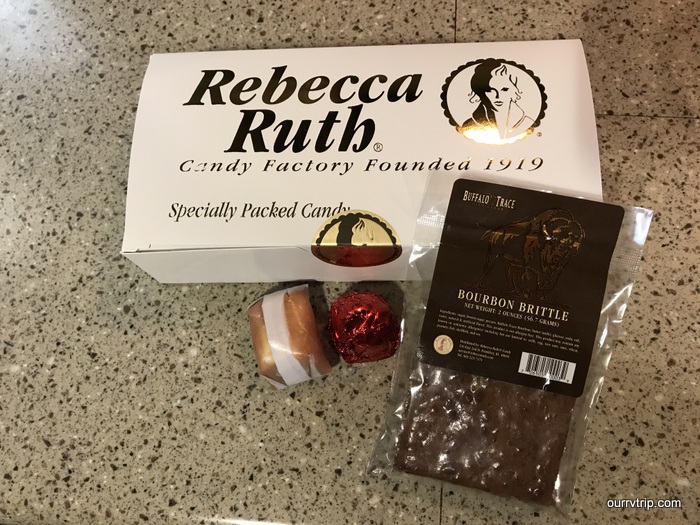 Bourbon balls…supposedly, Rebecca Ruth is the inventor of the bourbon ball. She still has a store around so we went to check it out. The Rebecca Ruth store makes the candy for several surrounding distilleries. She's certainly proud of her chocolates. We got a box of mixed bourbon candies to try. They're ok until you have some of the other candies around that she doesn't make…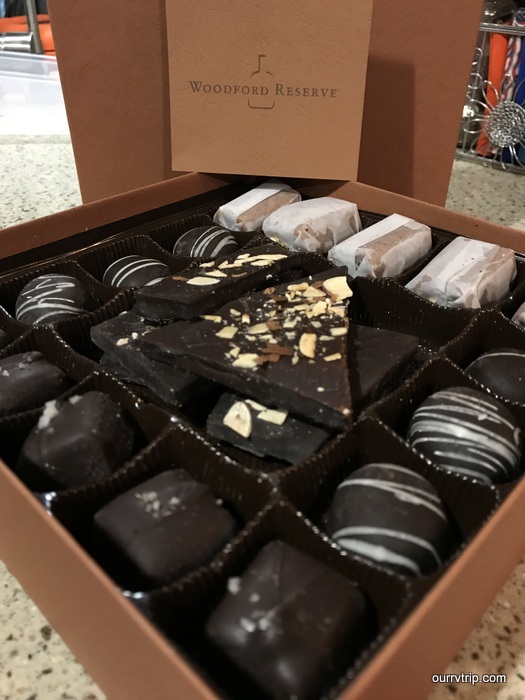 When we tried the bourbon balls from Woodford Reserve, well…we realized how mediocre the other candies had been. The bourbon balls from Woodford Reserve weren't just good…they were…eyes-roll-in-the-back-of-your-head good! Like…that-was-so-good-we-need-to-go-buy-the-biggest-box-they-have good! We liked them. Just a little.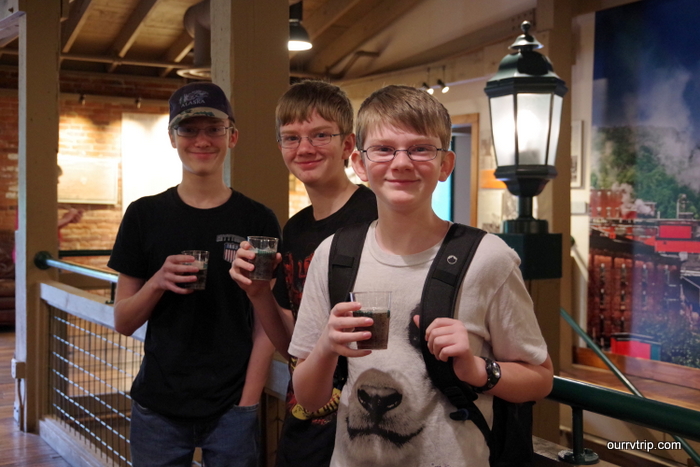 The boys weren't left out of the tastings. They got different things at each. Apple juice, root beer, chocolates. They didn't' mind.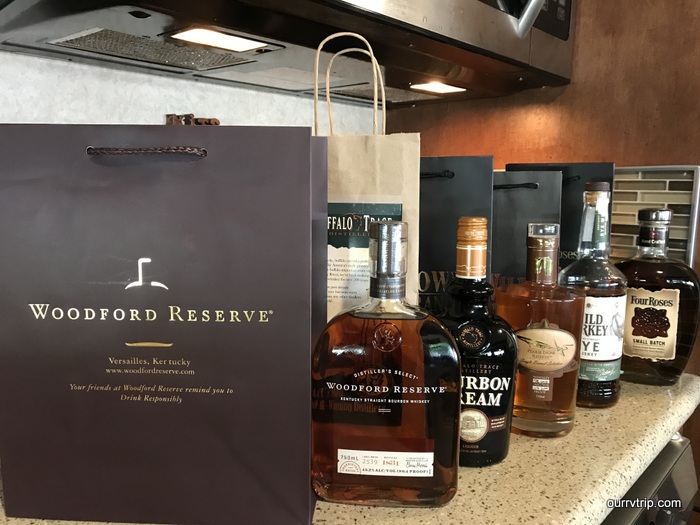 We got a few souvenirs.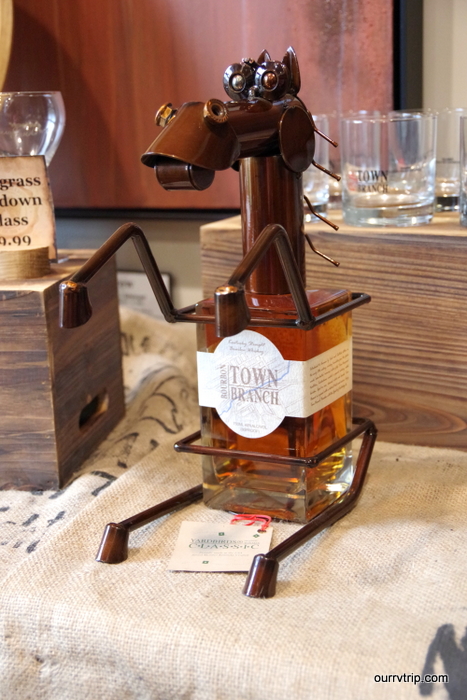 We thoroughly enjoyed our time in the Frankfort area and look forward to visiting again!!
See y'all down the road!
#minieasternloop2017