Hey Guys!! We spent one week in Grass Lake, MI. Don't know where that is? It's about 45 minutes south of Lansing.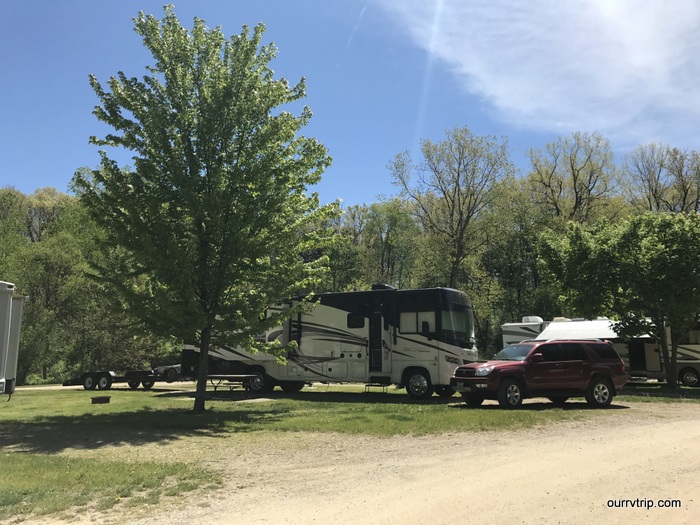 The RV park we stayed at was decent. It was a basic park.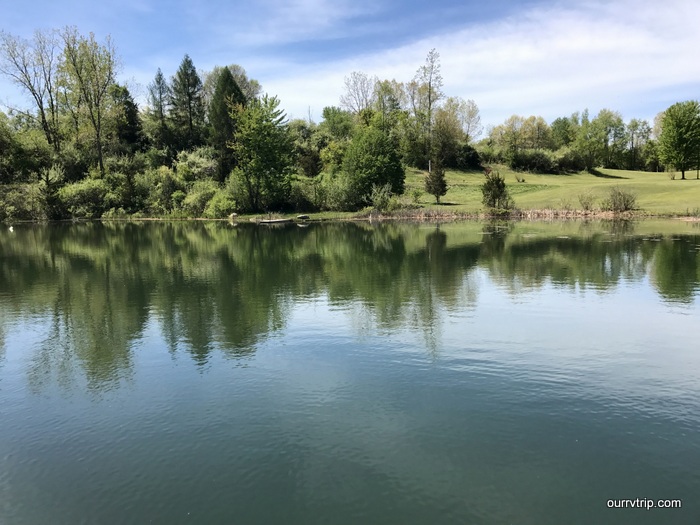 The best part about the RV park was the fishing pond.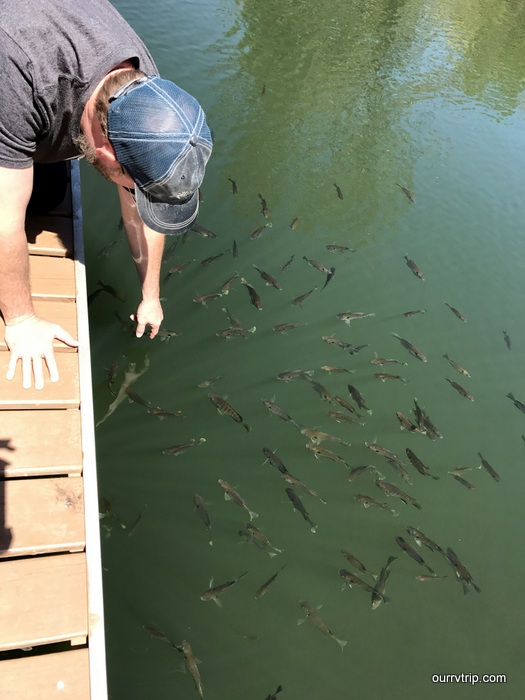 You didn't need a fishing pole to catch a fish…a net would've been enough. The fish swarmed to us every time we walked out on the dock. The boys took some bread down and had a good time feeding the fish! We didn't do much during this week. We took the week to enjoy the good weather and catch up on some school/work.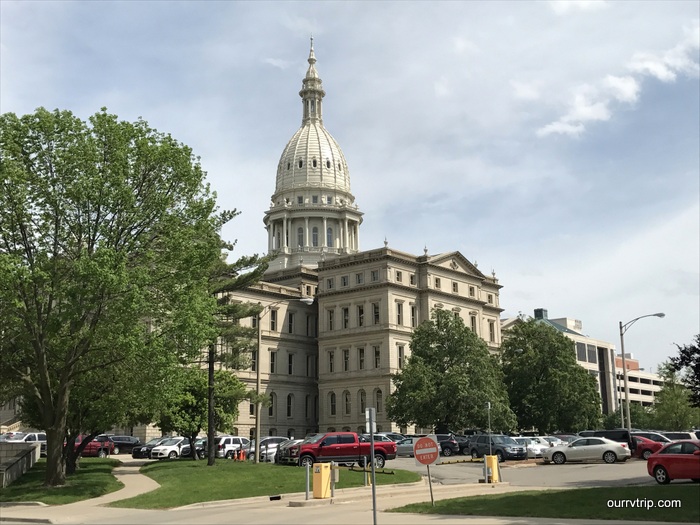 We did make it to the Michigan State Capitol Building.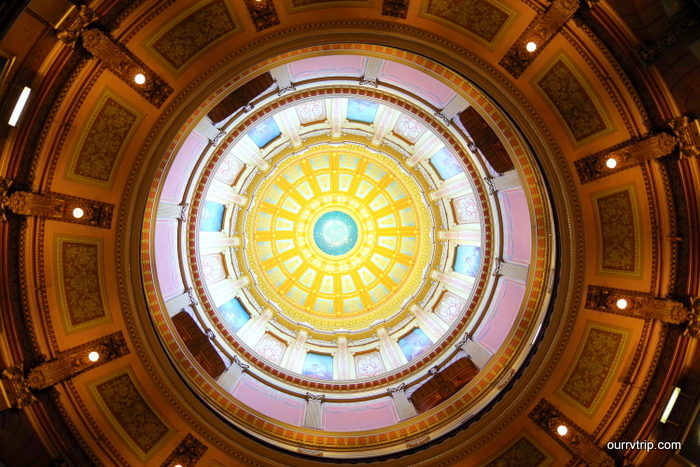 Look at that dome!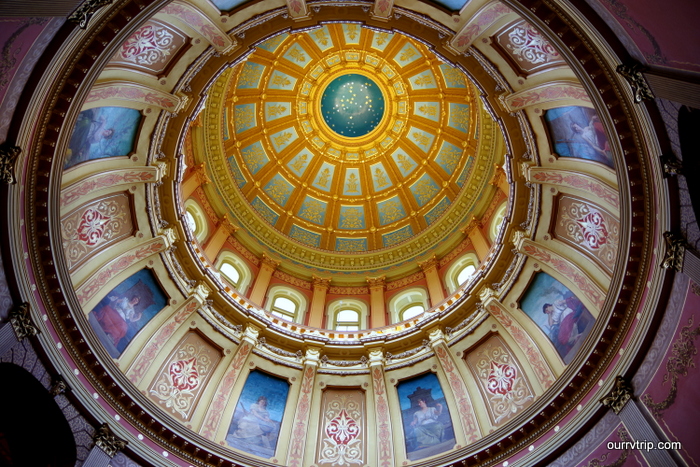 Here's a better look at it!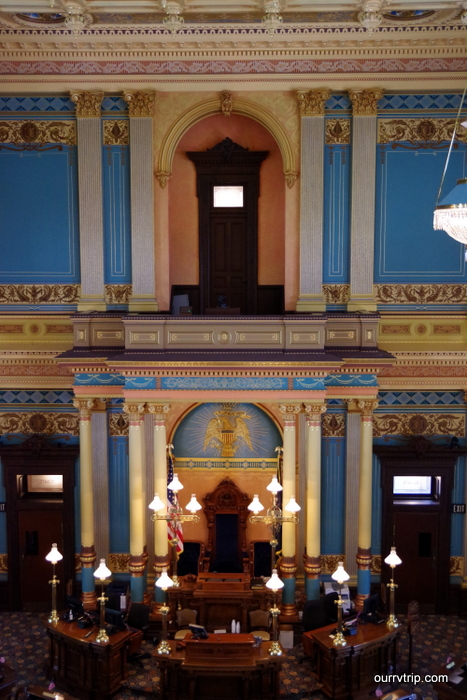 Both the House and Senate Chambers were pretty much the same.
The only differences being the color scheme
and the size of the room. The House Chamber is pretty much always bigger.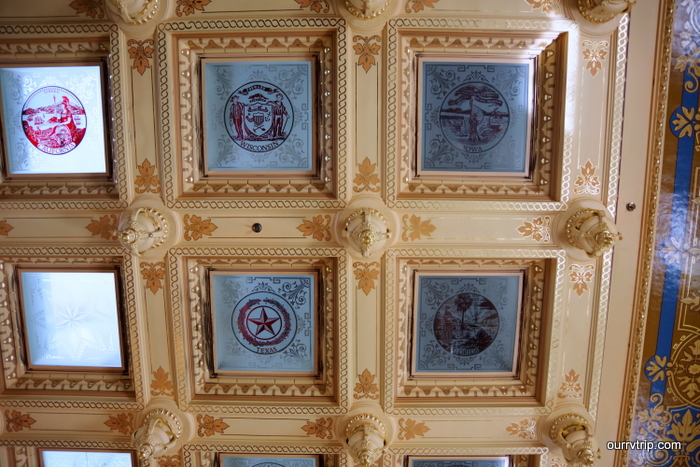 I loved the ceiling in both Chambers. They had these stained glass state seals…something we'd not seen before.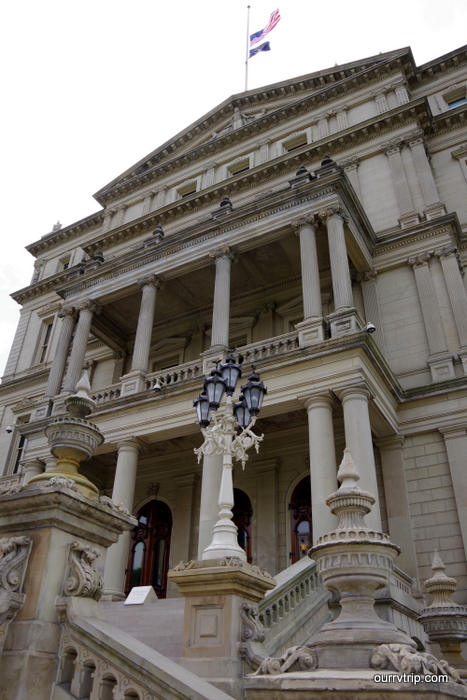 Michigan didn't have much money when they were building their SCB.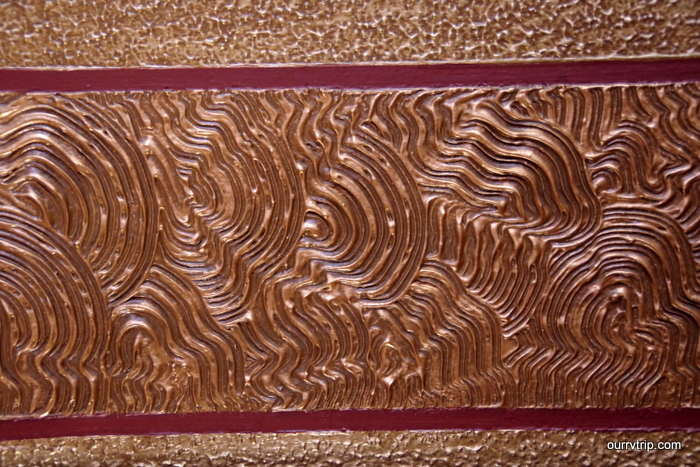 Throughout the SCB you can see this texturing in place of more expensive marbles and woods.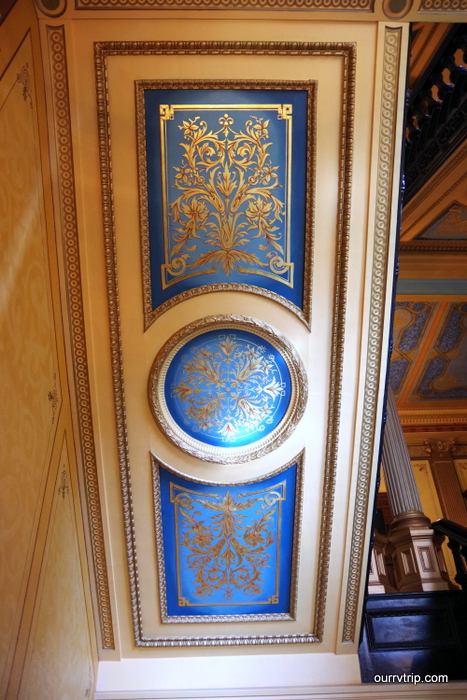 I'll be honest, the lack of a lot of marble and carved wood didn't diminish the fine artistry of this building. I love the more earthy tones mixed with the blues that dominated the color palette of this SCB.
There are tons of small details that, if you look for, you'll enjoy about the Michigan SCB!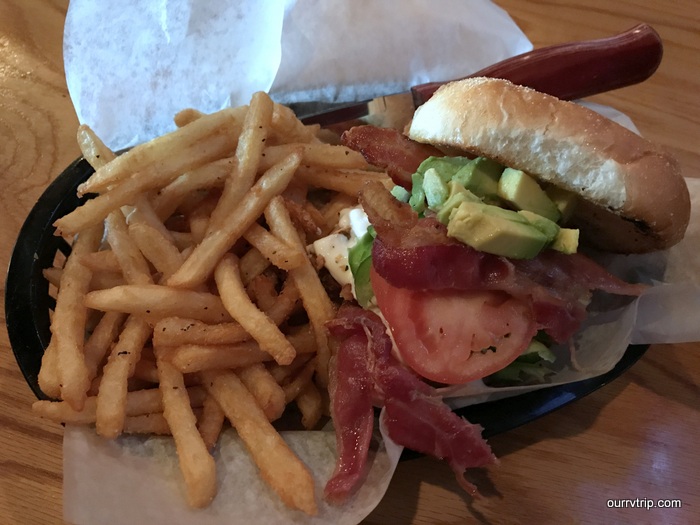 We found a great BBQ place in Lansing called Meats BBQ! This place is a carnivores dream!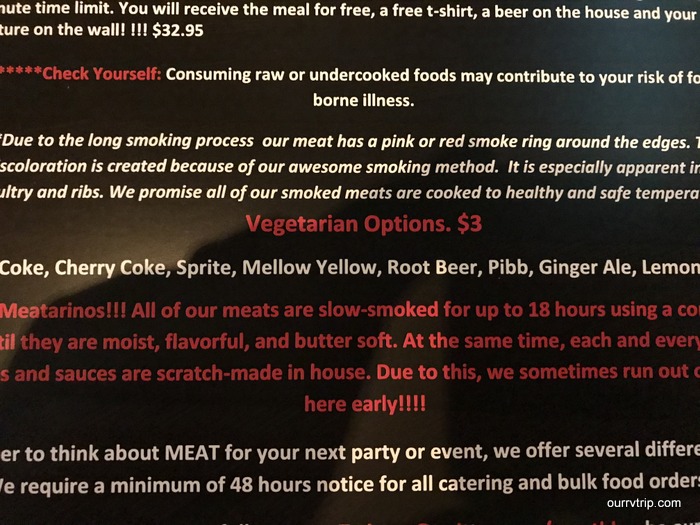 Don't worry, though…there are some vegetarian options…sodas.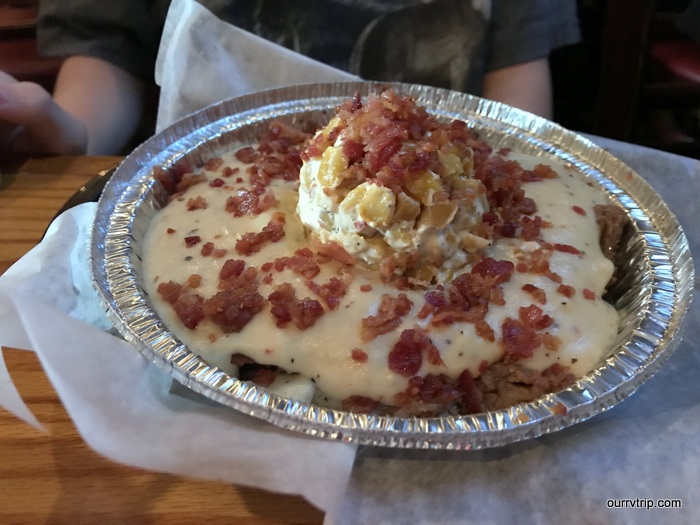 The Dude got the Meat Mountain. It was a huge conglomeration of garlic mashed potatoes, smoked beef brisket, bacon gravy, and spicy creamed corn. I stole a few bites…it was really good!!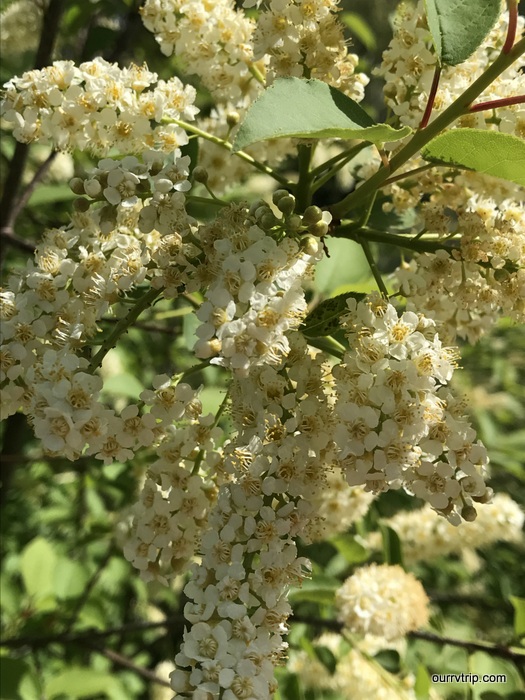 That's really it for this stop, guys! I'll share with you some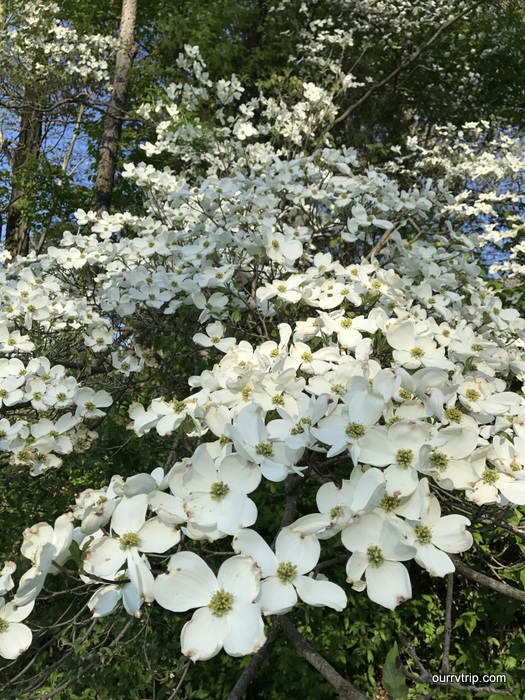 of the pretties I found around the RV park during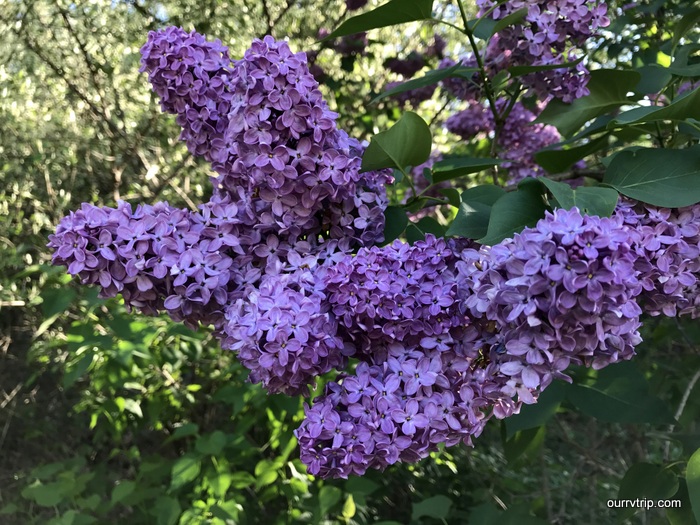 our daily walks! We had some beautiful weather!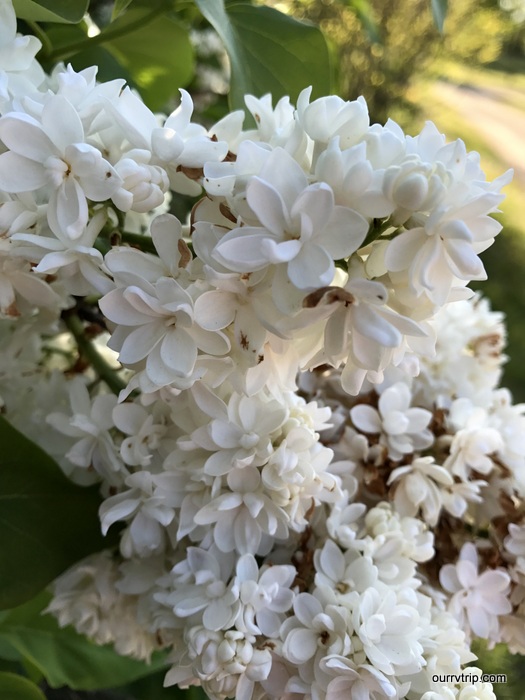 We really enjoyed our time in Michigan. When you see Michigan on the news it always seems to be bad stuff. Drugs, poverty, gangs, violence. We didn't see any of that. I would absolutely encourage you to visit Michigan! There is something for everyone…outdoor explorations, shopping, foodies! We will definitely be back!!!
See y'all down the road!
#minieasternloop2017