Santa Fe is the only Capital City in the United States that can claim both the oldest Capital City as well as one of the newest Capital Cities. Are you confused? How can it be the oldest and still be considered one of the newest?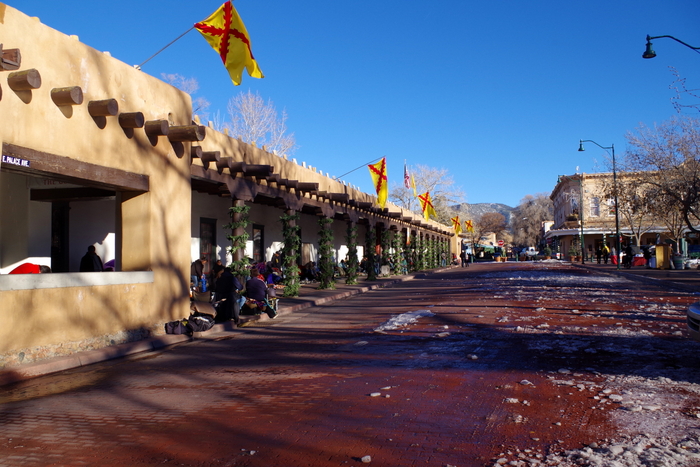 The Palace of the Governors is the oldest capitol. It has been the seat of Spanish, Mexican and American governments over the last 405 years as of 2015. There's a new Capitol Building and now the Palace of Governors is a museum. In the photo above you can see all of the local artists who gather around the building to sell their crafts. If you want to get an authentically made souvineer, this is the place to come.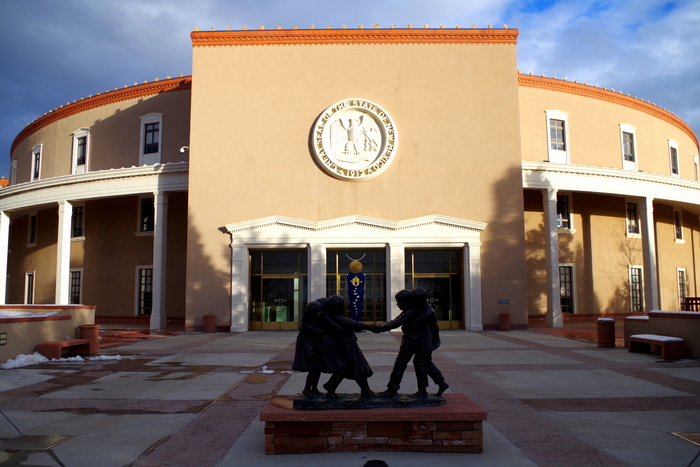 This is the new Capitol Building.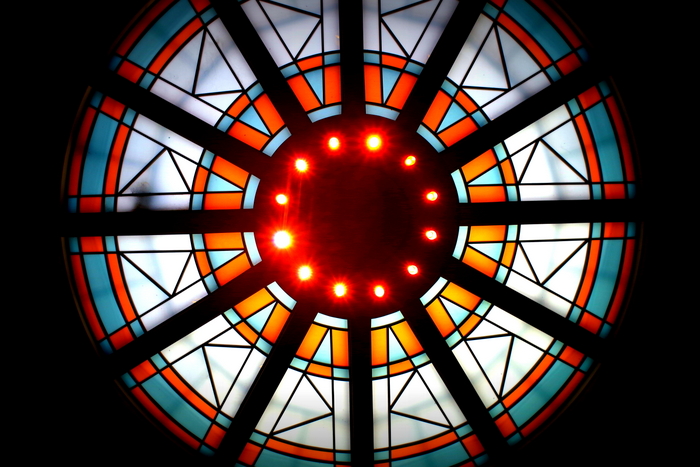 Every Capitol Building is different. You can get an idea of what's really important to the city or state by what's inside. The Santa Fe building has a gorgeous dome. I love the colors.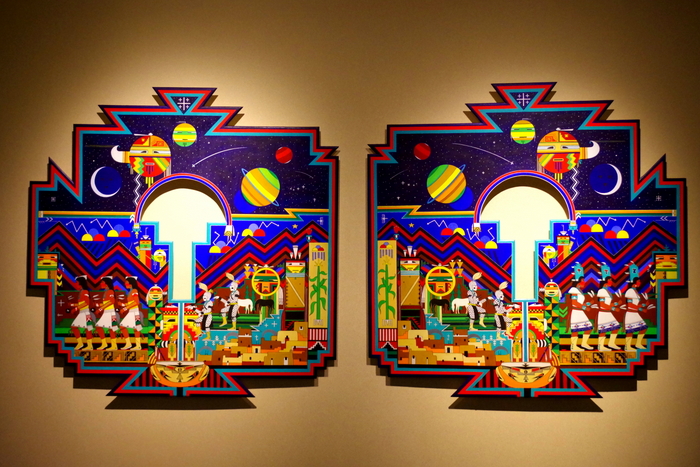 The inside of the New Mexico Capitol Building, you'll find art. Which, might not surprise you when you consider there are over 250 art galleries in just a two-square-mile area in Santa Fe.
One of our favorite pieces was this buffalo head. It was made with all kinds of spare bits and pieces.
Before we get too far into this post…let me just go ahead and answer the question that several of you have asked me. Yes, there really are dried chilies hanging everywhere in Santa Fe. Everywhere. Doors, windows, porches, fences…if you can hang something from it, there's probably chilies there. Inside and outside. Personally, I love it!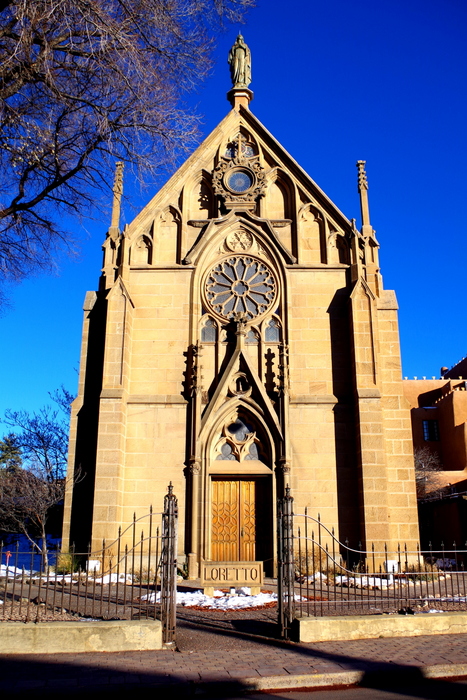 When I planned New Mexico…many, many months ago, I found out about the Loretto Chapel and its "miraculous staircase".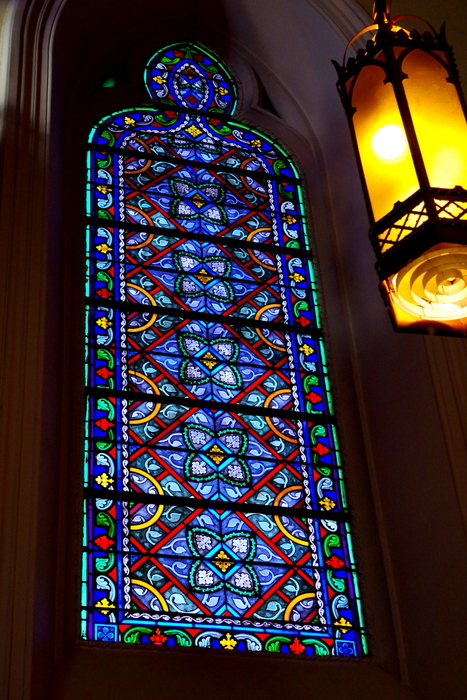 The Chapel is no longer a working Chapel, but you can pay to go inside and look around and take all the pictures you want.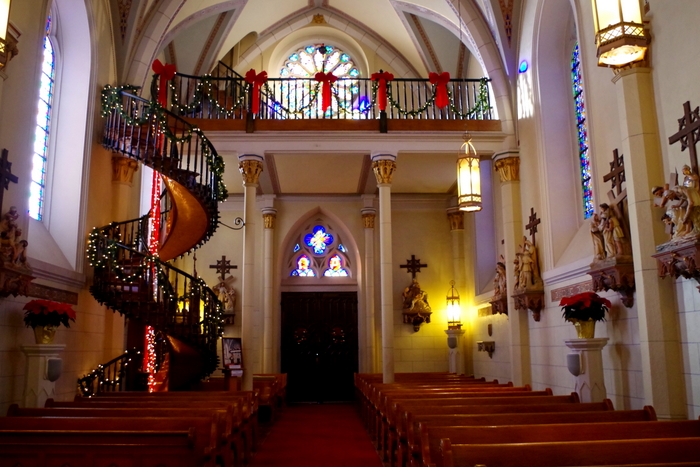 You can see the "miraculous staircase" in the photo above. What makes it so miraculous? It has 33 steps in two full 360° turns. Still unimpressed? How about the fact that it doesn't have a center support and it's not held up by side supports either. You can't actually go on the staircase or touch it. They have it roped off, but you can get close enough to appreciate the craftsmanship and the beauty of it.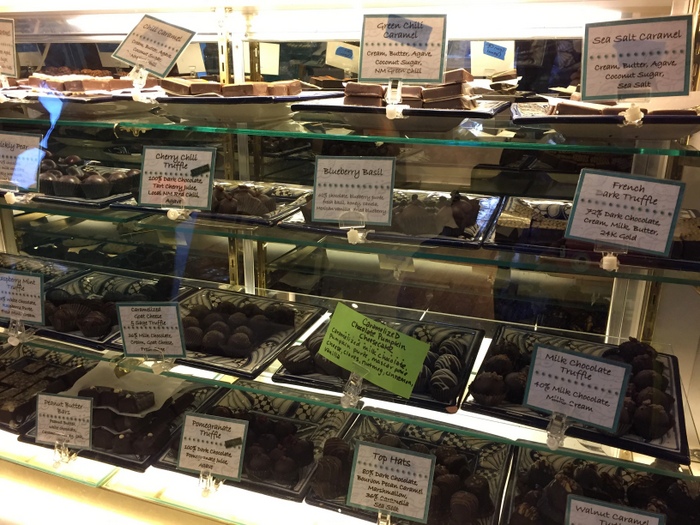 Between the art, spicy food, and chocolate houses…there's something for everyone here. I've never seen so many chocolate houses in one city! Notice the Green Chili Caramels? I told you they put chilies in everything!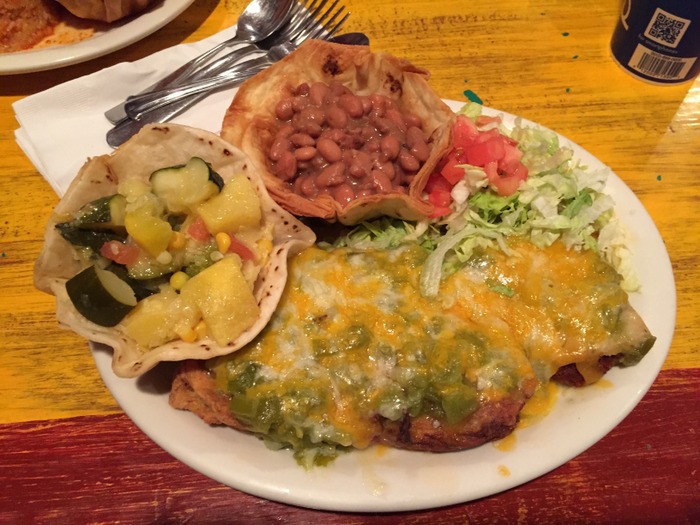 We, of course, had to try several different restaurants in Santa Fe! The plate above is from Posa's Tamale Factory. We headed there in search of a place to get our Christmas tamales. I got to try my first calabacitas (which turned out to be squash) here.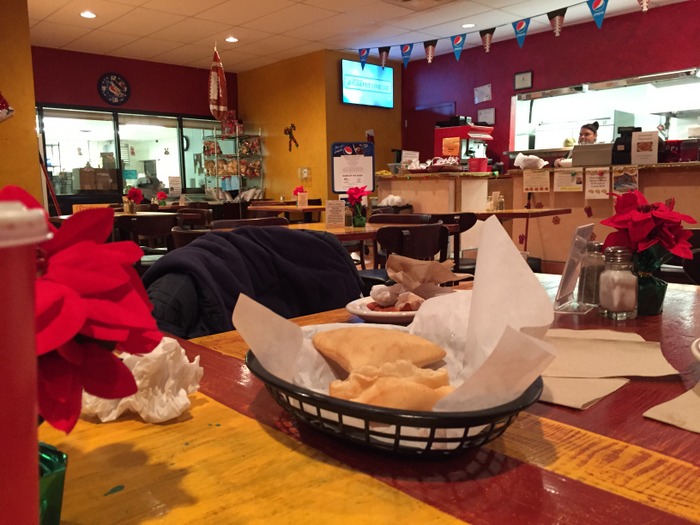 Posa's Tamale Factory has been pumping out tamales since the 1950s. They provide tamales to many of the restaurants and stores in Santa Fe. You can see the packaging area through the glass windows in the photo above.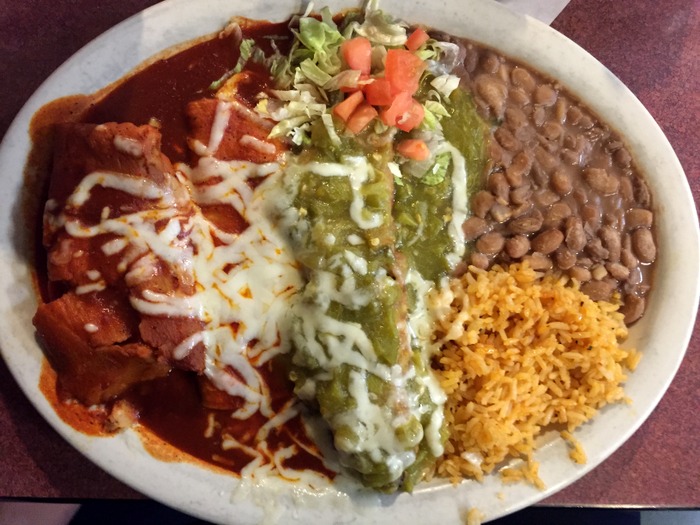 The Sopapilla Factory was right across the highway from where we stayed. They had some really good food!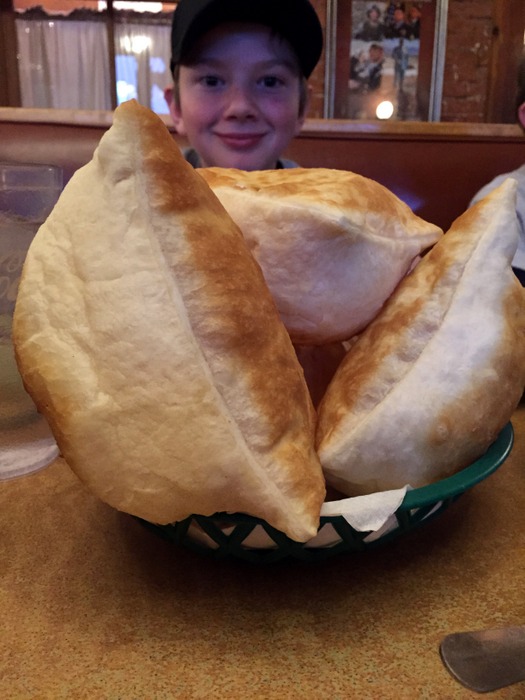 We kept hearing about Tomasita's. The food was ok, but we did find the biggest, fluffiest sopapillas we've seen so far!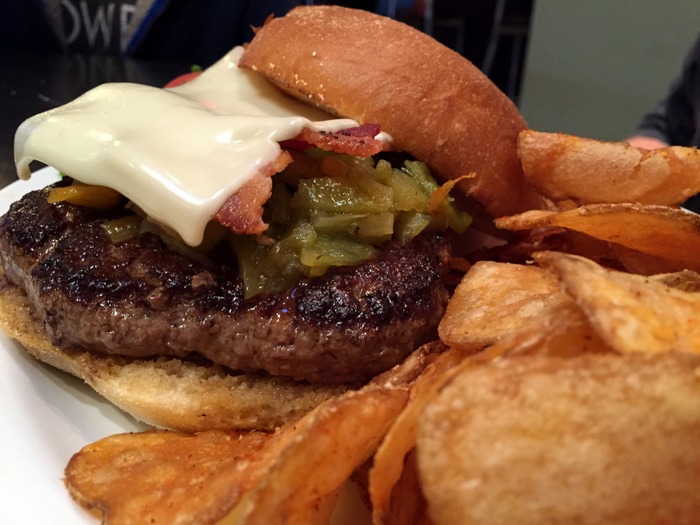 Another place we kept hearing about is Santa Fe Bite for it's green chili cheeseburger. This would be a good time to mention that Santa Fe is the green chili cheeseburger capital of the world. The world. Confession:  Jerl is the only one of us that actually got a green chili cheeseburger here. You can see a pic of it in the photo above. He said it was a great burger, but he couldn't really taste the green chilies. My advice…go to Blake's Lottabuger (you can find Blake's in all the bigger cities in New Mexico). It's a better burger and is a third the cost.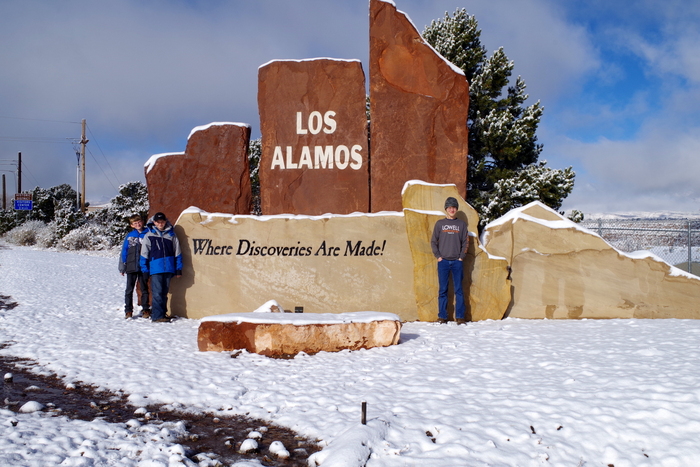 We made it up to Los Alamos for an afternoon. If you don't know Los Alamos, it's where the Manhattan Project took place.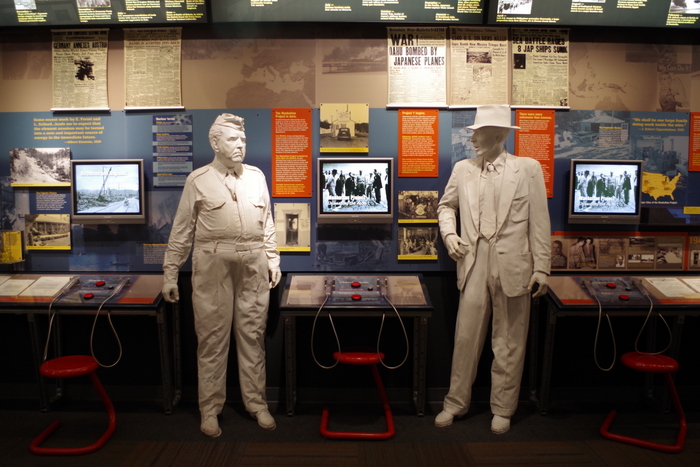 We spent several hours learning more about the Manhattan Project at the Bradbury Science Museum. This is a fantastic museum!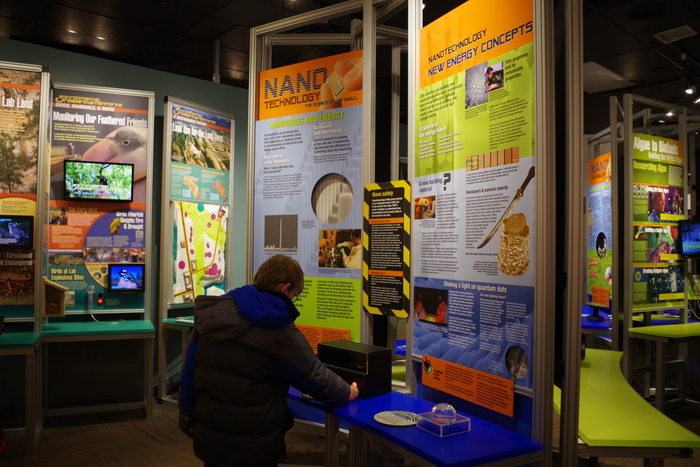 This was another wonderful hands on museum. It was like spending the afternoon doing science experiments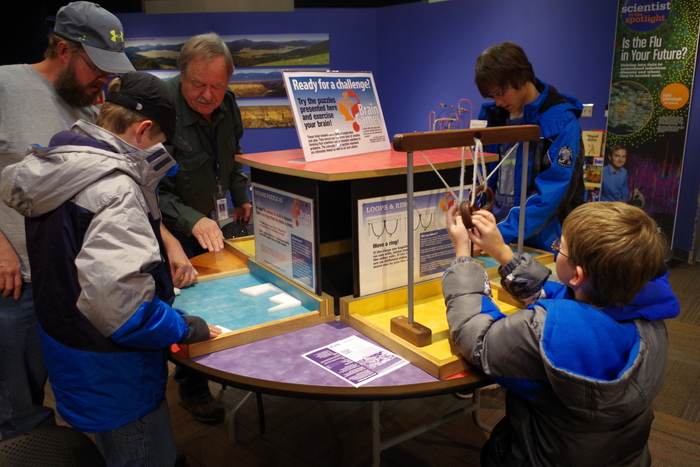 and brain teaser puzzles. They had to kick us out of this museum too so they could close. We're going to have to start going to these places earlier in the day!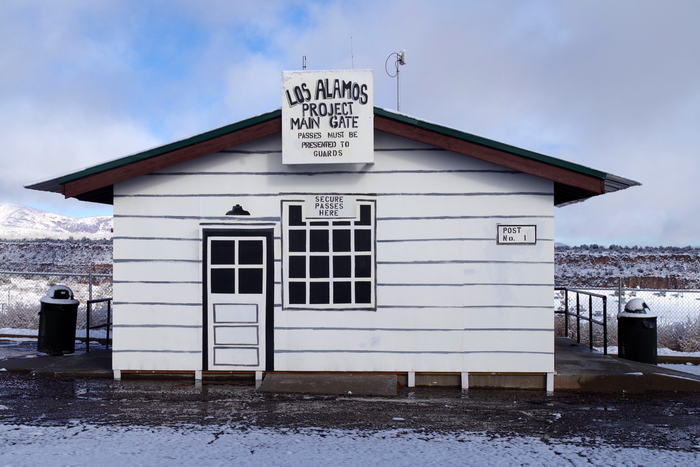 There aren't many original structures from the Manhattan Project left. There's a small walking tour you can do, but it was getting dark so we didn't have time to do it.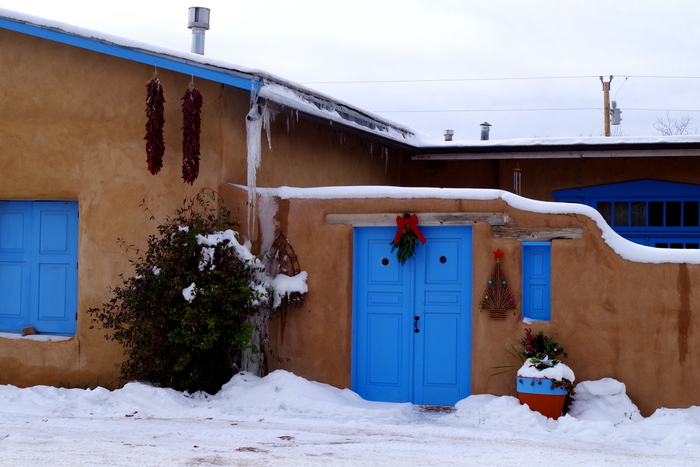 Taos wasn't on our list, but we kept getting asked if we were going to go there. So, we thought maybe we should. Our visit to Taos took up an entire day. We drove The High Road to Taos then took The Low Road back. It made a nice big loop.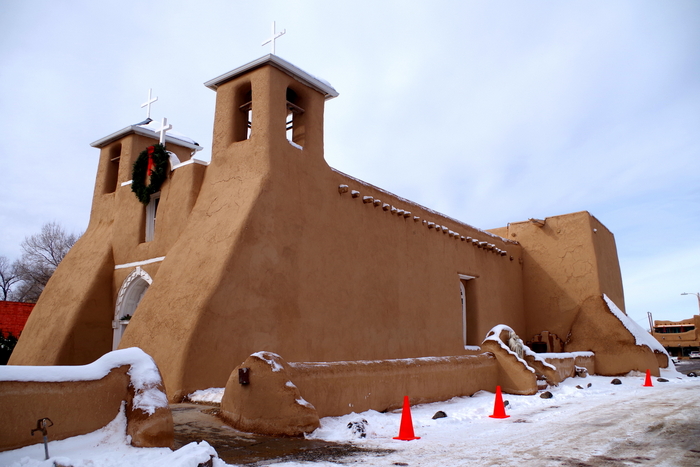 We visited the San Francisco de Asis Church. We heard that this church is one of the most photographed and painted churches in the world. The outside was different from what we'd seen before.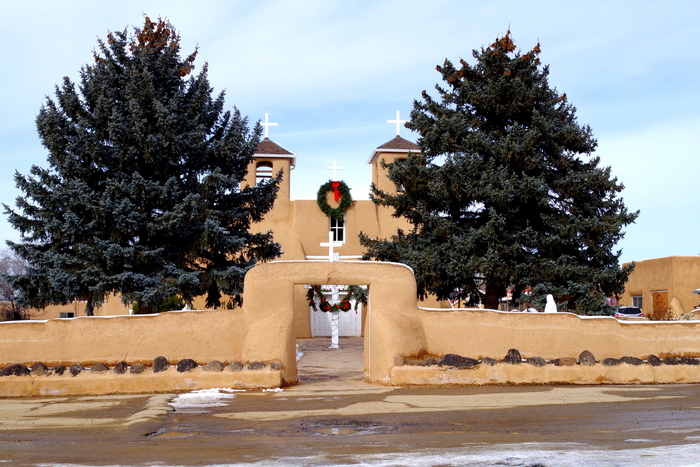 It was simply stunning inside. Unfortunately, photos aren't  allowed inside the church so I can't show you.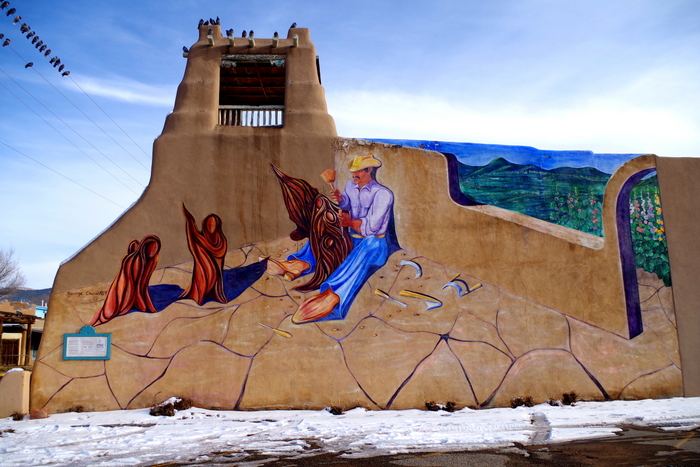 Downtown Taos is pretty small. There's a walking tour of it that we did. Taos kind of reminds me of a small ski village.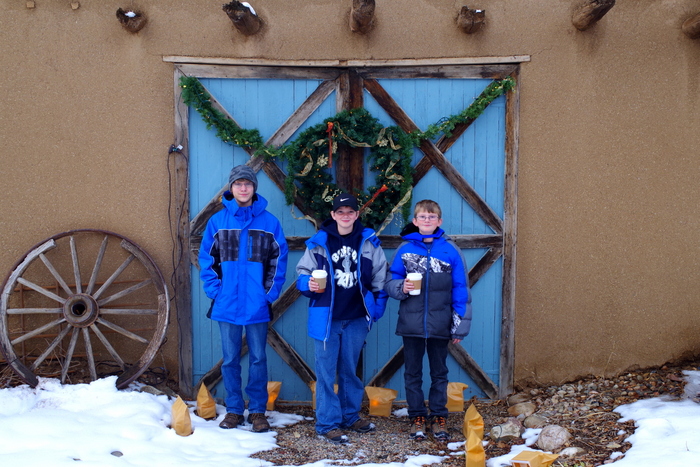 Taos has an elevation of between 7,000 and 8,000 feet. There's a ski resort not too far away.
We walked around the Plaza. It was originally a fortified shelter and marketplace.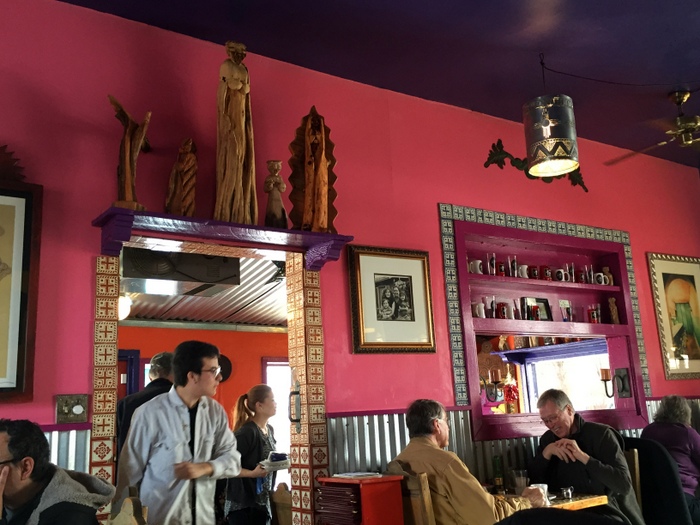 It wouldn't be a true day trip without sampling some local fare…We found ourselves at a place called Orlando's. It was small and brightly decorated.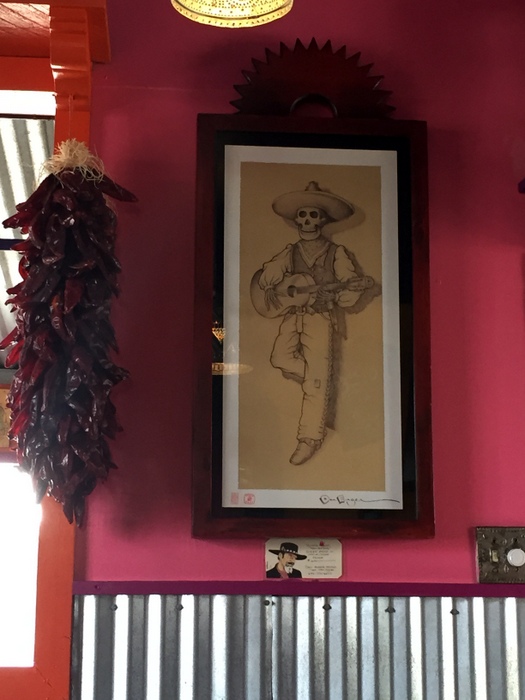 Not only was Orlando's the most authentic place we've eaten,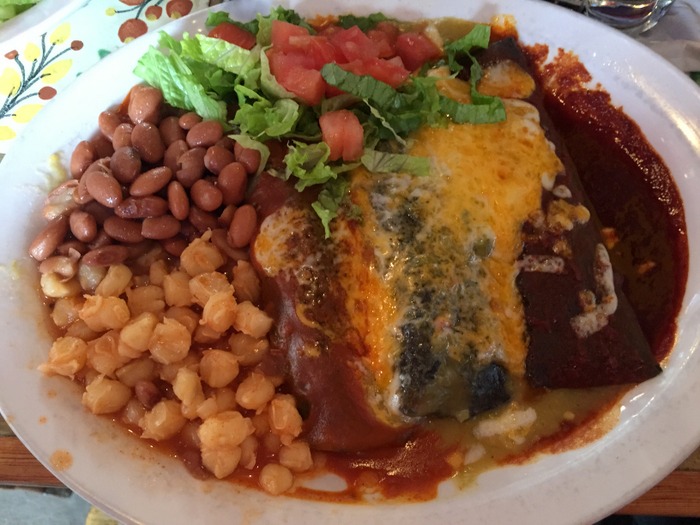 but it was also the second most expensive place we've eaten on this trip. The food was amazing. We finally got to try posolé here and we learned about a third type of chili sauce…caribe! Caribe is totally different from the red and green chili we've been having. In the photo above, you can see all three chilies. Red, green, then caribe (on the right).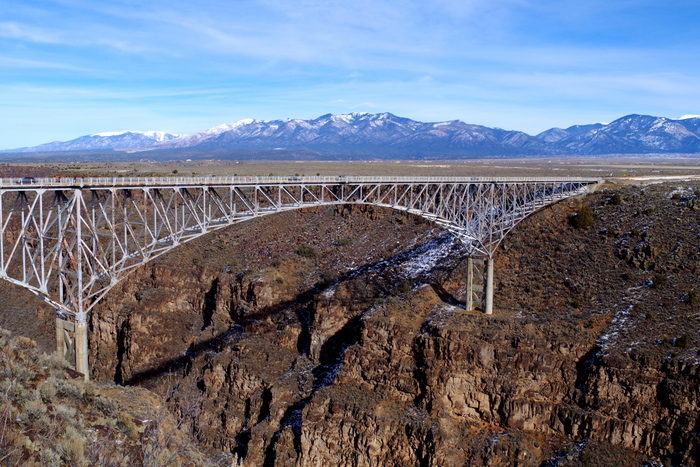 You are looking at the Rio Grande Gorge and Bridge. This is the second highest cantilever bridge in the U.S. Towering at 650 feet above the river, the bridge makes quite an impression. You can park at the rest stop and walk out on the bridge and look down into a canyon that would be deeper than the Grand Canyon if it wasn't filled with so much silt.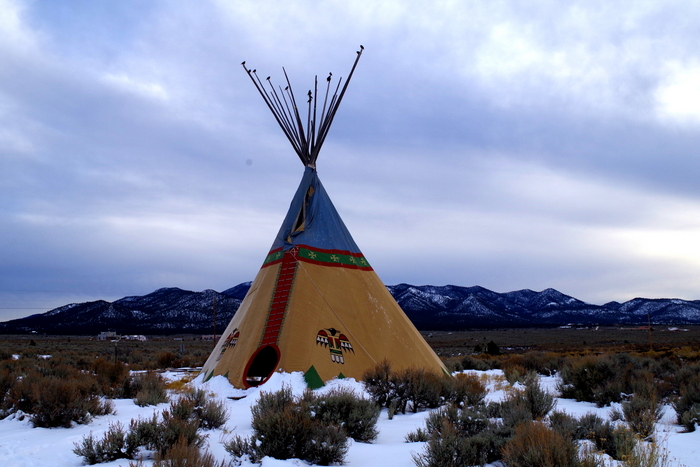 One of the popular things to do in Taos is go to the pueblo. We went, but when we found out it's $16 a piece to go walk around it…we passed. I'm sure the pueblo is nice, but I'm not going to pay that much to just go walk around it and then have to pay more on top of that for the tour. Maybe if we hadn't already been to so many other fabulous pueblos…maybe. We saw the teepee above on our way out of town while driving on The Low Road back to our home on wheels. I couldn't pass up the chance to get a photo of it.
That's all folks! That's our time in the Santa Fe area! We will definitely be back to this area at some point!
See y'all on the road!