Hey Guys!! We spent one week in the Petoskey Michigan area!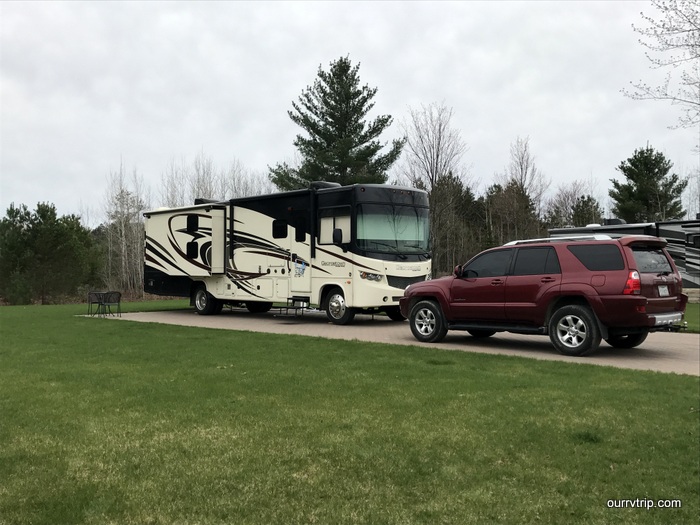 We stayed at the Hearthside Grove Motorcoach Resort and Guys…it is now our official favorite RV park! We have stayed in over 100 parks and this one was a brand new experience for us.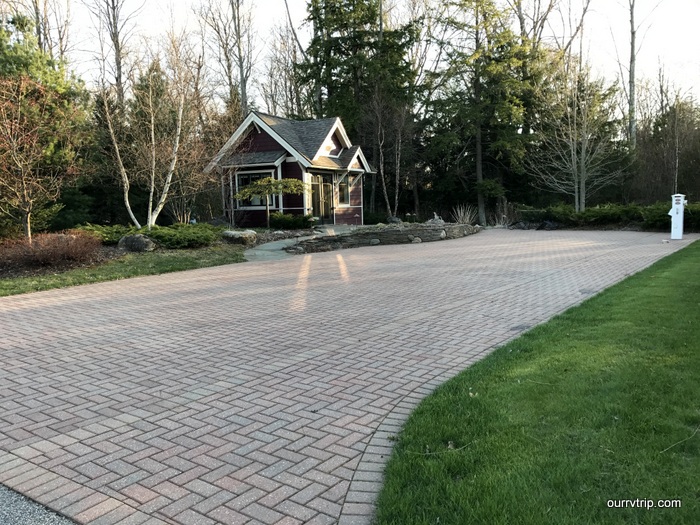 Now, the lot that we stayed on just had the RV pad and full-hookups, but almost all of the other lots had some type of bungalow on it! How cool is that?!?!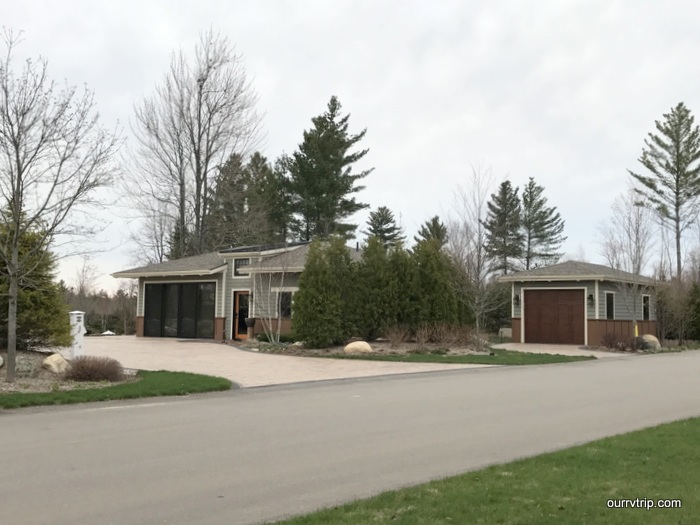 The bungalow in the above picture was one of our neighbors for the week. It felt like being back in a neighborhood! We were there really early in the season so we basically had the park to ourselves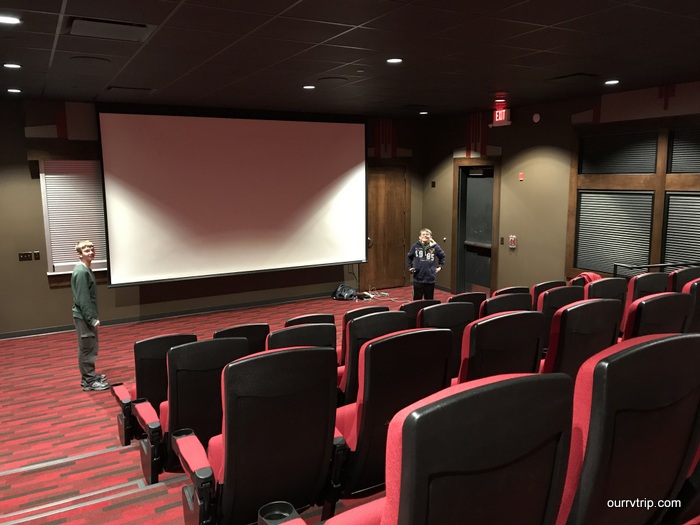 so we took full advantage of everything Hearthside had to offer!! Check out the theater room! It came with complimentary popcorn.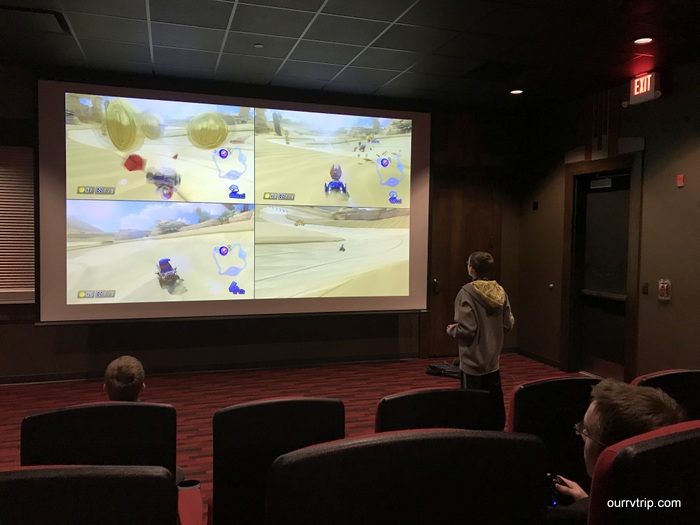 The boys had a blast playing their games on the big movie screen! It ended up being a daily thing while Jerl and I (Jennie) used the fitness room to get in some much needed workouts.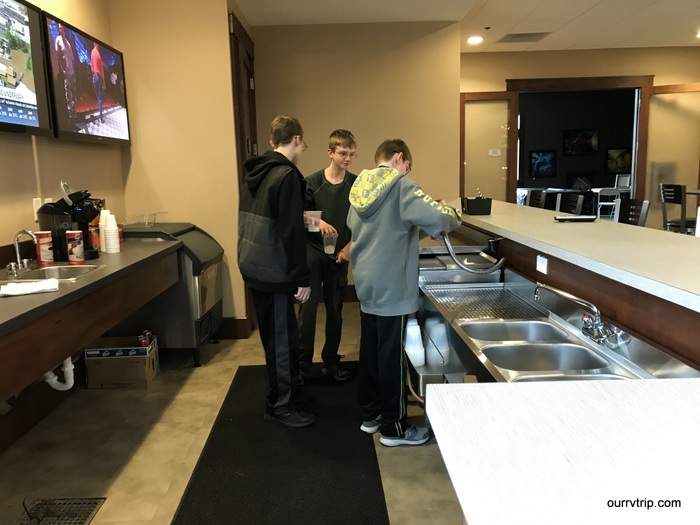 The boys loved the soda bar. Free soda and popcorn…What?! The boys did not want to leave. If you guys are ever in the Petoskey area I cannot recommend Hearthside Grove enough. It's a fantastic park loaded with tons of perks. One of the coolest things about this particular place is that the lots are for sale. You can buy a lot and then when you're not there using it, you can let the park "rent" it out. It's a great concept!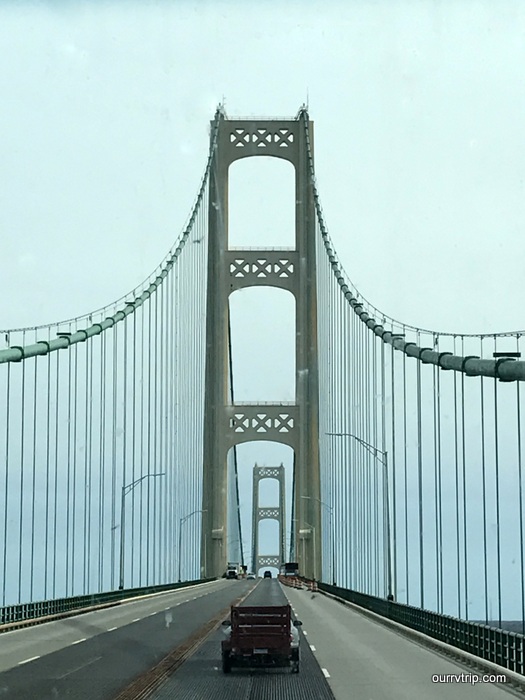 Before I go on…I have to give a shout out to Mike Lilliquist. We met him at the visitor center near the Mackinac Bridge. He had so much information and suggestions for us and he sent us off with some special gifts!! He's a really great guy and if you need any information about Michigan…he's definitely the guy to find!
We ventured across the Mackinac Bridge a few times. It's a beautiful bridge. Unfortunately, I didn't get a great shot of it due to weather. It was super cold and sooo very windy.
We spent an entire day exploring the UP (Upper Peninsula). We could have spent a couple weeks exploring the UP. In fact, we've already decided we're going to have to go back! Here's a bit of trivia for you…the people who live in the UP are called "Yoopers" and the people who live below the Mackinac Bridge are called  "Trolls"!
The lighthouse in the picture above is the Iroquois Lighthouse. There's a museum and I think you can go up into the lighthouse, but when we went it was closed. We went before everything opened for the season.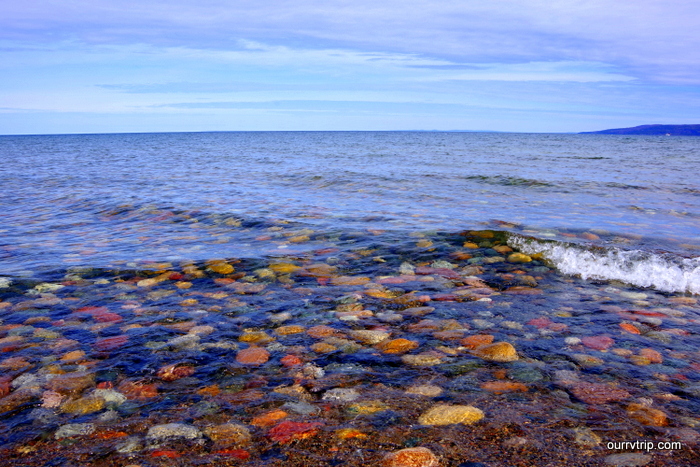 We loved the beach behind the lighthouse. Check out those colorful rocks!!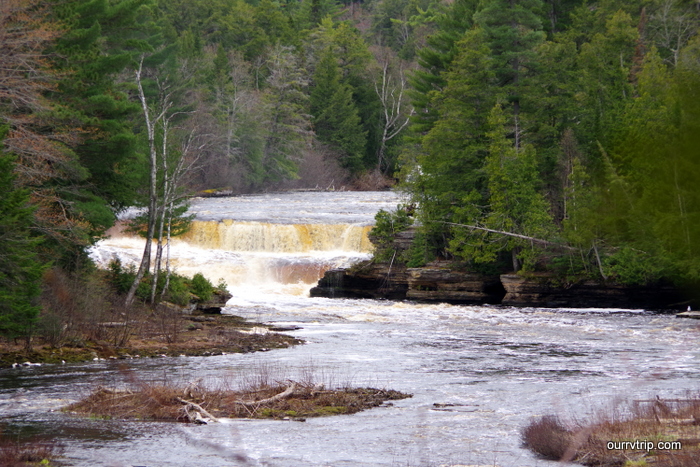 We made it to the Tahquamenon Falls State Park. There are two sets of waterfalls here. You can see part of the Lower Falls above.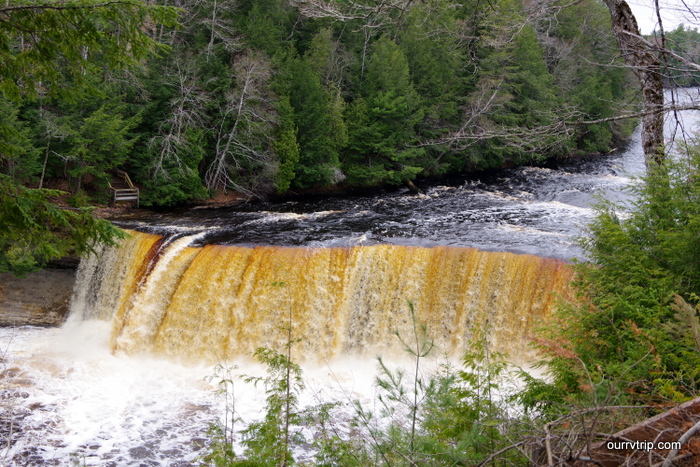 The Upper Falls were pretty spectacular. There were boardwalks and platforms that let us get super close! The Upper Falls spit out about 50,000 gallons of water per second!! There are over ten waterfalls to go see while visiting the UP, but we only made it to two of them.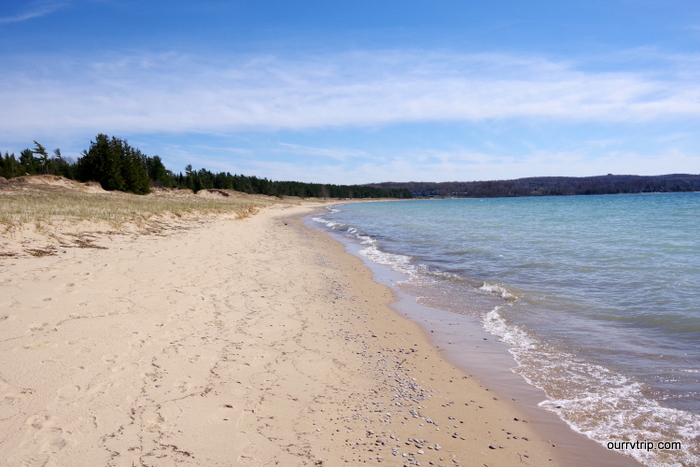 There are some decent beaches in the Petoskey area. We made it to a couple in search of a Petoskey Stone. We found some…but we havn't gotten them pollished…so, you can't really see the pattern. Look it up though! Google it and you'll find tons of images! We found five smaller Petoskey stones that we are wanting to polish up!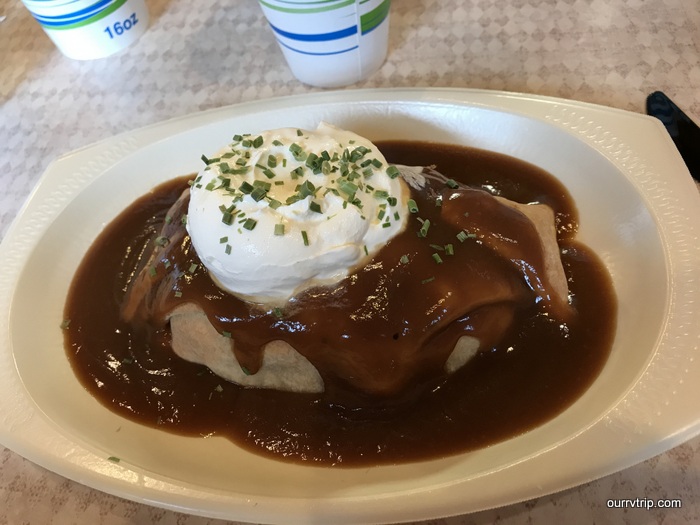 Let's talk foodies! We had heard that a pastie is the foodie we needed to try in Michigan. We are fans.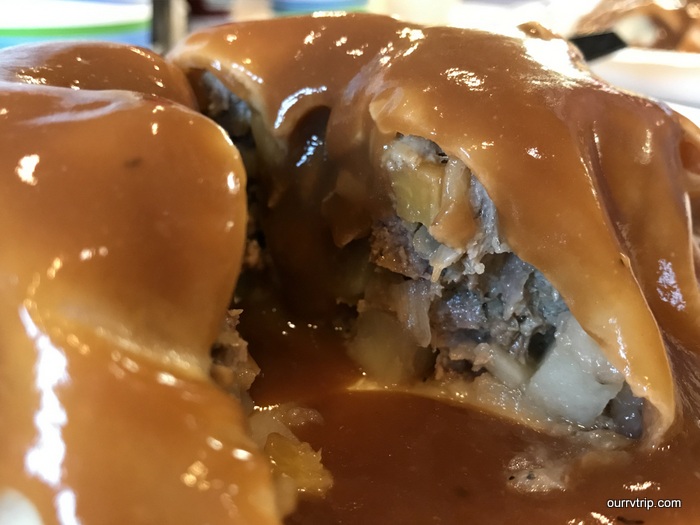 We went to Hunt's Mackinaw Pastie to get ours. They came out in record time and were so flavorful! Pasties are the perfect meal for a cold blustery day!!
We also found the Polish Kitchen! Guys…this place…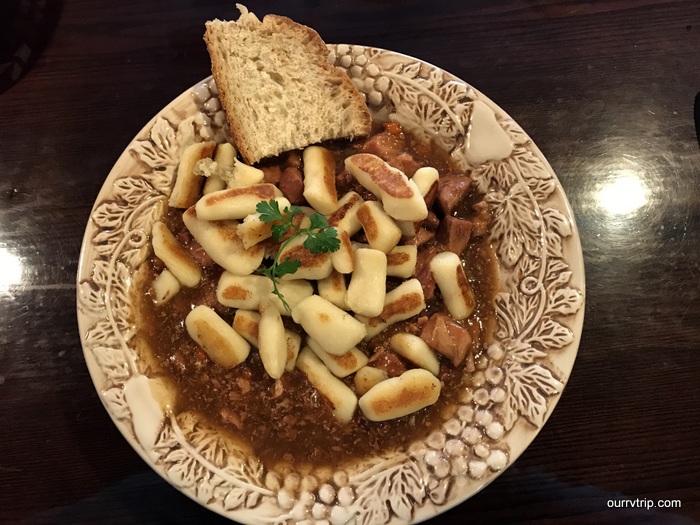 If we lived near the Polish Kitchen, we would eat there every week. It's amazingly good!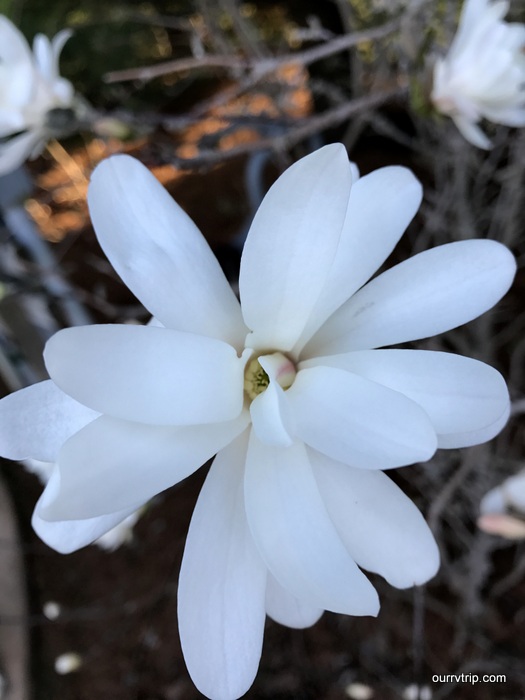 I only found one pretty. It was pretty early in the Spring when we were in Petoskey.
That's it! We loved this area and will most definitely be back!! If you're looking for a great summer vacation spot then head to the Petoskey area and go explore the UP!!
See y'all down the road!
#minieasternloop2017