We used Hampton Falls, NH as our base camp to explore the area. We spent two weeks in NH bouncing around between Maine, New Hampshire, and Massachusetts. I usually break these kinds of posts up, but I'm going to smash it all into one this time! Are you ready?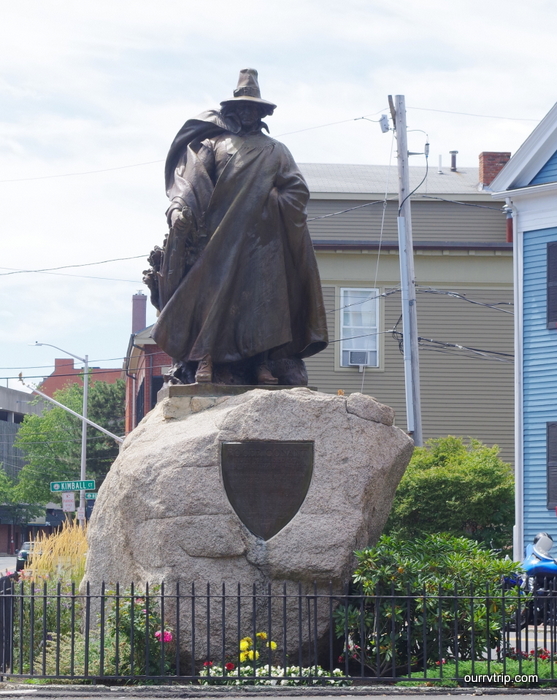 We spent a day in Salem, MA. Salem is a place I've wanted to visit for a long time. The whole witch trial thing always fascinated me.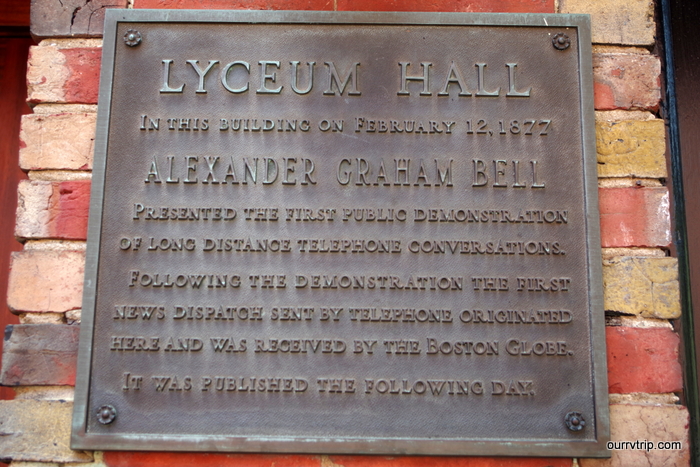 There's so much history in the North East. We made it by the Lyceum Hall where Alexander Graham Bell made the first telephone call. Extra points if you know what he said!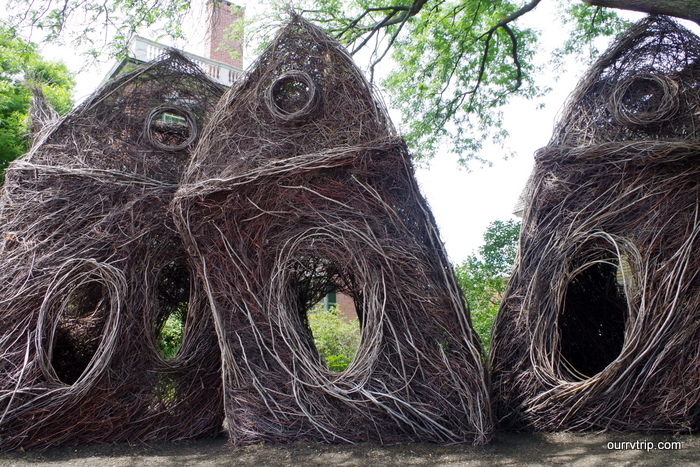 Salem is kind of what you would expect. It's filled with all things witchy…new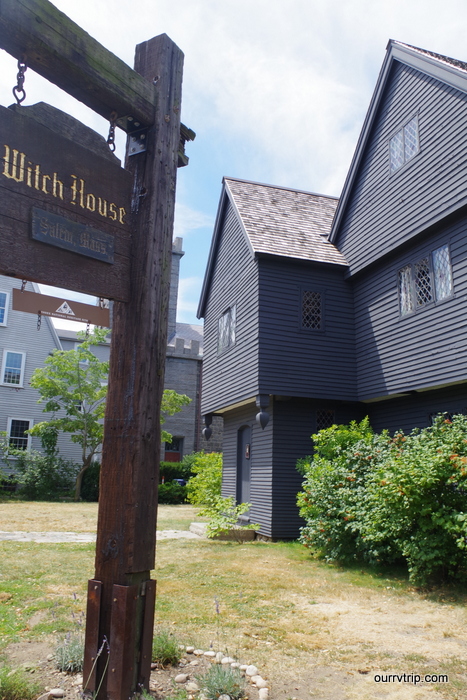 and old.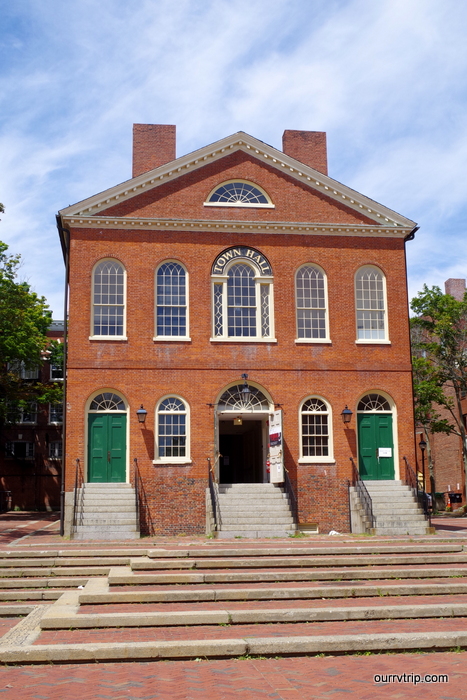 The Old Town Hall was in a movie you might have seen…Hocus Pocus! I geeked out just a bit here as we walked by.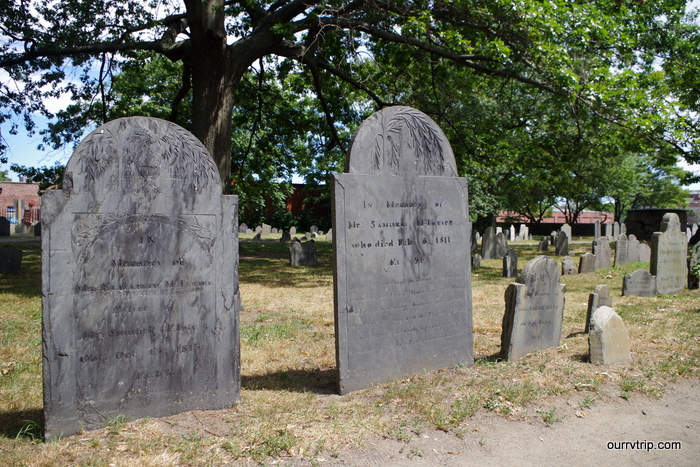 We stopped by the oldest grave yard in Salem. The Witch Trails are such a sad part of our history. It bothered us how touristy Salem is…we feel like they're being a little disrespectful to what really happened there. I'm not going to go into a history lesson here…we all know what happened.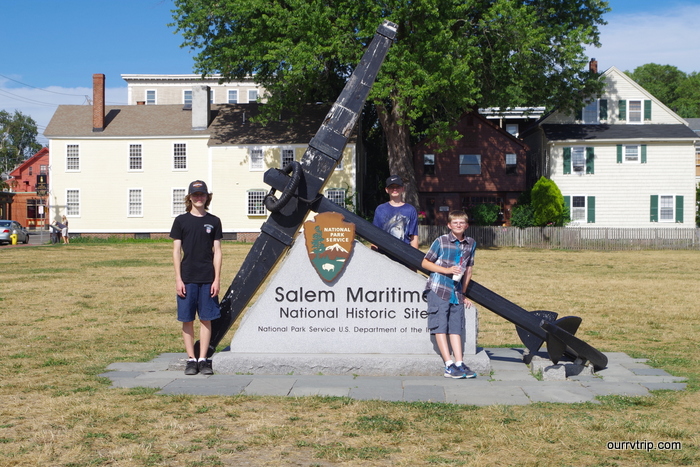 We made it to the Salem Maritime National Historic Site where the boys got another Junior Ranger badge! And that was the end of our time in Salem!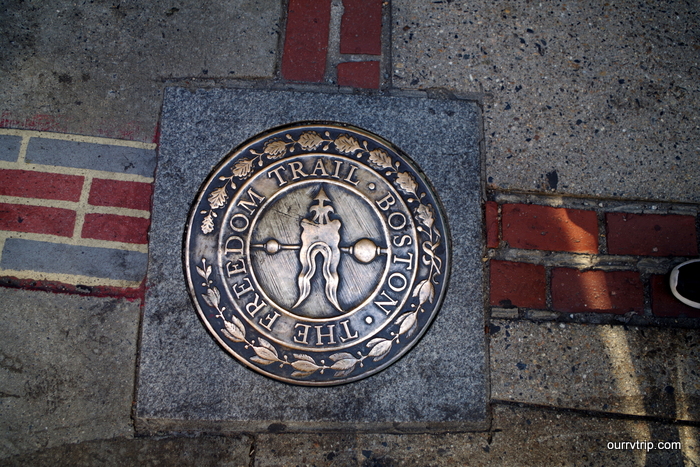 We spent a day in Boston, MA walking the Freedom Trail! I love Boston! I'm just going to throw that out there right from the start. I loved it!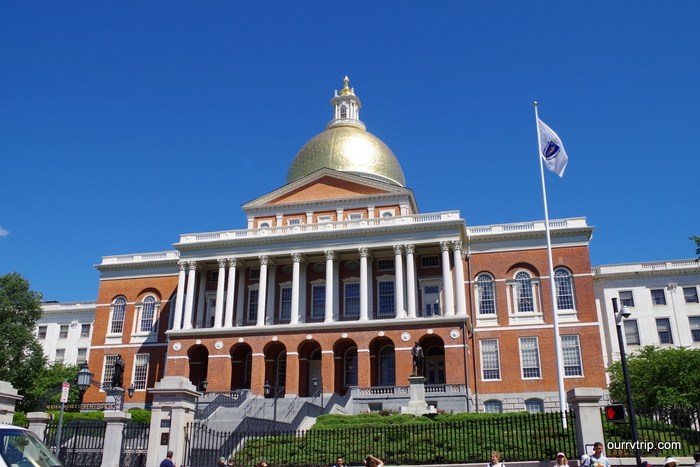 Let's start with the Capitol Building. It's gorgeous! Look at that golden dome!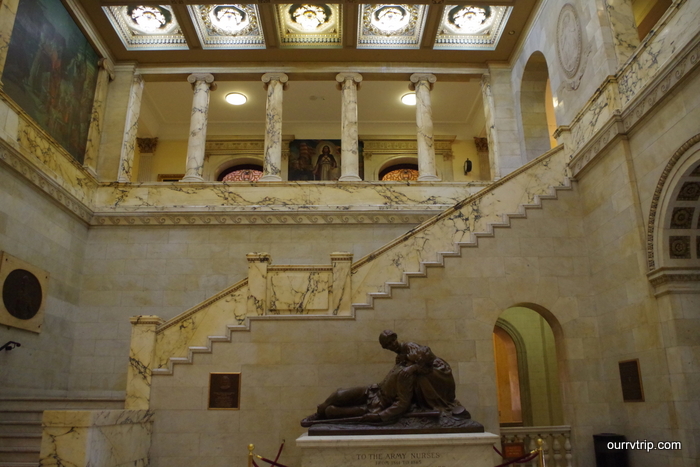 The inside didn't disappoint either. We did a tour where we met a lovely family from England!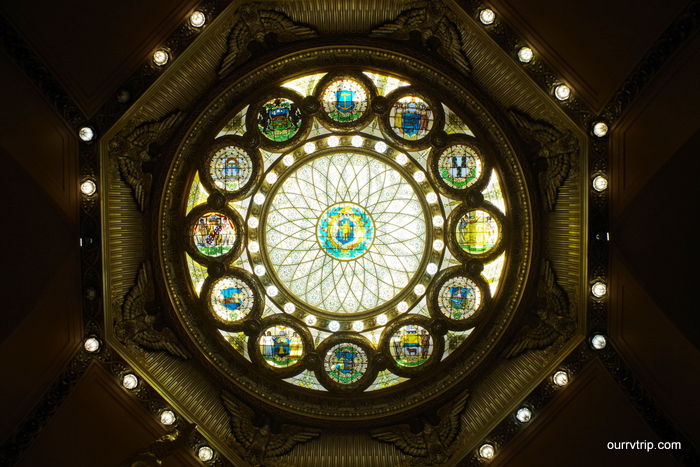 And then we saw the dome. And we stood there with our mouths open for a minute. Look at that stained glass!! All thirteen original colonies are represented in this stained glass. Love it!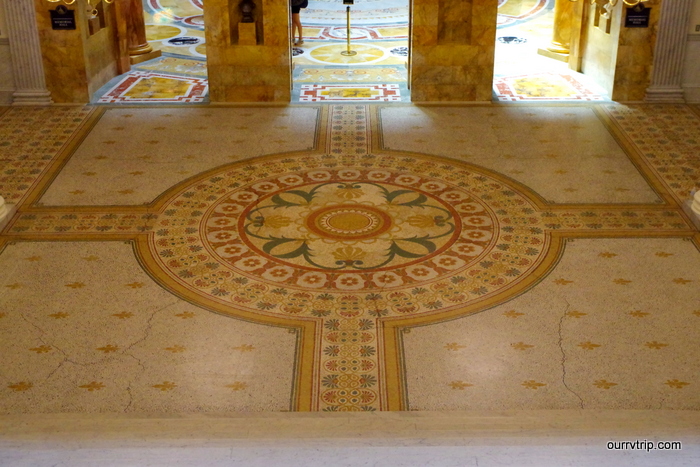 One more picture of the Capitol Building…I couldn't leave out the tile floor. So pretty! This Capitol Building is high up on our favorites list. It didn't disappoint at all. I could do an entire post about it, but we're leaving the Hampton Falls area tomorrow and I'm not sure I'll have cell service at our next spot so I'm trying to get all caught up on my posts.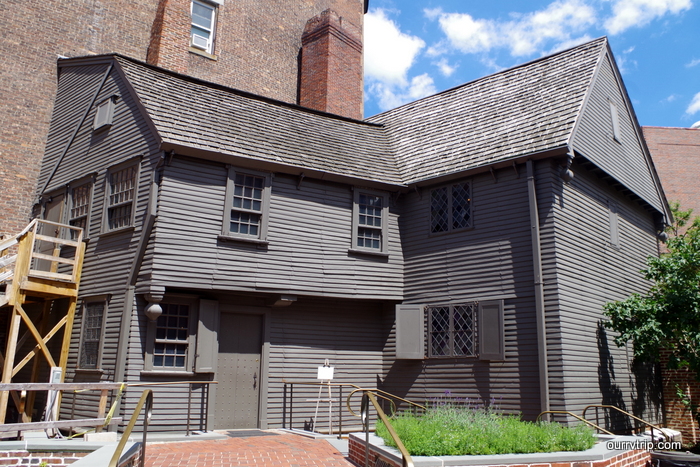 We stopped by the Paul Revere House and strolled through. It's a self-guided tour with interpreters around to answer any questions. We weren't allowed to take photos inside. You're looking at the oldest house in Boston. Looks pretty good for it's age.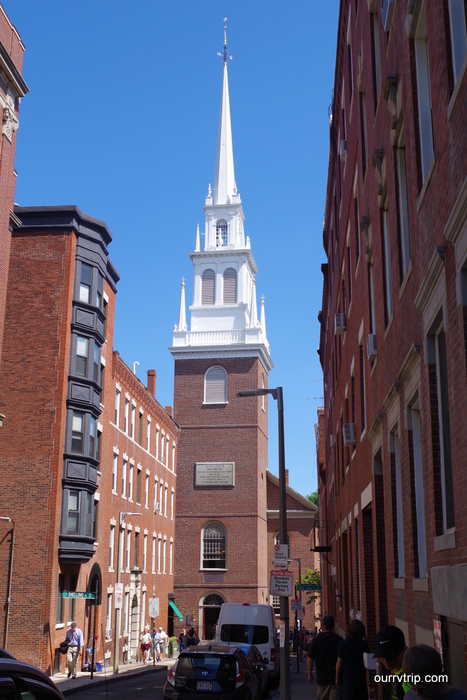 Another stop on the Freedom Trail is the Old North Church where the two lanterns were hung on April 18, 1775.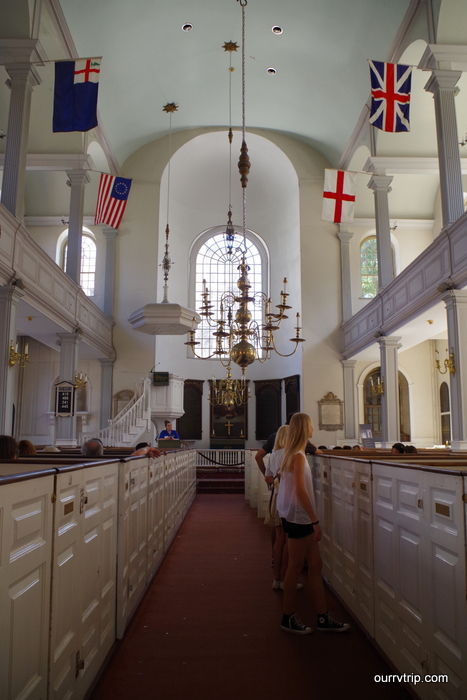 You can go in and look around. We'd never been to a church where the pews were boxed off like this. Apparently, back when the church was first built, you would purchase your own box.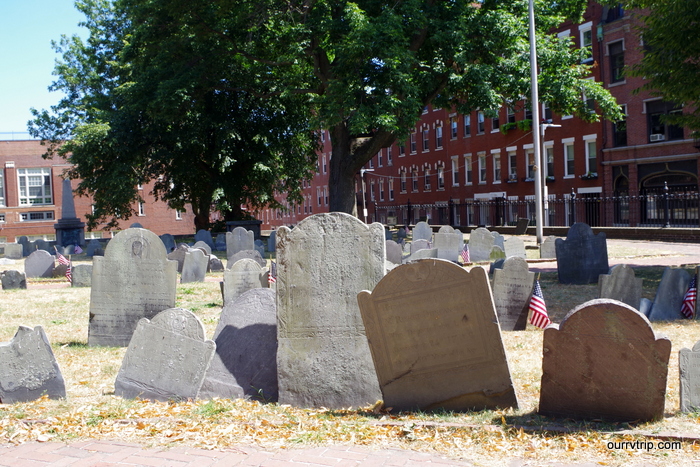 We stopped by one of the graveyards on the Freedom Trail. The one in the picture is Copp's Hill Burying Ground. One of the things we noticed about the gravestones in both Salem and Boston are that they're a lot thinner than what we're used to seeing.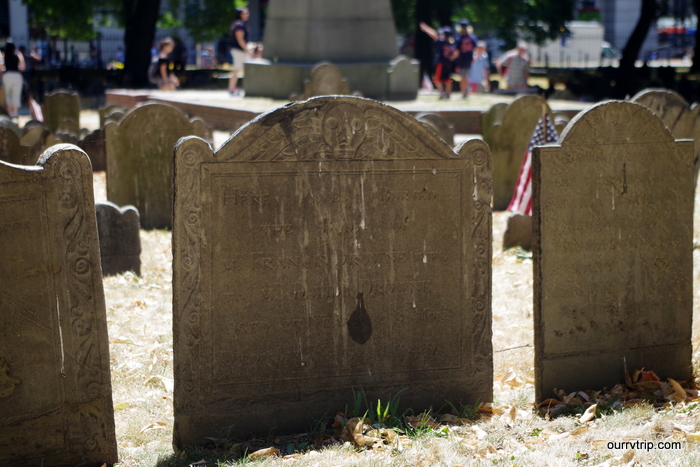 Quite a few of the headstones were decorated with the skull and cross bone symbols or a skull with wings. The symbols were supposed to be a reminder to the Puritans of the mortality of the body.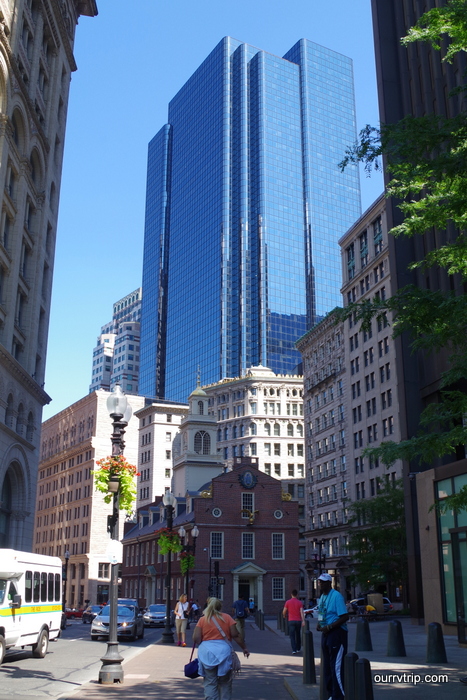 I love the mixture of old and new buildings here.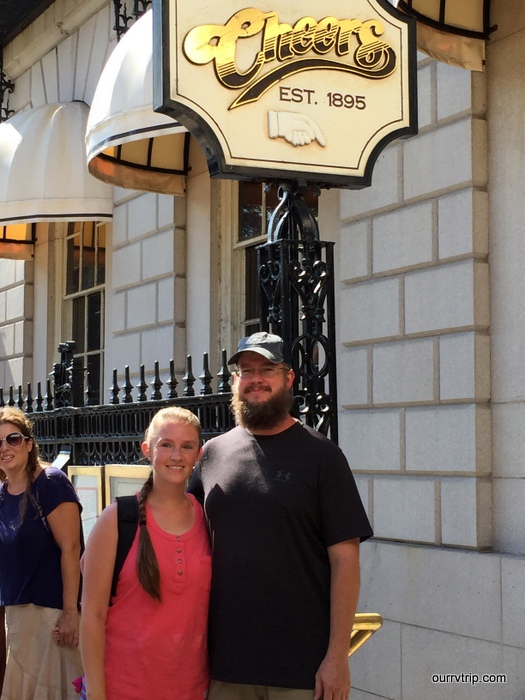 I may have geeked out a bit here too. I mean, it's Cheers! Where everybody knows your name!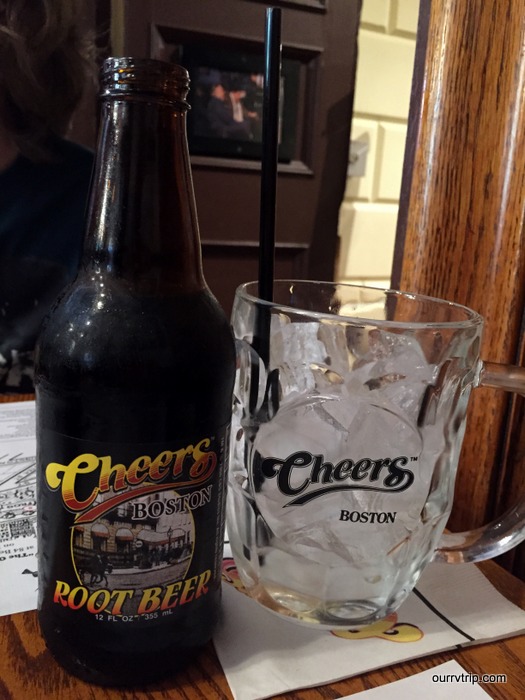 We went in and had some burgers. No, it's doesn't look like the show. I was a little disappointed with that. It was a long hot day of walking though and that air conditioned seat felt wonderful!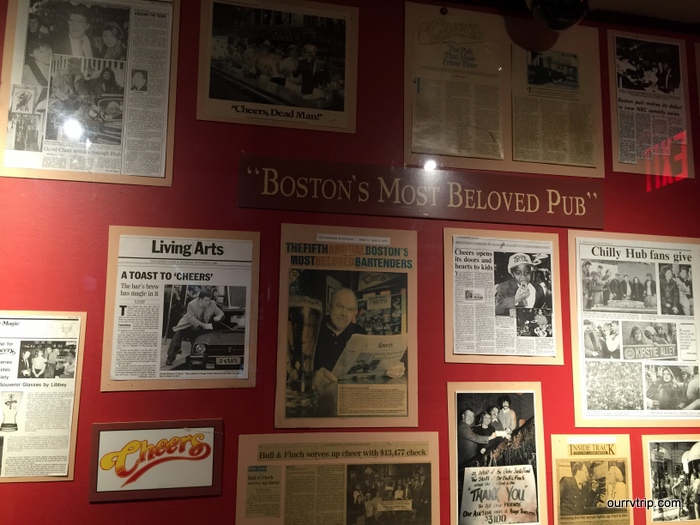 It might not have looked like the Cheers on the television, but there was a wall dedicated to it!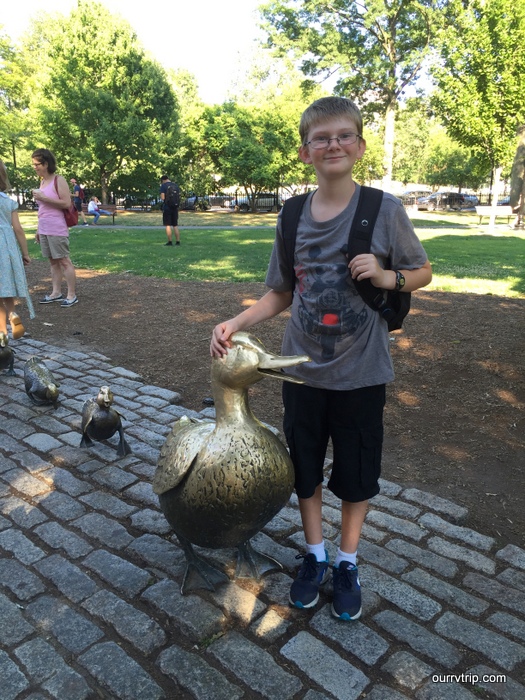 I had to stop by the Make Way For The Ducks sculpture. Super cute!
Ok. One more picture of Boston. This is Swan Pond. How lovely is it? We didn't stick around long here because we were all so tired and ready to be back in the car.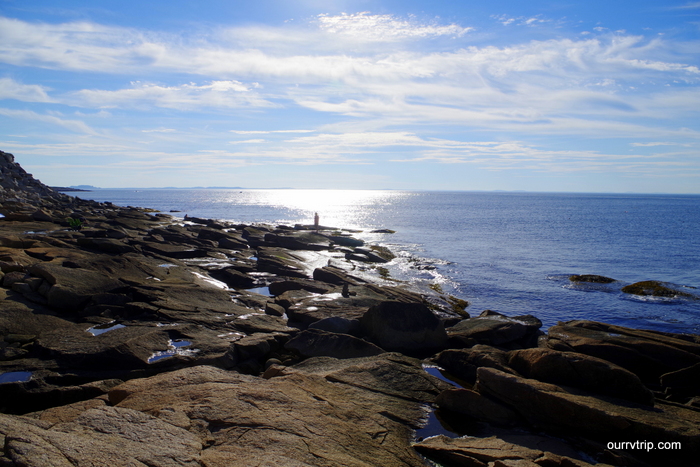 We explored Halibut Point State Park one afternoon.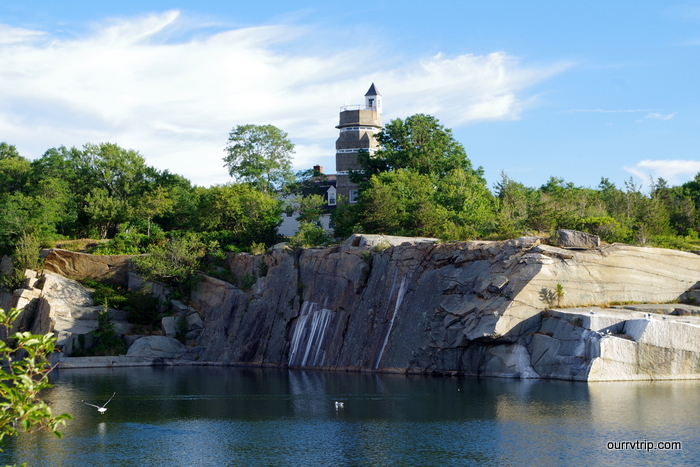 Halibut Point State Park used to be a quarry. You can see the "pond" it made in the picture above.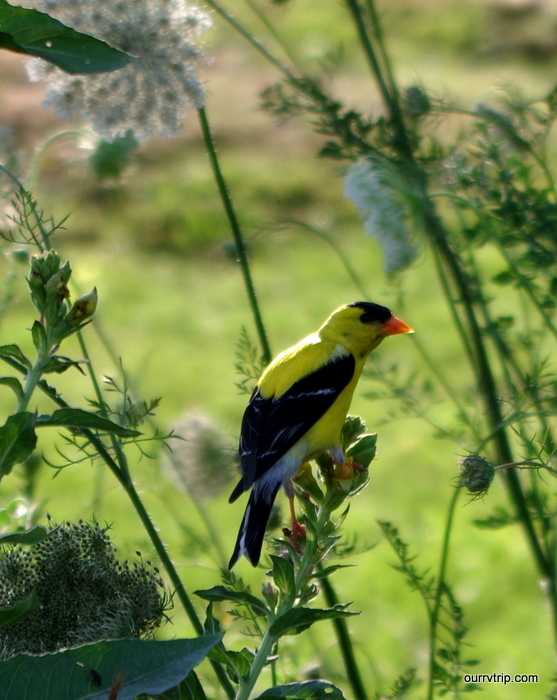 We saw this pretty little bird while we were heading back to our car. It let me get really close!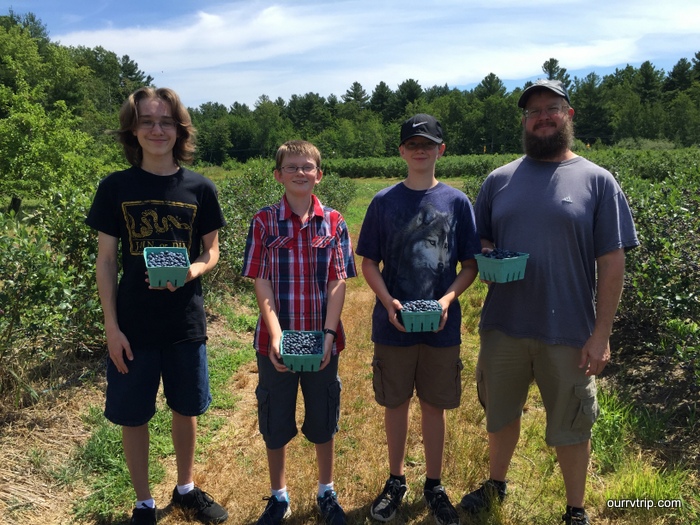 Not far from where we stayed was a farm where you can pick your own blueberries! Anyone need some blueberries? We have plenty!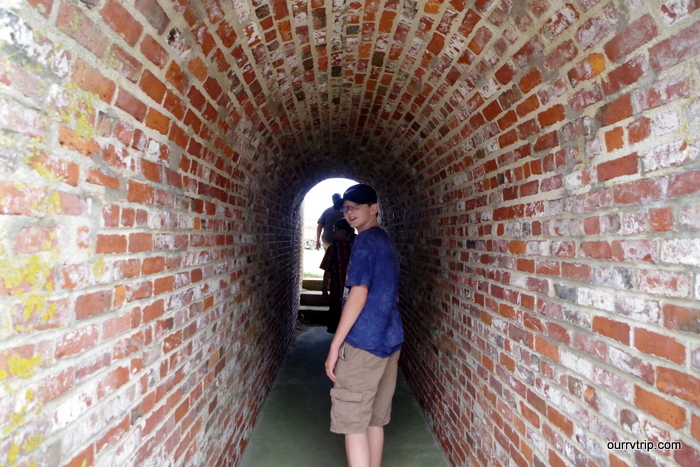 We explored the ruins of Fort Constitution. There wasn't much there.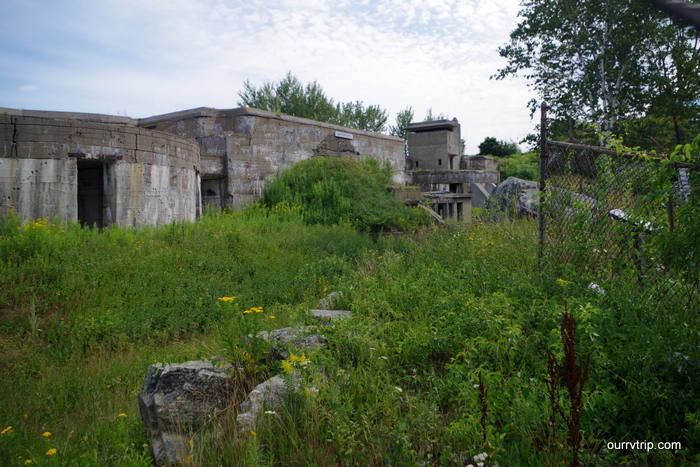 Most of it looked like this. I'm not even sure this was part of the original Fort…it was right next to it.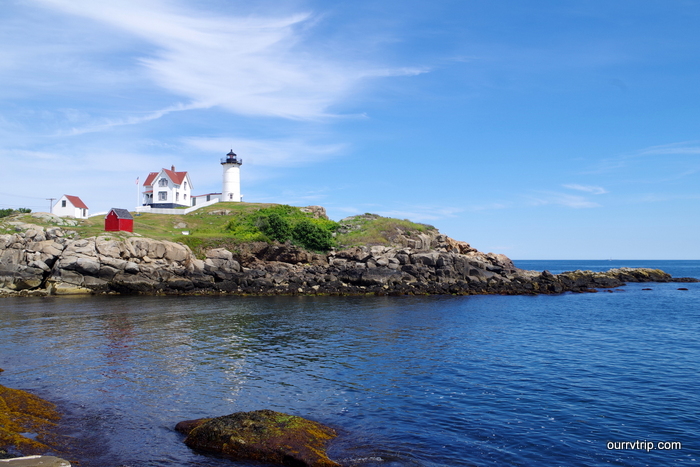 We went to see the Nubble Lighthouse! It was a gorgeous day!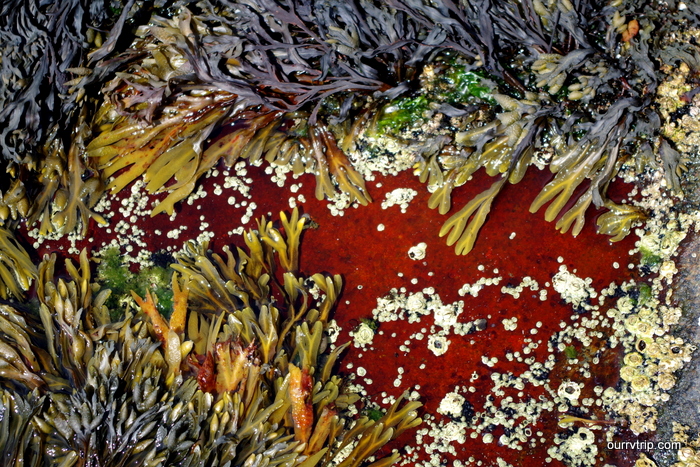 We checked out the tidal pools at the lighthouse…but there wasn't too much in them.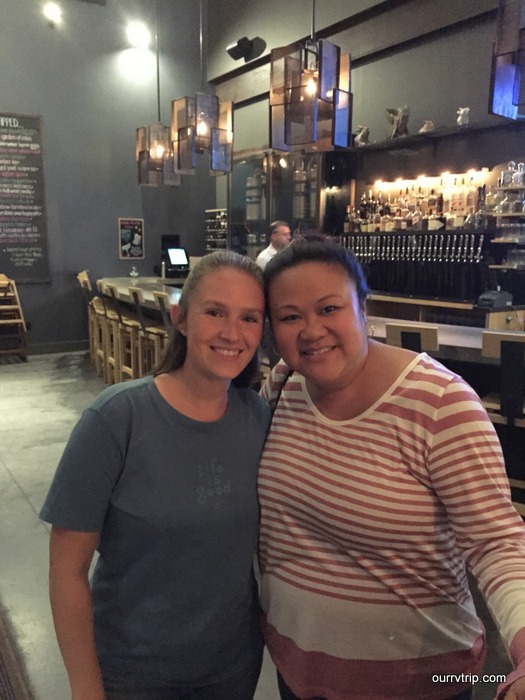 Best of all…we got to meet up with one of my friends! Hey Anne Marie!! One of the things I like the most about our nomadic lifestyle is that I get to go visit friends!
Are you ready for some flowers?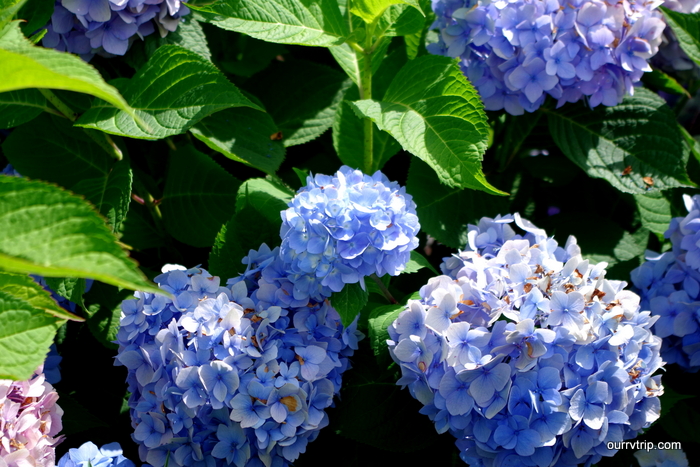 I don't know what kind of flowers these are, but they're all over the place!! I love love love them!!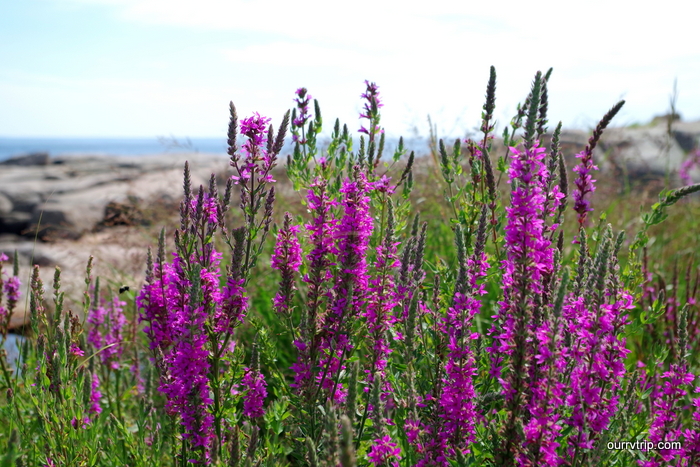 I don't think this is fireweed, but it's really close. I love the purple.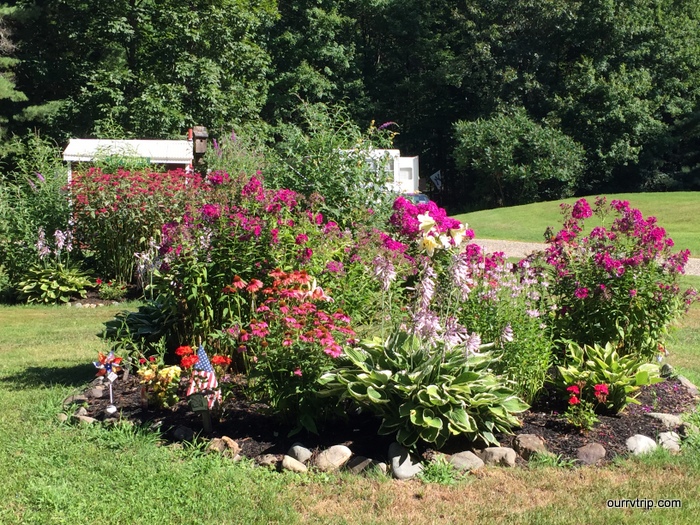 These are in our RV Park!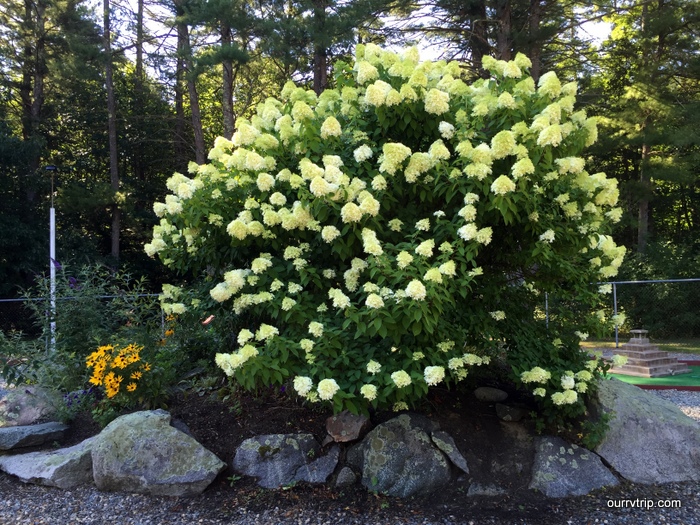 You can't tell from the picture, but this bush is well over six feet tall!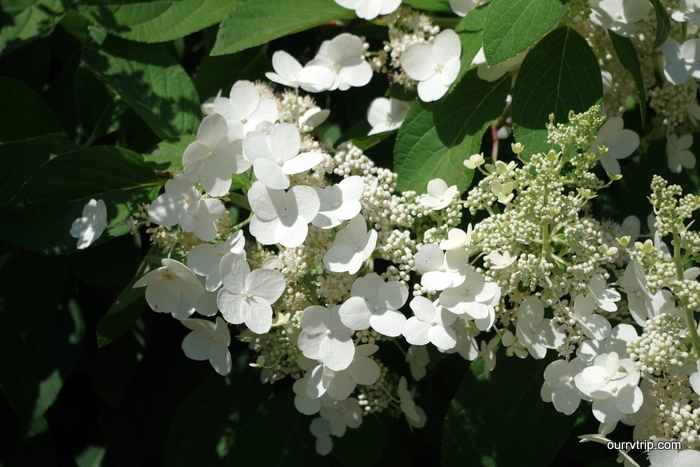 Pretties from Boston.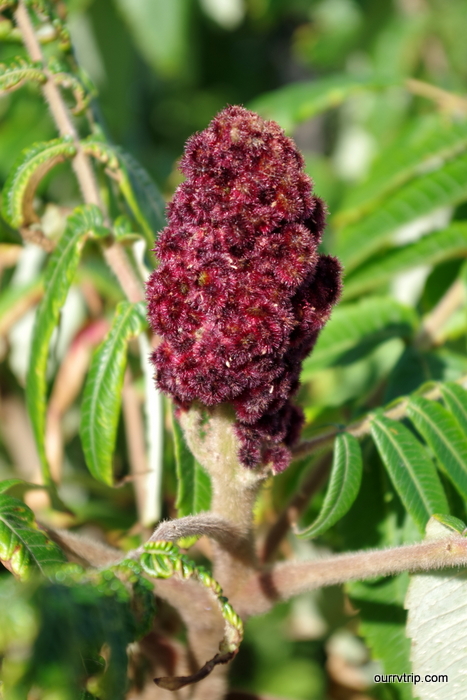 There's sumac all over the place here!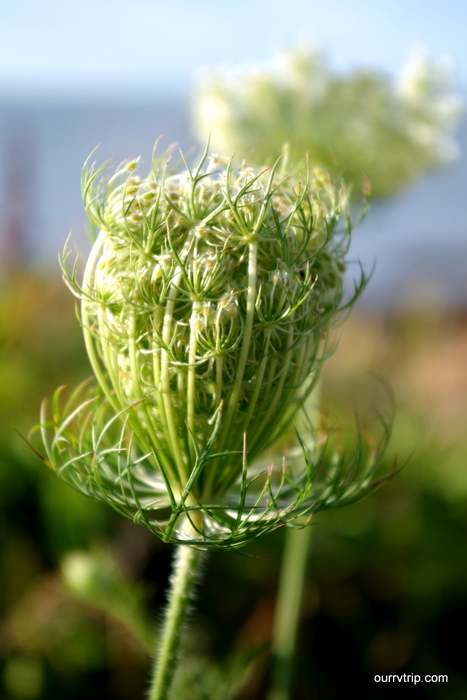 I know it's a weed, but I really like it. They call it Queen Anne's Lace and when it's all bloomed out it's a really pretty white flower.
I think that's it! We fit quite a bit into two weeks!
See y'all down the road!
#easterloop2016