Gallup is often called the "Indian Capital of the World" because of it's location in the heart of Native American lands. Some of the tribes that call this area home are the Navajo, Zuni, and Hopi. We spent our first week in New Mexico learning about some of the local peoples and customs.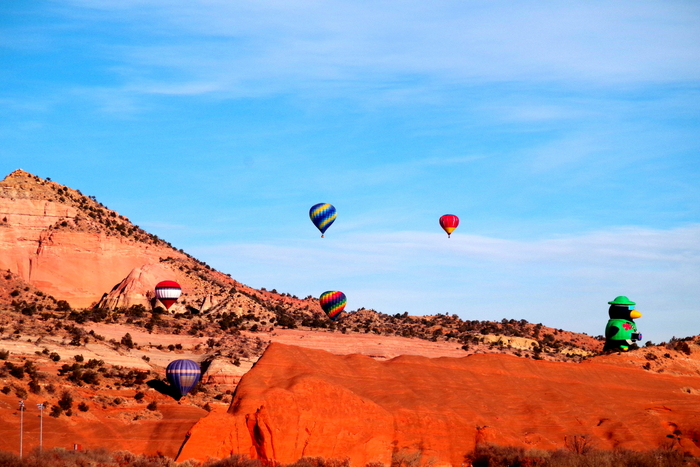 I have a plan for each area we go to. My list. But we always look for new things to do and check out what the locals say. When we stopped by the New Mexico Visitor Center near the border I grabbed a Gallup brochure even though I was pretty sure I'd found everything I wanted to do for our time there. I'm so glad I went ahead and got the brochure. We wouldn't have known about the Red Rock Balloon Rally! Score! When we came back from Alaska and I was planning this Fall/Winter, we'd discussed trying to make it to the Albuquerque Balloon Fiesta, but it would have been a big rush and we'd just come off of a week of 12 hour drive days. So, we put the Albuquerque Balloon Fiesta on our Someday List. It was a wonderful surprise to realize we were going to be in town for the Red Rock Balloon Rally!!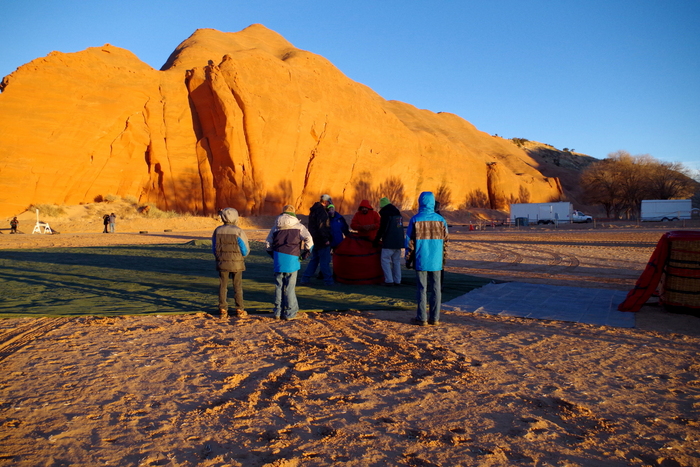 We were told if you go early and help the balloon teams set up you might be rewarded with a ride.  We're not ones to pass up a chance to learn something new and a chance to ride in a hot air balloon sounded awesome!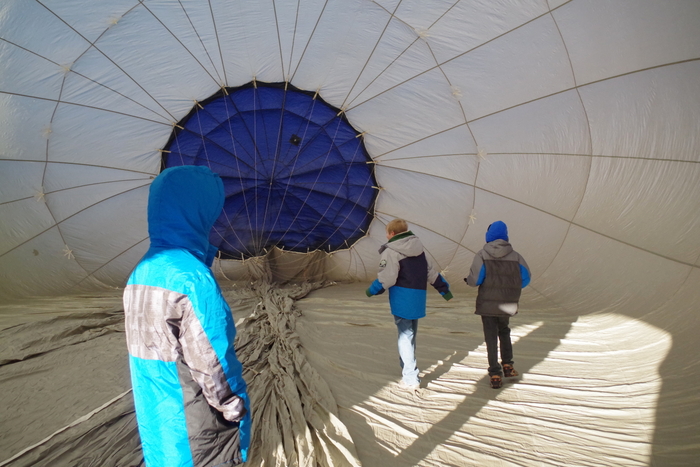 We got up early (for us) and made it to Red Rock by 7AM. We got there right as most of the balloon teams were starting to set up. One of the teams called us over to see what the inside of a hot air balloon looks like. It was huge inside!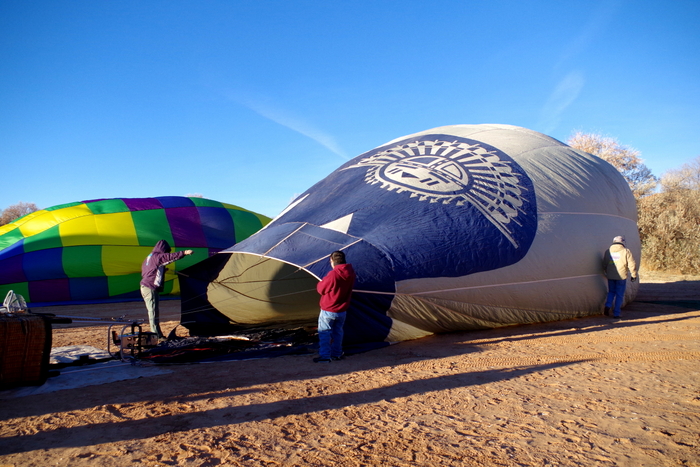 They start airing up the balloons with big fans.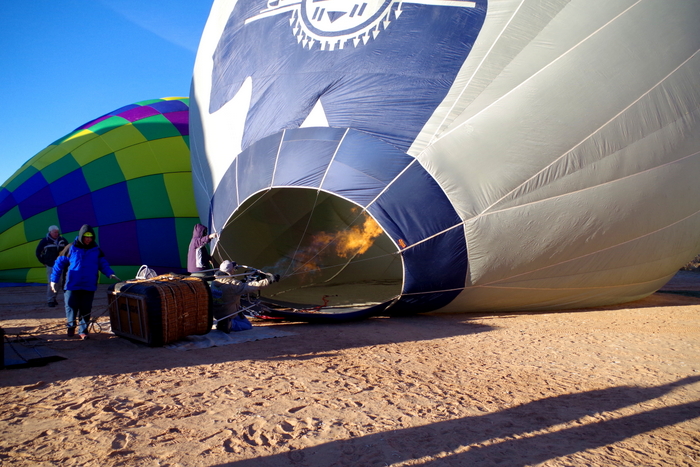 Once the balloons reach a certain size, they add the fire to heat up the air.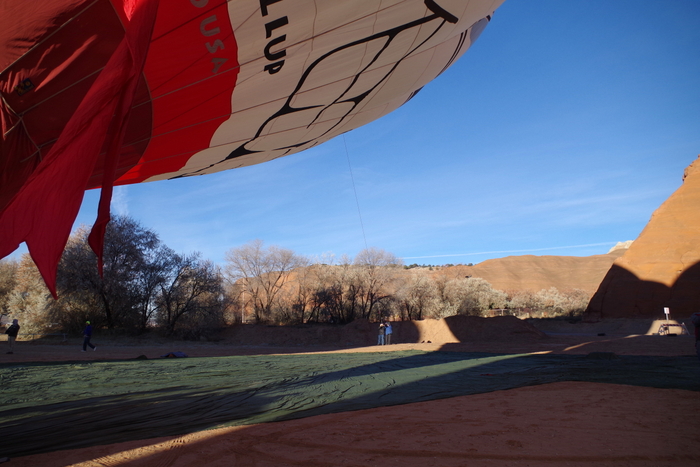 It's at this point that they have a couple of people hold on to a tether attached to the top of the balloon. As the balloon fills and starts to stand up…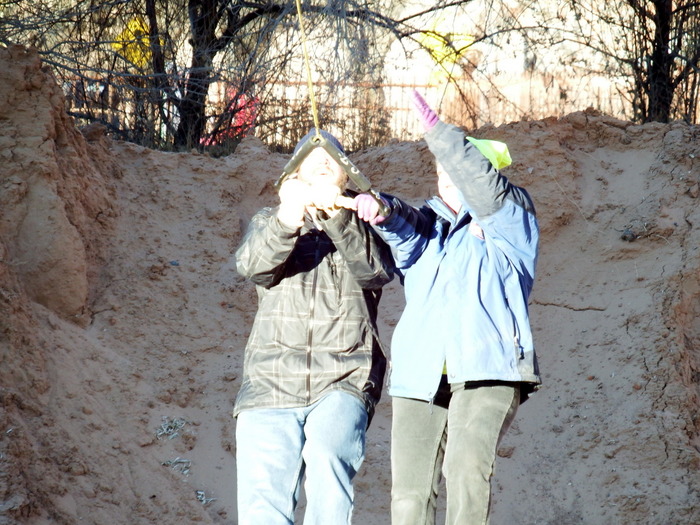 well, it's a lot like skiing, but on sand.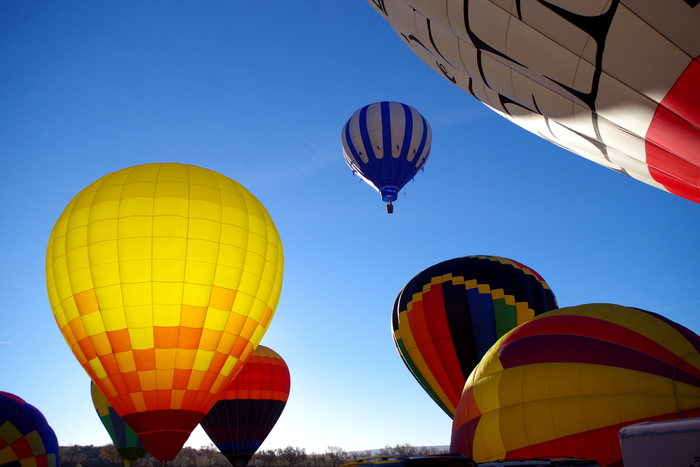 Seeing all of those balloons being filled and taking off into the early morning sky is definitely a memory that has gone onto my Favorites List.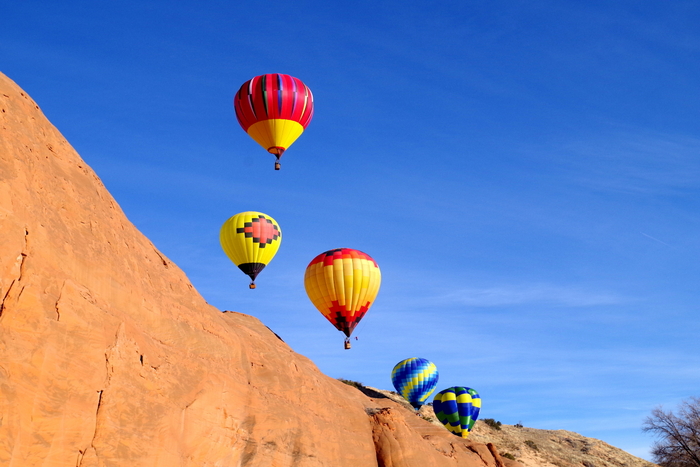 We didn't get a ride. We had to leave so we could do some school/work stuff.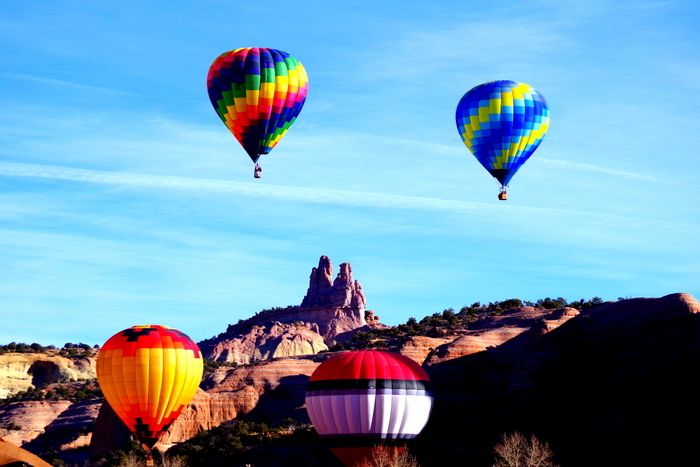 The balloons like to dip in and out of the canyons at Red Rock. They'll perch on the rock and take off again. We saw several people getting rides…for free.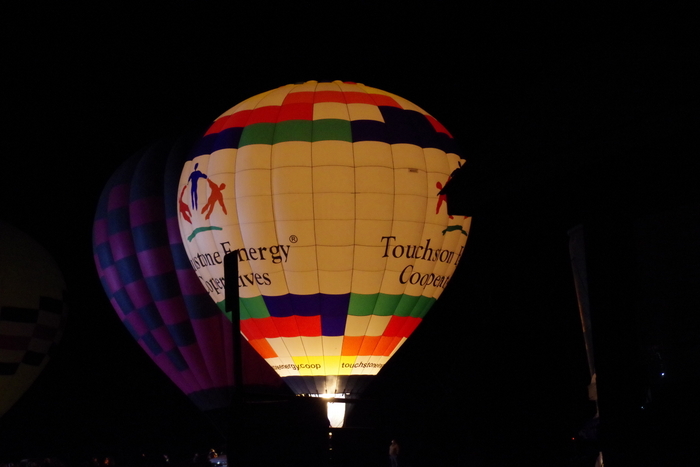 We went back to the park that night for the Balloon Glow and Indian Dances.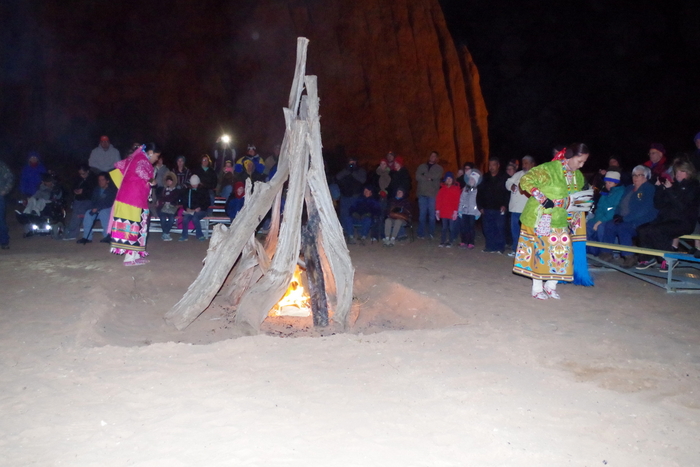 The Indian Dances were spectacular. Really. We'd never seen anything like it and we felt very honored to be able to witness each dance.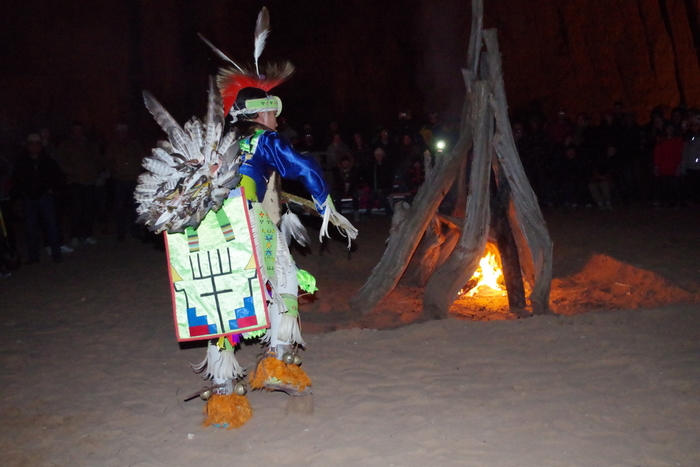 Two different tribes had dancers there. The first tribe had more of a traditional dance and explained the parts of their clothing.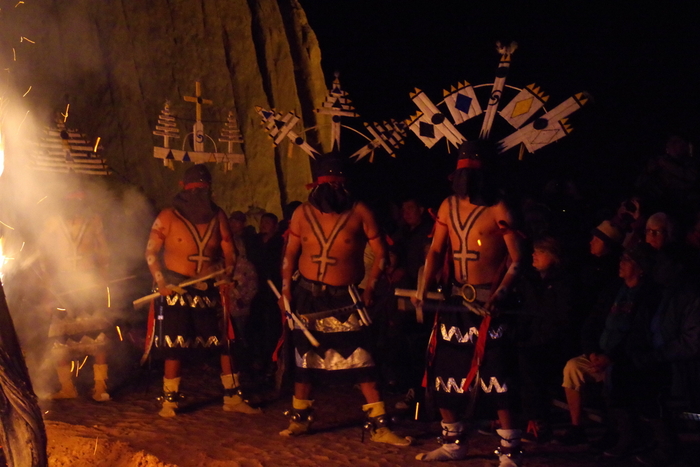 The second tribe was a little more primal. They were fierce. We left in awe.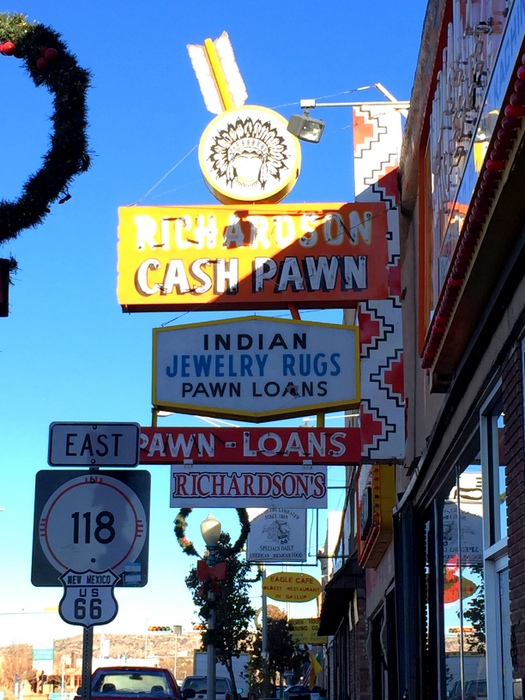 Even if you're not planning on buying anything, one of the must do things in Gallup is to go visit a Trading Post.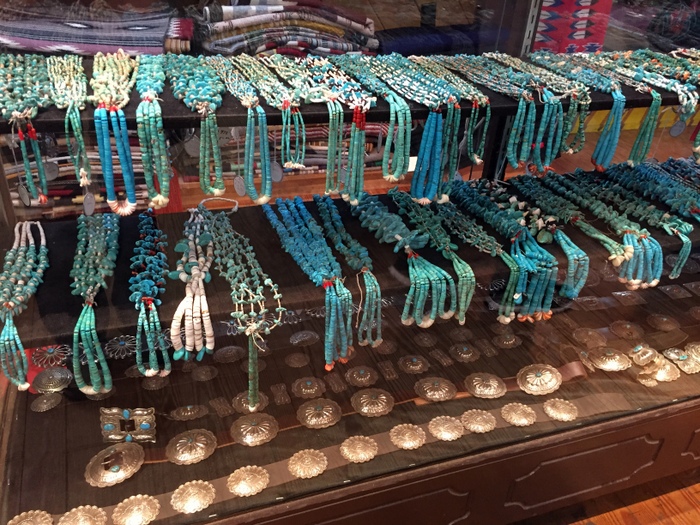 Trading Posts are really Pawn Shops. I don't remember the exact percentage of Native Americans who are unemployed, but it's high. There are several reasons and I'm not going to get into it, but if you go to a Trading Post try to make sure it's legit.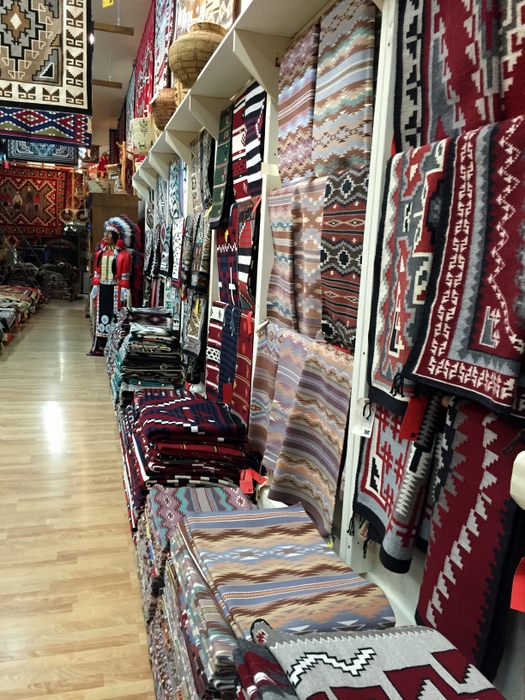 We went to Richardson Trading Post. They've been in business for over a hundred years. Families from the different Tribes will bring in their crafts to sell at Richardson's. You're guaranteed a locally made product there.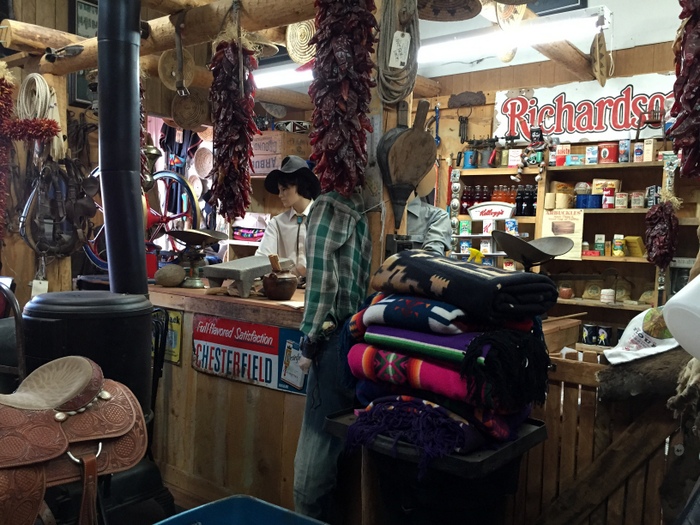 We were surprised to learn that many of the families from the different local Tribes will bring in their family heirlooms, saddles, and ceremonial pieces to store at Richardson's because it's safer there than in their homes. We got to have a backroom tour and we saw close to 2,000 saddles stored there along with ceremonial bear and sheep skins.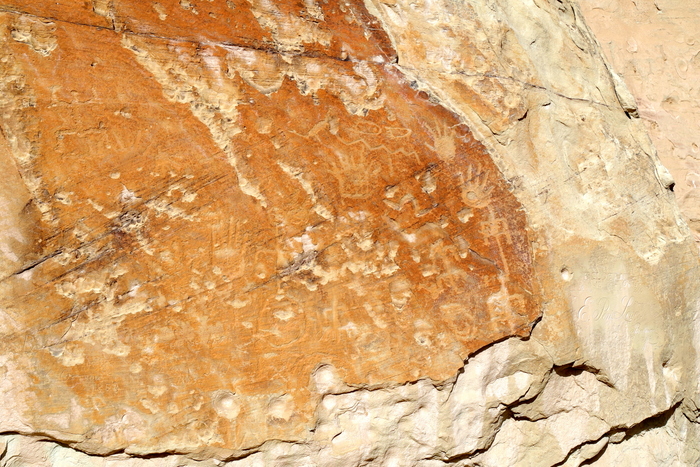 We went to El Morro National Monument where we saw Inscription Rock and the over 2,000 inscriptions that cover it.
Native Americans, Spaniards, and Anglos have all left their marks on the sandstone rock. Some of them were impressively fancy. I can't write my name that nicely with a pencil let alone carve it into a rock.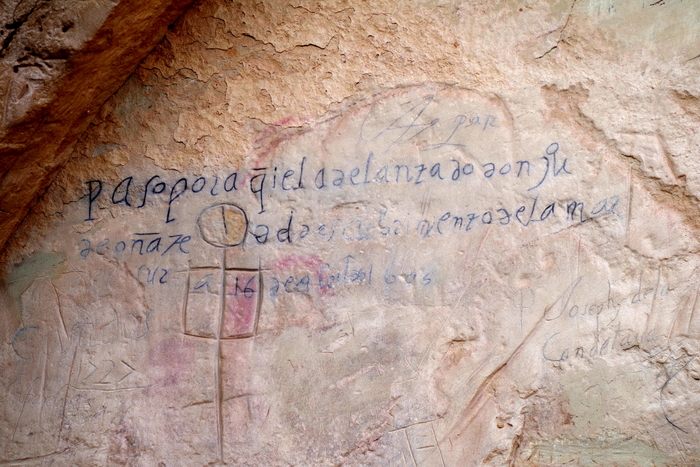 Some travelers gave a description of why they were there or who they were. In the photo above you can see one of the oldest inscriptions at El Morro. It says "Governor Don Juan de Oñate passed through here, from the discovery of the Sea of the South on the 16th of April, 1605."
Notice how dark the inscription looks in the photo above compared to the other two photos? The Rangers used to try and preserve the inscriptions by going over them with pencils.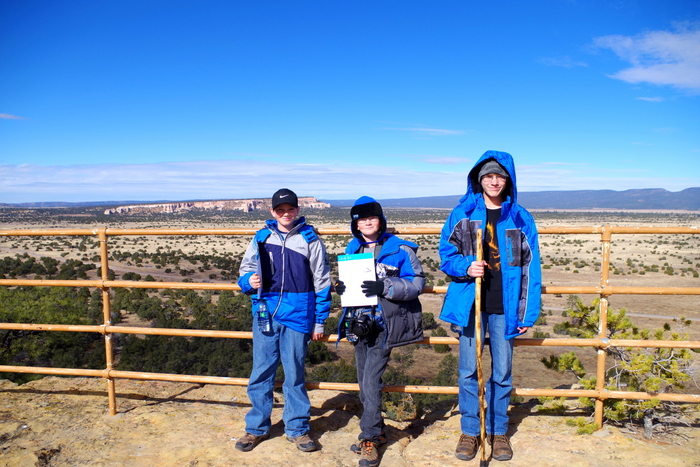 At the end of the Inscription Trail you can head up 250 feet to the top of a mesa for a 2 mile trail to the Atsinna Puebloan dwelling. 250 feet doesn't sound like much of an elevation gain, right? Well, we were already over 7,000 feet above sea level where the air is mighty thin!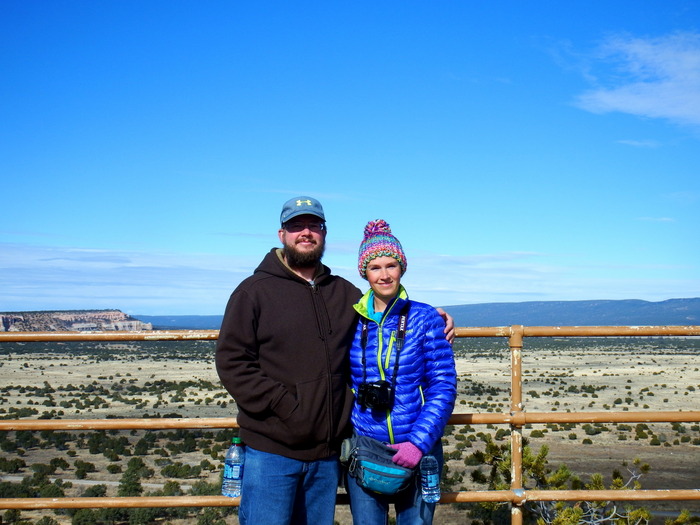 The view of the Zuni Mountains was breath taking! And not just because I was huffing and puffing from the hike up!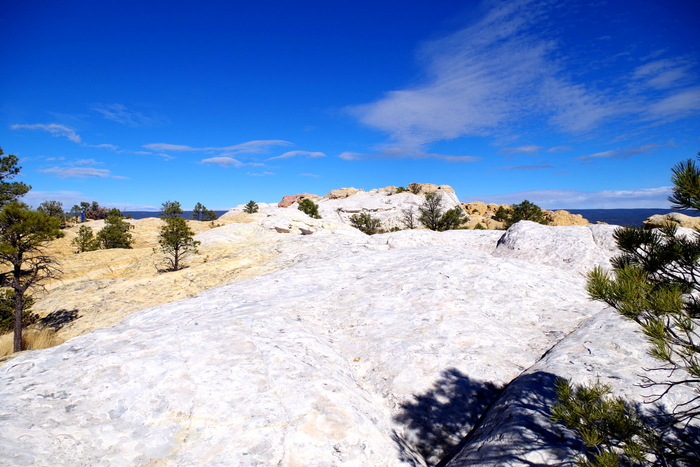 The trail was at the top of a box canyon and was etched into the top of the rock. The Rangers ask that you stay on the trail so you won't fall off the side. That's easier said than done when the wind is trying to blow you off.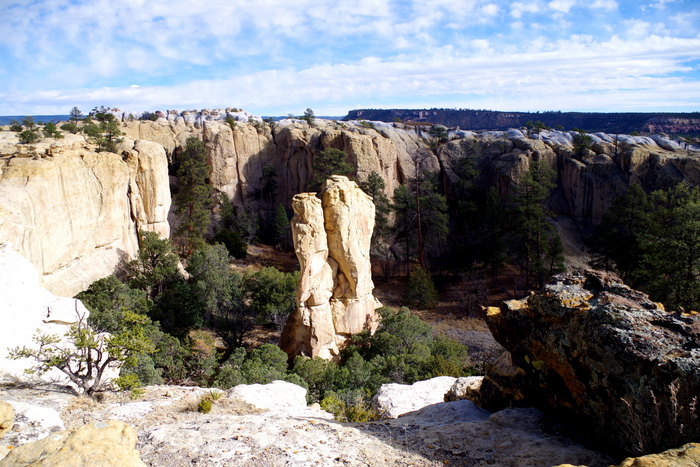 It was a great hike. I would go back just for the hike…and the views.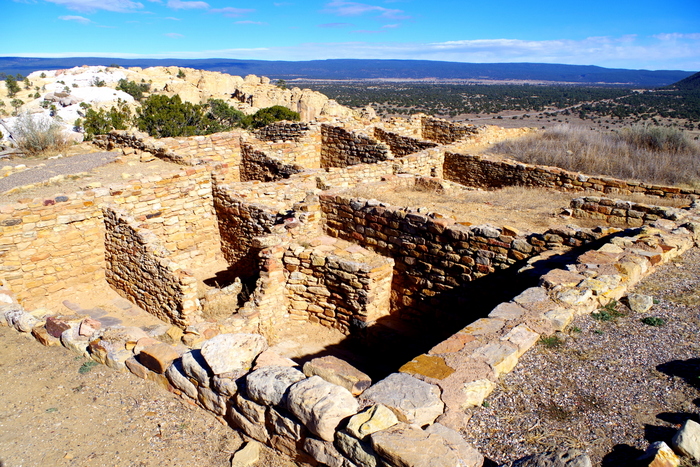 The pueblo was very cool!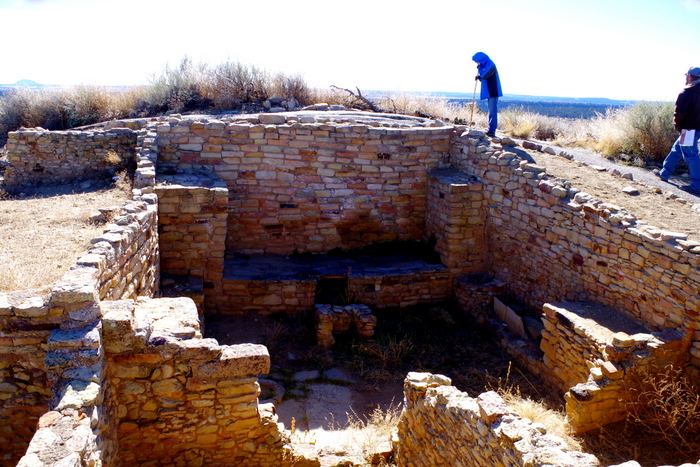 We were able to see some of the inner workings of the pueblo. There were doors and windows all connecting the different rooms.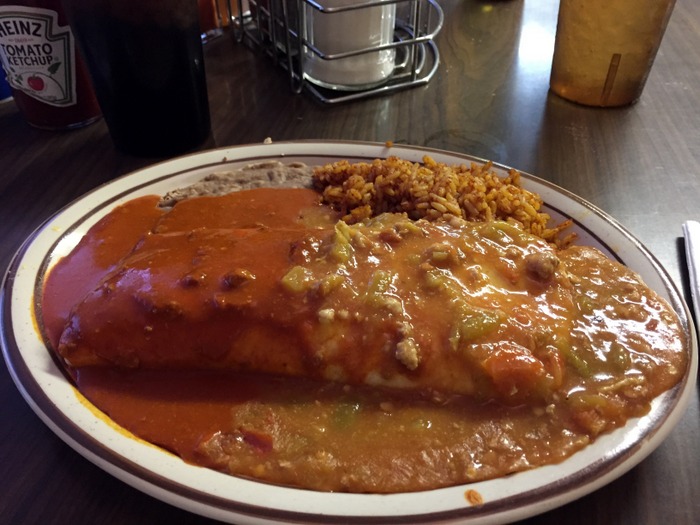 Y'all know we're foodies…we couldn't wait to dig into some New Mexican food! Now, the official state question of New Mexico is Red or Green? They're talking about chili. Chili is put on everything from burgers and fries, to pizzas, burritos, and pies. It's such a staple that the McDonald's and Wendy's in Gallup have modified their menus to include chili. In the photo above you'll see what's refereed to as "Christmas Style" which is half red and half green. We, of course, are doing our own experiment as to which chili we like best…red or green? I'll let you know the answer once we've had an opportunity to thoroughly explore all of the styles and options.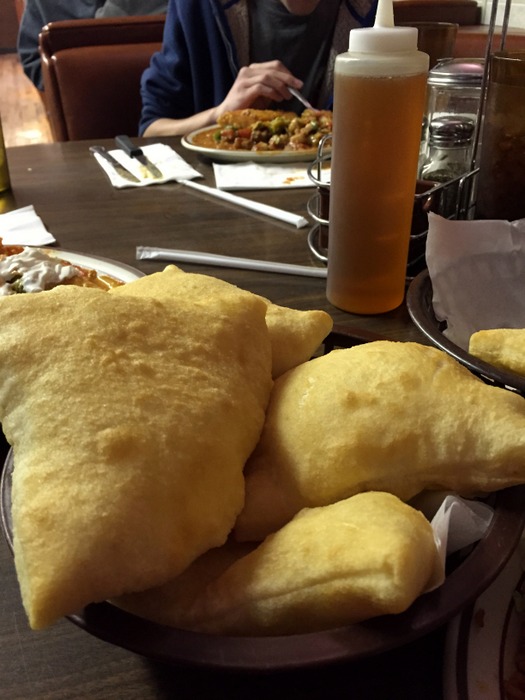 We ate at a little Mom & Pop place called Jerry's where we learned that most places in New Mexico serve huge sopapillas instead of tortillas or bread. We also learned that many of the restaurants in Gallup let the local crafts people come in and sell their wares from table to table. The sellers were very quiet and non-intrusive and I like the idea of buying right from the artist. I mean, dinner and shopping all in one place?! Bonus!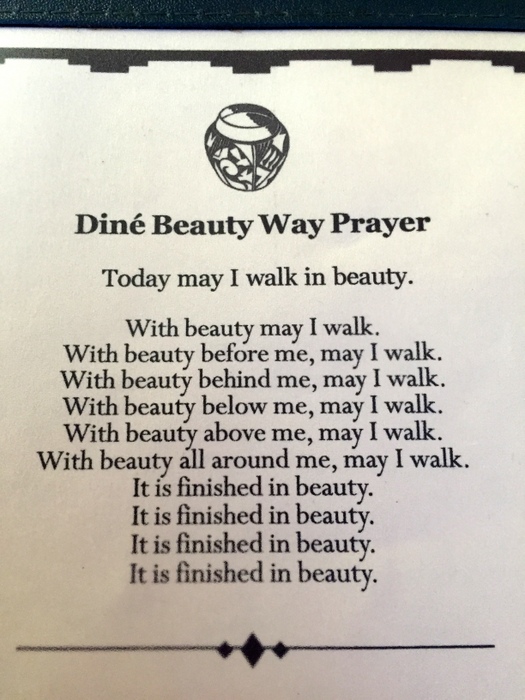 This poem was on the back of the menu at Jerry's and I think it's a great way to leave you today.
Today may I walk in beauty.
See y'all on the road!