It took us two full days and walking over twenty miles to see what we wanted to see in New York City. And…as you might guess…we still didn't see it all, but I wasn't going to talk Jerl into going back any time soon. Big cities aren't really our thing and New York City is about as big as they come. I'm not into big cities either, but I do enjoy NYC so I could have easily gone back for a third or fourth day to do some more exploring, but I think I would've had to go it alone. I'll post our NYC explorations in the order we had them.
On day one we spent over half the day at Ellis Island and Liberty Island so we didn't even reach NYC until around one in the afternoon. We used the Statue Cruises ferry to hop from the New Jersey side to the NYC side so we wouldn't have to drive in NYC at all. We landed in NYC in Battery Park and started our trek north through the city.
The 9/11 Memorial was our first stop.  A few things about NYC stood out for me. One of them was the sheer number of NYPD Officers out and about at certain locations. At the 9/11 Memorial, there were quite a few officers keeping watch. Staying vigilant.
The 9/11 Memorial was beautiful. Simple and clean.
Our next stop was the Brooklyn Bridge…along with about a million other people. The Brooklyn Bridge was completed in 1883 and was the first bridge to link Manhattan and Brooklyn. We walked part way across the bridge, but we were pressed for time and watching the weather which was calling for rain. I would love to go back and go to DUMBO to get a good shot of the whole bridge. I'm hoping that one of these days…in a far off future…I'll be able to talk Jerl into going back.
Our next stop was Chinatown.
The boys were starving so we grabbed some dumplings from Fried Dumpling to eat on our way to our next destination.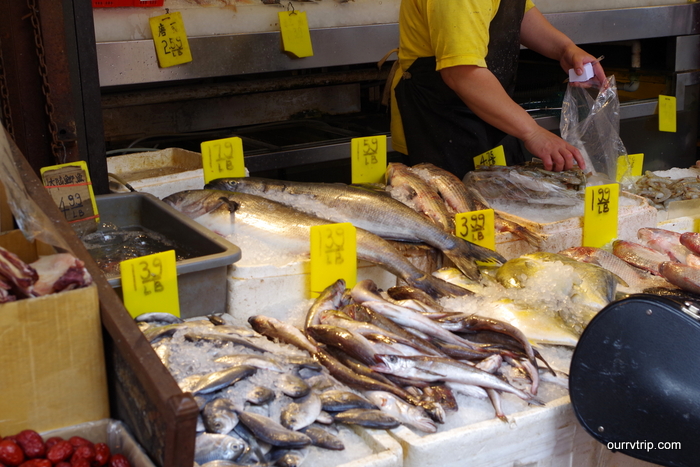 I'd been to Chinatown before when I took a trip to NYC with a bestie of mine way back when I was in Junior High…so I knew what we were in for. The boys…I think they had a bit of culture shock. I could have spent the entire day roaming around China Town!
I saw several people taking selfies with the wall above. It's pretty and I probably would have had one of the boys take a pic of me and Jerl there…but we couldn't make it across the street and we didn't want to walk all the way back to it. I know…sounds lazy…but our feet were starting to scream at us so, we walked on. We made it all the way up to Washington Square (which was packed with people) where we grabbed a slice of pizza on Bleecker Street and some tacos from Otto's.
It was close to five-ish at this point and we were all tired so we called it a day and made our way back to our ferry to head home.
Day two was actually a couple of weeks later. The plan was to ferry up to the 39th street pier. When I glanced online it looked like the ferry we were using went there. It doesn't. So we walked. We headed back up to Washington Square.
We were in the city by 9AM this time and the walk wasn't too bad. We also went during the week which, I think, helped. Washington Square wasn't nearly as crowded this time and I got a decent shot of the fountain and the arch without a thousand people milling around.
On the north side of Washington Square is "The Row". Greek Revival homes where some of the elite in New York City of the 19th century lived. Looks so pretty! You'd never know that right next to where I snapped this shot was a huge smelly pile of trash.
We didn't go up into the Empire State Building. I'm sure the panoramas are enviable. But, the line was insane and the price was worse. I refuse to pay that much just for a view. We did walk right by it and look waaayyy up…it is a long way up there. And I did snap this great shot on the way to our next stop!
The Flatiron Building is a 1902 skyscraper. The 22 story triangular building is considered to be a groundbreaking skyscraper.
We wanted the full NYC experience so we had to try a hotdog from a food cart!
So…we were walking along and I noticed a few people taking pics of something behind us. I turn around to see a great shot of the Chrysler Building! When it was completed in 1931 it held the title of "world's tallest building".
I didn't take this picture because it's a digital American flag. I took it because of all of the police officers guarding it. It saddens me that they have to guard it. I don't know if you can see it, but one of the guards is heavily armed. Don't ask me what kind of gun it was…I don't know guns…it was really big and looked like it would shoot a missile. Can't we just get along?
Broadway! I snapped this pic on the way by.
Junior's Most Fabulous Cheesecake. We had to have some New York Cheesecake while we were in NYC! Right?! We spotted the Junior's Bakery and grabbed a slice to share. Junior's has been around since 1950 and apparently it's the place to go for great cheesecake. It really was fabulous. It was so good that when we saw a frozen Junior's at the grocery store we bought it!
We made it to Times Square! It was packed with people and the all of the signs were flashing up ads non-stop. We stuck around just long enough to snap some pictures and then we were off again.
We grabbed a slice from Ray's Original as we made our way up to Central Park. I think this is the biggest slice of pizza I've seen.
 Rockefeller Center! We're fans of Jimmy Fallon. We stood there for a few moments hoping a chance sighting. It didn't happen, but it was fun to see the building!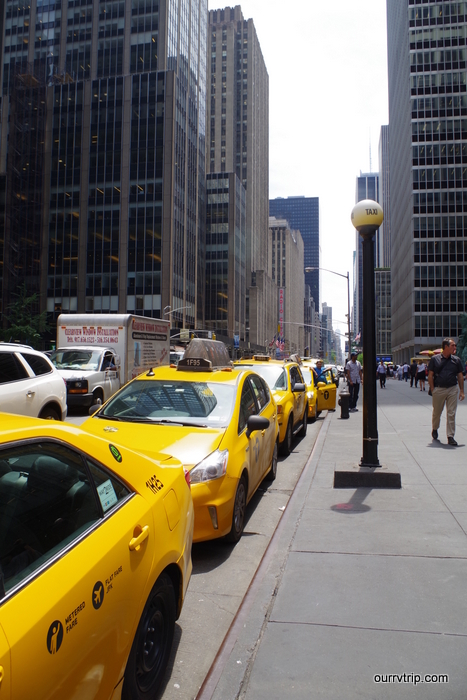 You see it in movies, hear about it on shows, but the number of yellow taxis was astounding! They were everywhere!!
I didn't know this was here. We were walking by and I spotted it so…I had to have a picture of the boys with it. I'm not sure how many LOVE statues this one makes…I should count those up.
Central Park! I don't know why…but for some reason my goal was to reach Central Park. I needed to see it. It was so odd to walk out of this huge city and into a forest like setting…but look up and see all of the skyscrapers!
I also really wanted to find this bridge. This particular bridge was on an episode of Doctor Who. If you're a true Whovian then you'll recognize it. If not…well, you can still appreciate the beauty in the picture. It was a really wonderful place in the park.
Here's another shot of the bridge. Notice all of the row boats? There were tons of them out! By this point our feet were screaming at us. And not nice things. So, we headed back toward the ferry terminal. It was about a four and a half mile walk from the pic above to the ferry terminal.
There's a great park all along the NYC side of the Hudson so we headed to the river and then started the walk south. The Intrepid was on our way. We were way too tired to go explore it, but we did sit on some benches and admire it for a bit. We met a guy at the RV park we were staying at during this time who served on the Intrepid. He told us a few stories so we thought about what it was like for him on that big ship while we sat there listening to our feet scream some very unflattering things at us.
One World Trade Center is presently America's tallest building coming in at 1,792′ to the tip.
Don't worry…I'm not leaving out the flowers! Yes! There were tons of flowers in New York City! I was pleasantly surprised by all of the gardens and flowers throughout the city.
This little garden was in the park along the Hudson. Remember that park I told you about? It had a skate park, playgrounds for kids, playgrounds for furry four-legged kids, basketball courts, tennis courts, splash pads…and it had open green spaces for people to hang out in.
We saw people doing anything and everything you would normally do in your backyard…I guess because they were in their backyard.
These flowers were in Central Park. I love the clean lines and colors. They smelled horrid…but they're pretty!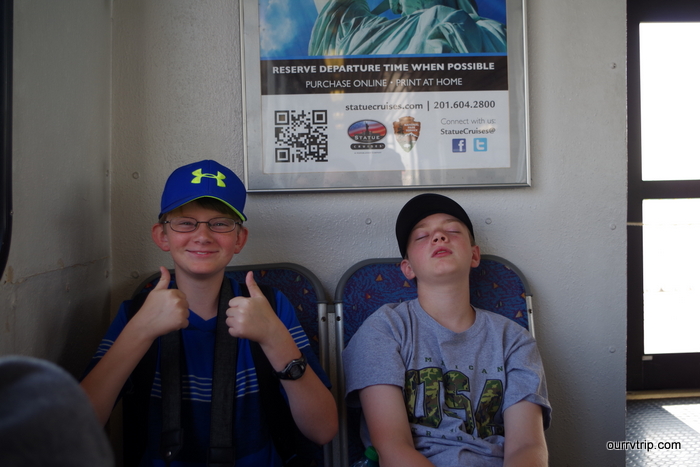 It was somewhere around 6PM when we dragged ourselves onto the World Financial Ferry Terminal. Some of us didn't even wait to get back to the car before they fell asleep. I think we wore them out!
And there you have it. Our NYC times two experience. I loved it. All of it. The rest of us…well, they liked the ferry ride and the food. 😉 I might need to find someone else to go back to NYC with. Any volunteers?
See y'all down the road!
#easternloop2016