We spent a week just south of Atlanta, GA.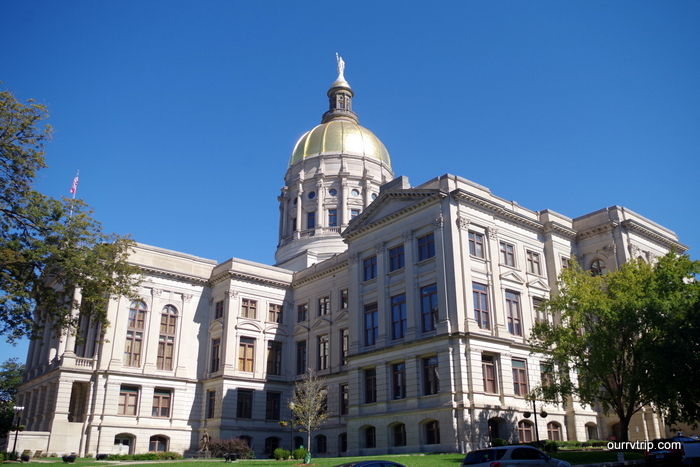 We made it to the State Capitol Building. It was impressive!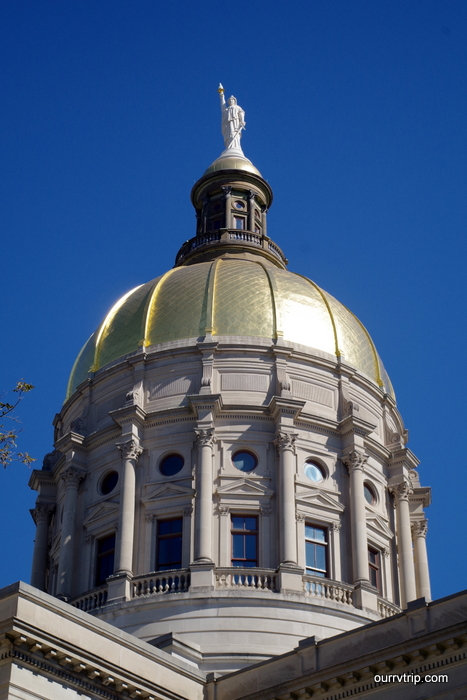 Check out that golden dome with the Miss Freedom standing so proudly on top!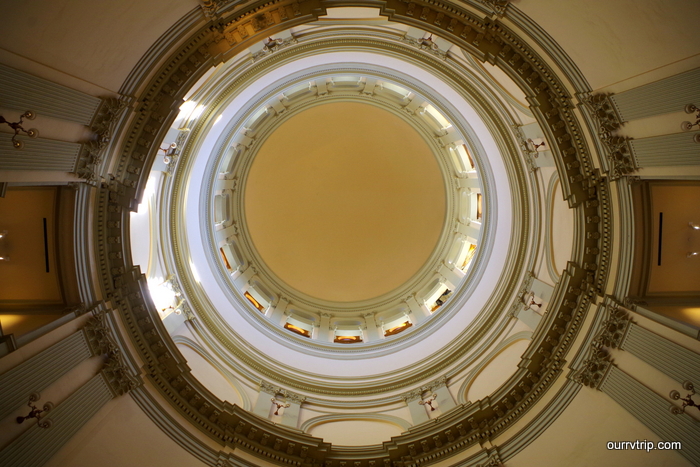 And since we're talking about the dome…I'll go ahead and show you the inside of it. Now, my favorite domes have stained glass or a mural on it, but this one with the windows all around it was very nice.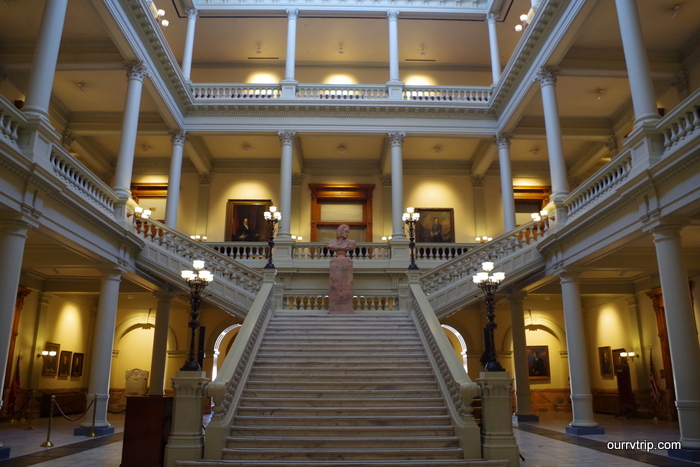 Georgia makes State Capitol Building number 31 for us. That's a lot of SBCs! Some of my favorite things about SBCs (besides the dome) are the staircases. I'm not an architect. I don't know anything about what style this is…I just know it's pleasing to the eye. It's nice and orderly. Oh! Check out the statue made of pink marble! This SBC had tons of pink marble that had been mined from Georgia. On the fourth floor there was a nice, small museum. We enjoyed this SCB.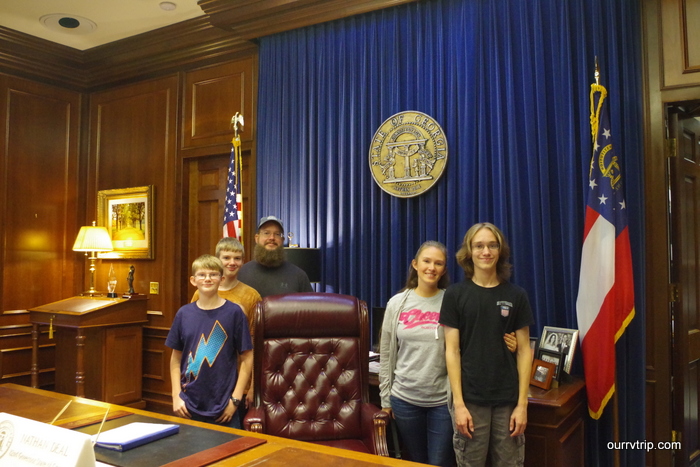 Out of thirty one SBCs this was a first for us. We got to go into the Governor's Office! One of the secretaries offered to take a photo of us behind the desk. She took three…this one was the best. It's a little blurry, but that's ok…we appreciated the offer!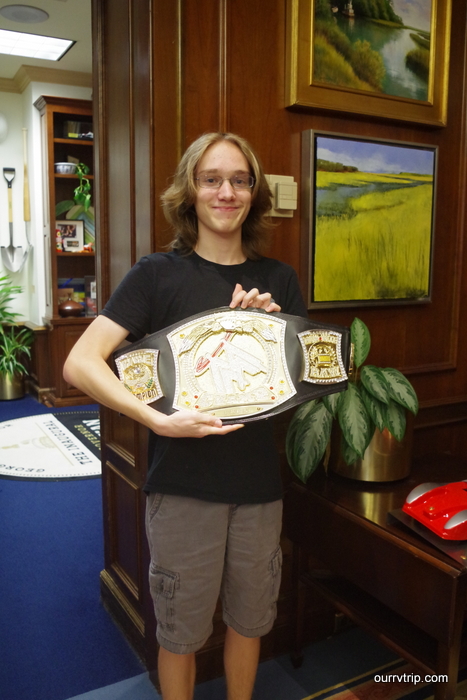 The boys even got to hold this WWE belt. It was heavier than we thought it would be!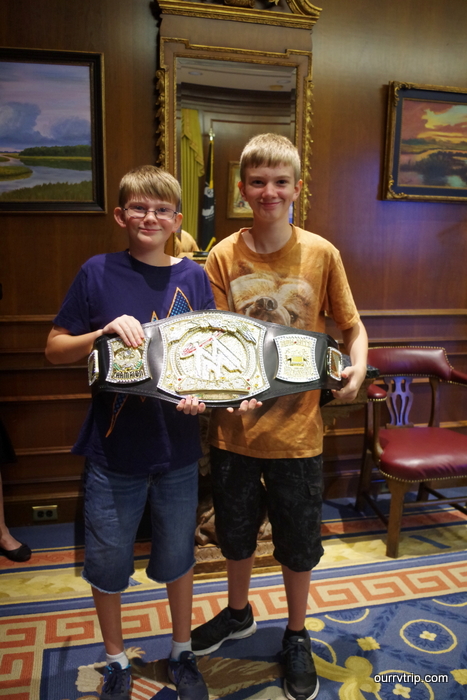 I have to mention how nice everyone that we came into contact with at the Georgia State Capitol Building was!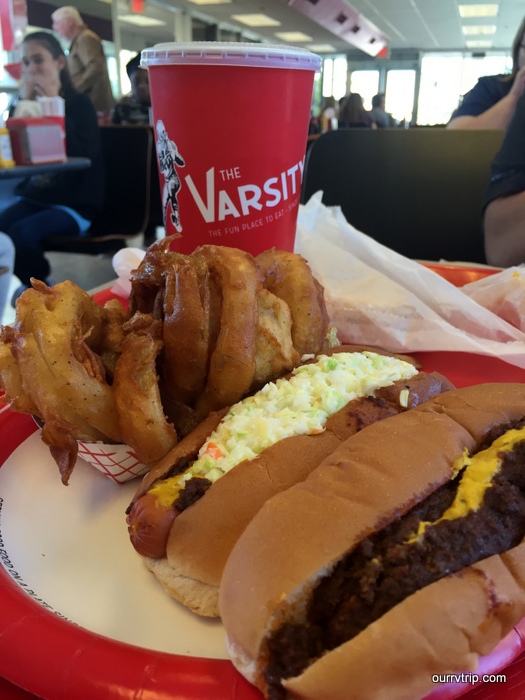 While we were in Atlanta, we stopped by The Varsity to grab lunch. The Varsity is the world's largest drive-in. When we were there it was packed! The menu isn't that big. They've got burgers, hotdogs, fries, and onion rings. Oh… and fried pies. Between the five of us we tried it all. The food was what you would expect. I enjoyed my chili dog with coleslaw on top of it and I really loved the onion rings! Now, would I go back? Um, probably not. lol! Once was kind of enough. Not because the food was super bad…it just wasn't the best.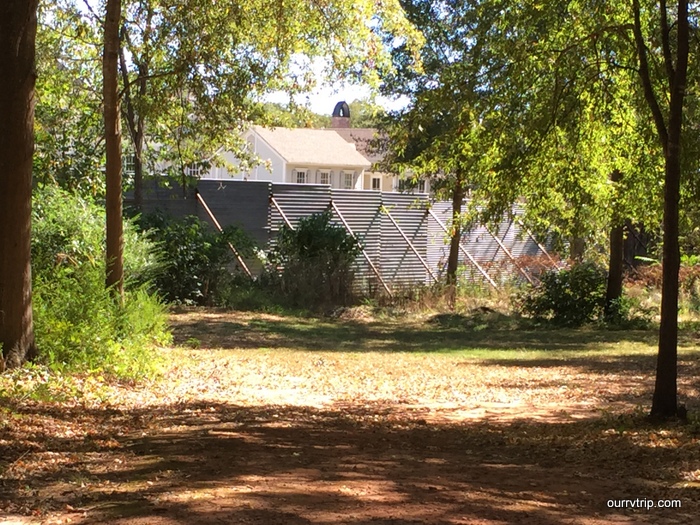 I know…it's a metal fence. But, guys…it's The Walking Dead metal fence! You're looking at Alexandria…well, it's actually in a town called Senoia…but still!! We couldn't get any closer because all the roads were blocked and guarded because they were filming. Which kind of made it cooler for me. To know they were just…right…there…….filming!!! Sorry. Fan girl moment. I'm ok now.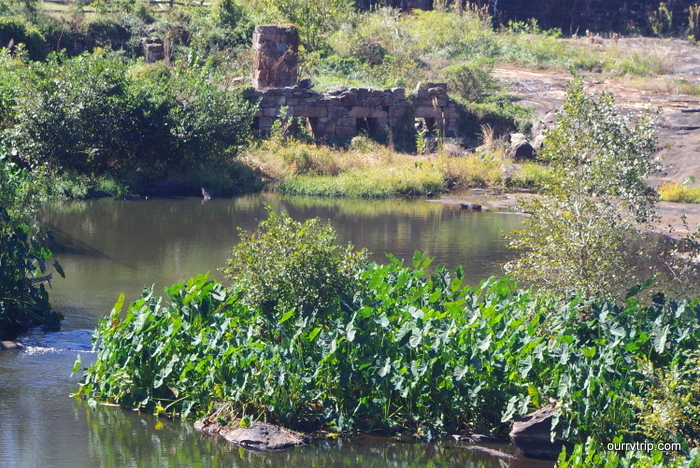 We did actually get some hiking in this time! We love hiking and there hasn't been as many opportunities to get some miles in during this year's loop. We stopped by the High Falls State Park for a quick mile or so to see the falls.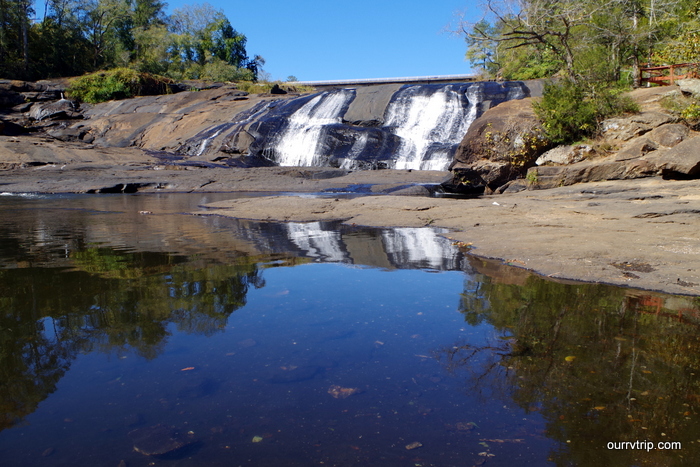 Georgia has been in a pretty bad drought since June, so the falls weren't full and rushing, but they were still enjoyable.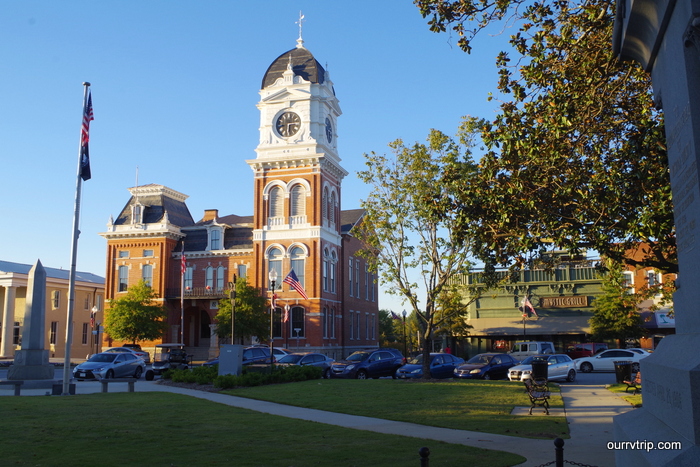 We found Covington, GA…you might recognize it as Mystic Falls from the show The Vampire Diaries. I didn't realize how many shows/films are filmed in the Atlanta area. We didn't bump into any of the stars, but it was neat to walk around a town I'd seen on a television show.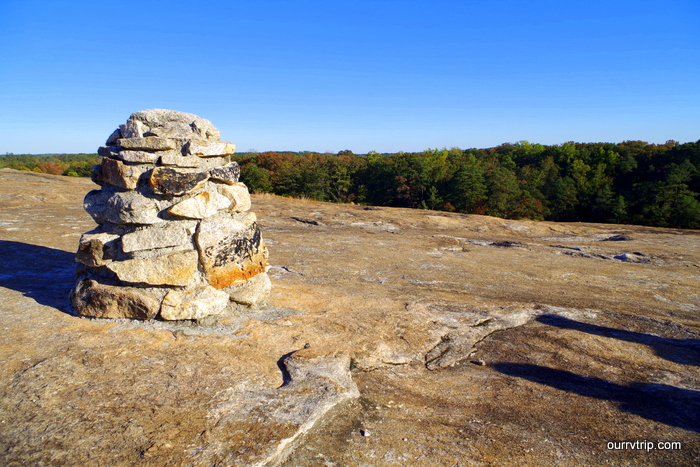 We even made it to another hike! This one was at the Arabia Mountain A.W.A.R.E. area.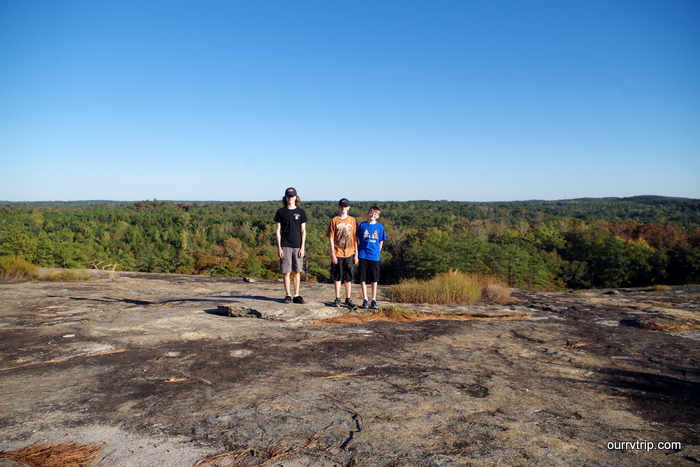 We were rewarded with an awesome view! The weather was perfect for hiking while we were in the Atlanta area.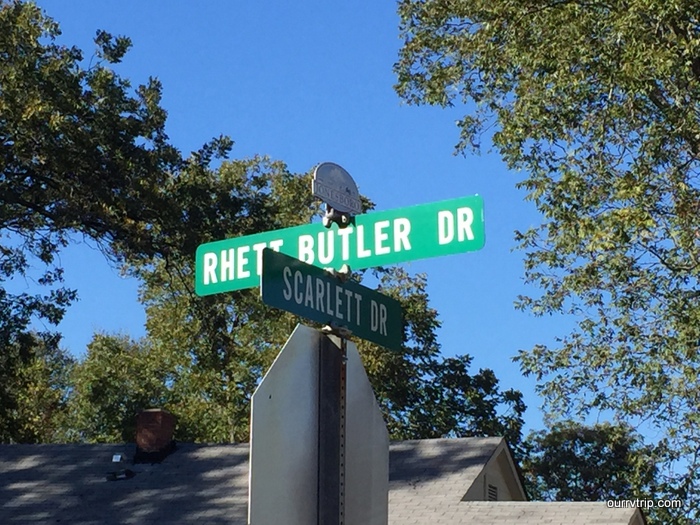 We found this street sign and I had to snap a pic. There's a big Gone With The Wind thing in the area.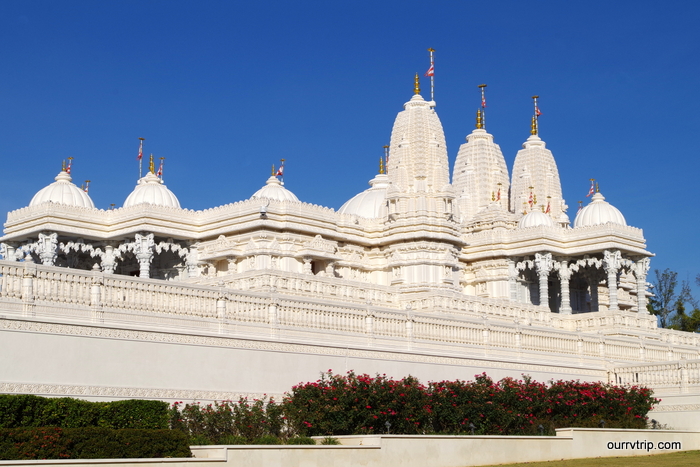 We went to the B.A.P.S. Shri Swaminarayan Mandir while we were in the Houston area and we'd learned that there are actually a few of them in the US. We made it to the one in Atlanta. It's just as gorgeous! And just like the one in Houston, photography isn't permitted inside or even close to the inside. If you ever find yourself near one of these go in. It's truly breath taking. The amount of detail on all of the hand carved marble is astounding.
That's it for the Atlanta area! We didn't even begin to scratch the surface of what there is to do here so I imagine we will have to visit again.
See y'all down the road!
#easternloop2016