Hey Guys!! We spent two weeks eating in exploring the Memphis area!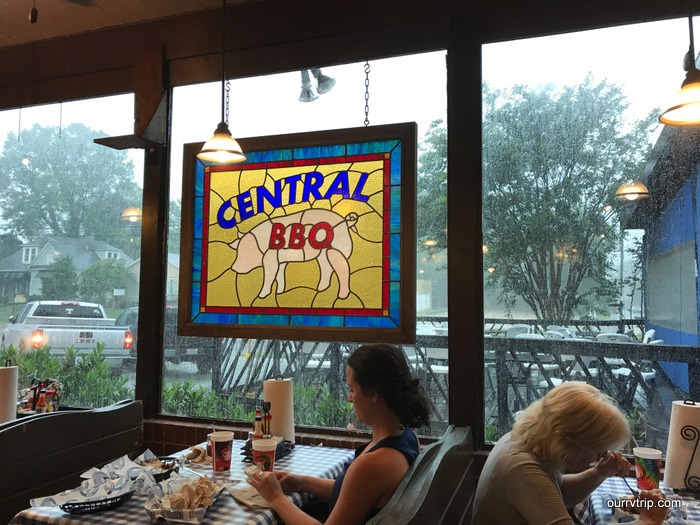 The day we ate at Central BBQ a huge storm blew through Memphis. When we got there, it wasn't storming yet and there were quite a few people at the outside dining area enjoying some live music. We opted to eat inside and boy howdy…I'm sooo glad we did! We'd just gotten our food when the heavens opened up and tried to blow everything outside away with rain and wind!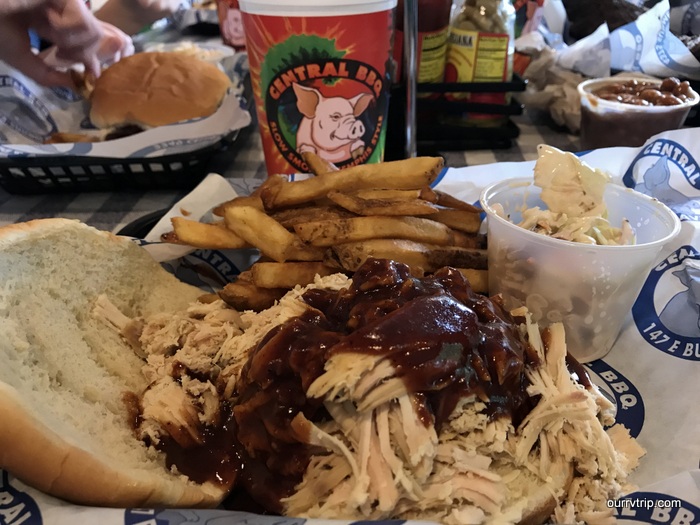 We all got different things. I got a smoked chicken sandwich and I have to say…it was probably one of the best I've had. I'm particular about my BBQ sauce. I like my sauce to have a nice smokey, savory, with a hint of sweet flavor. Central BBQs sauce was just that for me. None of us found anything to really complain about…other than the tons of other people in our way. It was super busy even with the storm!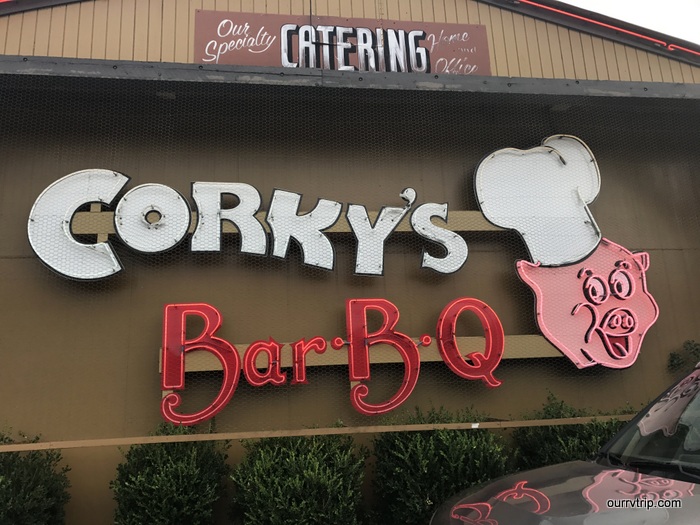 The other BBQ place we tried was Corky's.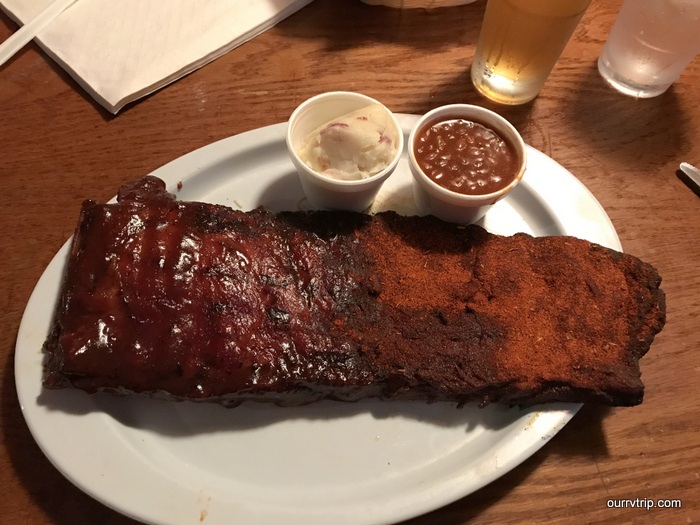 Jerl couldn't say enough good things about these ribs. He especially loved the area toward the middle where the wet and dry kind of mixed together. The only bad thing I have to say about Corky's is that their sides are really small. You can see them and the ribs in the picture above. I feel like for the price…there should be some more food on that plate.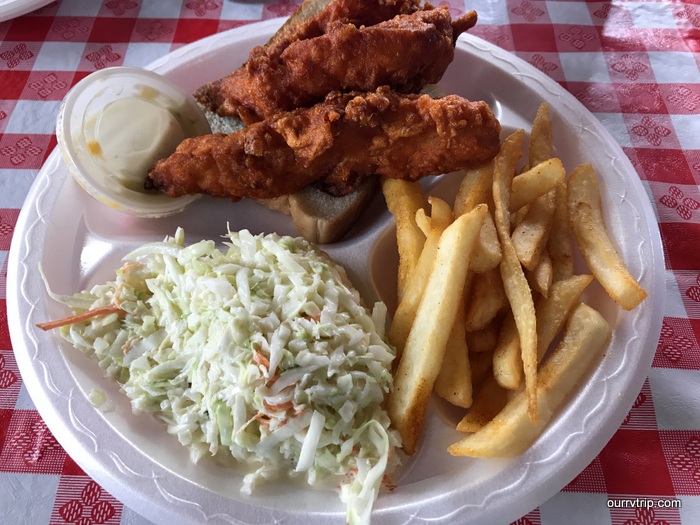 We'd just come from falling in love with the Nashville Hot Chicken so we gave Gus's Fried Chicken a whirl. Guys, it was so stinkin' good!! And! It was completely different than the Hot Chicken we got in Nashville. The crust was different, the spice was different…but it was still nice and juicy and full of flavor! You might remember at PepperFire you could choose your level of spice…you have the choice of no spice, all the way up to melt yo' face off spice. At Gus's there's only one level and it's not bad. You could tell there was spice, but it was more flavor than heat.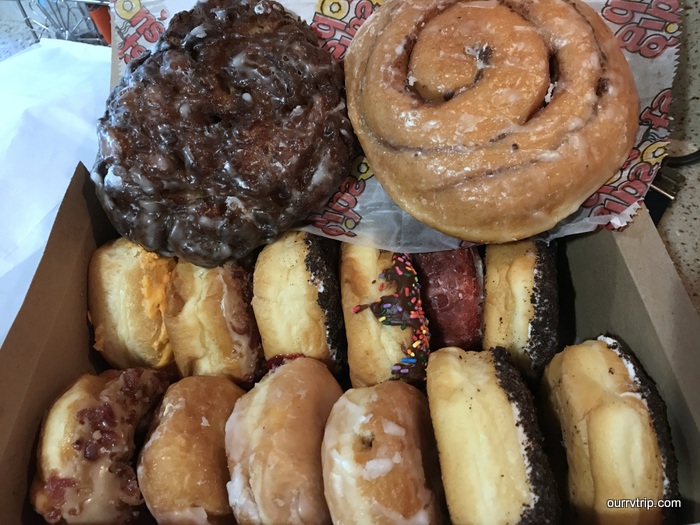 Gibson's Tastee Donuts is open 24 hours a day, 7 days a week. We went twice in the two weeks we were in Memphis and there was a line both times. Now, I'm not sure if it was because I hadn't had a donut in so long or if Gibson's makes their donuts with crack…I don't know…but these were some of the best I've had.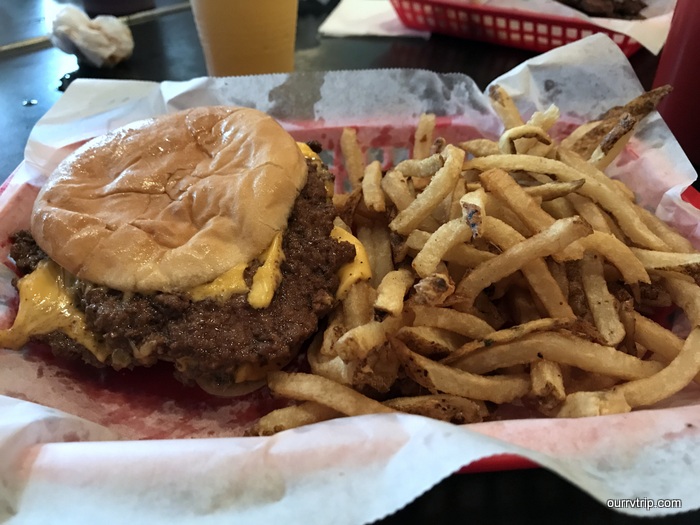 The last foodie place is called Dyer's. This burger place has been open for over a century serving up deep fried burgers and fries! These burgers aren't gourmet…these are greasy diner burgers and they're pretty darn good!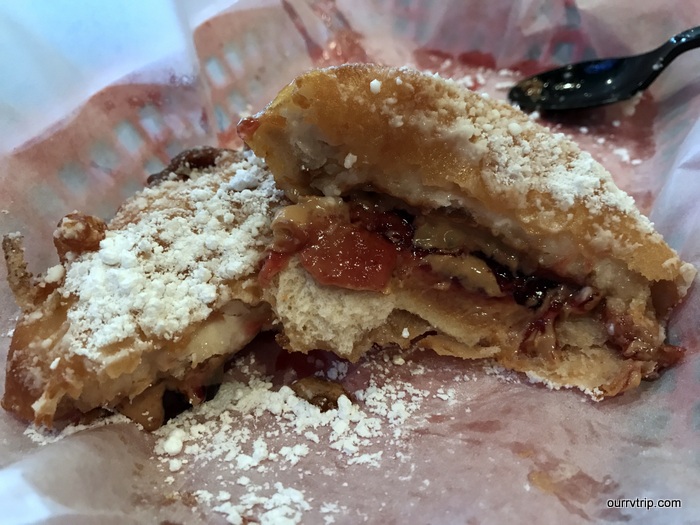 During my foodie research, I learned about Dyer's fried pb&j dessert. We had to try one, right? It felt oh, so wrong to eat…but gosh…it was really tasty! Are you beginning to think all we did for two weeks was eat? LOL! We did other stuff, I promise!!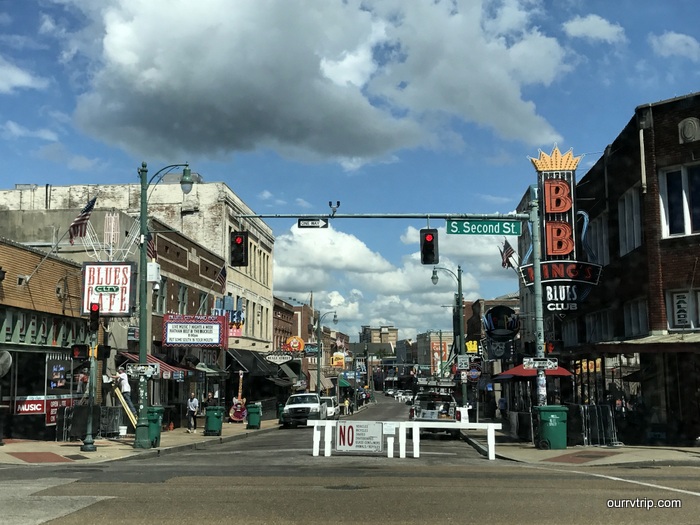 We took a stroll down Beale Street which is a melting pot of jazz, blues, rock n' roll, and gospel. The street is lined with clubs, shops, and foodies.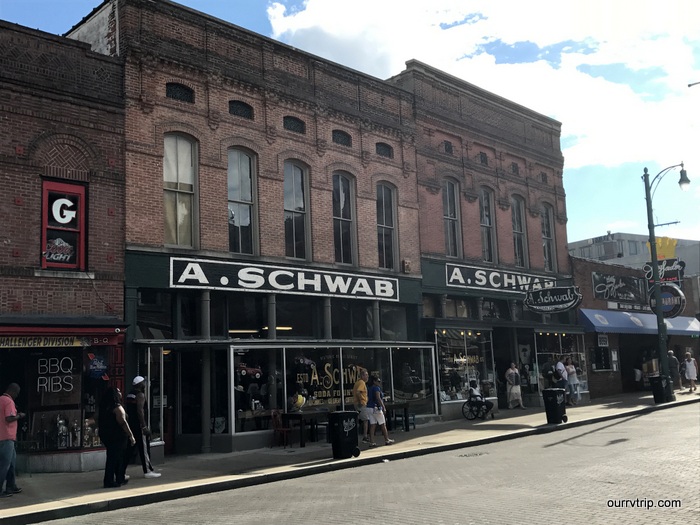 A. Schwab is a general store that has been in business on Beale St since 1876 and is the only original business remaining on Beale St today.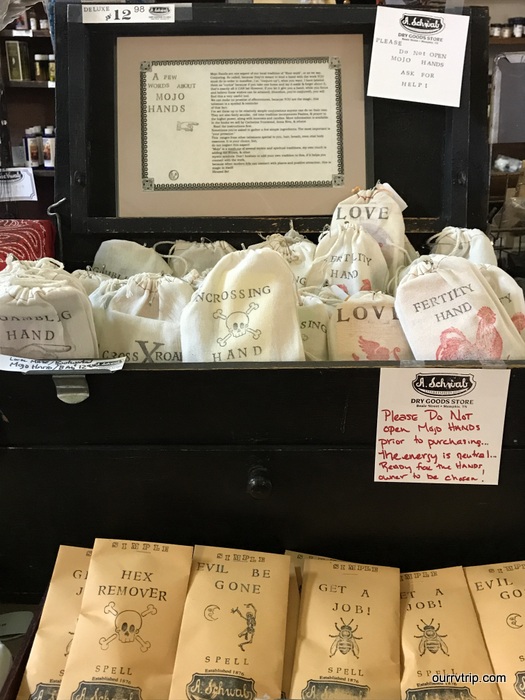 Most items in A. Schwab are your typical general store type things. The custom made Hoo Doo kits are something I hadn't seen before, though. There was a whole section full of hoo doo items to make your own custom charms and potions. It was kind of fun looking through all of the times! On one side of the store was an old fashioned soda counter that is still in operation. A. Schwab is a neat store to spend some time in while getting out of the heat.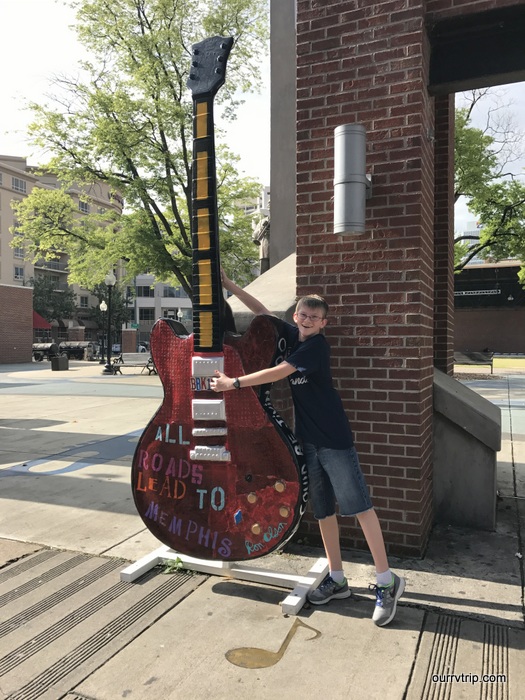 There were several of these guitars sprinkled throughout Beale St. This one was our favorite.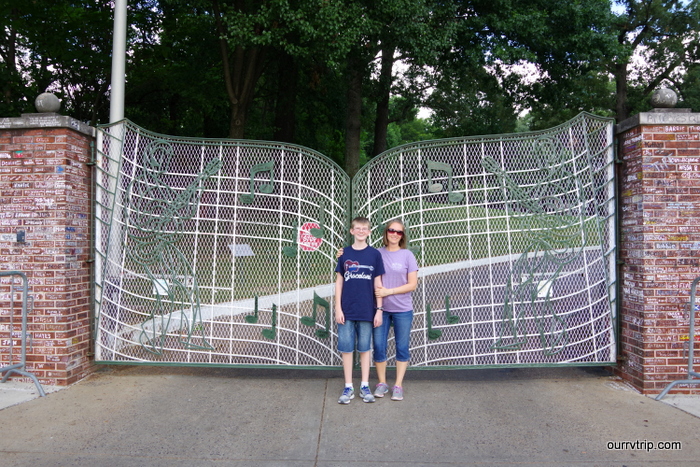 We went to check out Graceland. If you don't know who lived there, I'm not sure I can be your friend anymore.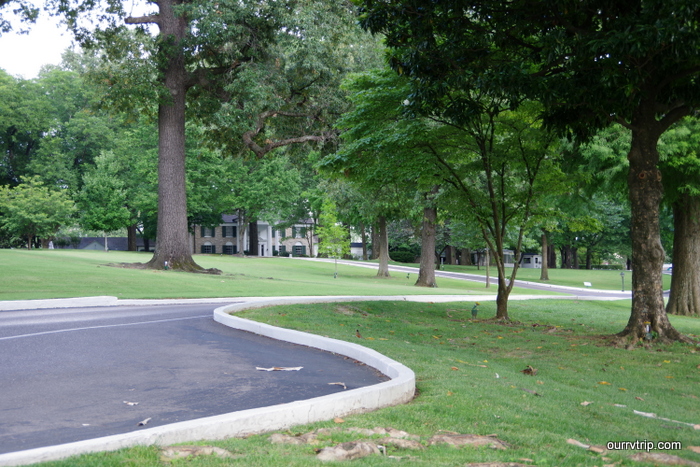 We din't want to fork over $50 a piece for each of us…so this was as close to the home of Elvis as we got. Bummer.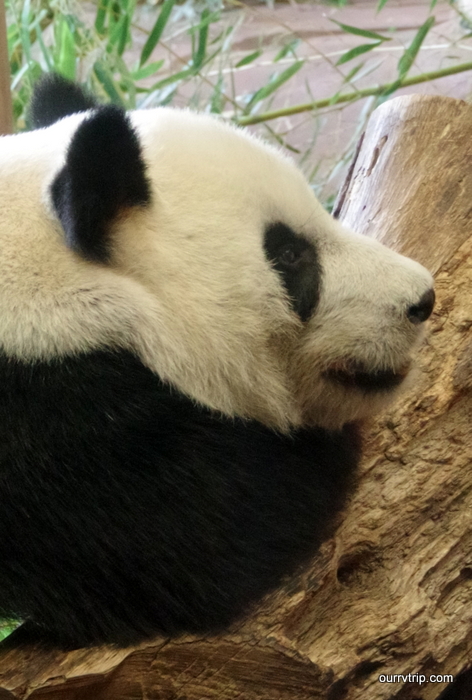 We made it to the Memphis Zoo! It was fantastic! The Memphis Zoo is solidly in our top five…it's battling it out with the Houston Zoo for our number one spot.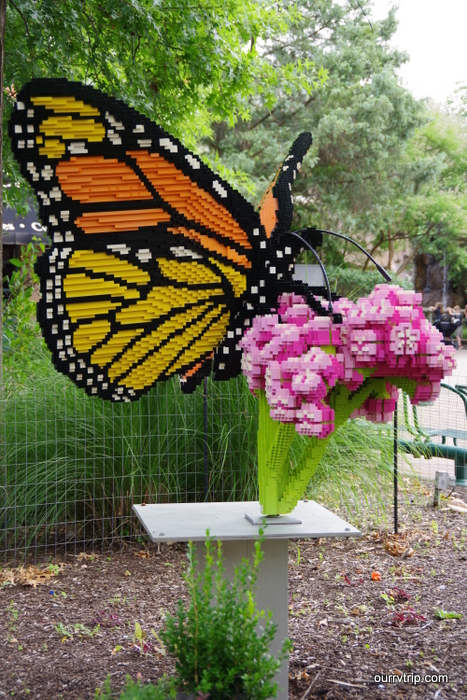 Littlest is doing a Zoo Review so I'll let him fill you in on all of the zoo details in a post next week, but I do want to share this Lego sculpture with you! How cool is that?!?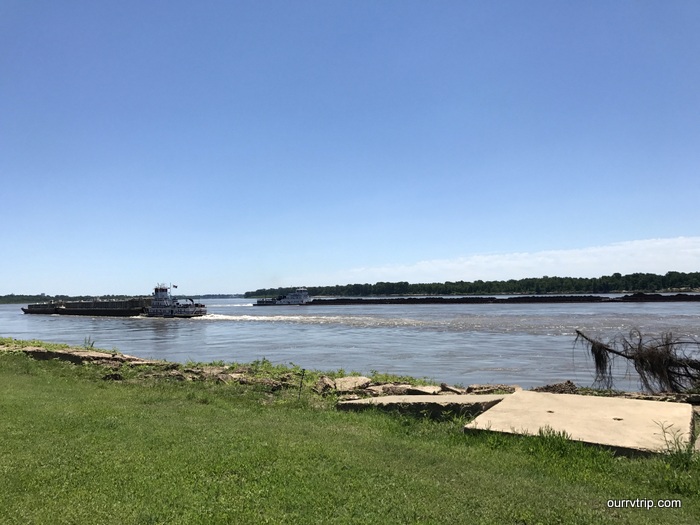 The RV park we stayed at was right on the banks of the Mississippi River so we got to spend two weeks watching the barges go up and down the river!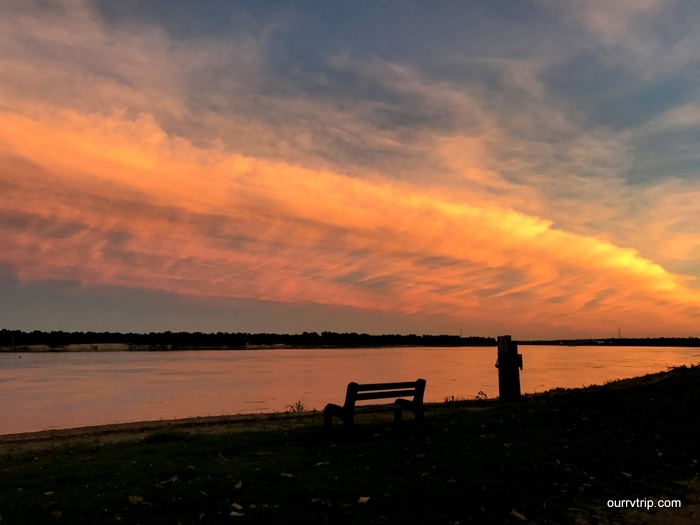 We loved taking walks by the river several times a day. Some parks are easy to get some walking in and some parks are almost impossible to get any kind of mileage in.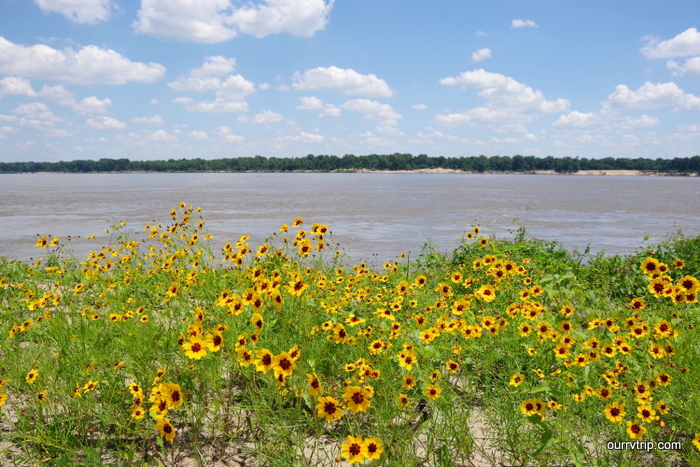 These pretties were in our park. I really enjoyed walking by them everyday!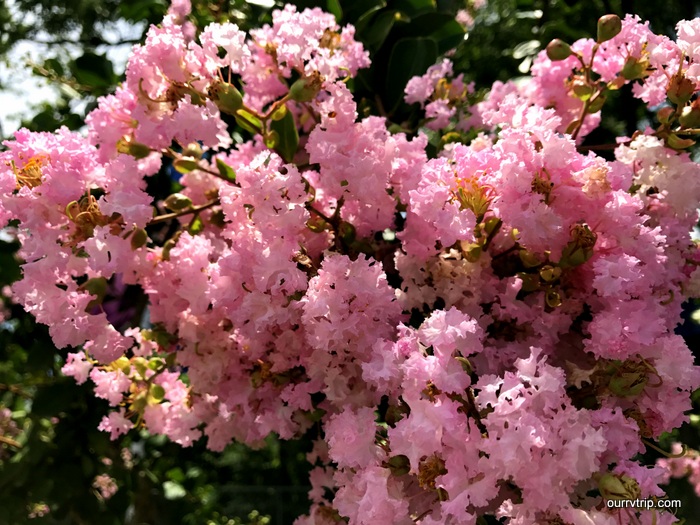 Here's one more pretty…because y'all know I'm a sucker for the pretties.
That's it, Guys! We had a blast exploring and eating our way through Memphis!! The boys have already made plans to visit again!!
See y'all down the road!
#minieasternloop2017